We Need To Talk About This New Argument For Keeping Abortion A Crime
Anti-abortion groups claim decriminalising the procedure will increase sex-selective terminations.
As Queensland inches towards removing abortion from its criminal code, federal anti-abortion politicians have weighed into the debate.
Senator Cory Bernardi last week took to the floor of the Senate to talk about sex selective abortion, ahead of voting in support of a motion moved by Toowoomba senator Barry O'Sullivan to condemn the Queensland government for its proposed legislation to decriminalise abortion.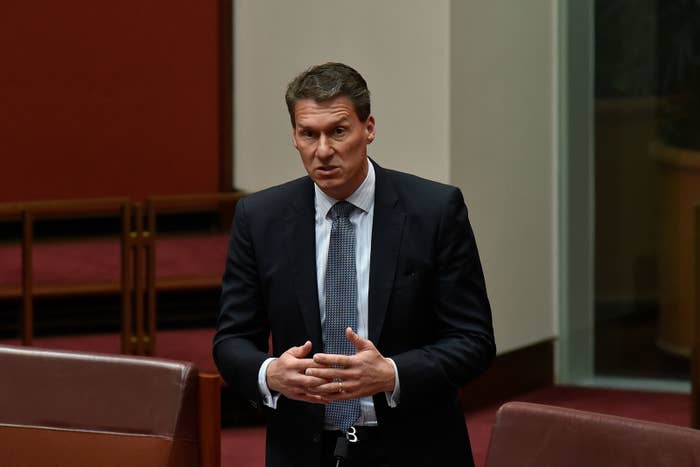 "People are choosing to terminate their pregnancy based on the gender of the child that is in the womb," Bernardi, who in November introduced a motion against anti-domestic violence organisation White Ribbon because it supports reproductive rights, told the Senate.

"You're going to defend the right of a parent to choose to terminate their pregnancy and kill a child — an unborn baby — because it is a boy or because it is a girl. I find that horrific."

Bernardi, who also upset doctors in this speech with comments about second and third trimester terminations, expressed one of the main arguments made by anti-abortion groups currently lobbying against decriminalisation in Queensland.
So let's take a look at the claims.
What is sex selective abortion?
It is the practice of terminating a pregnancy based upon the predicted sex of the foetus.
It is not allowed under the Australian government's National Health and Medical Research Council Ethical Guidelines on the use of Assisted Reproductive Technology in Clinical Practice and Research. The guidelines do not support sex selection of embryos, except for rare circumstances to reduce the risk of transmission of a serious genetic condition.

So is this happening anywhere in Australia?
The short answer is there is no standardised publicly available information on the exact number of terminations in Australia or the reasons for each one.
But let's look at the data we do have and what experts are saying.
In Queensland abortion is only lawful to "prevent serious danger to the woman's physical or mental health" and courts have developed a doctrine, based on necessity and proportionality, under which termination of pregnancy by a medical practitioner, with the consent of the woman, is legal.

Liz Price, a project officer at counselling service Children by Choice in Queensland, has looked closely at the issue of sex selective abortion in her state.

When she began researching the issue last year Price had only spoken to four women (in more than 8,500 over her six years counselling with the service) who had raised gender as an issue in their pregnancy decision making, so Price called on her colleagues across Australia at the National Alliance of Abortion and Pregnancy Options Counsellors to contribute case studies.
"I received a grand total of five more case studies from a dozen counsellors with a combined practice experience of decades," Price told BuzzFeed News.
Three of the case studies involved the client's concerns about intergenerational perpetuation of violence against women based on the gender of the pregnancy they carried.
One woman faced an unplanned pregnancy with a violent partner who locked her inside her house after discovering she wasn't a virgin when they married.
"She didn't want to continue the pregnancy as she had become suicidal and her husband insisted on abortion and they had a girl already and it was another female," Price said.
Over the past 12 months Price has collected further data on the issue.
"We've noted when pregnancy gender was a topic of conversation, as we thought this question would probably come up in [Queensland's] law reform ... my analysis shows the number of women who have consulted us on the issue of the 1,963 we supported since July 2017 has been one," she said. "One woman and I looked into that case and she wasn't a culturally and linguistically diverse [CALD] woman, and there were a number of factors influencing her decision."
Price said there was an "implicitly racist narrative" in the public discourse on this issue, and that in fact there were only one or two migrant women in the case studies she examined.

"Basically the case studies showed a very small number of white Anglo-Saxon women in Australia were using sex selection abortions, with a preference for [keeping female pregnancies]."
When abortion was decriminalised in Victoria in 2008 a review of sex selective practices and preferences in pregnancy found that in a study of 578 pregnant women presenting at a Melbourne clinic for pre-natal screening, none terminated a pregnancy on the grounds of sex.
But a more recent study analyses births from 1999 to 2015 in Victoria found while the overall ratio of male and female babies born in the state was as expected (at close to 105 males to 100 females), there was a variation in some migrant communities.
The La Trobe University study found mothers born in China had about 108 boys to every 100 girls, and for mothers from India it was 104 boys for every 100 girls. After their second child, this blew out to almost 122 boys to every 100 girls.
Lead researcher Dr Kristina Edvardsson told Fairfax Media the ratios could be skewed because these mothers were terminating pregnancies after discovering they were expecting a girl, or because they travelled overseas to access sex selection services through assisted reproduction (in which female embryos aren't used).
What does this possible phenomenon have to do with law reform?
The article about this Victorian research has been used by anti-abortion groups and Queensland's opposition party, the Liberal National Party, as an argument against decriminalisation in that state.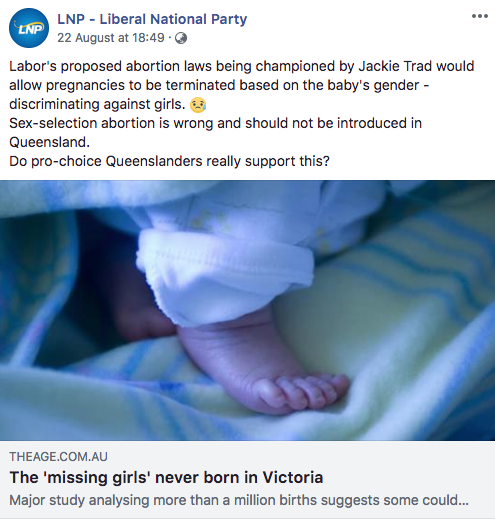 But the doctor interviewed for the piece told BuzzFeed News that he was not arguing for abortion to remain a crime.
Dr Gurdip Aurora said he had come across a pregnant mother of three who had migrated from India and wanted an ultrasound. Aurora said the woman did not want to keep the child if it was female.
"I said to her it was illegal and [the couple] accepted my advice and I never saw them until six months later, when she would have been at 30 weeks [gestation]," he said. "I asked her husband and he said 'We went back to India for a holiday and she miscarried and we lost the baby'."
Aurora, who is president of the Australia India Society of Victoria, said sex selection was a "huge issue back home in India".

"To this day I don't know if it was an accident or [a] wilful termination, like a backyard procedure in India," he said. "We'll never know."
Aurora said he doesn't believe in abortion but would always refer a woman for a termination (which he is obliged to do under Victorian law) and believes the procedure should be decriminalised across Australia.
"I firmly believe in the right of the woman to choose what is in her interests, and doctors would never condone a termination on the ground of sex."
So will decriminalising abortion affect the rate at which sex selective abortion occurs?
Queensland's health minister says no.
"I talk to doctors every day, and not one has ever raised this with me," the state's health minister Steven Miles told BuzzFeed News.

"Most abortions occur before gender identification is possible. In other states decriminalising abortions has not led to an increase in abortions, so the very premise that these laws could lead to more abortions for one reason or another [is] wrong."
Miles said anyone concerned about abortion being used for gender selection should "welcome Queensland's bill because it is the best way to get a uniform code of practice".
Michelle Thompson, chief executive of Marie Stopes International Australia, the nation's biggest provider of termination services, said: "We don't know if this is happening because it isn't disclosed. Stopping safe and legal abortions will not fix this issue.
"What is required is education within communities and by community leaders that focuses on gender equality."
Professor of clinical ethics at Macquarie University, Wendy Rogers, said the current clinical guidelines prohibiting sex selection were "ethically justified" as the practice "entrenches gender norms that are ultimately harmful".
But Rogers said the caveat to prevent the risk of transmission of a serious genetic condition was important.
"There are about 300 sex-linked diseases and some of them are quite serious and would result in a birth that would not last long beyond being born, which is very traumatic," she said.
Rogers said it was a "poor idea to make case law based on outlying examples".
"You won't stop sex selection because people who can do it by other means will do it, and it doesn't address the root cause of the prejudices that actually lead to preference of one gender over the other, but does penalise the vast majority of women unfairly."
Rogers reiterated the majority of abortions happen in the first trimester, and medical terminations within the first nine weeks, before patients would know the sex.
"But it is still possible some parents are sex selecting in that first period where you don't have to provide reasons for a termination," she said.
Price said the truth was "any woman who is hellbent on having sex selection pregnancy could pay the $800 or $900 to get the blood test early" and have a first trimester termination.
"But decriminalising abortion does not increase the number of abortions, and since the current law doesn't act to prevent abortion on the basis of gender, then decriminalising isn't taking away any prevention that currently exists."
OK, and what about claims anti-abortion groups are making about people terminating pregnancies in the second and third trimester because of sex?
You can read more about late term abortions and the reasons why they happen here, but the vast majority of terminations in Australia happen in the first trimester.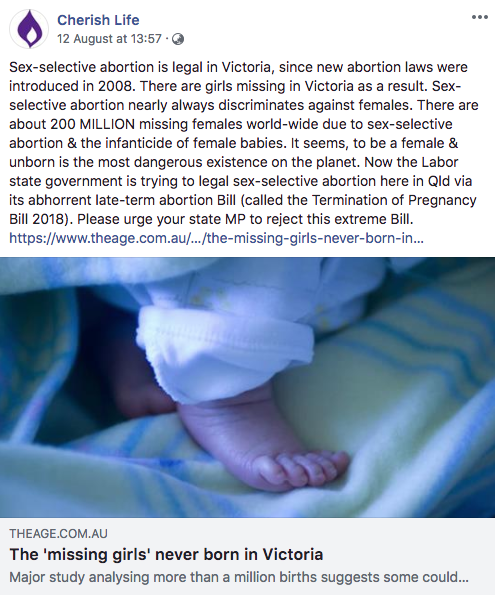 Abortion access in Australia is a patchwork of legality and affordability, but generally speaking the further into a pregnancy, the harder it is to obtain a termination. A medical termination at eight weeks might be relatively cheap and easy to access, and can be prescribed by a GP in some states without the patient having to give a reason, but a second trimester termination is more difficult and expensive to access, and doctors may need the patient to fulfill certain criteria to access one.
Queensland obstetrician and maternal-foetal medicine specialist Dr Carol Portmann said it was a "ludicrous fallacy" that any doctor would support a termination in the third trimester for psychosocial reasons or sex selection.
"In my 20 years experience in Queensland, where I have ever been asked by any woman to perform a termination in the third trimester for psychosocial reasons, it is always because a baby has [been] found to have such a severe heart or brain jury, or where the mother's life is at risk," she said. "Even in a very late pregnancy diagnosis, or if someone turned up thinking they were at 14 weeks gestation and found themselves at 30 weeks, they would just have to go on to have the baby."
Where is Queensland's legislation at?
The state's attorney-general Yvette D'Ath introduced the bill last week.
It will now be referred to a parliamentary committee before coming back to the parliament for debate in October.