"We do not need 'gender whisperers' in our schools," new Australian prime minister Scott Morrison tweeted on Wednesday morning. "Let kids be kids."
He linked to a Daily Telegraph article that revealed teachers were being "trained to identify potential transgender children in the classroom" and that this had contributed to a surge in the number of kids presenting at gender dysphoria clinics.
BuzzFeed News spoke to some transgender young people and the mother of a transgender boy about how the prime minister's tweet made them feel.
Tasmanian disability advocate Roen Meijers identifies as gender non-binary and said trans kids might not have the words for what they are feeling, but they "know something is deeply wrong".
"As soon as I had the language and figured out what was wrong, that gave me the power to make healthy choices," the 29-year-old told BuzzFeed News.
"What I really needed as a teenager and as a kid was more time to figure out what was happening before anything irreversible happened to my body, and I didn't get that.
"I didn't know what was going wrong but I knew something was wrong enough that I attempted to take my own life, and if I'd had adults around me who had training and understanding I might have known there was another choice."
Meijers said their initial reaction to Morrison's tweet was "sadness".

"I think the prime minister is coming from a place of faith, and my family are Christian and take their faith really seriously, and there is no conflict between faith and trans identity," they said.
"If he just met with us, go to know us he would see that we are just like everyone else."
The group would love nothing more than to "sit down with Scott Morrison and have a cup of coffee".

"There is no substitute for lived experience and if you don't have that lived experience the only way you can gain any understanding of the issue is by meeting with people."
Meijers said it was important to note that the number of kids being referred to gender dysphoria clinics might have increased, as highlighted in the Telegraph article, but "that doesn't mean a change in the number of kids who are actually trans".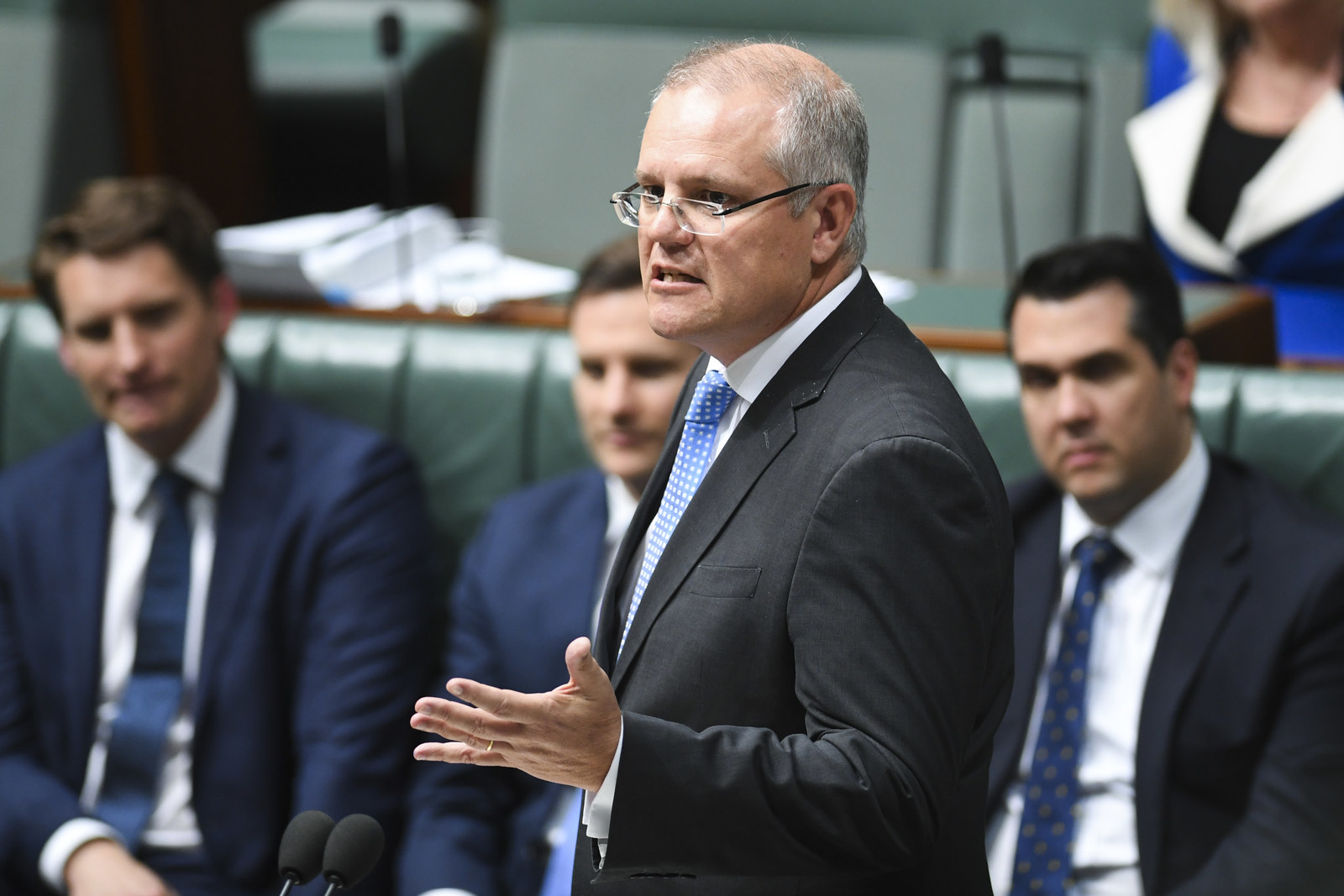 Melbourne author Jo Hirst is the mother of a transgender child and said she would like to meet with the prime minister and discuss the research on this issue.
"I would just love to sit down and have a cup of tea and a real conversation and a real chat with real people to actually change hearts and minds," Hirst, who wrote children's book The Gender Fairy, told BuzzFeed News.
"You can't make a child transgender, just like you can't make a child not transgender, and it is nothing to be frightened of."
Hirst said she agreed with Morrison that we should "let kids be kids".
"What we see time and time again, and the research proves, is that children thrive when they are allowed to be themselves," she said. "Let kids wear the clothes that make them feel comfortable, let them play with the toys they want to, let them be themselves."
Hirst encouraged Morrison to read the Australian Standards of Care
and Treatment Guidelines For Trans and Gender Diverse Children and Adolescents.
"These guidelines are put out by the Royal Children's Hospital Melbourne and have been signed off on by all the experts working with transgender children around Australia. What it agrees on is the medical care the child receives, but also that there should be education in schools and kindergarten to help other children understand and support transgender children," she said.
"There are also fact sheets from the Australian Psychological Society, which make clear that conversion therapy doesn't work and you should affirm trans children ... for The [Daily Telegraph article] to say there is some sort of debate amongst experts is not accurate."
As someone who was raised Catholic, was educated in the Catholic system and even met Pope John Paul II when she worked in the Papal Tour Office, Hirst said she understood Morrison was coming at this from a "a very evangelical religious" background.
Hirst criticised the newspaper for putting forward Western Sydney University professor of paediatrics John Whitehall as an expert, as he specialises in infectious diseases, doesn't work with transgender children, and is affiliated with the Australian Christian Lobby.
"Anyone can have a transgender child and I certainly didn't know anything about it," she said.
"But if these politicians knew some young transgender kids and could see how much happier they are when they are allowed to be themselves ...

"Being transgender is a normal part of human diversity and perhaps if they looked at the research that backs this up they might not choose to weaponise our children for some sort of political gain."
Sydney transgender woman Liz Duck-Chong said she would "prefer to pour a cup of tea on the prime minister than have one" but still believed it was important to sit down and talk about the ways to support children to be themselves.
She said she was "frustrated and upset" the prime minister had repeated "the same myths that have been floating around" since she was at school more than a decade ago.
"The only people pushing me to be a certain gender while I was at school were the religious support staff and principal saying they would ask me to leave the school if I transitioned while attending, and who spoke openly in religious services of the aberrant nature of homosexuality and 'gender disorders'," Duck-Chong told BuzzFeed News.
"My school did talk about gender identity, in the sense that they were dismissive of transgender people and our identities. I tried coming out at school to an incredibly supporting group of friends (religious and non) but the staff demanded I stay in the closet."
She said training teachers to support gender diverse kids fits into the holistic training teachers underwent to support all kids and address a population that, while having always been there, was "more visible than ever".
"The reality is that no-one can identify a transgender person except for the trans person themselves, including children," she said.
"The only genuine problem is the belief that adults and other individuals can mess with kids, 'converting' then to being transgender."

Transgender people have always existed and have long been demonised, she said, but as more people came out and were supported by "legislative means" it made sense more children were coming out too.
"Not becoming trans, but able to admit that they are, and always would have been."
Sydney university student Julie Low is in her second year of a masters in secondary teaching and said she was "incredibly upset" and "disheartened" about the prime minister's tweet on Wednesday morning.
"It is more of the same fearmongering that has been happening over the past few years and I'm surprised he did such a blatantly worded tweet," the 27-year-old, who describes herself as a "proud bisexual transgender woman", told BuzzFeed News.
"Honestly [Morrison] is promoting the exact opposite of 'let kids be kids' because he is saying that we shouldn't be allowing kids to be themselves."
Low, who hopes to become a visual arts teacher and school counsellor, said kids had access to information outside of the classroom, but it was important for them to have the language to describe themselves.
"It is a misconception that if you tell a kid that trans people exist then suddenly they will believe they are trans," she said. "The Daily Telegraph is suggesting people are being trained to identify trans kids but for decades now we have been trained in how to notice signs such as anxiety, paranoia, stress and fatigue and those are contributing factors, which might lead to discovering a student is questioning their assigned gender."

Low said she had no support from teachers when struggling with her identity at school.
"It is tough when you grow up in a rigid environment single-sex school like mine was and it doesn't feel like there are avenues to turn to," she said.
"It wasn't that teachers were ignorant or bigoted but they just never talked about it, and even if they'd known to refer me to a school counsellor, that alone would have helped me."

Low said the prime minister needed more information which could be easily accessed online.
"It has been proven in longitudinal studies for years and decades of research that kids and teachers need more information on this," she said. "In my teaching degree it is stressed so much to be sensitive and kind and sympathise and empathise, to understand the plight of your students."
If you need to talk to someone, you can call Lifeline Australia on 13 11 14 or Beyond Blue Australia on 1300 224 636.