Women Are Right On The Verge Of Winning The Right To Enter Abortion Clinics Without Harassment Or Intimidation In NSW
Now the bill just needs to pass the lower house.
Legislation to enact safe access zones around abortion clinics in NSW has successfully passed through the upper house of the state's parliament.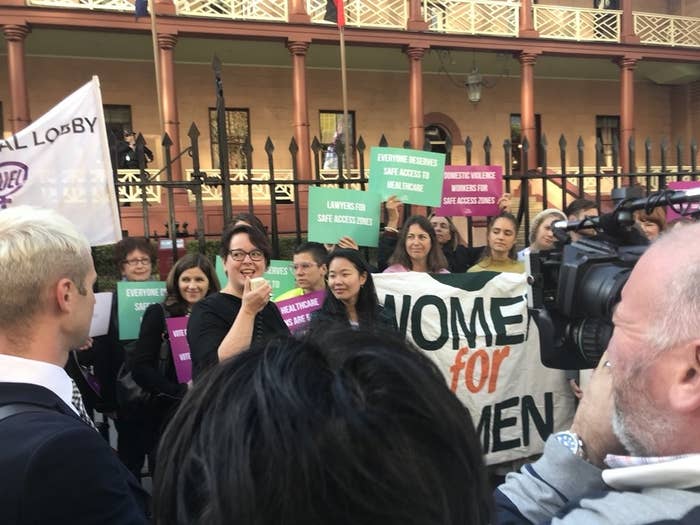 The bill, introduced by Labor MP Penny Sharpe and cosponsored by Nationals MP Trevor Khan, passed on Thursday night. Politicians of all stripes are confident the bill will also pass through the lower house.
Sharpe shared the anonymous experiences of women who had been harassed, intimidated, "shoved", and "manhandled" while entering abortion clinics, often to terminate a wanted pregnancy.
"Women have the right to make decisions that are in their best interests without the interference of others," Sharpe told the house, shortly before the bill passed through the upper house.
"Women should be able to go to the doctor and not have to explain themselves to strangers on the street, they should not have to be photographed, their boyfriends should not be jostled, they shouldn't be filmed, they shouldn't be assaulted, they shouldn't be called 'baby murderers'."
"This is not a matter of left versus right," Khan began in his speech to the house earlier in the day. "It is a matter of common decency. It is not our place to judge these women; we do not know their stories."
If the bill passes the lower house, anti-abortion protesters caught intimidating staff or patients could be fined $5,500 or jailed for six months for a first offence, and repeat offenders could be fined $11,000 or jailed for 12 months.
Many of the politicians who voted in support of the legislation used their time to list the tactics employed by religious picketers, and to argue that the bill did not impede on political communication or freedom of speech, as protesters could do so elsewhere.
Liberal MP Sarah Mitchell, who voted for safe access zones, told the house about her difficult experience with the two miscarriages she had in between having her two daughters.

"If I had had to have the procedure, after losing my baby, in the clinic, no one would know the reasons for me being there, because it is just not possible for protesters outside the door to know the personal and intimate reasons why every woman is going into the clinic," Mitchell said.

During the debate, Christian Democrat reverend Fred Nile claimed a nearby abortion clinic had a plumbing problem when its sewerage pipes were blocked by "baby body parts".
"They had to get the plumbers in to find out what was blocking the sewerage pipes and you'll be disgusted to know it was baby body parts, little arms, little legs, parts of bodies of babies that had been aborted," Nile said.
A staff member at the clinic, who chose not to be identified, later spoke to 2GB radio and said Nile's claims were "completely false".
The staff member said the clinic complies with all health regulations around the disposal of medical waste, and that the damaged pipe Nile was referring to was in another part of the building.
Liberal MP Lou Amato voted against the bill and said that instead of threatening picketers with "imprisonment" we should all learn from "these caring women".
He said the laws would be "impossible to obey".

Anti-abortion picketer Carolyn O'Loughlin, who usually stands outside the Private Clinic in Sydney's Surry Hills, said even if the bill passes through the lower house she won't give up protesting.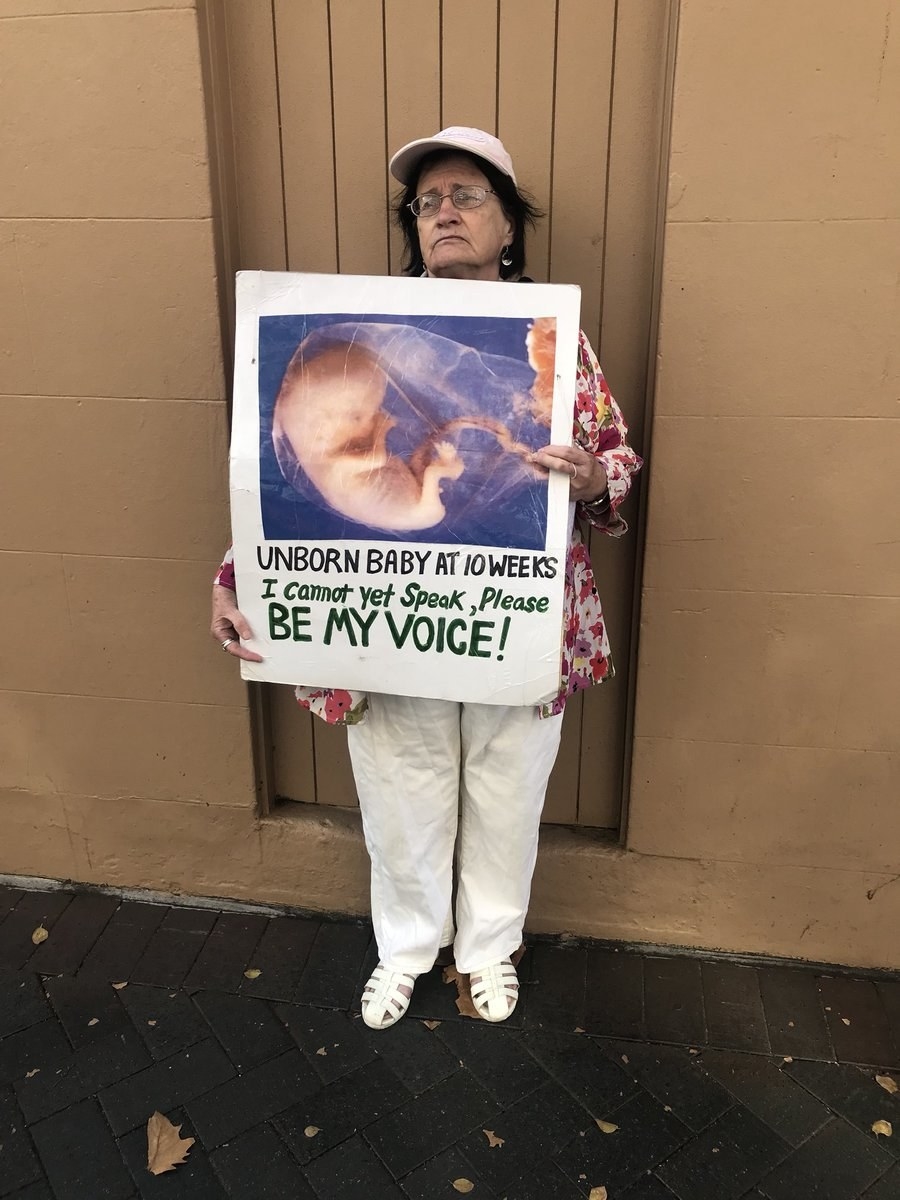 "There has to be someone prepared to go to jail over it," O'Loughlin, who has been protesting against abortion for 35 years, told BuzzFeed News. "Some women have changed their minds and there are babies who are alive because of that."
Of the safe access zone supporters, O'Loughlin said: "It's called identity politics and they portray women as victims, but in developing nations women aren't victims."
O'Loughlin said she refers patients to counselling with Helpers of God's Precious Infants. A member of that organisation offered a woman outside a clinic help with her "immigration problems" if she kept her baby, footage published by BuzzFeed News yesterday revealed.