Thousands Of Doctors Want A Refugee Dying Of Cancer To Be Brought To Australia
He is the oldest refugee detained by the Australian government on Nauru.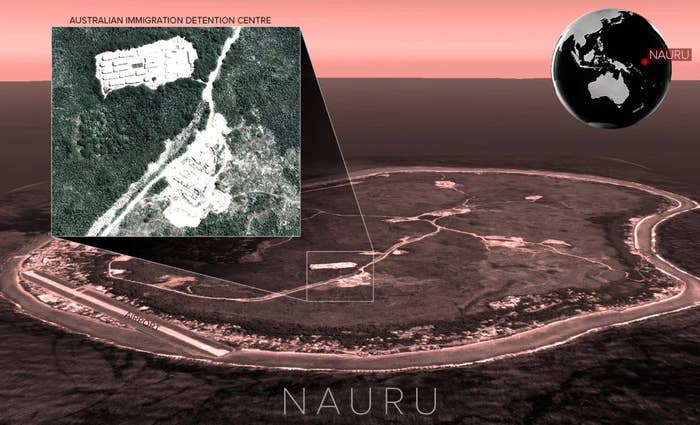 The 63-year-old, a member of Afghanistan's persecuted Hazara minority, has been formally recognised as a refugee and given he has been found to have a well-founded fear of persecution if he was returned to Afghanistan, Australia can't legally return him to his wife and children.
He has worked as a builder during his five years held on Nauru, where he earned $4 an hour, Dr Nick Martin, a senior doctor who worked on Nauru from November 2016 to August 2017, told BuzzFeed News.

"All that money he sent back to his son who is a medical student and wants to be a doctor," Martin said.
"This is an honourable man who is now being left to die a lonely death with inadequate medical care."

The Department of Home Affairs offered to send the man to Taiwan for palliative care. He refused as he has no friends or family there, was not sure if there would be a translator from his language of Hazaragi, and did not believe there would be someone appropriate to perform the Shia Muslim rituals after his death.

Martin said this was not just a question of "putting out of pain", as there was a possibility the man could "fit due to lesions in his brain from the cancer".
The man's clinical records show he had "swelling in the brain around the lesions".
"He is still in the backroom at [an Australian government run camp] RPC1 which is a wholly inappropriate place to keep someone whose diagnosis is so dire," Martin said.
"The doctors there will not be trained in palliative care and the level of care would in fact not even be comparable to an Australian regional hospital.
"He is still lucid at times and knows that he is incurable and right now his community can't even get in to visit him because RPC1 is in lockdown after the demonstrations because of the suicide."
Martin was referring to the protests held after a 26-year-old Iranian asylum seeker, known as Fariborz K, reportedly killed himself last week in his tent at the centre.
Martin said it was "heartening" to see so many other doctors had signed the letter.

"At the end of life, language, connection with our people and memory are what is left," the letter, which argues the man should be alongside members of the Hazara community before he dies, reads. "This is what defines us as humans.
"His only chance of a good death is to come to Australia so that he can have both community and medical expertise."
A department of home affairs spokesperson told BuzzFeed News the department does not comment on individual cases.
"Medical transfer decisions occur on a case-by-case basis according to clinical need, in consultation with the contracted health services provider and the Government of Nauru," the spokesperson said. "Medical transfers are only undertaken with the permission of the individual."
The rally was organised by the Australian Medical Students Association, the peak body for Australia's future doctors, representing 17,000 medical students.
The latest government figures, released in April, show there are still 255 men, women, and children detained on Nauru.
A BuzzFeed News investigation in October revealed asylum seekers with life-threatening medical conditions held in Australia's offshore detention regime were facing treatment delays so severe that a whistleblower feared it may cost them their lives.
Martin was the most senior official deployed on the remote Pacific nation of Nauru ever to publicly speak out about Australia's offshore immigration system, as part of a joint investigation between BuzzFeed News and the Australian Broadcasting Corporation.
He alleged that patients with breast lumps, kidney stones, and neurological damage were delayed diagnostic treatments; and that severely diabetic asylum seekers held within the detention regime were at risk of going blind.
Patients who needed medical facilities that were not available on the island had to be transferred to the Papua New Guinea capital of Port Moresby, or Australia — but often Australian officials would delay these transfers, worsening the patients' medical conditions and potentially endangering their lives.
If you need to talk to someone, you can call Lifeline Australia on 13 11 14 or Beyond Blue Australia on 1300 224 636.