Here Are The Most Memorable Moments From The Queensland Abortion Debate
There was crying, anger and exasperation.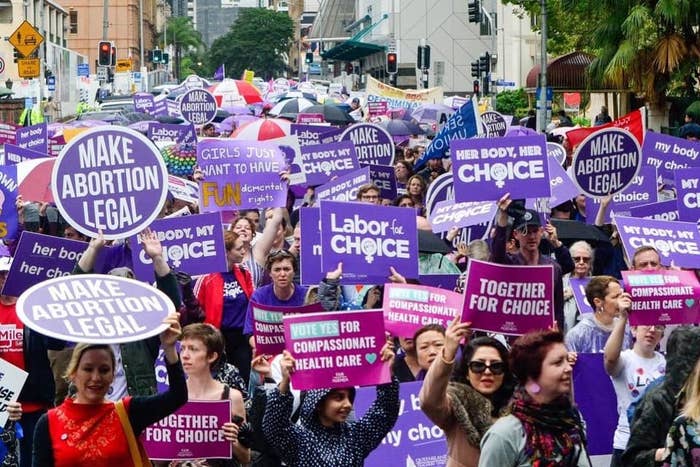 A termination was only lawful to "prevent serious danger to the woman's physical or mental health", but now abortion will be available up to 22 weeks gestation, after which the patient would require two separate doctors to approve the procedure.
The legislation, introduced by the state's Labor government, enacts 150m safe-access zones around clinics to protect patients from harassment and intimidation from protestors.
Under the new legislation, which comes into effect later this year, doctors who conscientiously object to abortion will be required to refer a patient seeking an abortion to a doctor who does not oppose the procedure.
Here are all the most passionate parts from what was an emotional debate.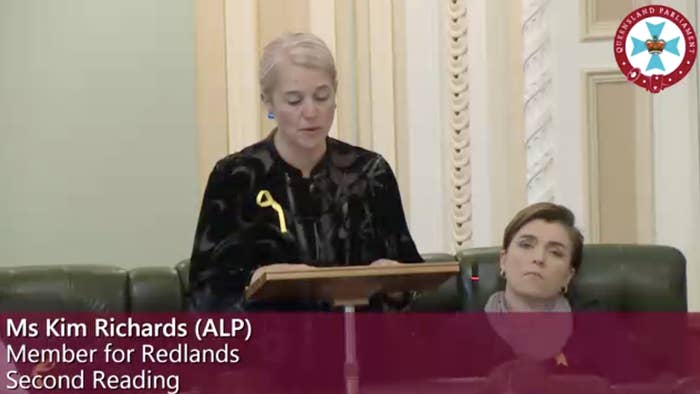 "My mum is allowing me to share this story for the first time today ... in the hope that no woman will ever experience what she did, and that we change this legislation," Richards told Queensland's parliament on Tuesday night.
In 1963 her mother was in her late teens when she fell pregnant to Richards' father, who she would later go on to marry.
"At the time my mum and dad both knew they weren't socially, emotionally or financially ready to be parents and that they had two choices: for mum to be sent away to the country [to continue the pregnancy and put the baby up for adoption] or to access a termination."
They knew abortion was a crime, but decided to terminate the pregnancy.
"In those days, and as is still the case in many parts of Queensland, it was a backyard termination," Richards said. "Without going into the details and the damage done, let me tell honourable members that my mum was very lucky to have escaped with her life."
2.
When Liberal National Party politician Steve Minnikin broke ranks to throw his support behind the bill in an impassioned speech.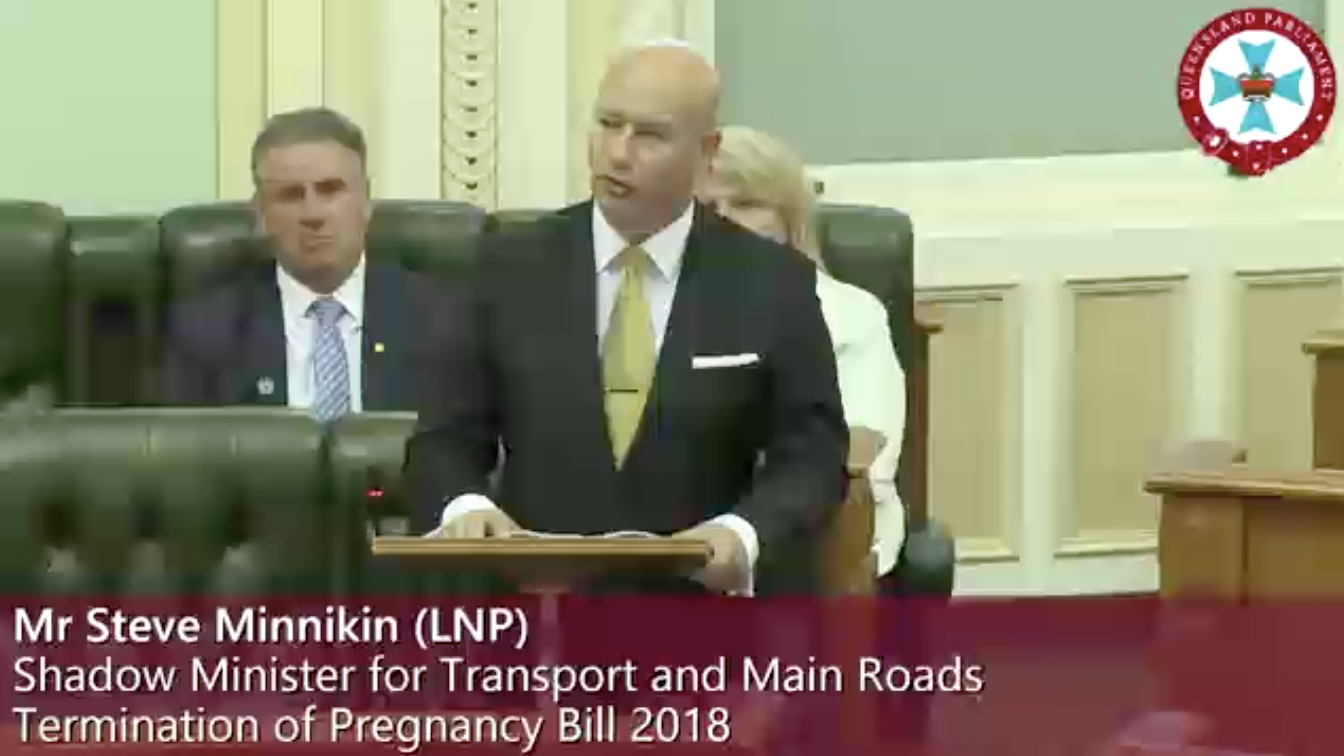 The member for Chatsworth said the hardest speech he has ever written was a eulogy for his father who died four years ago. He said the speech arguing for abortion to be decriminalised was "by far" the hardest speech he had delivered as a member of parliament.
"Why do we make it a criminal act for women and girls who do not wish to have a pregnancy or a child at a particular time in their life? Why is forced pregnancy seen as a socially and legally acceptable solution to an unplanned conception? Why in 2018 do we not give women the respect to make their own reproductive choices and decisions about their own body, health and future?"
Minnikin said in many areas of healthcare law in Australia, people can't be forced against their will and without their consent to donate blood, tissue or organs, or allow their bodies to be used medically in any way without their consent, even after they die.
"If we as a society start saying that a foetus has the right to life that overrides the pregnant woman's right to give or deny consent, and by law forces women to continue pregnancies against their will and without their consent, then effectively we would be giving a foetus more rights than an actual person."
Minnikin was one of just two male LNP politicians to support the bill.
He finished by asking that his conscience vote be treated respectfully.
3.
When the next (and only other) male LNP member to support the bill was an anti-abortion politician.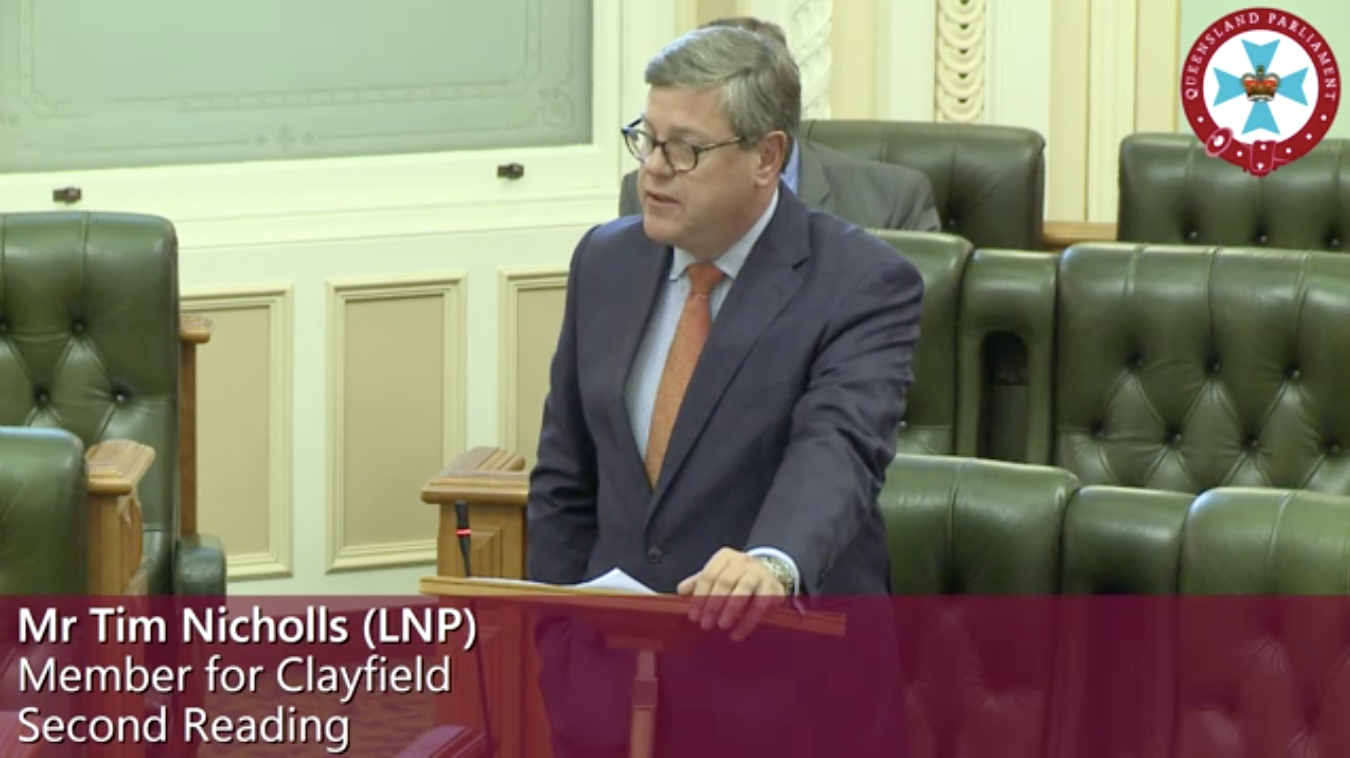 The night before legislation to decriminalise abortion was due to be introduced into Queensland's parliament in 2017, former LNP leader Tim Nicholls vowed every member of his party would vote the legislation down.
But Nicholls helped decriminalise abortion on Wednesday night.
"I do not support abortion," he told the parliament. "I do support women and their right to control their own reproductive health."
He spoke about his "three healthy children" and said the decision to have them was his and his wife's "as a family and as individuals".
"I wish that no woman felt the need to seek a termination ... but I recognise reality. Our termination laws need to reflect that reality."
"I was due on my own birthday, which I thought was the best present ever," Pugh told Queensland Parliament on Tuesday night of her 2010 pregnancy.
But something "was not right" and Pugh said she didn't "feel pregnant" as she had no nausea, fatigue or mood swings, and she eventually started spotting blood and ended up in the emergency room.
The doctors told Pugh she had a "blighted ovum" or an anembryonic pregnancy, in which the fertilised egg implants in the uterus but no foetus develops.
The midwife recommended Pugh have a dilation and curettage, in with the cervix is dilated and the contents and/or part of the lining of the uterus are removed.
"I understand firsthand ... the strangeness of waking up in a different room, knowing everything is not quite right," Pugh said of the procedure, which is also used after a surgical abortion.
She urged MPs to vote for decriminalisation.
"This is what happened to me, this is my truth, this is my lived experience and that is why I know women would not use it as a contraceptive as I've been there," Pugh told BuzzFeed News, adding that one in four pregnancies end in miscarriage in Australia.
5.
When LNP politician Ted Sorensen said the proposed legislation should be called the "killing Ted" bill.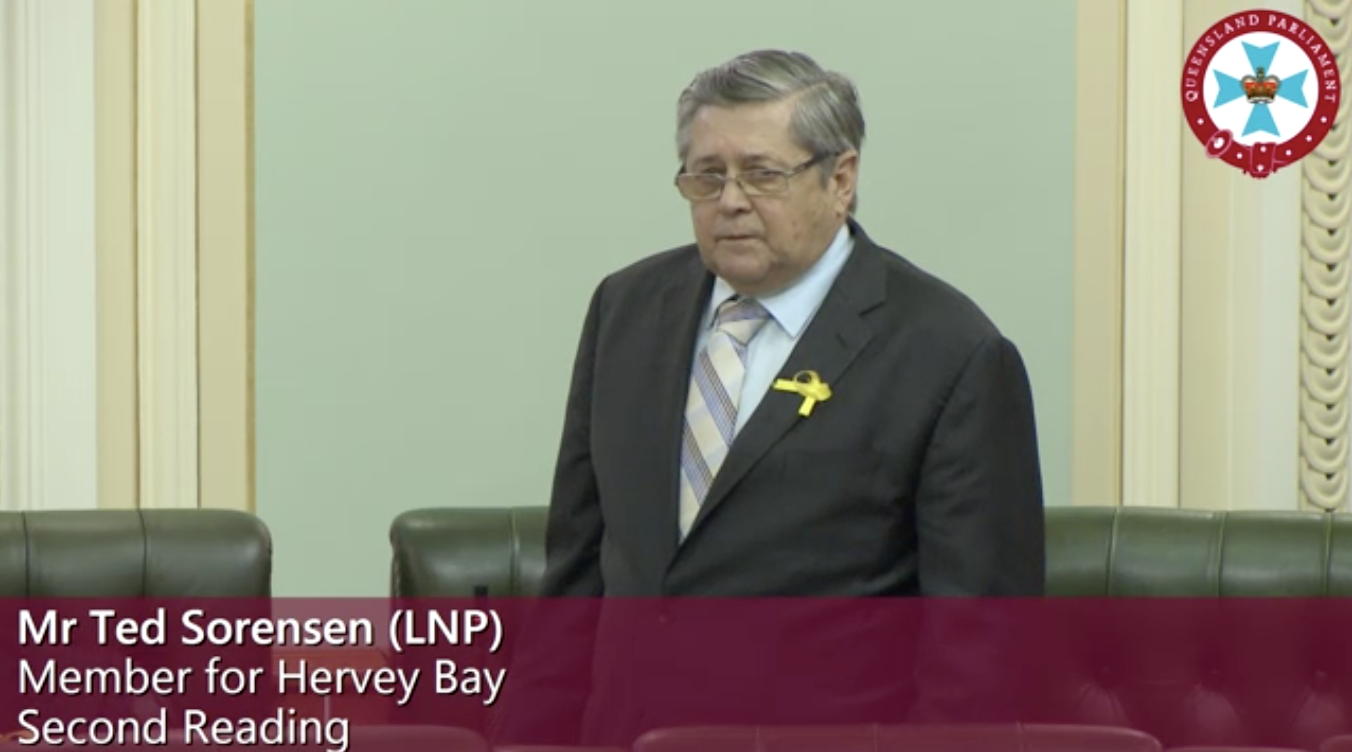 Sorensen said it was a "very emotional" day for him as someone who was fostered out as a child.
"It is very personal for me because, as an unwanted pregnancy, my voice might never have been heard here today," Sorensen said. "I feel that this bill we are debating today should be called 'killing Ted bill'."
Sorensen voted against the bill as he said no-one had the right to say "kill Ted".
"Every baby has a right to live. Whether it is 20 weeks or 22 weeks, there is a real baby there."
6.
When Labor politician Linus Power spoke about how conflicted his decision-making process was.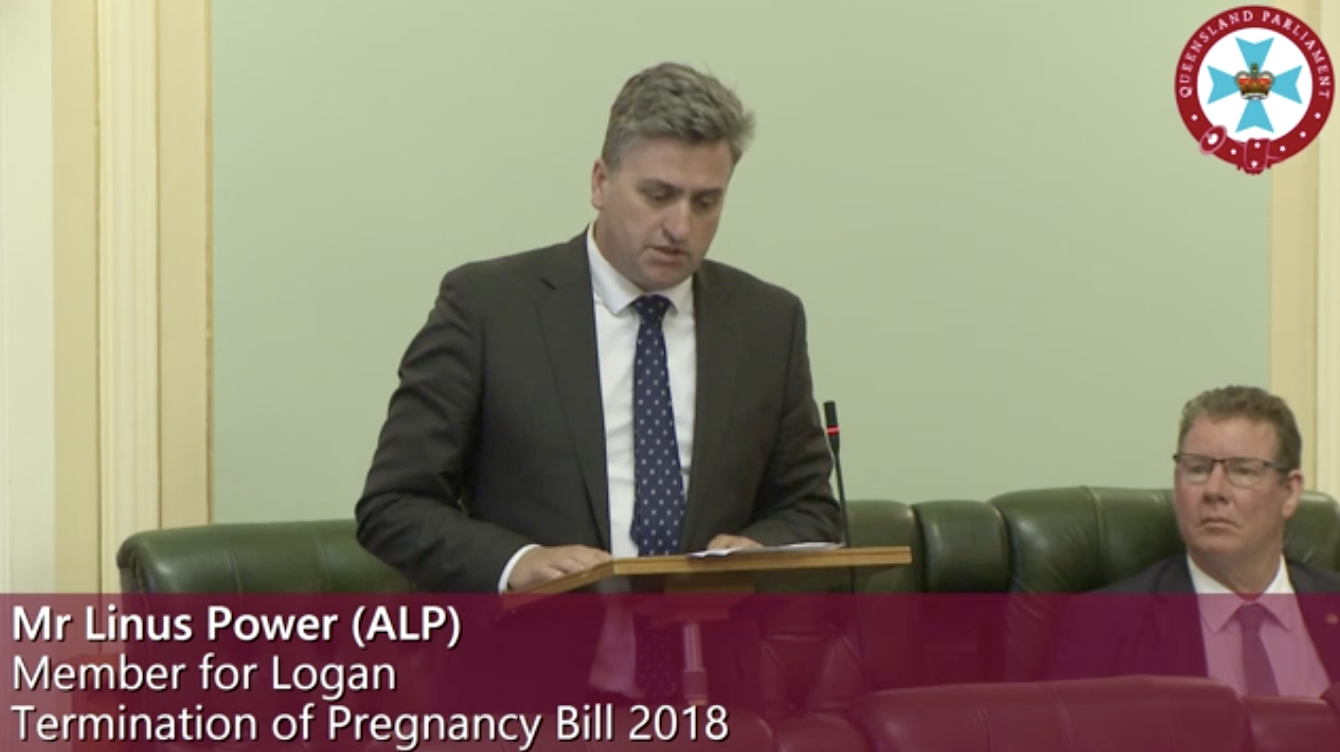 Power recounted meeting up in a London park with an old friend who told him that she'd terminated a pregnancy.
"She began crying, right there sitting in that busy park," he said. "In an instant, I reached out and hugged her. She cried and cried, deep visceral sobbing that I hope never to experience again."
Power said that "single moment" summed up the dilemma he had with the legislation.
"I know from my instinctive behaviour that I do not want to punish women making difficult decisions," said Power, who voted in favour of decriminalising abortion. "At the same time I want every part of our health system to recognise the enormity of the decisions we make."
He ultimately abstained from voting.
7.
When Labor politician Joan Pease teared up asking her colleagues to "trust women".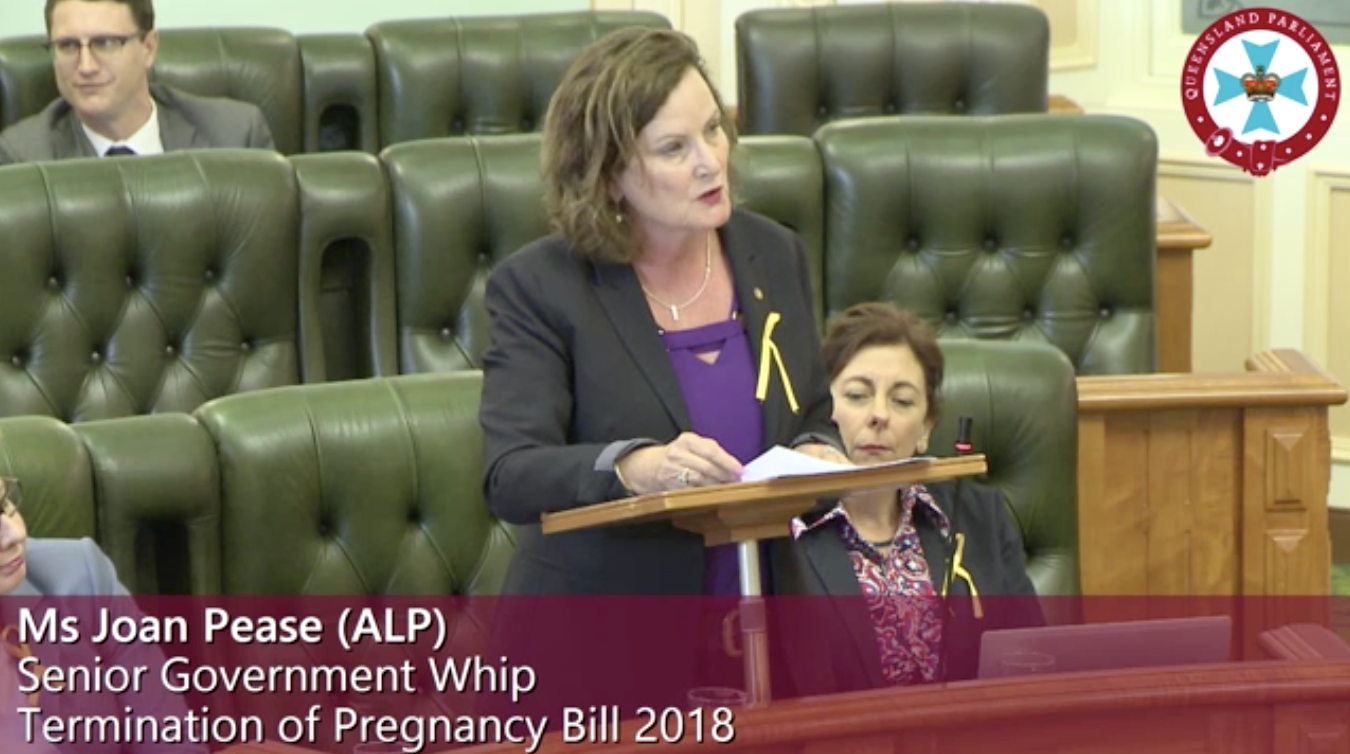 Pease was on the parliamentary committee that presided over this legislation for weeks.
"In reaching a position on this bill, the committee has heard a range of views from legal commentators, medical professionals, scientists, politicians, theologians, feminists, social scientists, community groups and individuals," Pease told parliament.
Pease asked her parliamentary colleagues to consider the legislation from "the perspective of the woman who seeks a termination".
"Trust her to make the right decision. Trust her to make the decent decision. Trust her to make the wise decision. I believe that she is capable of knowing what is right for her at this time in her life."
8.
When pregnant politician Nikki Boyd described the vitriol she's faced for being pro-choice.
"Throughout the committee's inquiry during the last parliament I was a woman who had just had a miscarriage," Boyd, who was on the committee looking into this legislation said. "I have faced this process as a pregnant woman."
Boyd said she had "experienced the abuse of the extreme fringe firsthand".
"The foul vitriol that has been sent to my office has done nothing but strengthened my resolve to create a better environment for all Queensland women," she said.
"We need a Queensland where women cannot be harassed, intimidated and abused outside health facilities, one with much less stigma, judgement and aggression."
9.
When the vote passed and the premier and deputy premier embraced.