Politicians Are Trying To Make Sure Staff Are Safe From Sexual Harassment
A new policy for parliamentarians specifies that a single incident is enough to constitute sexual harassment.
by
,
The Department of Finance has drafted a new policy while the Labor Party is reviewing its own policies to make sure political staffers are protected from sexual harassment, deputy Labor leader Tanya Plibersek has revealed.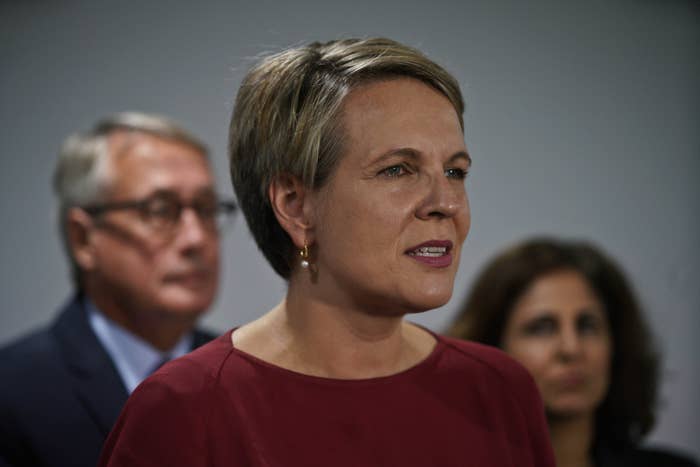 Prime minister Malcolm Turnbull announced a ban on ministers having sexual relations with their staff earlier this month, in response to the revelations that deputy prime minister Barnaby Joyce not only had an affair with his much younger former employee, but that she was expecting his fifth child.
Turnbull said he had no interest in prying into people's personal or private affairs but that the situation has raised "some very serious issues" about the culture of parliament. He said that the ministerial standards were out of date and needed to be updated.

The discussion about consenting adult relationships has moved to one about preventing sexual harassment in parliament.

Plibersek today revealed the Department of Finance had drafted a sexual harassment policy after Labor senator Don Farrell wrote to finance minister Mathias Cormann asking the government to make sure policies protected political staff.

Until Friday, the Members of Parliament Staff workplace bullying and harassment policy hadn't been updated since September 2015.
In this copy of the draft policy, obtained by BuzzFeed News, there is now a new section specifically about sexual harassment which specifies: "A single incident is enough to constitute sexual harassment unlike workplace bullying."
"I have also asked the ALP National Secretariat to work with all state and territory branches to review Labor's existing policies to make sure that everyone we come into contact with is properly protected," Plibersek said on Sunday at a women in leadership panel alongside UK politician Harriet Harman.

"Australians are right to expect that their Parliament should be a leader not a straggler when it comes to preventing sexual harassment."
It was an "exciting time" for action on sexual assault and harassment after the #MeToo campaign, Plibersek told BuzzFeed News.
"We have some momentum at the moment to make changes that will seriously impact women's lives," she said.
"There is a lot of debate at the moment about Barnaby Joyce... I think people who are talking about 'private is private' then that is absolutely fair enough when you're talking about consenting relationships between adults.
"We do nevertheless have to provide a workplace culture where power imbalances don't play any role."
Plibersek said all male-dominated workplaces, including politics, had examples of sexual harassment and it was important to strive to increase the number of women in political office.
"When you have a parliament where it is half women it is much harder to make decisions that disadvantage and disenfranchise women," she said.

The Department of Finance spokesperson told BuzzFeed News it was consulting with Members of Parliament Staff employees on a review of the policy to include further information on "recognising, preventing and addressing sexual harassment".