For many Australian kids, the 2019 school year ended with classroom closures due to dangerous bushfires and the need to wear masks to protect from hazardous smoke.
Now the summer holidays have been punctured by evacuations and power outages. As fires escalated this week, some children spent New Year's Eve in emergency centres, while others were forced to flee to the beach with their families to stay safe.
Australia's bushfire season began with blazes in September but by mid-November catastrophic fire warnings were issued for fires raging along the east coast. Fires burning across six states have intermittently closed down major highways, claimed at least 17 lives, and made smoke haze a new normal in numerous cities and towns including Sydney, home to 5.2 million people.
This is the first bout of devastating bushfires many young children have experienced. And anyone aged under 35 in New South Wales has never seen so much of the state burned in a single season.
Here are some photos of how children are surviving a bushfire season that experts say is unprecedented.
1.
Finn Burns, 11, drives a boat with his mother and brother Caleb onboard to safety in the Victorian town of Mallacoota on Tuesday morning.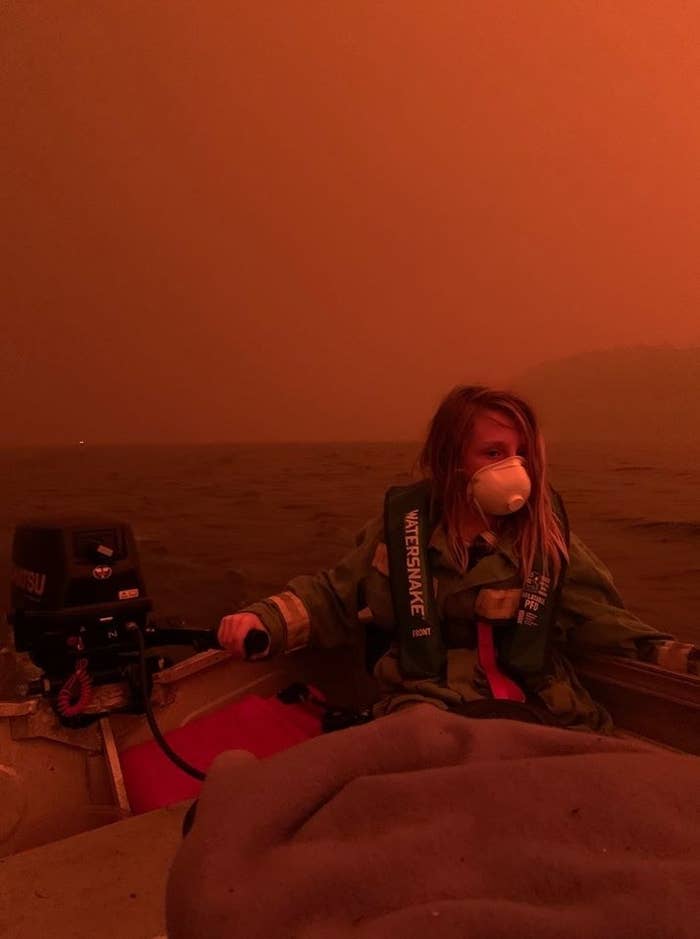 2.
Two kids mimic firefighters with their wrapping paper hoses on New Year's Eve.
"I just find it so moving to watch children make sense of what is happening around them through play," British educator Angela Charlton, who took the photo while visiting Australia for a wedding, told BuzzFeed News. "I remember watching children in my Reception class building tall towers from blocks and smashing toy airplanes into them after 9/11."
3.
Children wave at firefighters in Vincentia, NSW.
"Even in dire times these #shoalhaven firefighters brought smiles to kids faces gifting lollies and spreading the Christmas joy," their mother Karen Lam wrote on Instagram.
4.
Zaiden and Riazz, the sons of photographer Martin Von Stoll, stand together in Forster on the mid-north coast of NSW where bushfires burned through thousands of hectares in late October.
"You've got the raging fire, you've got planes flying low over the sky, and the water was peaceful, and you just know this is something different," Stoll told the Great Lakes Advocate.
"I said to the boys, 'Take it in, because this is something you might not experience for the rest of your life.'"
5.
Kids cover their faces to avoid smoke inhalation on the NSW south coast where 7 people were killed and 176 buildings destroyed in the bushfires.
6.
A toddler sits beneath a smokey sky in the Blue Mountains, NSW.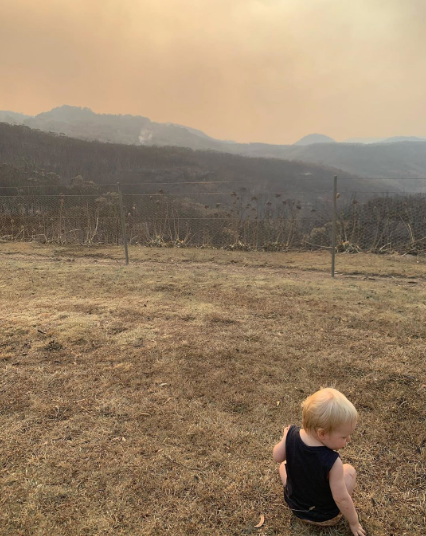 7.
Schoolchildren in Coffs Harbour ask for rain.
8.
Sharnie Moran and her 18-month-old daughter Charlotte stand beneath the thick smoke rising from bushfires near Nana Glen, near Coffs Harbour, in mid-November.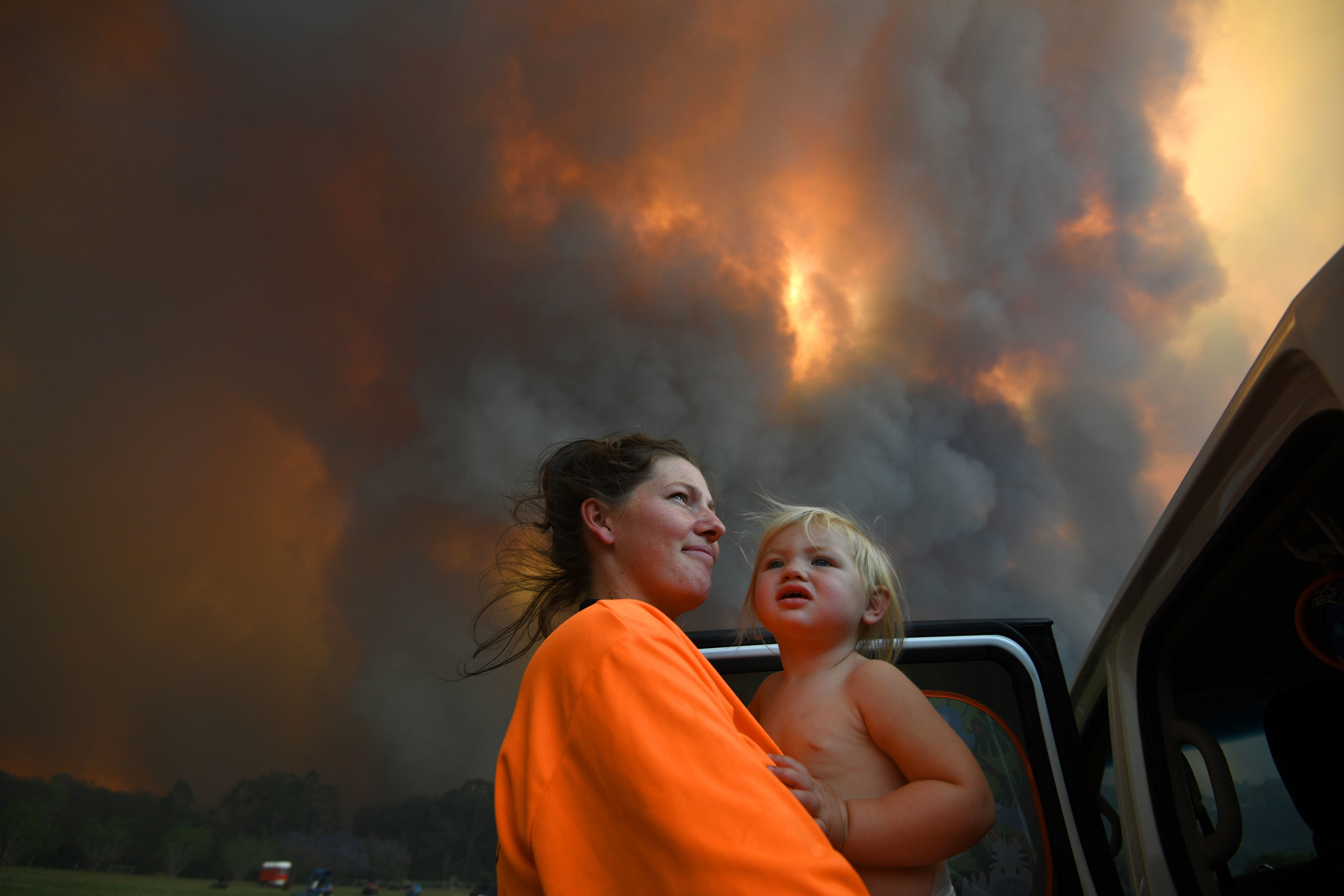 9.
A Canberra kid sits inside because of smoke pollution.
10.
Amy Spencer wears a smoke mask while sitting at an evacuation site in the southern NSW town of Bega.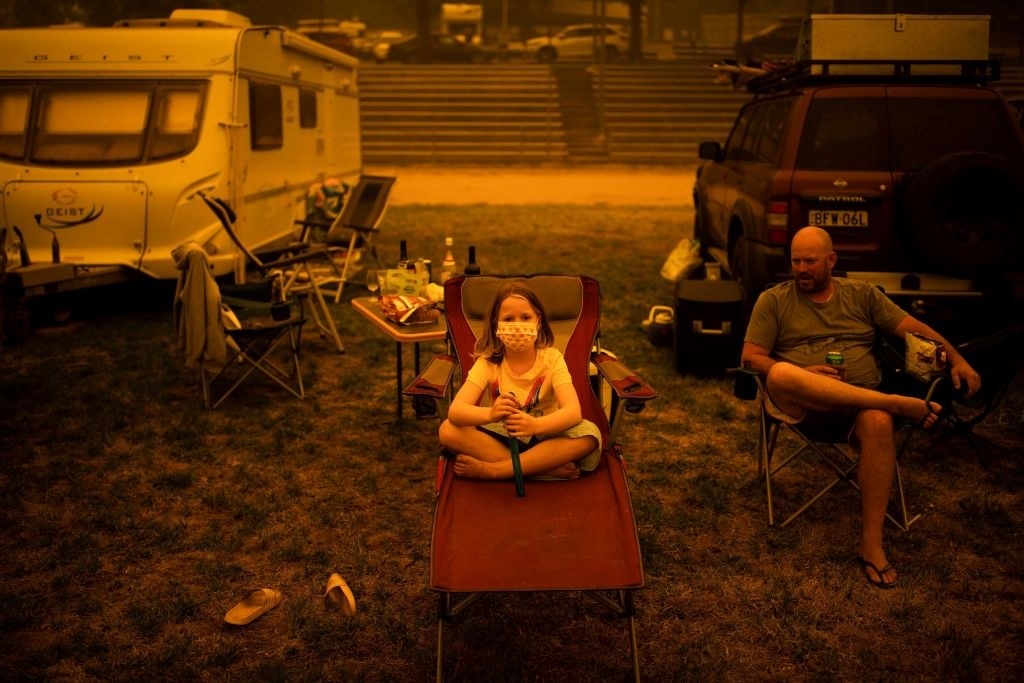 11.
Wytaliba resident Storm Sparks holds her son Zeke Bacon as she waits to get back to her house at a roadblock near Glen Innes, in November.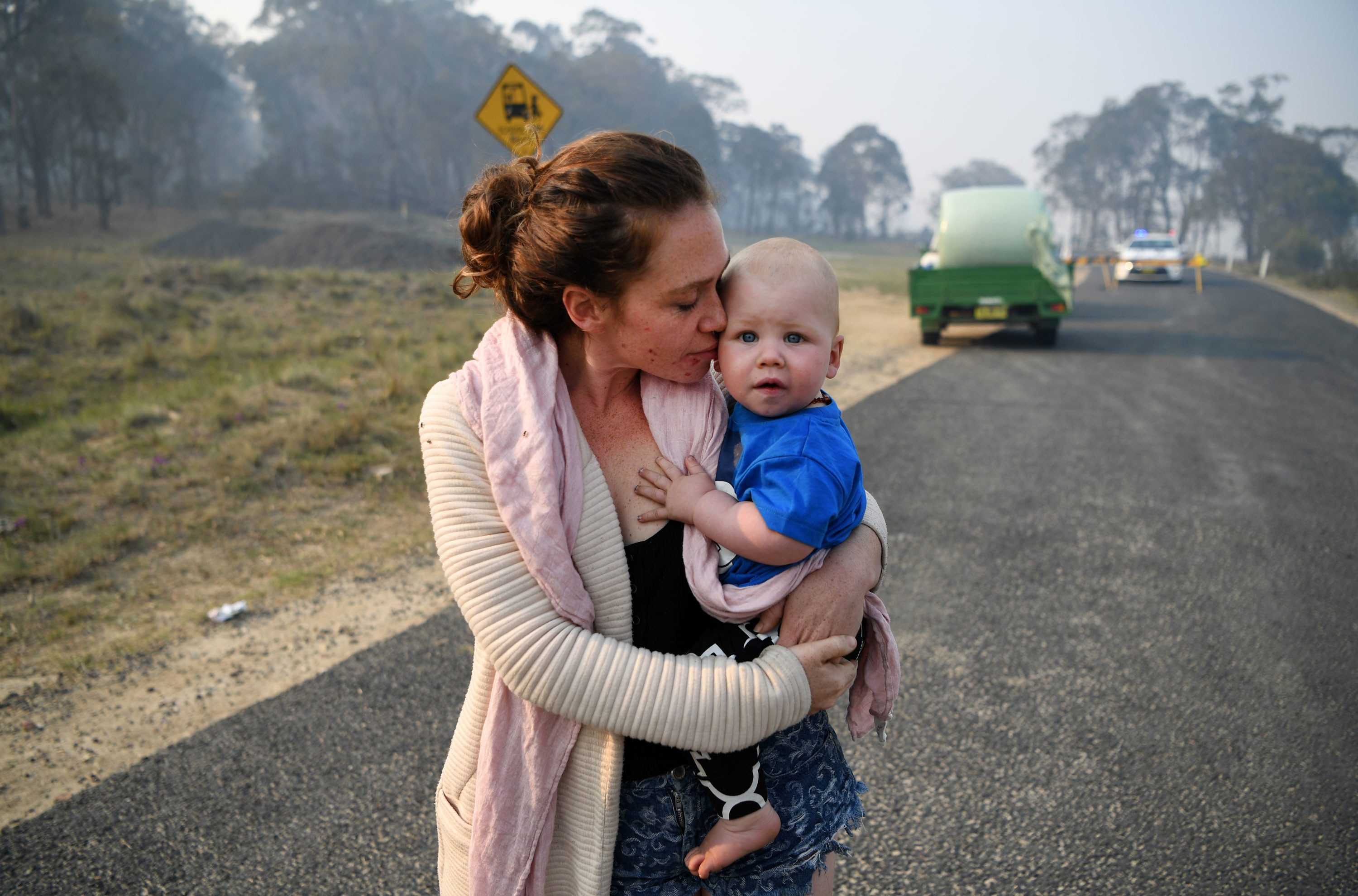 12.
Kids at Lemon Tree Passage in the Hunter Region of NSW greet firefighters a few days before Christmas.
13.
A mother adjusts her child's mask at a rally for climate action at Sydney Town Hall on Dec. 11.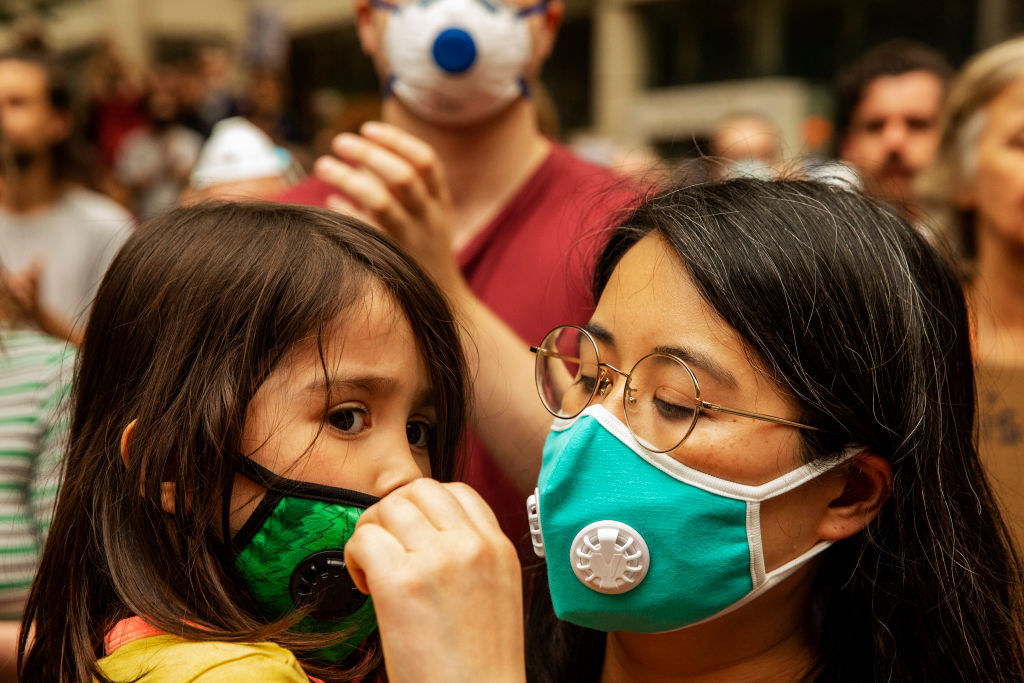 14.
A woman and child lay flowers at a memorial for volunteer firefighters Geoffrey Keaton and Andrew O'Dwyer who were killed when a fallen tree caused their tanker to roll on Dec. 19.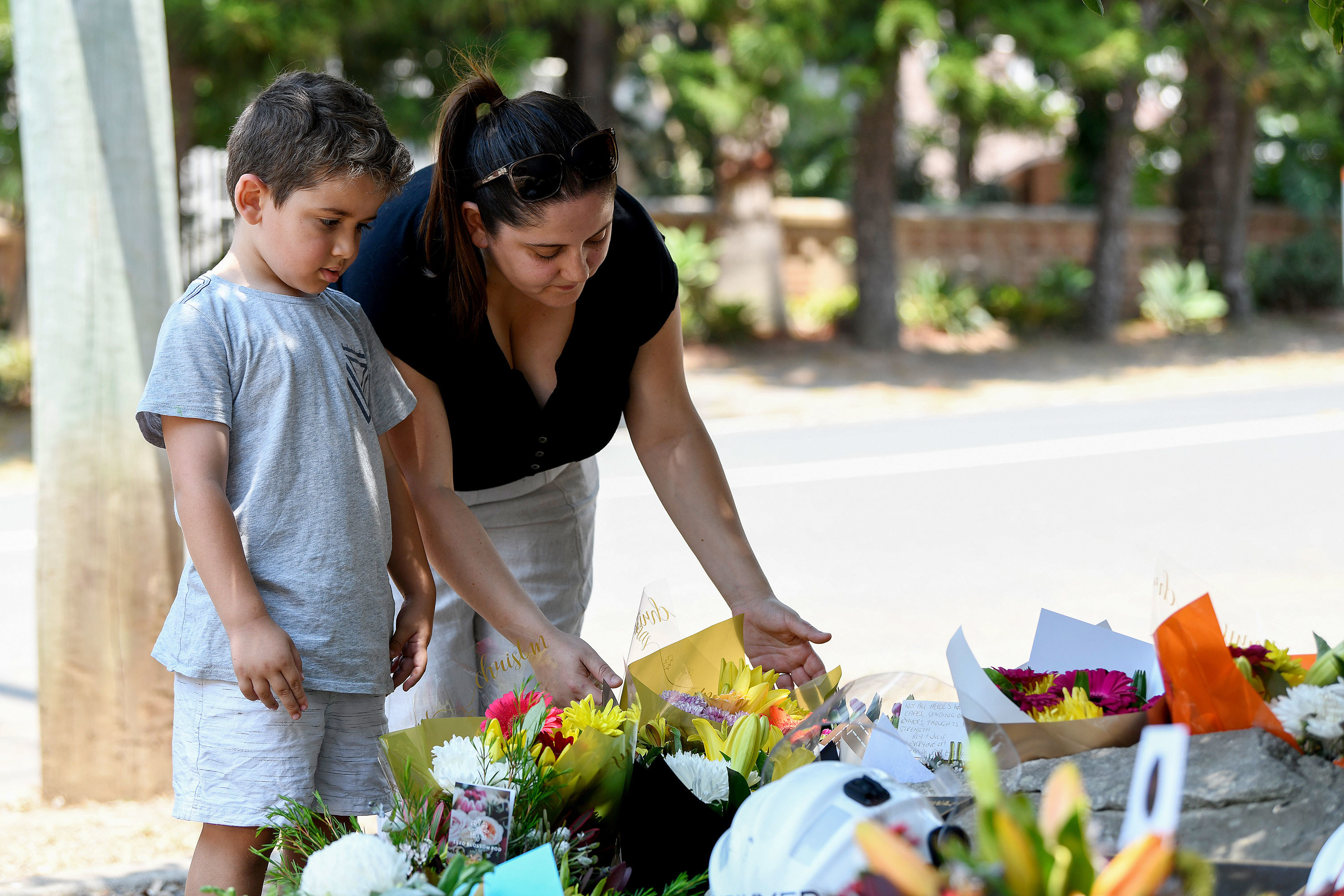 Keaton and O'Dwyer were both fathers of young children.
15.
On New Year's Eve, children gather as a fire truck passes in the Southern Highlands.
16.
Boys jump into the Nepean River in Sydney during a week in which Australia experienced its hottest day on record.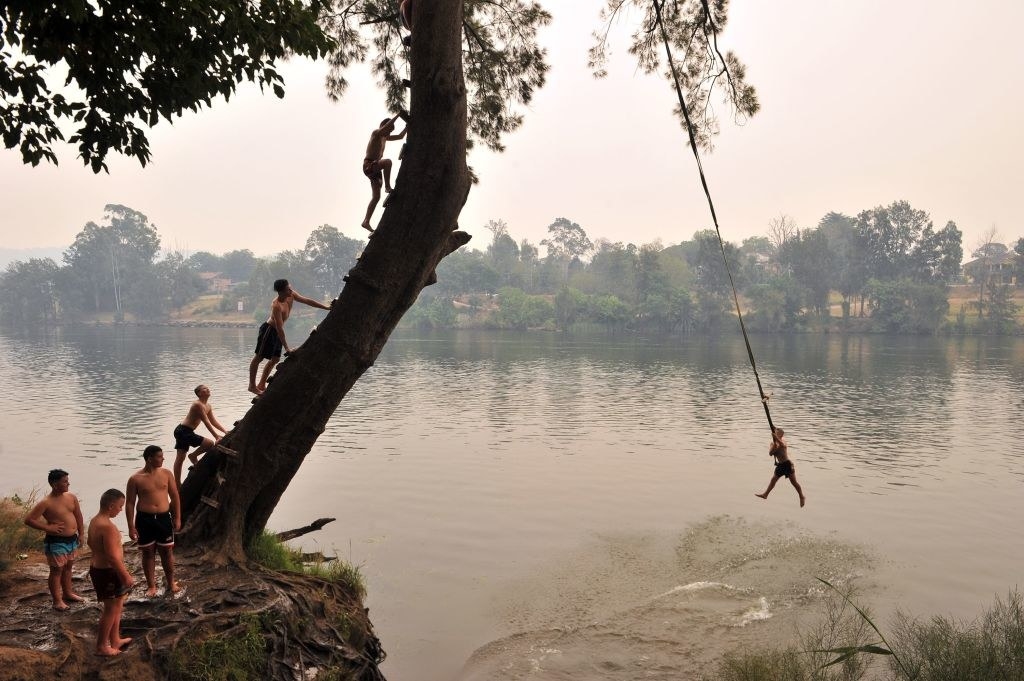 17.
Bec Clewer and her 2-year-old son, Max, sit with prime minister Scott Morrison at an evacuation centre in Picton after he returned from a family holiday in Hawaii.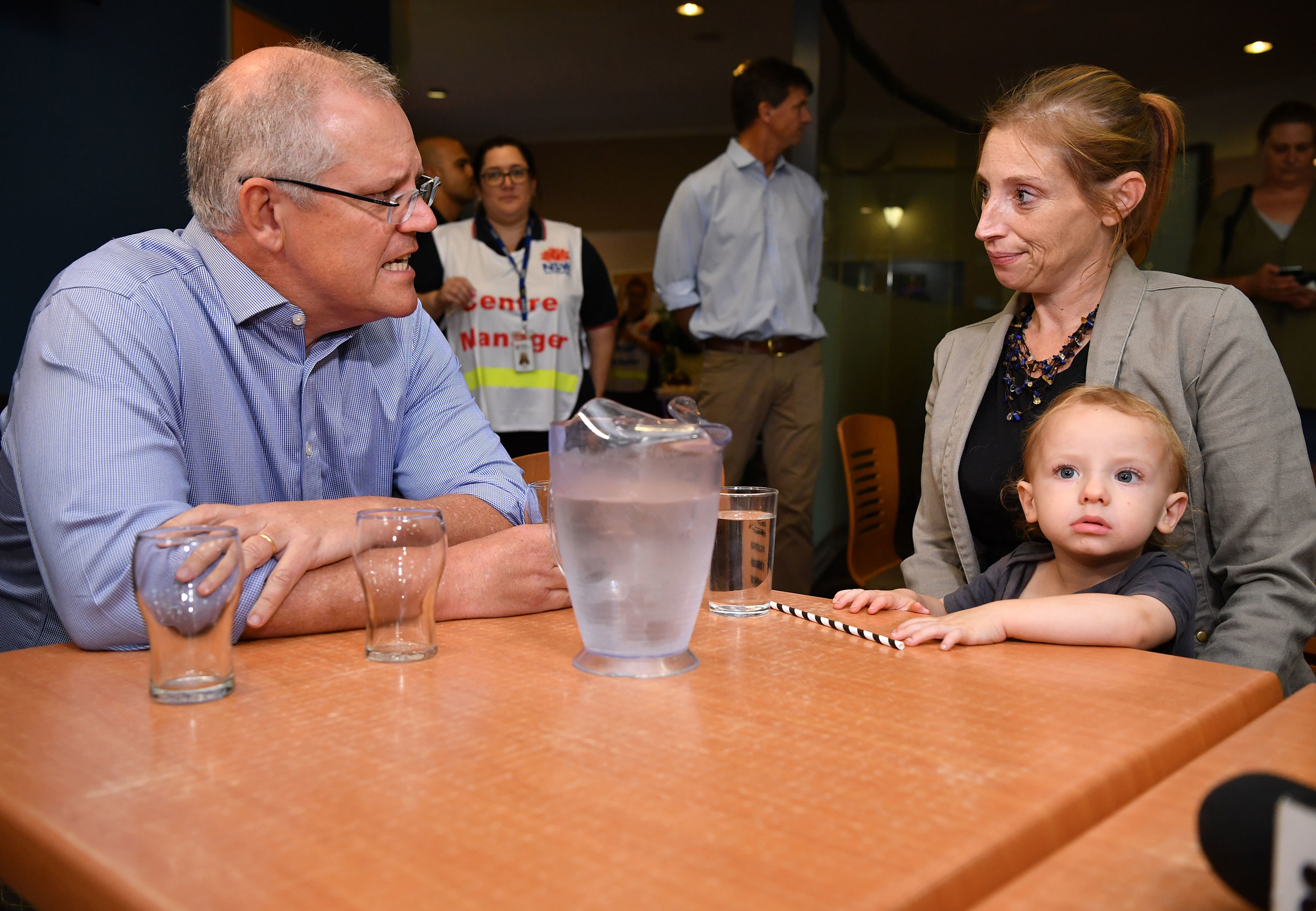 18.
Protester Izzy Raj-Seppings listens to a police officer who threatened her with arrest during a protest outside Kirribilli House, the secondary official residence of the Australian prime minister.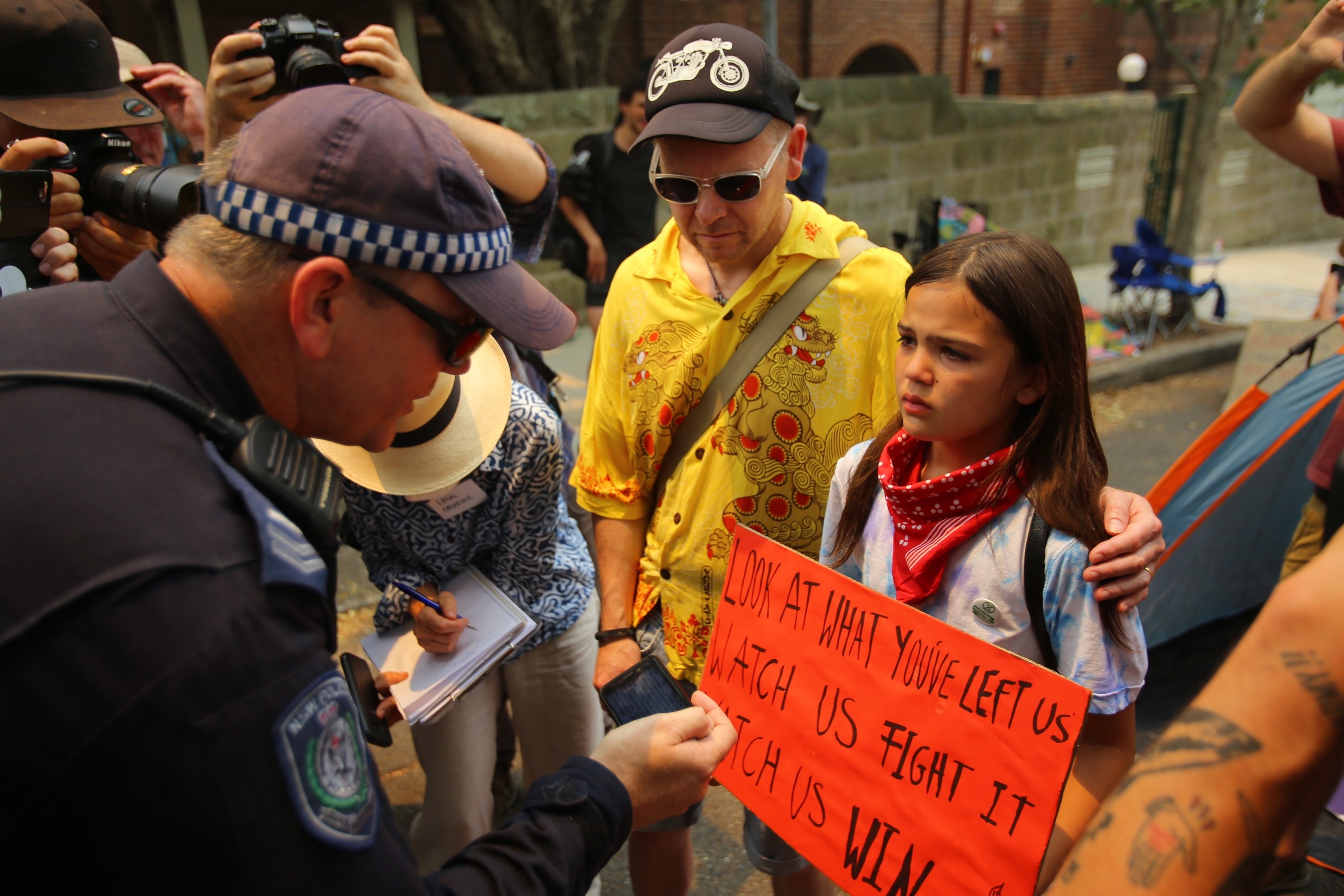 "I actually pushed my dad into taking me up to Kirribilli House. He probably wanted to go surfing, but I was like, 'No, get on this bus with me. Come up to the house and protest,'" Raj-Seppings told Today.
19.
Local kids gather water for horses in Sydney's north in mid-November.