The owner of an exclusive cocktail bar in Melbourne told a future employee that "there are no penalty rates" in the state of Victoria, before terminating an offer of employment, emails show.
Melbourne bartender James Lea was excited when he scored a job offer at high-end cocktail establishment Bar Americano in the city's CBD.
The 24-year-old had worked two unpaid trial shifts in November 2017 and was then offered a bartending position by the bar's owner Matthew Bax. Bax was once described by Broadsheet as the "most innovative bar owner the country has ever seen".

"I was really excited to get a fairly prestigious position and the opportunities that would open in the Melbourne hospitality scene," Lea told BuzzFeed News. "Matthew [Bax] has a reputation of being a very prolific creator and he has this real aloof-artist enigma surrounding him."
The laneway bar fits 10 patrons – all of whom must stand – and only serves cocktails, for which it has won multiple awards including Time Out's Best Cocktail Bar in 2015. It doesn't accept cash, take bookings or permit photos.

In an email chain provided to BuzzFeed News, Bax said he would check Lea's references and asked about his availability.
Lea said he considered not checking whether Bax paid the award rate but said after watching an unpaid wages dispute involving Melbourne restaurant Chin Chin play out, he wanted to make sure he would be paid fairly at Bar Americano.

Lea was instructed to email Bax any questions he had about the position at Bar Americano, and sent an email on November 27 with a list of questions relating to the bar's roster system, base pay rate, penalty rates and expected hours of work.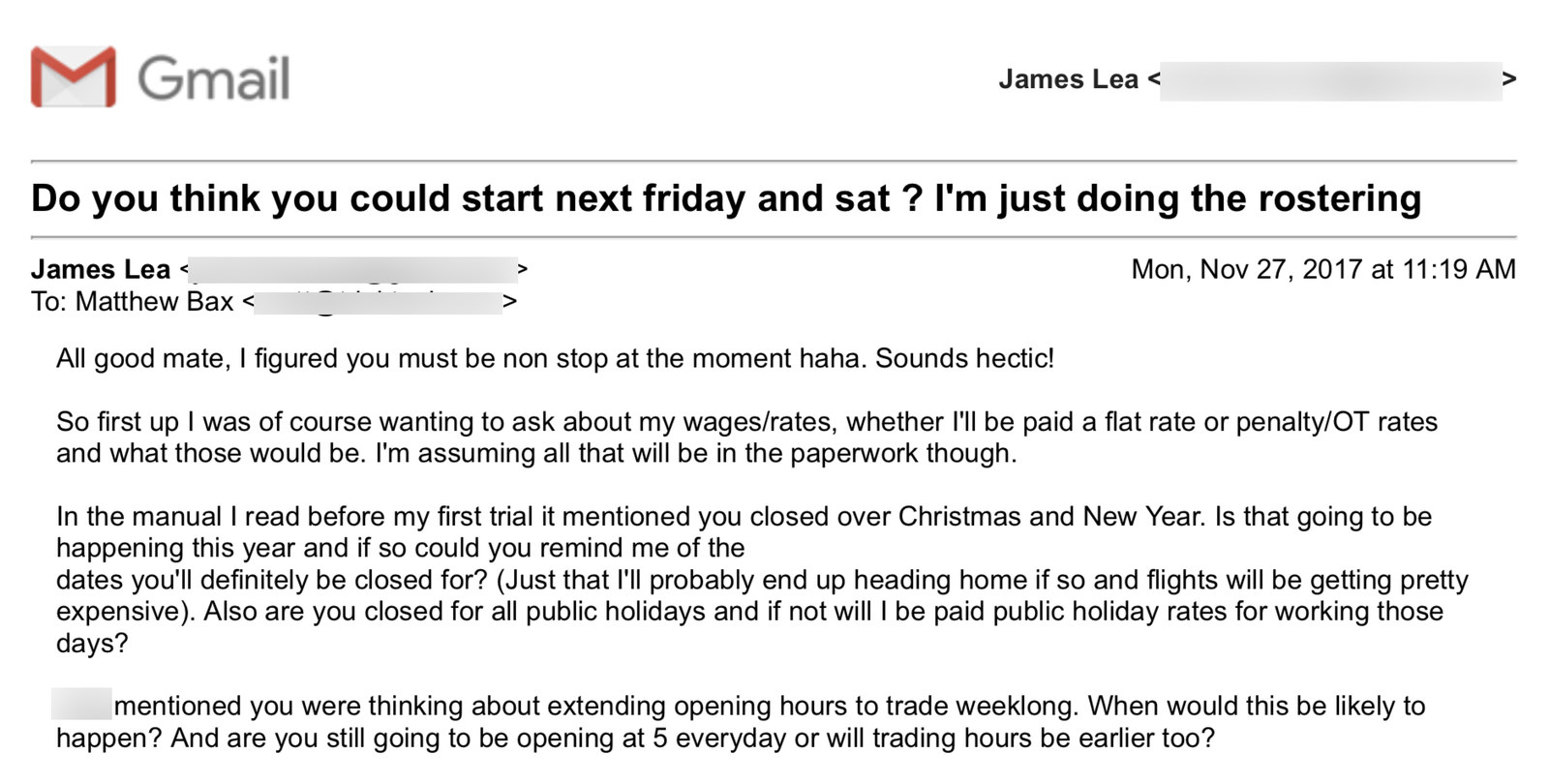 Bax responded and stated that Lea would receive $21 per hour and that Bar Americano did not pay penalty rates or overtime rates (because Bax said no-one worked overtime).
"There are no penalty rates in Victoria anymore mate," he wrote.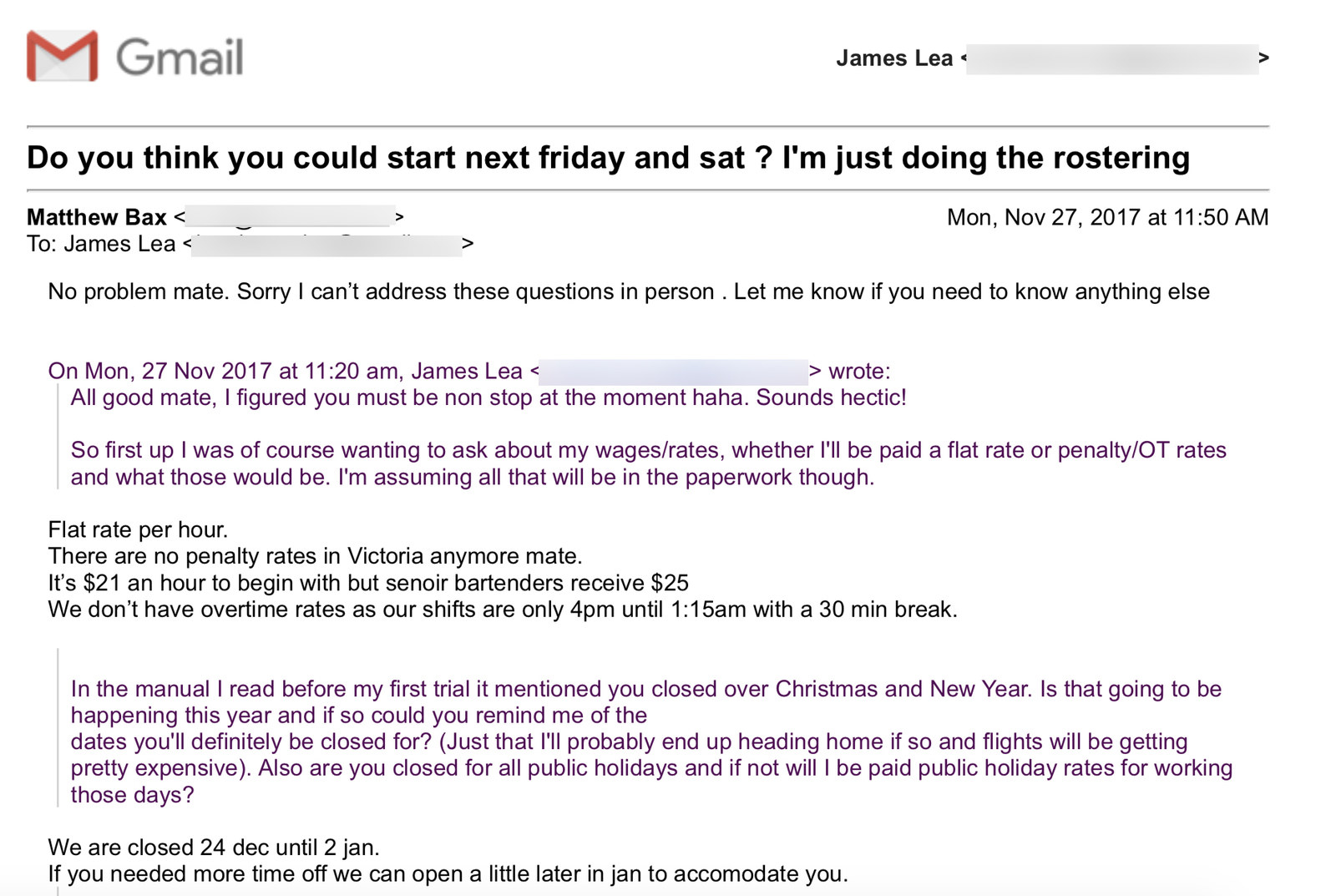 Penalty rates apply to hospitality workers in Victoria who work on Saturdays, Sundays and public holidays. The rates were reduced for full-time employees in February last year but not scrapped altogether.

The next day they agreed on Lea's start date, and on the following day he received an offer of employment and contract.

Lea responded acknowledging receipt of the documents and promising to complete them. Shortly after, he requested that he be provided a Fair Work Information statement.
This statement contains information about the main rights, obligations and entitlements of employees and must be provided to all employees by employers covered by the Fair Work Act 2009.
"I don't know what that is dude," Bax responded, promising to follow-up with human resources. He then sent another email suggesting Lea "jump on their website".
Bax then sent another email which said he felt that the pair were "getting off on the wrong foot" and that he'd like to meet Lea before employing him.
"I went in to that meeting thinking, 'I'm sure he is a nice guy and I'm a nice guy and hopefully we get along and we can clear this up and move forward'," Lea told BuzzFeed News.

Lea said he brought copies of the pay guides for the Hospitality Industry Award 2010 and Registered and Licensed Clubs Award 2010 into the meeting. Penalty rates as outlined in clause 32 apply to employees performing work on Saturdays, Sundays and public holidays.
He claims Bax told him the bar would "never pay award rates".
Less than an hour after the meeting Bax sent Lea an email withdrawing the offer of employment.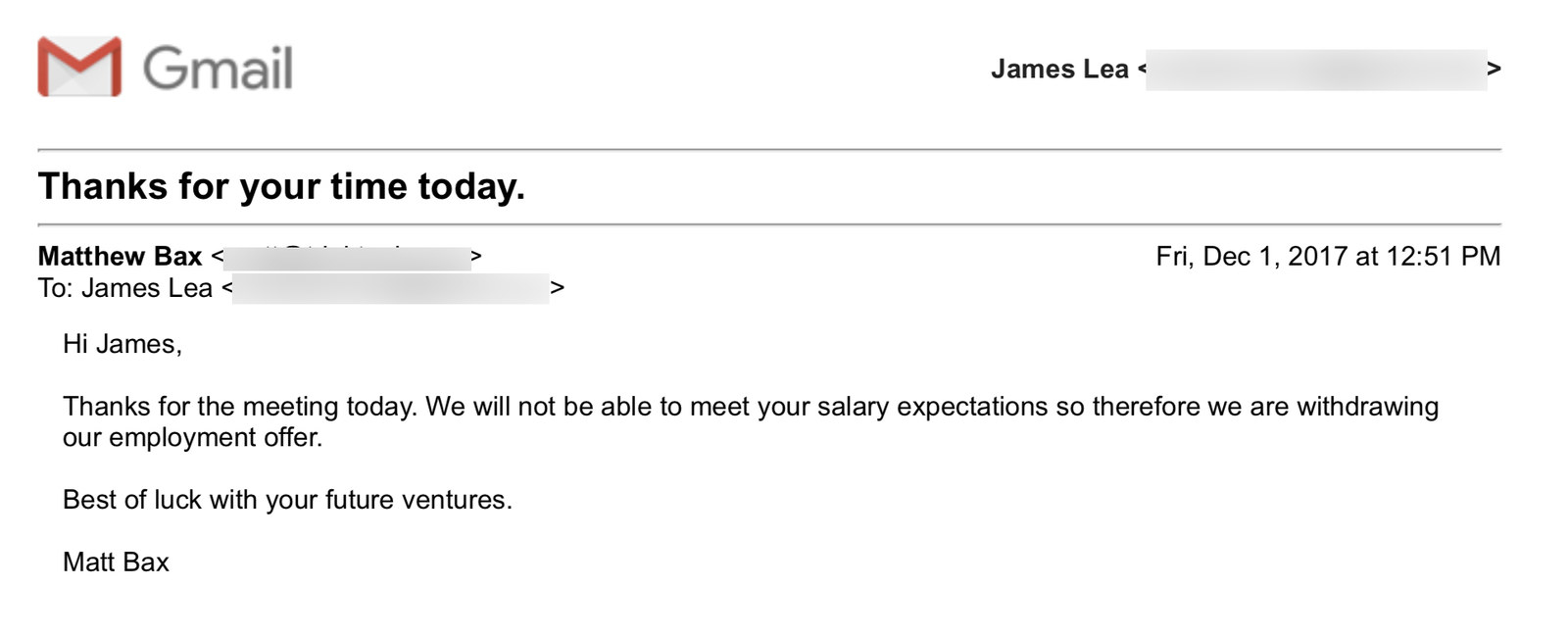 "It was a real gut punch," Lea said.
"I was really excited about working there and at that point I was like, 'Well what can I do about this?' Paid trials are still legal to the extent that it is necessary to demonstrate competence."
Lea approached the Fair Work Commission and his union but was told legal action wasn't worth the cost involved.

In response to a list of questions sent by BuzzFeed News, Bax responded by email: "I'm not going to be much help as I noticed James Lea paints a gross misrepresentation of the reasons why he failed to secure a position with us.
"James was never employed by Bar Americano. We have been in this industry since 2001 and Fair Work can confirm that we have never had any grievance whatsoever over wages or any other matter."
He said that no member of the bar's current or former staff had any "wage grievance".
"There is no wage theft or anything like an offence," Bax wrote. "Fair Work and the Australian Tax Office will confirm that there has never been any offence or accusation."
Earlier this month Lea spoke at an action by Hospo Voice (the hospitality arm of United Voice union) against what it describes as wage theft.
"We want to make sure people know that the venues they are visiting are venues that are breaking the law and it might not be criminal law but they are still breaking the law," he said.
Young Workers Centre coordinator and solicitor Keelia Fitzpatrick said the centre (created by the Victorian Trades Hall Council to organise young workers) was calling on Bar Americano to pay workers past and present for the late night and weekend rates they were entitled to under law.

"We are calling on wage theft to be criminalised so that employers face real consequences for deliberately underpaying their workers," Fitzpatrick told BuzzFeed News.
In April, former staff at Barry cafe in Melbourne's north claimed they were underpaid by at least $5 an hour, and when they tried to discuss their wages with the owners their shifts were cancelled indefinitely.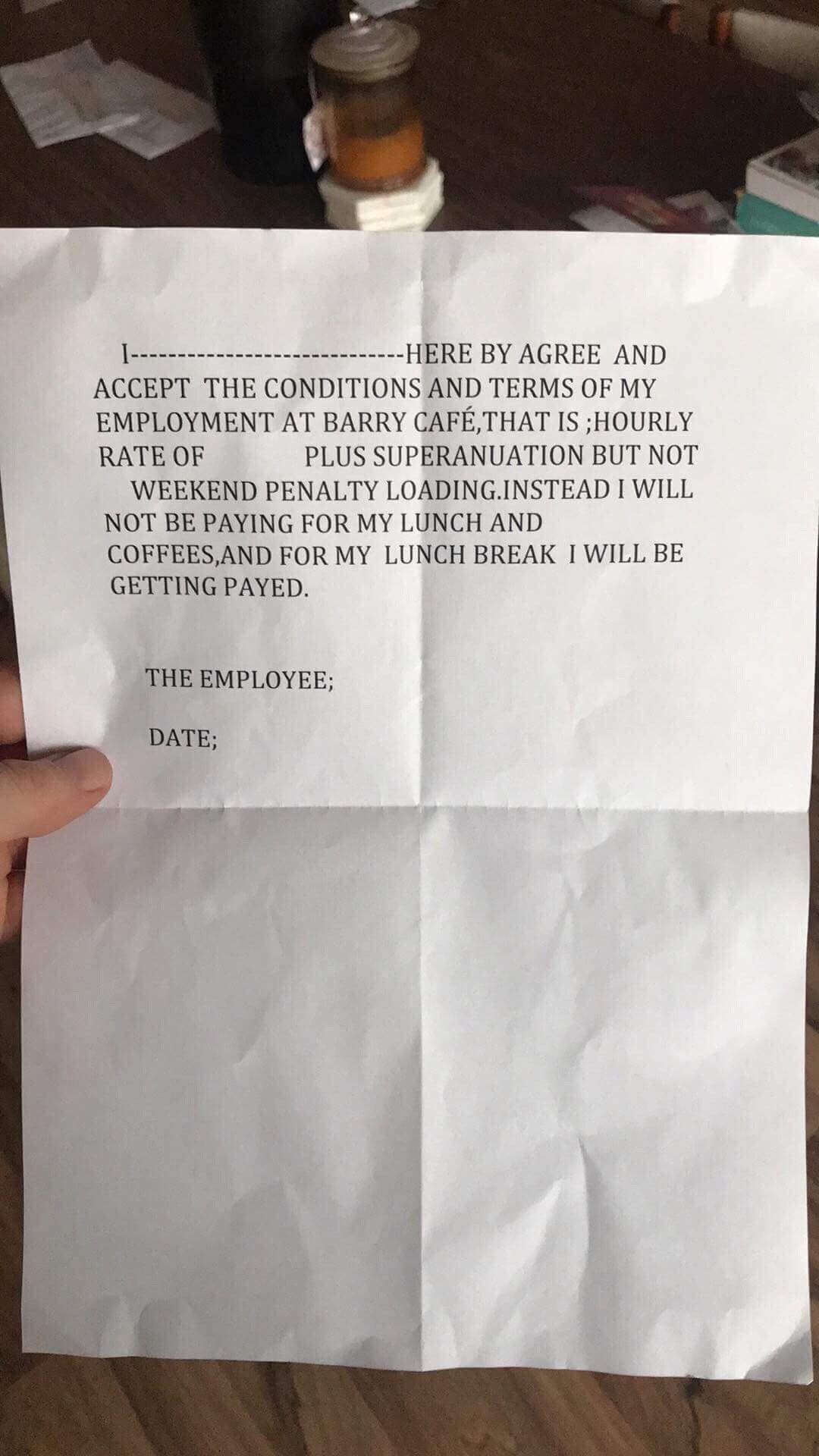 A study released by a Reserve Bank of Australia (RBA) researcher has found that the annual increase in the minimum wage paid to Australian workers from 1998 to 2008 had no adverse effect on the hours staff worked, and did not destroy jobs.

Employer groups and conservative commentators in Australia often argue against minimum wage increases when the Fair Work Commission annually reviews the lowest hourly rate Australian workers can be paid.
In the report released by RBA researcher James Bishop on Thursday, Bishop used the steady annual increases in the minimum wage in Australia from 1998 to 2008 to track the impact it had on hours worked, and jobs in the market.