Here Are All The Times Rowan Dean And Ross Cameron Were Extremely Normal About Women
Highlights include suggesting paid domestic violence leave was "normalising violence" and linking feminism to depression.
Sky News has suspended a producer for allowing an offensive comment made by a male politician to a fellow female senator to be highlighted on screen.
Liberal Democrat politician David Leyonhjelm has not denied yelling "stop shagging men, Sarah" across the floor of the Senate during a debate on Friday about whether women should protect themselves against violence with pepper spray.

Hanson-Young is investigating suing Leyonhjelm and Sky News after a strap at the bottom of the screen during Leyonhjelm's interview on The Outsiders program hosted by former Liberal politician Ross Cameron and commentator Rowan Dean, displayed an offensive comment made by Leyonhjelm about Hanson-Young.

But many people, including Hanson-Young, have noted that it isn't the producer who should take all the blame.
"I think ultimately the people that need to take responsibility for this are those who run the show and of course the bloke making the comment," Hanson-Young told ABC's Radio National on Tuesday morning.
"I must say it was pretty uncomfortable and awful to sit there and watch that exchange where David Leyonhjelm makes these awful comments, offensive comments, and to see the hosts sniggering in the corner. They laughed. That's not the junior producer's responsibility, that was those two men on set with him and they must take responsibility."
"This is far from the first incident of slander and offence," journalist Peter van Onselen, who has hosted multiple shows on the network, tweeted on Sunday. "Allowing it on air unfettered erodes the morale of hard working decent people who cringe at being associated with it."

"The Trump conversation, what it tells you is that in the private moment, at the end of the day, when the bloke is sitting down with his mates, the thing that his mind turns to is the female of the species," he said on air in 2016.

"The female is the celestial body around which the male orbits. She is the dominant figure in human history. The rise and fall of civilisations may be renamed 'who gets the girl'."
He then argued that Australia's fertility rate was falling because men can't objectify women.
The reaction from fellow anchor Janine Perrett is worth watching.
2. When Cameron did this to a cut-out of then presidential candidate Hillary Clinton at an election party.
3. When Dean referred to the boss of the Australian Council of Trade Unions, Sally McManus, as "that silly union sheila, the one who doesn't wear any lipstick".
He said columnist and author Jane Caro complained "endlessly" that professional women in Australia suffer from endemic sexism and misogyny; made fun of Indigenous then senator Nova Peris for her "her tearful announcement that the only people worthy of criticising her are Indigenous women"; and said former prime minister Julia Gillard was on the list for "stabbing her male colleague in the back, stealing his job and then getting sacked because she was useless at it".
5. When Cameron suggested that people filing sexual harassment claims were immature and needed to work in a completely separate workplace.
"They can be in a sheltered workshop," Cameron suggested.
6. When Dean got mad about equal representation and said it was "irrelevant whether our parliament is made up of 100% of men".
Following the dumping of Jane Prentice, LNP member for the federal seat of Ryan and Assistant Minister for Disability Services, Dean weighed into a discussion about the dwindling female representation in the government.
"This shows how far the Liberal party have lost all sight of conservative key principles," Dean said, commenting on Kelly O'Dwyer's decision to seed a "fighting fund" to increase the representation of women in her party.
During an interview with anti-feminist and men's rights activist Karen Straughan he asked: "I wanna know does feminism make women unhappy or does it just attract unhappy women?"
He then said he had serious "concerns" about a "significant outbreak of depression among young girls".
"We have had a number of elite private school girls who have been committing suicide, we have depression everywhere and visits to counsellors," he said.
"Do you worry that this sort of doctrine, this curriculum, this unrelenting emphasis of the misogyny of the male is causing depression among females?"
8. When Cameron said paid domestic violence leave was "normalising violence".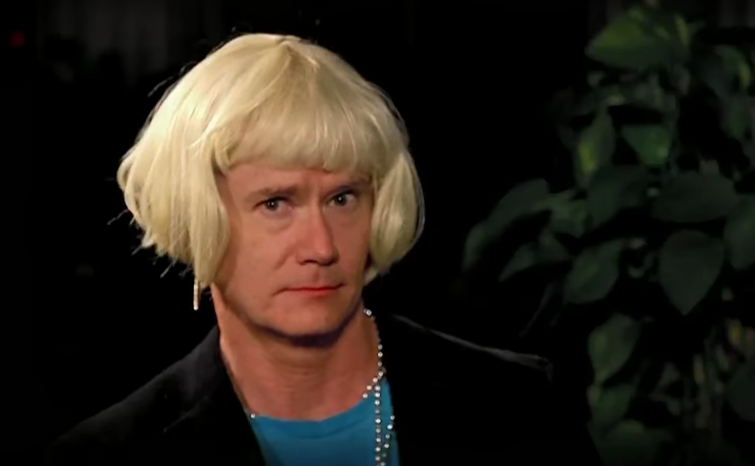 "I always thought the orthodoxy was if you were in a violent relationship you should leave the relationship, where the ABC view is if you're in a violent relationship you should take 10 days leave ," Cameron said.
"Is the ABC just normalising violence by creating an industrial award for it?"
9. When Dean got mad because Commonwealth Bank had an opt-in survey about gender and sexuality which Cameron labelled as "close to sexual harassment".
"This is the Commonwealth Bank who hopes people will put their money with them," Dean said. "Well I'd certainly think twice about putting my money with an organisation where they are so desperate to signal their virtue that even at applying for a job you have to go through the whole gender diversity rubbish."
"I'd just ask the CEO of the Commonwealth Bank, if the very first question you ask someone who wants a job at the Commonwealth Bank is 'Do you like guys or girls?' it's getting a bit close to sexual harrasment," Cameron said.
Cameron issued an apology for mischaracterising the opt-in survey, which allowed candidates the option of describing their gender as male, female, gender neutral, intersex, or transgender, alongside an option to give no response at all.
10. When Dean got mad about a campaign to build inclusion in the workplace by encouraging language that doesn't perpetuate stereotypes about women.
"I suspect that in about 90% of normal Aussie households, most of the cleaning up does indeed get done by mum because dad couldn't be arsed or is too busy watching telly or too hungover to care," he wrote, in response to part of the campaign that addressed the idea that only "mum" would clean the kitchen. "It ain't a perfect world, but at least it's a tidy one."