Most People In This State Have No Idea Abortion Is Still A Criminal Offence, Researchers Say
In NSW, unlawful abortion is a criminal offence for a woman and for her doctor and is punishable by up to 10 years jail.
More than three in every four people surveyed in NSW had no idea abortion was a criminal offence in their state, and 73% thought the procedure should be decriminalised, according to data released to the public today.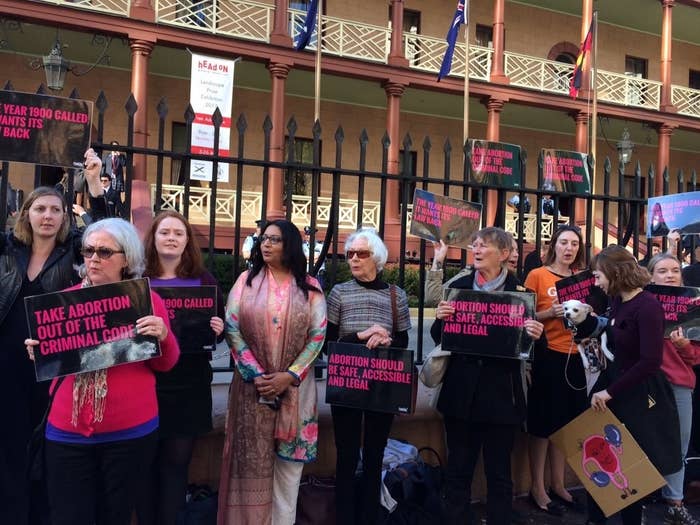 The main findings of the study were released by former NSW Greens MP Mehreen Faruqi in 2015, but researchers have today published the entire data set in the Australian and New Zealand Journal of Public Health in the hope it will inform future efforts to decriminalise abortion in the state.
In NSW, unlawful abortion is a criminal offence for a woman and for her doctor (or
person administering the intervention) and is punishable by up to 10 years jail under the Crimes Act 1900.
Subsequent case law has established that abortion is lawful in NSW if the doctor has an honest opinion that continuing the pregnancy would be seriously harmful to the health of the woman.
Researchers surveyed more than 1,000 people across the state and found 89% of those surveyed supported legal changes to protect women from harassment, and 81% support providing protester exclusion zones around abortion clinics.

Overall, 47% of respondents reported that they knew someone who had had an
abortion, 56% of women and 38% of men. More regional or rural residents reported
knowing someone who had had an abortion (53% regional or rural compared to 46% of Sydney residents).

One of the researchers, Alexandra Barratt, a professor of public health at the University of Sydney, said she wanted to provide long term public access to the data, initially commissioned by Faruqi.
"I think it is a reminder of the fact that most people are not aware that 118 years later the [NSW] Crimes Act still has a provision relating to abortion," Barratt told BuzzFeed News.
"Other states have taken steps to reform their law and it really leaves NSW as the odd state out."

Support for decriminalisation was consistent across genders, age groups and city or rural residents.
Most respondents (78%) thought there should be a legal responsibility for medical practitioners, regardless of their personal views, to provide referrals and objective information on options for unplanned pregnancies.
Barratt said steps were taken by researchers to ensure those surveyed represented the general population.
"The sample is similar to the census data for New South Wales, but it is not perfect as the sample had a slightly higher educated people, but in terms of distribution of where people lived, their age and gender it was similar to the census."
Around 40% of participants reported identifying with a particular religious belief.
In May last year a law that would have removed abortion from the NSW Crimes Act was voted down by the state's parliament, with only 14 MPs voting in favour of the bill.
In June this year legislation to enact safe-access zones around abortion clinics to protect patients from harassment and intimidation by protesters passed through NSW parliament.
The legislation, introduced by Labor MP Penny Sharpe and cosponsored by Nationals MP Trevor Khan, established 150-metre zones in which anti-abortion protesters caught intimidating staff or patients could be fined or even jailed.