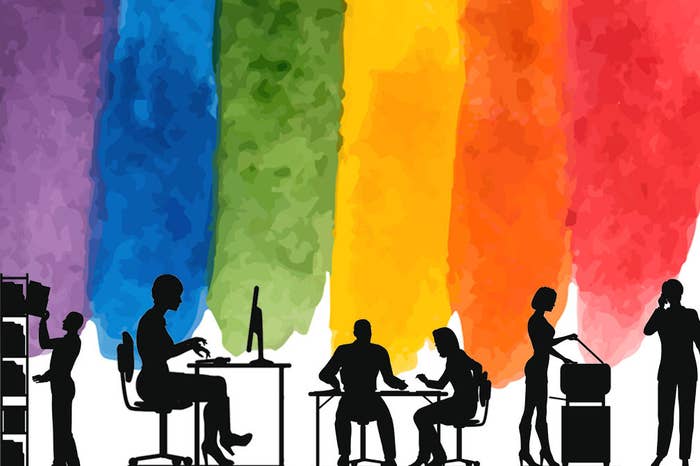 Melbourne woman Vanessa — a pseudonym to protect her privacy — described a situation in her current workplace​ that left her uncomfortable and upset.

"I am a queer cis-gendered woman and I am in a relationship with a person who was transitioning while I was in this job," Vanessa told BuzzFeed News.
"I let my manager know that I had a partner who was medically transitioning and that this might throw up some challenges for me, and that I would be under a bit more stress in my personal life."
Soon after Vanessa had a meeting with the manager who sits above her own boss in the company's hierarchy.
"I was having a professional work-related meeting with him and he sort of brushed all of that aside and said, 'Anyway I hear you're having an interesting personal time', and I got that he was referring to my partner's transition, and it became apparent that [my boss] had told him about it," she said.
"It seemed like a breach of privacy and I felt indignant."
The male manager then asked what she described as a "creepy series of probing questions".
"He said, 'So what does that mean for your sexuality?'; and 'How are you going to identify now?'; and 'How does that make you feel?'; and these really personal deeply uncomfortable questions," she said.
Vanessa said the power imbalance was such that she didn't feel comfortable expressing how inappropriate the conversation was.
"He had this entitlement and he might have had good intentions, but I don't think he considered how that might make me feel, and it was just really gross," she said. "I think part of it was just personal curiosity, which is pretty off."
After ​about ​10 minutes, Vanessa said she tried to wrap up the conversation.
"I find that being a queer woman, you end up in strange relationships with your male coworkers and in particular your superiors, where they think they can have this kind of frank relationship with you without it seeming to be creepy because they don't see you as an object of sexual desire," she said.
"You end up in this weird boys-y, mates-y relationship with these people who don't actually understand you, but who feel like they can say creepy and upsetting stuff and that you won't find it creepy or upsetting."
Katharine — a pseudonym to protect her privacy — worked in a shop in New South Wales she said marketed itself as a "female-empowering, sex-positive, LGBTIQ-friendly adult store", but that the owner was frequently inappropriate and sometimes transphobic.
"As a queer person, I tried over the years I worked there to make it a genuinely trans-friendly place by getting in particular products, and I remember we had a marketing campaign featuring a friend of mine, a trans woman, and [my boss] referred to her as 'that'," Katharine told BuzzFeed News.
"When we corrected him and said 'she', he said: 'Oh I don't have time for pronouns'."
When Katharine was alone in the office with the owner one day she said he "made a comment" about her breasts and she felt very uncomfortable. A week later he was fixing a powerpoint underneath her desk.
"He made a comment about the nice view between my legs," Katharine said.
Another co-worker then said the comment wasn't offensive or inappropriate because Katharine was wearing shorts and not a skirt.
"I didn't even say anything, I just got up and went to the kitchen because I was so shocked," Katharine said. "I felt really horrible and then I just had to continue as normal."
She said it was a small business with no human resources in place and her boss would always say they were a "family".
Katharine was encouraged by her partner to email the owner and explain why the situation made her feel uncomfortable, which she did one weekend. She said he didn't reply and when she arrived at work the following Monday he asked to have a meeting with her and another colleague.
"They sat me down for two and a half hours, that is not an exaggeration, and they made me go through every single detail of the incident and explain why I didn't think it was OK," Katharine said.
"They told me, like, 'This is an adult store what do you expect?', and I tried really hard to explain that that makes it even more important that people need to watch their behaviour and their comments and their expectations."
Katharine said she was told by her boss she had a "problem with men" because none of the other young female employees had raised any issues with him.
During the lengthy meeting, Katharine said, the owner denied his comments were inappropriate and "refused to accept responsibility" for his actions.
"I had to explain that this wasn't about what he intended, but about how it makes the person feel, and that the thing about sexual harassment is it is not about your intentions," she said.
"I ended up just giving up because I was so exhausted and I felt so broken that I actually let them put it down to me just being stressed and having a lot going on in my life."
LGBTIQ outreach lawyer Sam Elkin works at St Kilda Legal Service. Over summer the organisation conducted a survey ahead of its March submission to the Australian Human Rights Commission's inquiry into sexual harassment in Australian workplaces.
"The way that people talk about sexual harassment is often an older male manager harassing a younger female staff member, and that certainly happens all the time, but I think the underlying driver of sexual harassment in workplaces is power and the misuse of power, and because different workplaces have particular power arrangements it means that different kinds of people are vulnerable," Elkin told BuzzFeed News.
The survey found lesbian women had experienced heterosexual male colleagues suggesting "corrective intercourse" to cure them of their lesbianism.
"A real theme was lesbian women talking about sometimes quite frightening experiences they've had in the workplace of these so-called jokes," Elkin said.
"We had a lot of gay men who talked about sexual harassment both from male colleagues and from female colleagues."
The survey found trans and gender diverse communities experienced sexual harassment differently as the outward presentation of their gender identity changed — some were sexually harassed as a "young woman" and then subjected to invasive questions in the workplace as they began to transition.
"There were reports of these really intrusive questions around genitalia, desire for surgery and relationship status in a way that would clearly be inappropriate if you asked a cis-gendered person those types of questions," Elkin said.
The survey found that jokes about sexuality and gender identity were a key issue in Australian workplaces, where they were "accepted as a light-hearted form of humour".
"[St Kilda Legal Service] would like to see all sexual harassment policies that are in Australian workplaces to include LGBTIQ experiences to make sure that managers are better able to identify that some of these examples can amount to sexual harassment," Elkin said.
"We want better mental health support for people who are reporting sexual harassment, no matter what their gender or sexuality, and we would like to see further research into LGBTIQ experiences of harassment."
If you or someone you know is experiencing violence and need help or support, there are national and state-based agencies that can assist you 24 hours a day, seven days a week. Call 1800 RESPECT (1800 737 732).