For the next three days Macca's is giving away free fries at a pop-up store, Fries With That, in Glebe in Sydney's inner-west.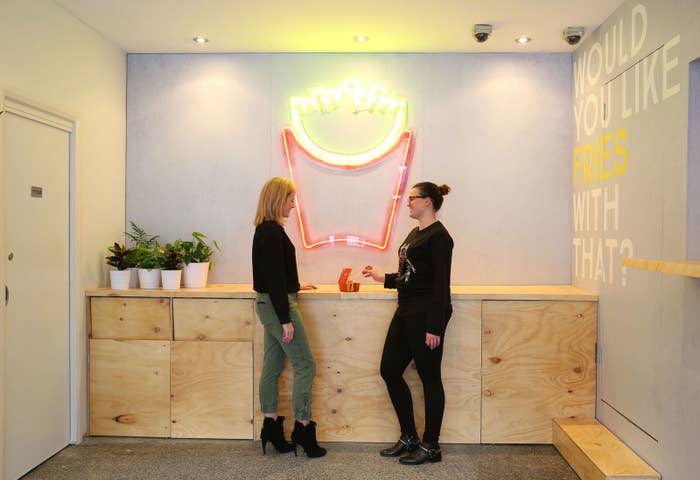 But the exposed lighting, unvarnished wood cabinetry and white-potted succulents haven't fooled a group of locals who are protesting against a fast-food outlet in their suburb and say "a few shrubs don't hide the deep fryer".
A few weeks ago the residents began sticking up signs around the suburb for their Not On Our Corner campaign.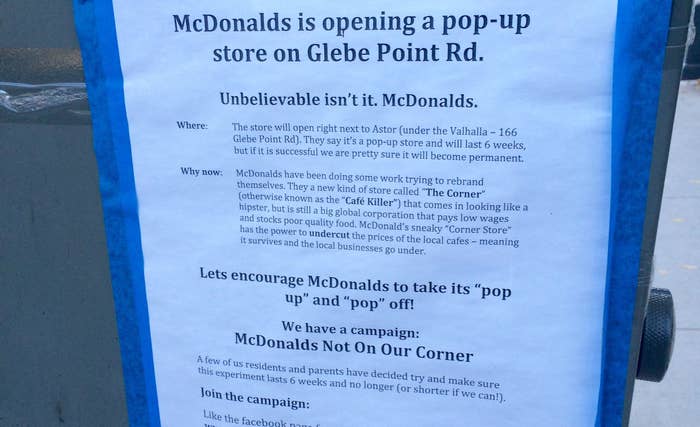 Macca's responded with a letter box drop.
Police gathered outside Fries With That before the grand opening on Friday because someone had thrown a brick through one of the windows overnight.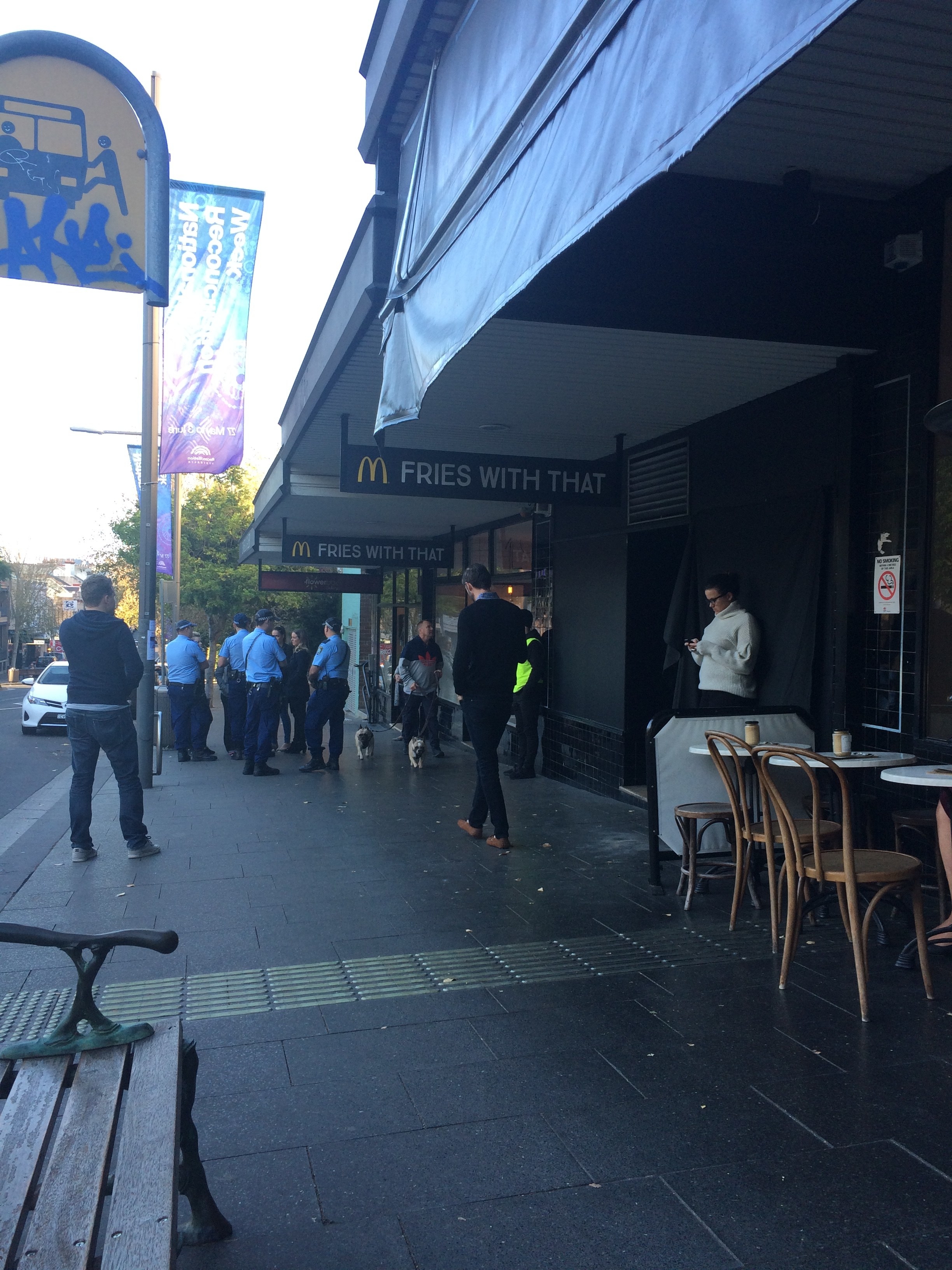 The boys in blue were investigating why one unhappy local was willing to smash up a heritage-listed building.
Glebe resident Amanda Tattersall, who formed the Not On Our Corner Facebook page and protested out the front of the store with a group of cafe owners and locals, condemned the violence.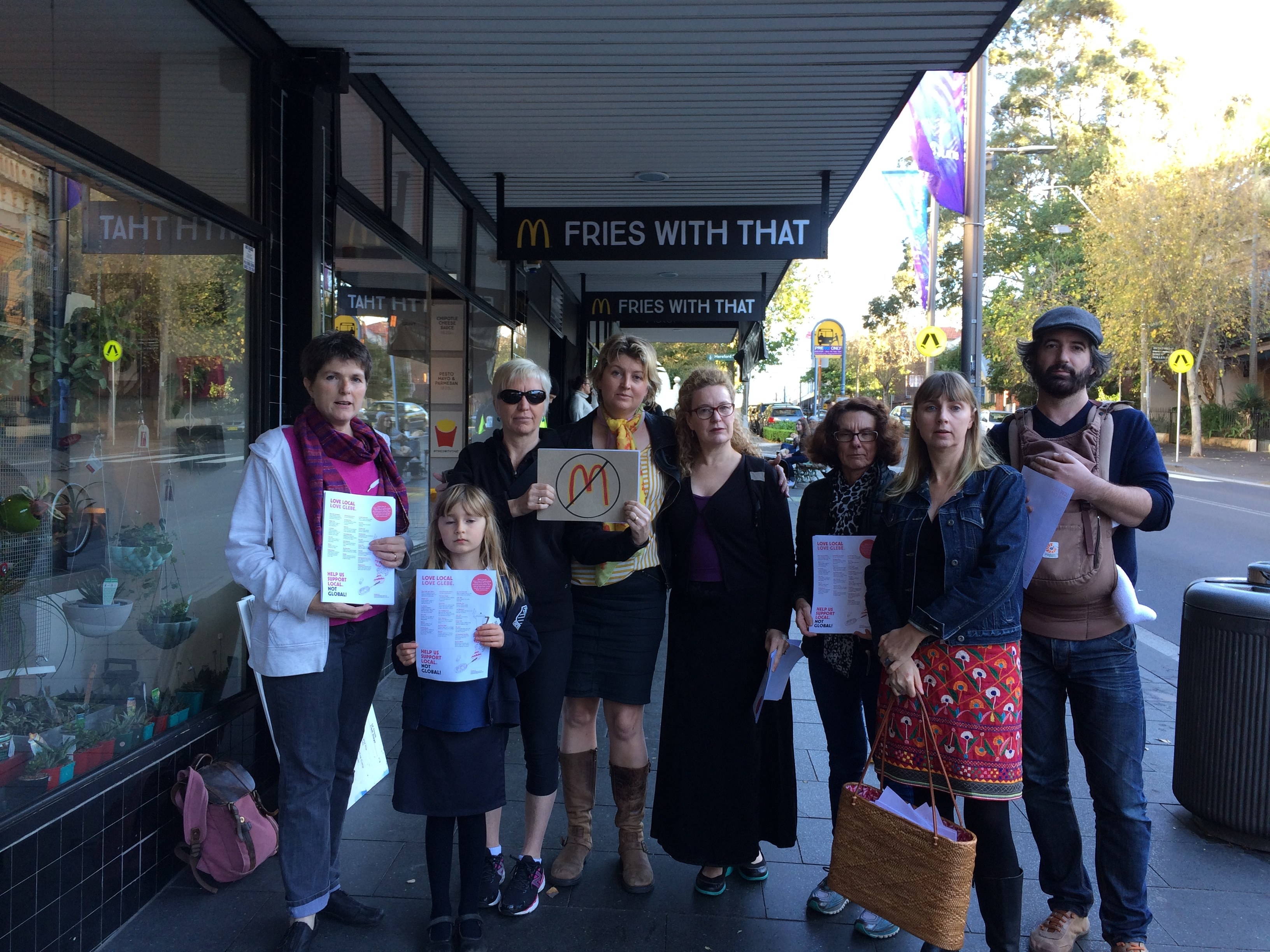 "We are just a bunch of mums and residents who are worried about more bad food moving in and we condemn the violence," Tattersall told BuzzFeed News. "But there is a lot of vitriol around this campaign and I've received hate emails."
There is currently a Subway and Domino's Pizza franchise further up the road but McDonald's was another unwelcome fast food outlet in her suburb, she said.
"Glebe is such a community-like village and we don't need a polarising multinational company to come in and divide us."
Tattersall doesn't believe the three day pop-up is only temporary and thinks the initiative is a test operation for a permanent store in the area.
"Why would you spend $50,000 plus on a refit for a three day operation?"
Hours before the grand opening a young boy in a school uniform wrote "SUPERSIZE ME" in chalk and ran away before McDonald's staff mopped over his Morgan Spurlock inspired sledge.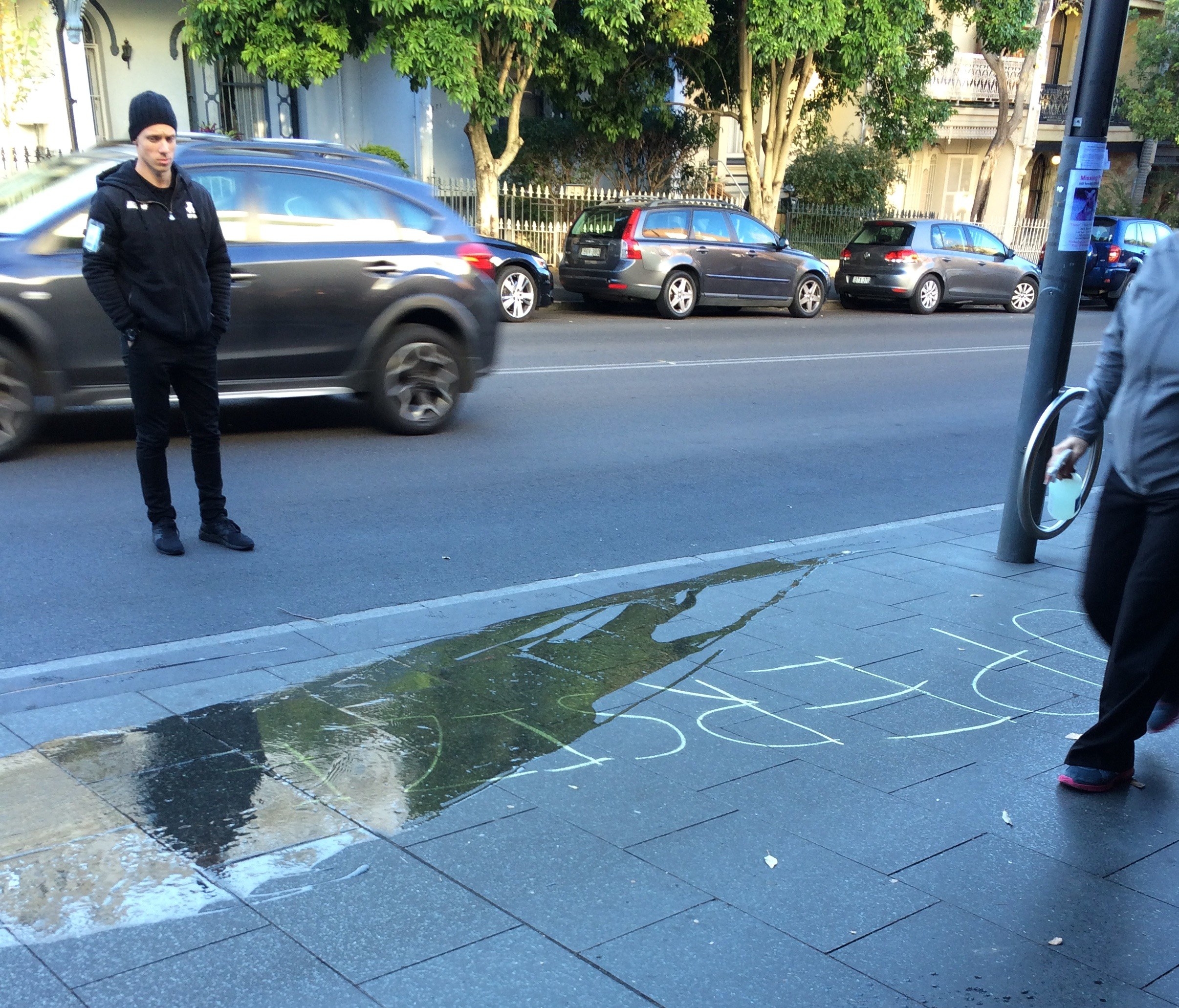 Cafe owner and Glebe Chamber of Commerce president, Kris Spann, said McDonald's was "so 90s" and it wouldn't go down well with locals.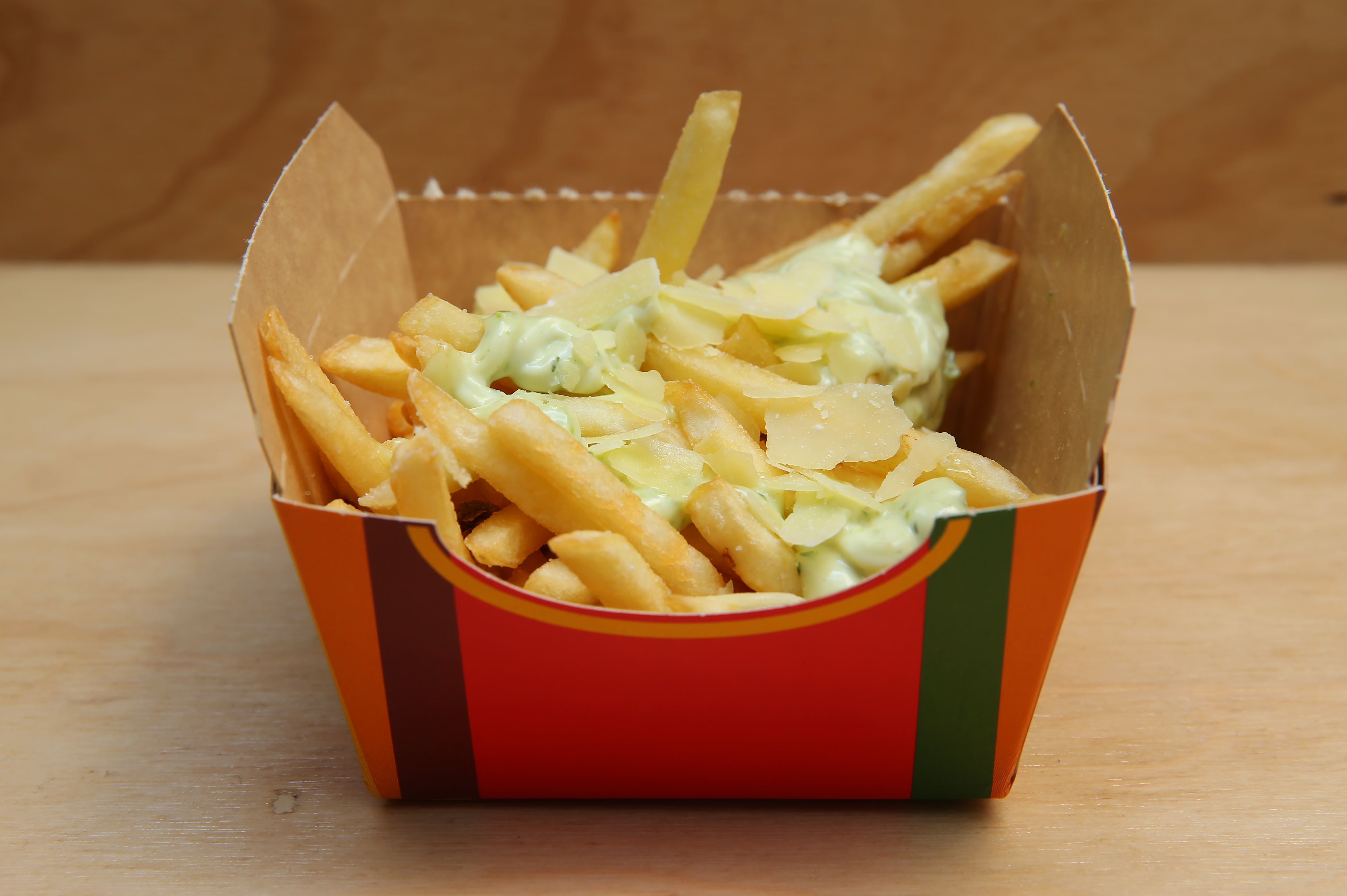 "It is fried chips with stuff on top of it," he said. "It is spew-up food and people this weekend will hopefully come to Glebe, eat their fries, spew them up in the back lane and then come and eat some real food because there are plenty of good food options."
"People here love their local businesses and I think when someone like McDonald's is snooping around in a shroud of secrecy and not being honest it gets people riled up."
But not everyone was unhappy about the opening.
"I think it is ridiculous that there is a minority that feel like they can spout their opinions on behalf of an entire suburb without canvassing our opinions," passerby Pete Fairbairn told BuzzFeed News.
Vasily Shchegolev, who lives around the corner from the store, said he hoped the pop-up would become a permanent store that would "give jobs to young people".
"To get employed at a cafe these days you need to get a lot of tattoos and piercings so I think for McDonald's to create jobs for people, that would be great."
He said he didn't understand why other locals were "afraid of a crowd".
"If people want to go to a trendy cafe there is one next door."
The most popular of the six flavours will be added to the existing "Loaded Fries" range, McDonalds told BuzzFeed News.