14 Disturbing Reports Of Hazing Rituals And Sexual Violence From Aussie Uni Colleges
A new report details hazing, sexual assault, ritualistic humiliation, and alcohol abuse.
Sexual violence and degrading hazing rituals are rampant in Australian university residential colleges, a new report released by End Rape on Campus Australia has claimed.
The Red Zone Report is a 200-page document released to coincide with the beginning of Orientation Week at the University of Sydney, known to sexual assault services as the "Red Zone" due to the spike in rates of sexual assault that occur during this one week.
One in eight attempted or completed rapes or sexual assault incidents at the University of Sydney that happened last year occurred in this single week, the report claimed.
But the report maps unsettling hazing rituals in residential university colleges Australia-wide, where it claims one in 17 women has experienced attempted or completed rape or sexual assault.
Here are the most disturbing parts of the report.
1.
Male students masturbated into female students' hygiene products.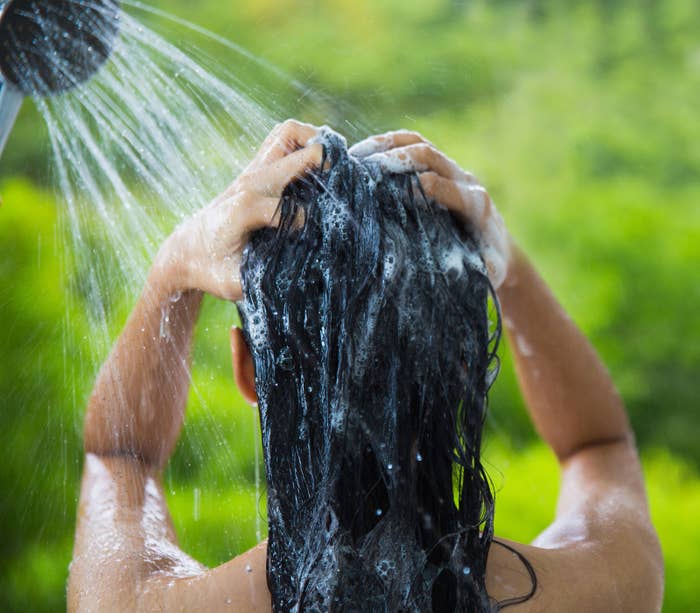 2.
New female students were required to drink goon from male students' pants.
One female student from an unknown residential college described a hazing practice for new female students called the "run the gauntlet" challenge.
Female students were required to run down a corridor lined with male residents who had cask wine sacks in their trousers with the nozzles hanging out of their fly.
Female students were required to kneel before each male resident and "drink from his sack".
3.
New students were doused with buckets of rotting fish.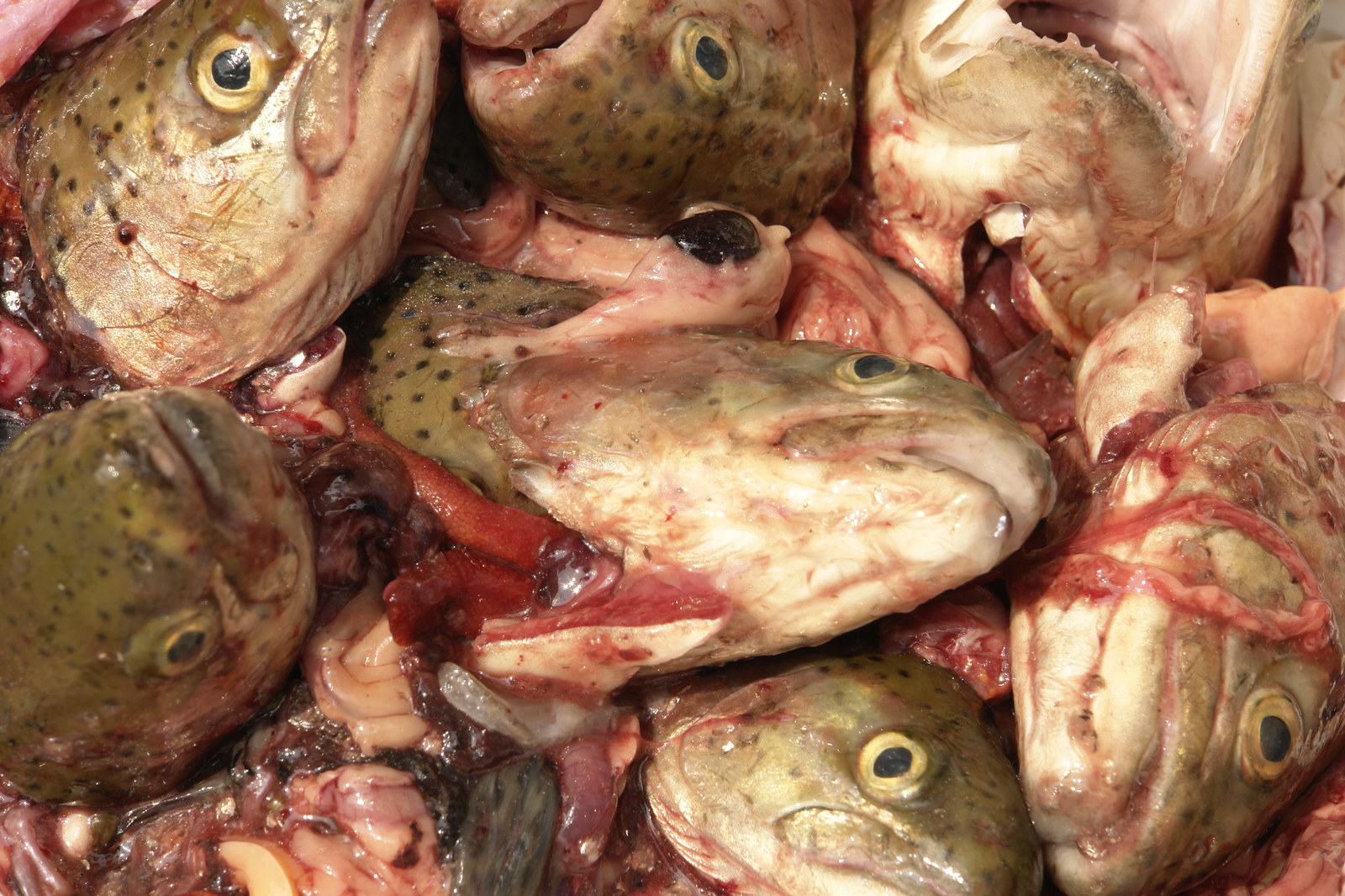 4.
Male students at one university were forced to drink beer from the end of other students' penises.
Last week, the residential colleges at the University of Newcastle made headlines after a series of YouTube videos produced by students surfaced in a news.com.au investigation. The footage, which had been shot and edited between 2012 and 2017, documents O-week traditions including male students engaging in a ritual known as "bid bathing" where a male student kneels on the ground as another students places his penis into the mouth of the kneeling student, and a third student pours beer or other alcohol down the penis into the mouth of the kneeling student.
Male students wearing dog collars must act like dogs. Students are seen crawling through traffic and in one case kneeling on the ground and drinking water out of a dog bowl in the street.
5.
Incoming female students were rated by male students.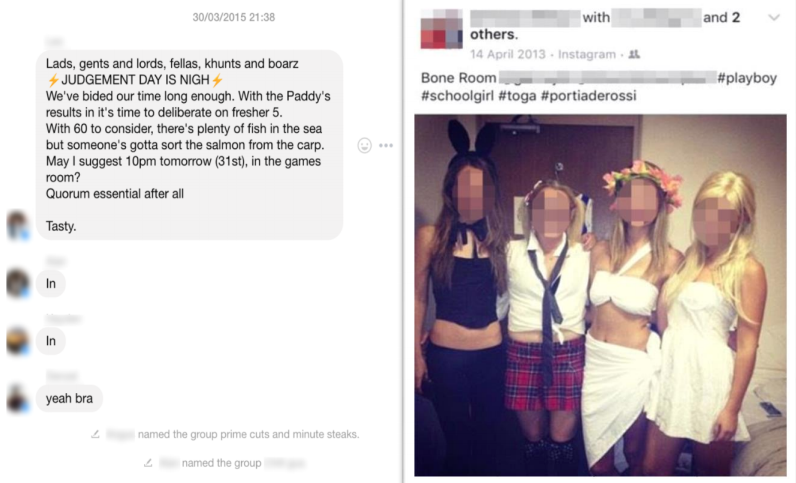 6.
Male students sent Snapchat screenshots of themselves holding the underwear of girls they had slept with.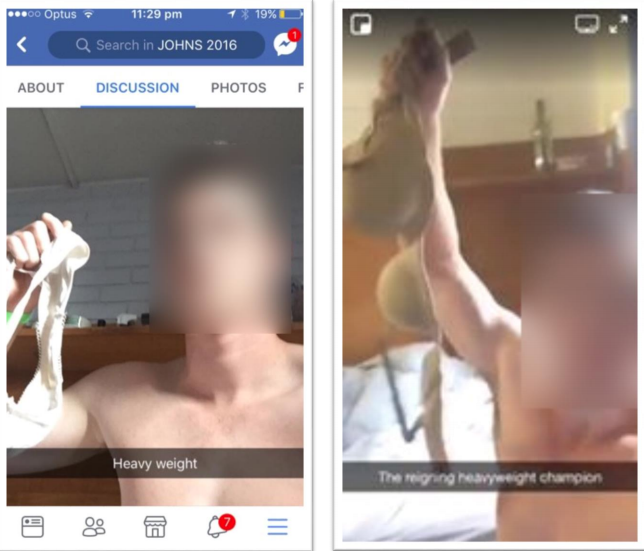 7.
Students played a game where opening a door was taken as consent.
In 2011, Crikey published allegations that Australian National University students at John XXIII college engaged in a "game" called "rock-spidering" where during orientation week, students would knock on the door of fresher students. If the student opened the door, this was taken as consent to have sex. The "game" had allegedly resulted in multiple sexual assaults and the Canberra Rape Crisis Centre confirmed they were familiar with the practice, the report noted.
That same year ANU student Raveena Tor also described a scene at John XXIII where she opened her bedroom door to find a naked, unconscious female student who had allegedly been left there after being raped, bruised and photographed.
8.
Other hazing rituals include vomit, faeces and urine.
Fresher students at St Albert's College University of New England have been subjected to humiliating hazing activities throughout their first year, including being forced to eat like dogs; being expected to drink a mixture of beer, vomit, cow faeces and urine in a competition and being forced to eat red and green foods before drinking sessions so that their vomit will resemble the college colours.
9.
Redheaded male students were nominated to set their pubic hair on fire.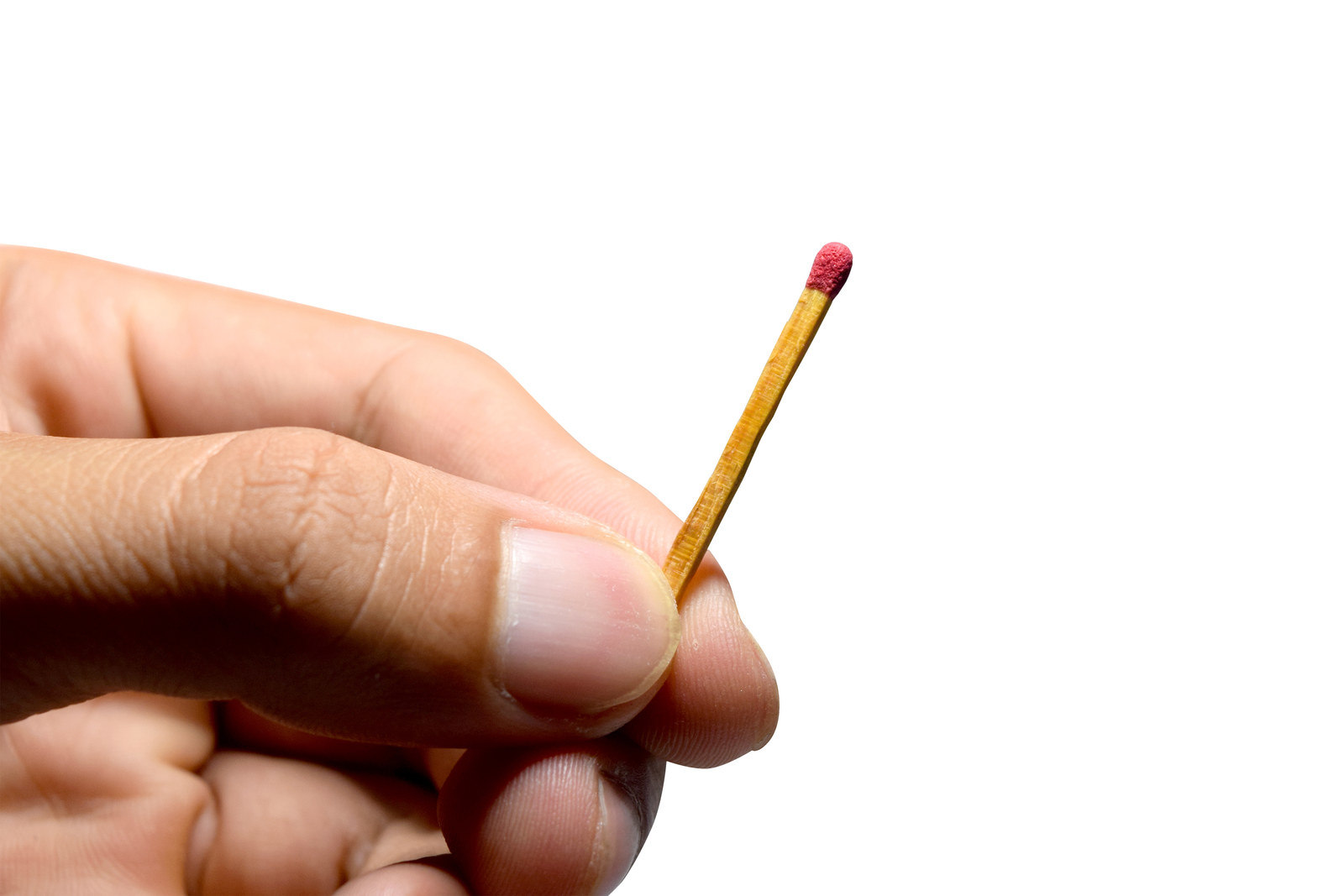 10.
Sexual activity was broadcast in multiple residential colleges.
The report described an annual event at St John's College called "the purge", where students are encouraged to post embarrassing and graphic details online about other students' sexual activity.
At the University of Sydney's St Andrew's College, the details of "hook-ups" were broadcast over PA systems, and a slideshow of "embarrassing" sexual encounters is exhibited during O Week, the report said. In other instances, information about residents' sexual activity was circulated through more informal methods such as gossiping. Female students at the prestigious Wesley College spoke out in 2016 about being called "hoes" and "bitches" and given awards for the "best ass", "biggest pornstar" and "kinkiest collegian" in a widely distributed college journal.
EROC Australia has received reports of "spooning", in which, when two people who are recently thought to have "hooked up" enter the dining hall, other residents loudly tap their spoons on the table. In previous years a college intranet housed shared porn. Each week, a list would be published of which students watched which porn.
11.
A students' club yearbook at a Queensland uni featured quotes like "consent is nothing".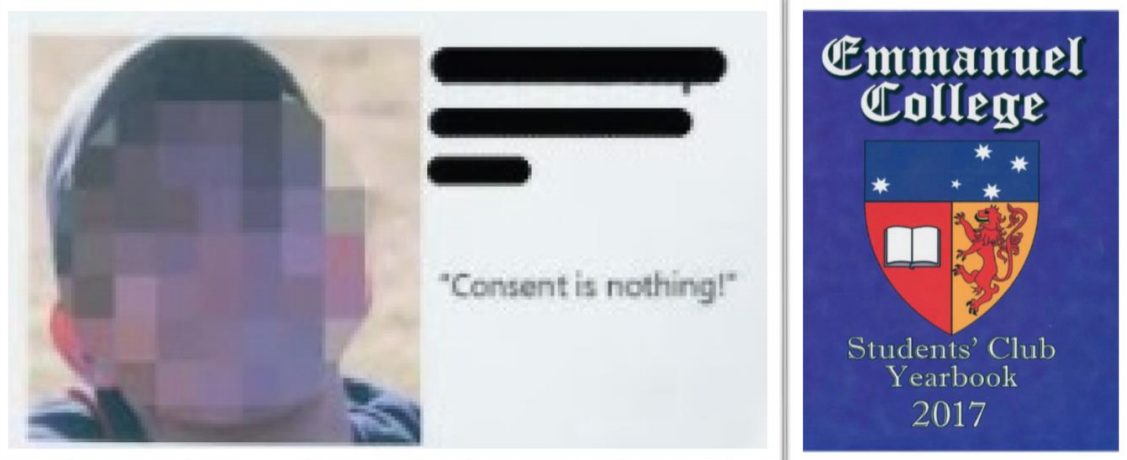 12.
One college had a "pro-rape" Facebook group.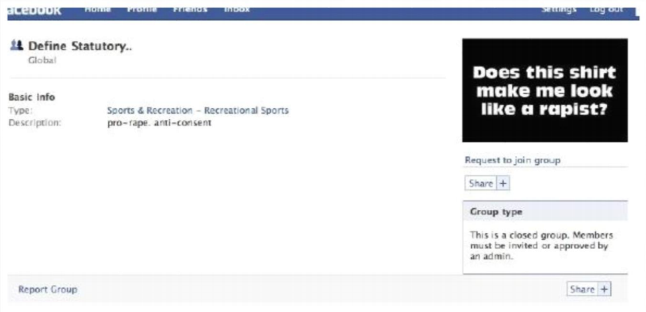 13.
A group of male students allegedly tried to bash down the doors of female students.
The report describes a tradition held in the first few weeks of Semester one at St John's college at the University of Sydney where returning "Goblins" (a group of second year male students) select a fresher "Goblin" (a male first year male student).
The "Goblins" are then taken on a drinking bender and covered in green paint as an initiation. In 2017 the "Goblins" returned to the college and tried to bash down the doors of girls. One female student was rushed to hospital and received stitches after her face was split open, when her bedroom door was bashed in by a "Goblin".
Graphic photos of the girl show her eyebrow split open, the report claims.
14.
One O-Week magazine referred to women from other colleges as "cum-dumpsters" who have STIs and "self-loathing dickheads".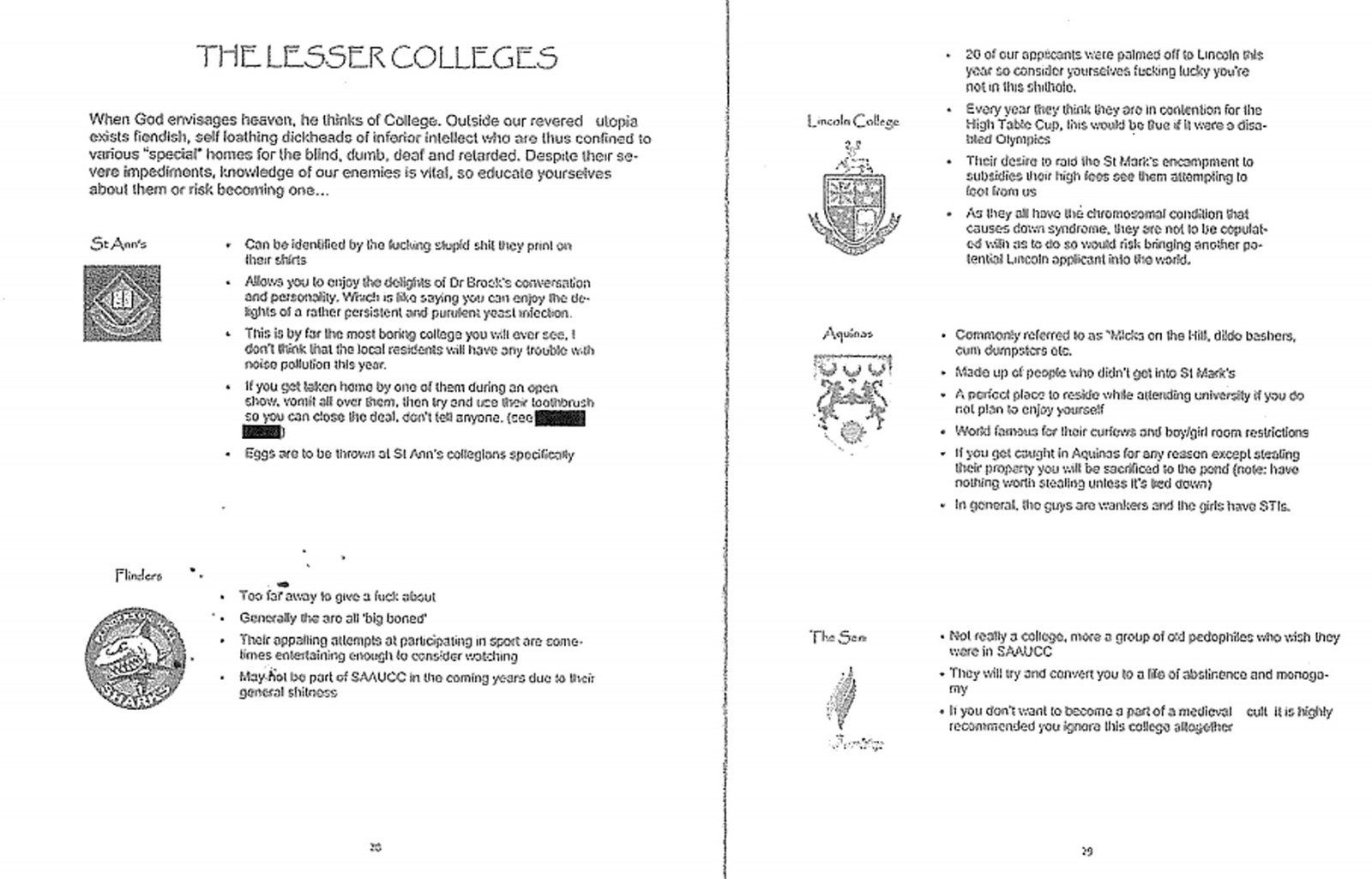 The University of Sydney has responded to the report.
"The University will continue to work with student and advocacy groups to do all it can to make its campuses safe and welcoming for all students," it said in a statement.