Here Is A Definitive List Of How Ethical Your Favourite Fashion Labels Are
For the first time this annual report has also measured gender-based discrimination.
A comprehensive report has ranked all your favourite fashion labels based on how ethical and transparent their supply chains are, and whether workers have the right to a safe workplace, a living wage, and freedom from forced and child labour.
Baptist World Aid Australia's fifth and largest Ethical Fashion Report grades 114 apparel companies (407 brands) from A to F on the systems that the companies have in place to uphold the rights of workers.

Companies that do not respond to the survey are marked harshly.
Here is everything you need to know.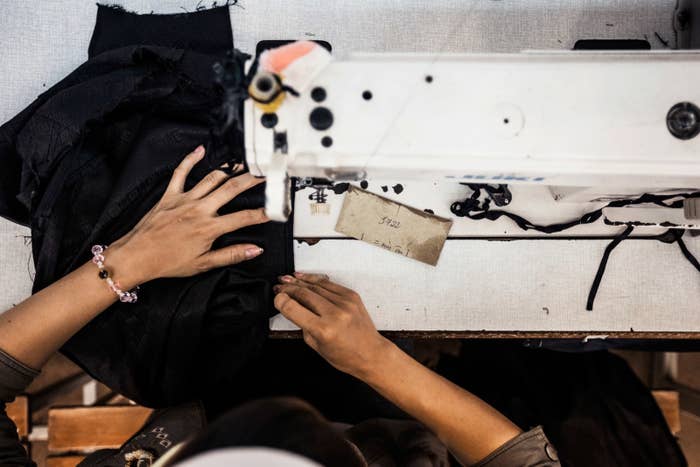 Which items in my wardrobe are the products of supply chains that aren't transparent?
Ally Fashion, MINKPINK, Bloch, Bras N Things, Decjuba, and Wish were among the companies that scored an F for being nonresponsive to the research and demonstrating no transparency for consecutive years.
Lowes, Roger David, and Betts all scored a D-, while fast-fashion empires Valleygirl, Bardot, Boohoo, Forever 21, and TEMT scored a D.
Sporty favourites that earned a D+ included Lacoste, Ralph Lauren, and Russell Athletic.
Uniqlo also scored a D+.
AS Colour (used by some brands to print merchandise) scored the average grade of C+, as did General Pants and Gorman.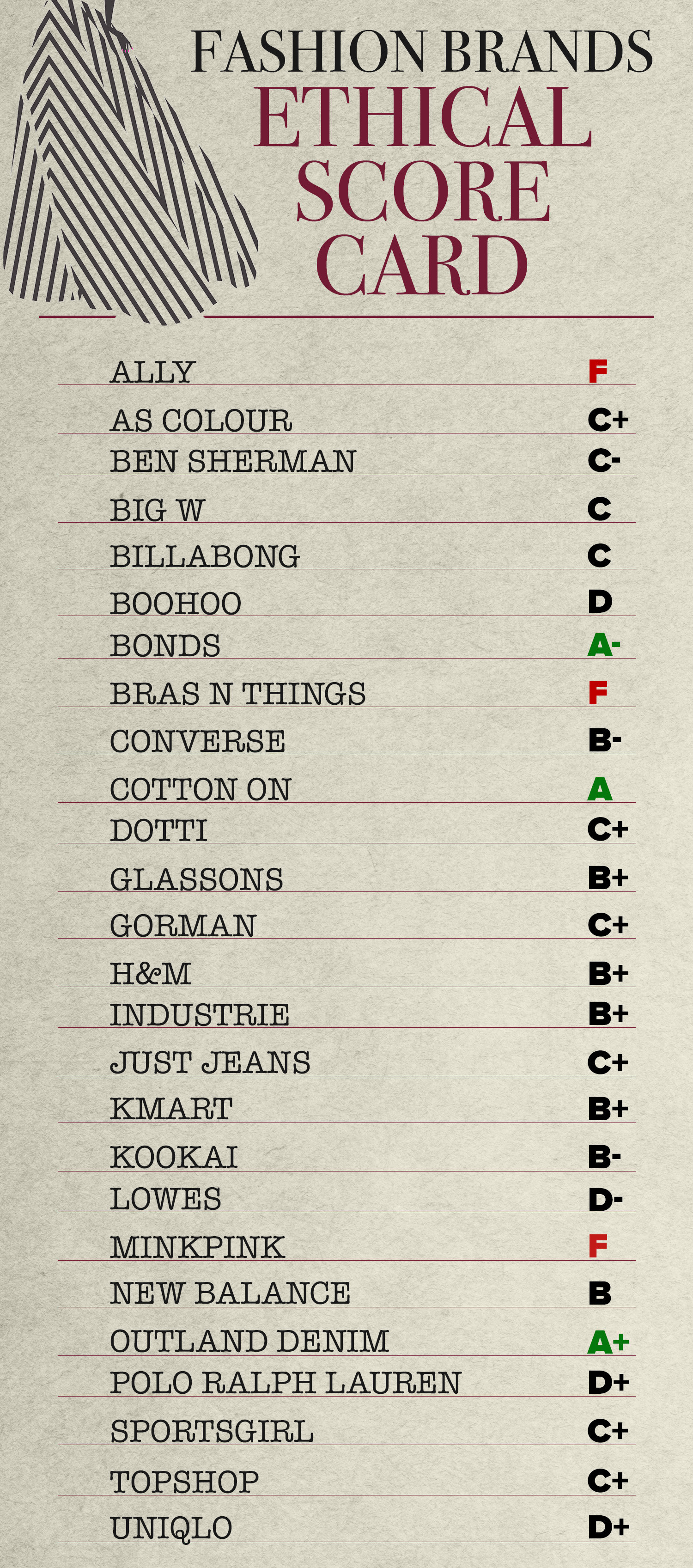 Baptist World Aid advocacy manager Gershon Nimbalker said the majority of the 43 million garment workers in the Asia-Pacific region still earned wages "well below what they need to lift themselves or their families out of poverty".

"But there has been a significant increase in the number of companies that are willing to be transparent about their supplier list," Nimbalker, lead researcher on the report, told BuzzFeed News.
"In 2013, just one-sixth of companies were publishing supplier lists, and this year it is about 34% of them."
OK, so which brands can I keep wearing if I want to support supply chain transparency?
Unfortunately only 17% of companies were able to prove they were paying all workers a living wage, but the good news is that some of the higher-graded brands aren't all expensive labels.
Cotton On Group (which includes the brands Typo, Rubi, Supré, and Factorie) was the best-rated large multinational headquartered in Australia.
Nimbalker said some companies had consistently invested in their transparency and reporting systems year-on-year, and these included Cotton On Group, Country Road Group – which includes Witchery and Trenery – and APG & Co, which includes JAG and Sportscraft.

"These brands have worked to make sure workers from farm to factory are protected," he said.

For the first time, the report assessed companies on their gender policies and strategies. Only 22% of companies had both a policy and strategy to address gender inequality and discrimination in their supply chains.

Women represent 80% of global garment workers and Baptist World Aid reported that all countries in the Asia-Pacific region have a gender pay gap – with the gap most significant in Pakistan, India, and Sri Lanka, at 66.5%, 35.3%, and 30.3% respectively.
But popular chainstore Glassons was commended for implementing gender policies for most of its sourcing countries, which included encouraging factories to have a female worker representative, asking that suppliers display information on women's rights within facilities, and expanding business relationships with female-owned enterprises.
Only a small number of companies in the report were found to have exceptional labour rights management systems.
A star performer was Queensland label Outland Denim, which is located in the Cambodian province of Kampong Cham and was founded in response to the question: "How do we protect women and girls from the illicit $100 billion global sex slave trade?"
Outland Denim started as a training and employment operation — a way of providing opportunity to young women who were recovering from traumatic experiences of sexual exploitation and abuse.
Other brands which have good labour rights management systems included Common Good, Icebreaker, Freeset, Etiko and Mighty Good Group.
Patagonia was commended in the report for its commitment to protecting migrant workers living and working away from their homes, who are a particularly vulnerable group of people within the garment industry.
After its auditing program identified worker-paid recruitment fees in Taiwanese mills in 2015, Patagonia set about developing more robust systems to prevent exploitation of foreign migrant workers.
Athletic labels that scored well included Adidas, Reebok, and Lululemon, which all earned an A-.
Some surf wear brands did better than others: Rip Curl earned a B+, Billabong a C, and Wax Bros an F.