Here Is Why Malcolm Turnbull's Hands Are Tied When It Comes To Abortion
The legal status and access to the procedure varies greatly state-by-state.
Prime minister Malcolm Turnbull held a press conference on Tuesday morning in Hobart where he was announcing a new science and technology centre would be opened in the Tasmanian capital.
But Turnbull was asked about the closure of another centre, the state's main surgical abortion clinic, which could see Tasmanian women fly interstate for the procedure.
"Should abortions be funded by public hospitals?" a reporter asked.
"I'll leave this issue," the prime minister responded.
"I know it is an issue of big concern here in Hobart but I think the minister and the State Government has been dealing with it."
This wasn't just evasive pollie-speak.
The reality is that the legality of, and access to, the procedure is restricted by state or territory criminal legislation, governed by state or territory health policy, and the potential for any improvement is beholden to the political will of parliamentarians in each of the eight states and territories.
The last time the Federal government had a major impact on abortion in this country was when then health minister Tanya Plibersek added abortion drug RU486 to Australia's Pharmaceutical Benefits Scheme (PBS) in 2013.

The recent decriminalisation of abortion in the Northern Territory, the introduction of safe-access zones so that women can enter clinics without being harassed in Victoria, the public provision of abortions in South Australia — these were all hard-won legislative changes at a state or territory level.
In almost every jurisdiction, having less money will limit your choices when it comes to abortion and geography will dictate the level of access women have to the procedure.
Here is what the situation is in each state and territory.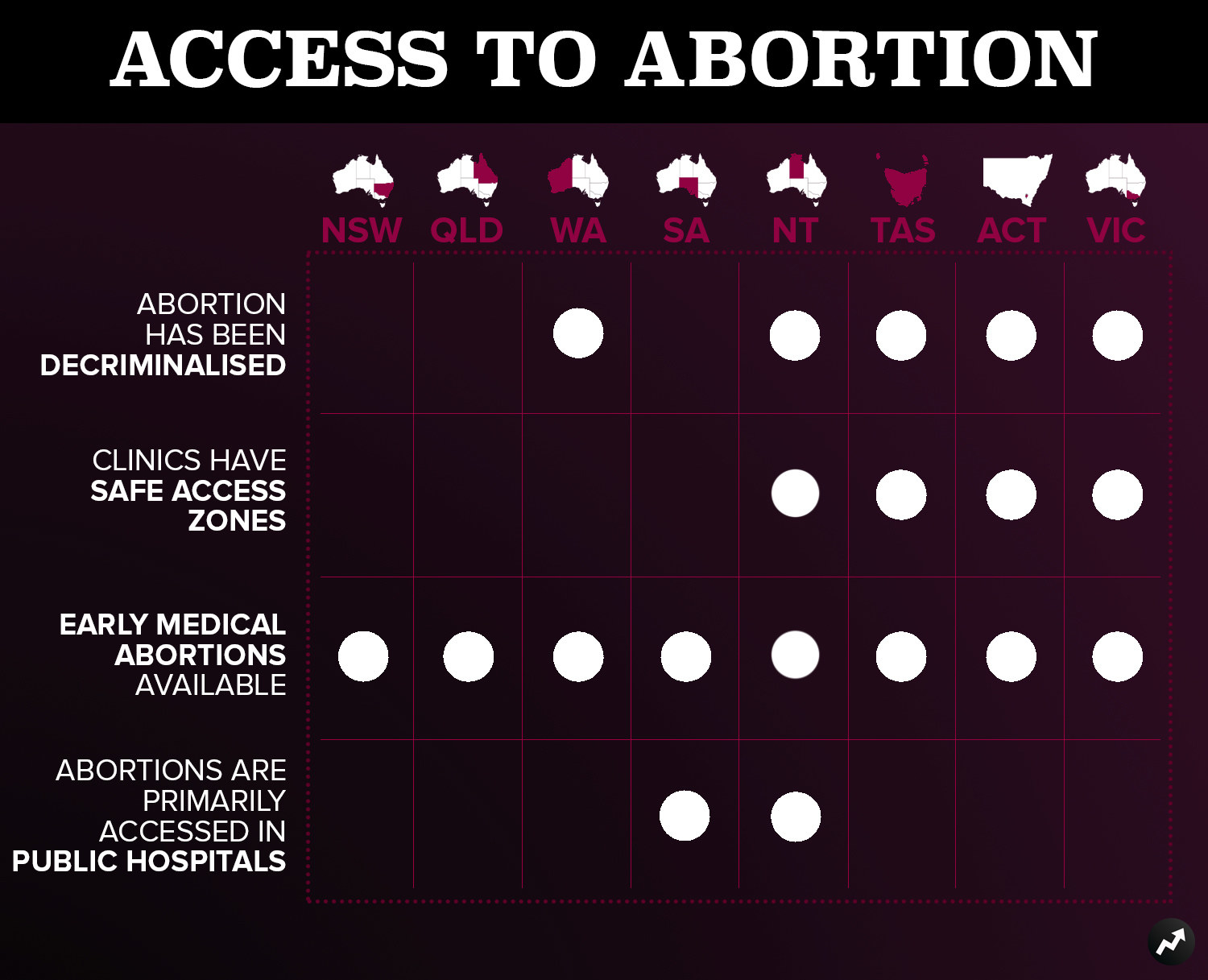 Tasmania
Abortion was legalised in Tasmania in 2013, when it also became unlawful to protest, harass or record within 150 metres of a clinic.
It is now lawful on request up to 16 weeks gestation and beyond that, pending the agreement of two doctors.

Dr Paul Hyland was the main provider of surgical abortion in the state for the past 17 years but increased demand for medical terminations over surgery, as well as the hefty costs associated with running a clinic, led him to close his Specialist Gynaecology Centre in Hobart this year.
In May 2016 Hyland also shut his Launceston clinic due to the decreased demand for surgical terminations and because of the additional costs of insurance, day surgery accreditation and compliance.
Hyland runs The Tabbot Foundation – named after former prime minister Tony Abbott – a postal medical abortion service which makes the process more accessible for women in Australia.
There is a single remaining provider in the state, private gynaecologist Dr. Brett Daniels, who only performs a handful of the state's terminations per year. The cost of a termination is upwards of $500 plus the price of an anaesthetist.
New South Wales
Abortion is a crime in NSW where a pregnancy can only be terminated if a doctor believes it is necessary to prevent serious risk to the life or health of a woman. Most abortions happen at private clinics.
In May last year legislation to remove abortion from the NSW Crimes Act failed after just 35% of MPs voted in favour of it.

The bill, introduced by NSW Greens MP Mehreen Faruqi, would have removed abortion from the state's Crimes Act and established 150-metre safe access zones around hospitals and clinics where abortion is provided, in order to protect staff and patients from harassment.

A separate private members' bill from Labor MP Penny Sharpe to create safe access zones around abortion clinics will be debated and voted on this year.
Queensland
In Queensland, abortion is still a crime and is only lawful to "prevent serious danger to the woman's physical or mental health".
Women experiencing unplanned pregnancies across the Sunshine State have been turned away from hospitals and obstructed by their GPs; had to buy plane tickets to procure an abortion; and experienced harassment outside clinics, as there is no law stopping protestors from gathering.

In February last year, independent Cairns MP Rob Pyne withdrew bills to decriminalise abortion in Queensland a day before they were due to be debated in parliament after Liberal National Party opposition leader Tim Nicholls said, "every single member" of his party would vote down the legislation.
The legislation would have failed as Labor MPs had been given a conscience vote on the issue, and other independents had indicated their opposition to abortion.
The bills have been referred to the Queensland Law Reform Commission — which is currently calling for submissions — and the Labor government has vowed to "modernise" the state's abortion laws if re-elected.

Victoria
Since 2008, abortion by a qualified medical practitioner has been legal in Victoria if a woman is less than 24 weeks into a pregnancy.
For an abortion to be lawfully performed after 24 weeks, a second practitioner must agree the termination is in the patient's best interest.
A mother of 13 last year became the first person arrested for breaching Victoria's safe access zone laws — introduced in 2016— outside a Melbourne fertility clinic.
Abortions performed within the first 12 weeks of pregnancy cost from $160 to $450 depending on the anaesthesia and the type of hospital or clinic.

South Australia
Abortion is lawful in South Australia if the woman has lived in the state for more than two months, the "maternal health" or "foetal disability" ground is satisfied and the abortion is carried out within 28 weeks of conception by a hospital or legally qualified medical practitioner.
Two doctors also have to agree that the pregnancy would be harmful to the woman's health, or if there is risk of the child being seriously physically or mentally handicapped.

Under SA law, the woman herself can still be charged with procuring an "unlawful" abortion.
Most abortions in SA are performed in public hospitals, sometimes at no cost.
Western Australia
In WA abortion is legal up to 20 weeks, with women under 16 years of age requiring one parent to be informed, and given the opportunity to participate in counselling before a termination can be performed.
Only a medical practitioner, not the patient, is liable for fines if the abortion is found to be "unlawful".
After 20 weeks, it becomes more complex. A woman in WA has to receive approval from two doctors to go ahead with the procedure. Those doctors are selected from a panel of medical practitioners appointed by the health minister. If approved, the procedure can only occur at a hospital determined by the minister.
Northern Territory
A law that decriminalises abortion and legalises the medical termination of pregnancy was passed through the NT parliament last year.
Medical abortion drugs such as RU486 are now legal for up to nine weeks of gestation; abortions are able to be performed outside of hospitals in private clinics; and doctors who conscientiously object to abortion will have to refer women seeking the procedure to another doctor.
The shift in the law will make abortions accessible in hospitals, although there are only three hospitals that provide surgical abortions, in Darwin and Alice Springs, and they are 1500km apart. Nonetheless, the legalisation of medical abortion is expected to ease the burden for those in regional, rural and remote areas.
Australian Capital Territory
Abortion was legalised in the Australian Capital Territory in 2002.
One clinic offers surgical abortions in Canberra. It is $500 for a medical or surgical termination.

Women in the ACT have been travelling to nearby Queanbeyan, in NSW, to access cheaper medical abortion drugs (RU486) through the mail, as laws penalise people who carry out abortions outside government-approved clinics.
They have also been sidestepping the need to take the drugs inside a clinic by ordering postal abortion drugs via The Tabbot Foundation.
ACT Labor Party members and delegates have called on their party to consider allowing abortion drugs to be sold in chemists via prescription.