These Warning Signs Could Save You From A Potentially Violent Relationship
Has your partner ever monitored your whereabouts?
Has your boyfriend ever restricted what you wear? Has your husband ever tried to stop you from contacting your friends or family? Is your partner constantly insulting, belittling, shaming, or humiliating you?
These are all signs of emotional abuse, which, as a nationwide study of Australian women released today reveals, has a stronger association with domestic violence than any other factor.

Women who have experienced emotional abuse from a partner are 20 times more likely to experience intimate partner violence, a national study on violence against women, released today by the NSW Bureau of Crime Statistics and Research, has found.
Has your partner ever stopped or tried to stop you from working or earning money? Has your partner ever monitored your whereabouts?
Women were more likely to experience intimate partner violence if they lacked support (e.g. lived in a one-parent household), were not able to access support outside the family in a crisis, had experienced emotional abuse from a current or previous partner, or were under financial stress.
Among these factors, whether a woman was being emotionally abused was, by far, the strongest association with intimate partner violence risk.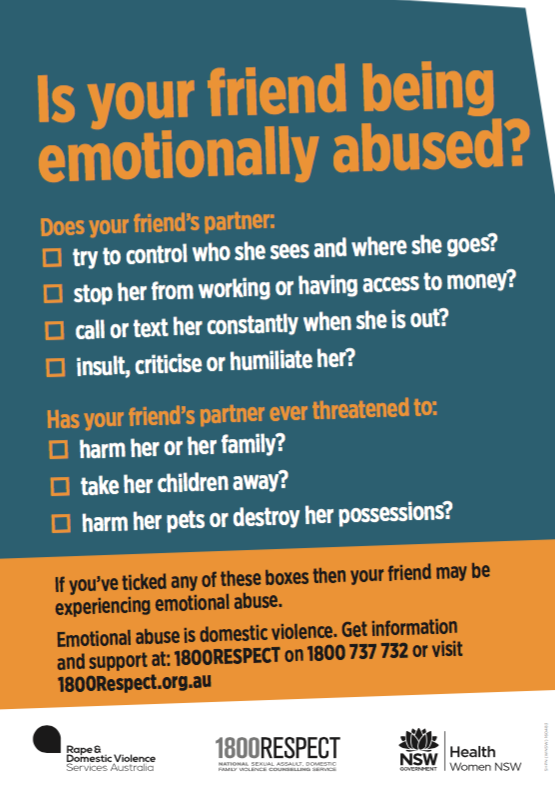 Has your partner ever threatened, or tried to, commit suicide? Has your partner ever threatened to harm your children, pets, family or friends? Has your partner destroyed or stolen your property?
If you are a sole parent who does not have a registered marriage, experienced abuse as a child, are unable to pay the rent on time and have experienced emotional abuse by a partner, there is a 97% chance that you have experienced intimate partner violence.
The bureau's director, Dr. Don Weatherburn, said the key red flags for intimate partner violence were emotional abuse by a partner, lack of social support, financial stress and having a disability or longterm health condition.
"One of the biggest impediments to reporting domestic violence is a mistaken belief among many victims that it is wrong, but not a crime," Weatherburn said.
Only one in three intimate partner assaults were reported to the police.
Women were less likely to report an assault to the police if the perpetrator was still a current partner, the assault was sexual, or if they perceived the result was not a "crime" or not "serious enough".
Fewer than one in three women sought professional help following the violent incident.
NSW minister for the prevention of domestic violence and sexual assault Pru Goward said there was an "overwhelming link" between emotional abuse and subsequent physical violence.
"This behaviour cannot be excused or brushed aside because it has not yet turned physically violent," Goward told BuzzFeed News.
"One of the biggest hurdles we must overcome in the fight against domestic violence is the perception that this is a 'behind closed doors' matter."
Australian psychologist Carmel O'Brien spent more than two decades treating, and designing programs for, women and children who have suffered through family violence. In October she spoke to BuzzFeed News about what an emotionally abusive relationship looks like.

If you or someone you know is experiencing violence and need help or support, there are national and state-based agencies that can assist you 24 hours a day, seven days a week. Call 1800 RESPECT (1800 737 732).