Australia Will Reopen Pools, Small Cafes, Pubs, Cinemas And Interstate Travel By July
Prime minister Scott Morrison has laid out a three-stage plan for reopening the country.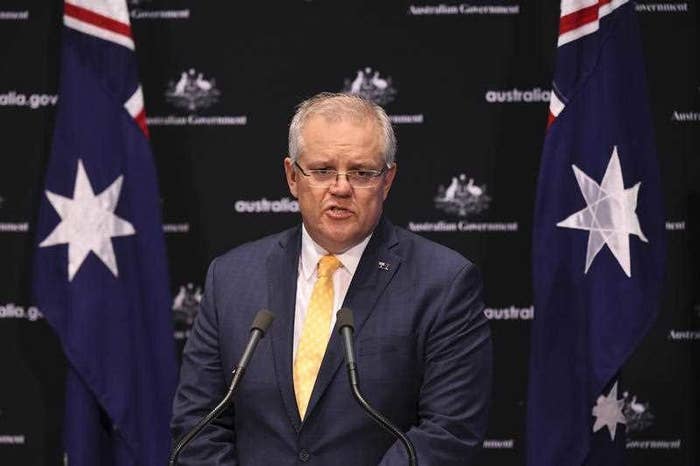 Pubs, pools, small cafes and restaurants, cinemas and interstate travel will be reopened by July in a three-step plan to ease coronavirus lockdowns announced by Australia's prime minister on Friday.
Australia has recorded less than 7,000 COVID-19 cases to date. Around 722,000 people have been tested and there are fewer than 900 active cases. There have been 97 deaths, about half in New South Wales.
Morrison predicted the first stage of relaxing social distancing restrictions would boost the nation's economy by more than $3 billion per month and restore 250,000 jobs. The first stage involves allowing local travel, permitting five visitors at once to a home and 10 to businesses and public places, and the reopening of cafes, restaurants and retail shops.
The second stage will allow gatherings of 20 in homes, businesses and public places, as well as the reopening of gyms, beauty parlours, cinemas, galleries and some interstate travel.
The third stage will eventually involve gatherings of up to 300 people, a return to workplaces and the consideration of all interstate travel, as well as travel to New Zealand.
The timeline for implementation rests with state and territory governments, and will likely not be consistent across the country.
"We know we need to be careful to preserve our gains, if we wish to reclaim the ground we lost, we cannot be too timid," prime minister Scott Morrison said on Friday.
"There will be risks. There will be challenges. There will be outbreaks, there will be more cases, there will be setbacks."
Morrison said the government had "strengthened" Australia's health system and "put protections in place" by increasing intensive care unit (ICU) beds and ventilators as well as providing more personal protective equipment (PPE) to medical professionals.

The chief medical officer Brendan Murphy stressed that Australians still needed to practice physical distancing and maintain good hand and respiratory hygiene.
"No matter how mild your cold or your cough, stay home when you're unwell, and please get a COVID test," Murphy said. "No more heroics of coming to work with a cough and a cold and a sore throat."
More to come.