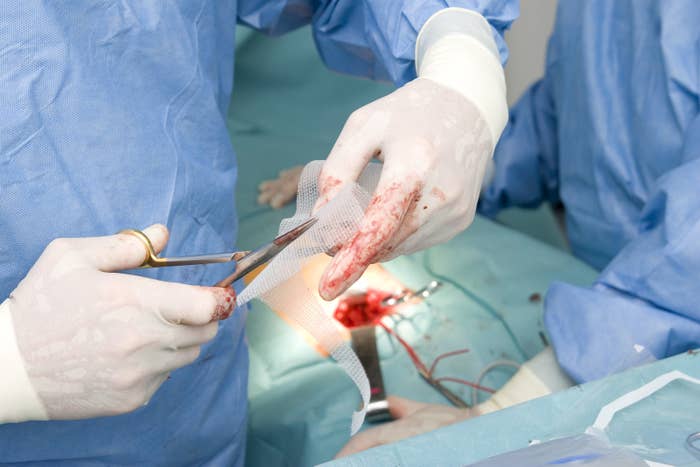 "Due to the poor quality of the studies undertaken, the evidence to support the use of these meshes for transvaginal pelvic organ prolapse repair, particularly, posterior repair, is not well established," the administration posted on its website on Wednesday night.
Urogynaecological meshes, sometimes known as transvaginal meshes, are inserted into women as a treatment option for pelvic organ prolapse (when the connective tissue securing the vagina and uterus to the pelvis gives way after childbirth), or urinary incontinence.

The review found the use of urogynaecological surgical mesh devices for stress urinary incontinence and abdominal pelvic organ prolapse repair was "adequately supported by the evidence".
The TGA also cancelled single incision mini-slings to treat stress urinary incontinence due to evidence the risks to women outweighed the benefits.

An Australian Senate inquiry into transvaginal meshes is expected to report back in February next year.

It was set up to find out exactly how many women have had transvaginal mesh implants and, of those, how many experienced adverse side effects.

Queensland associate professor of urogynaecology Christopher Maher has estimated more than 200,000 mesh implant surgeries have been performed in Australia to date.
Half of the women who experienced adverse physical and psychological side effects after receiving a vaginal mesh implant have also suffered from a relationship breakdown after the procedure, the inquiry heard in September.

Women who couldn't have vaginal sex due to ongoing sexual dysfunction from urogynaecological mesh "repeatedly" reported their doctors suggested having anal sex instead, the inquiry heard in August.

More than 100 women have written to the inquiry — here are the most heartbreaking submissions.
Many submissions were from some of the 700 Australian women currently in court fighting Ethicon, a subsidiary of Johnson & Johnson, in a class action brought by Shine Lawyers which claims vaginal medical devices left women "suffering painful and life-altering complications".
An estimated 100,000 Australian women have been implanted with Johnson & Johnson mesh devices since 2000.

The lawyers representing the women have said there could be upwards of 8,000 Australians who have been implanted with one of the nine devices.
Johnson & Johnson said the company's pelvic mesh products had been developed in "close consultation with specialist surgeons" and were "backed by years of clinical research".
In its submission to the Senate inquiry, the company said the use of implantable mesh was supported by clinical research and was often the preferred option to treat pelvic conditions, including incontinence and pelvic organ prolapse.