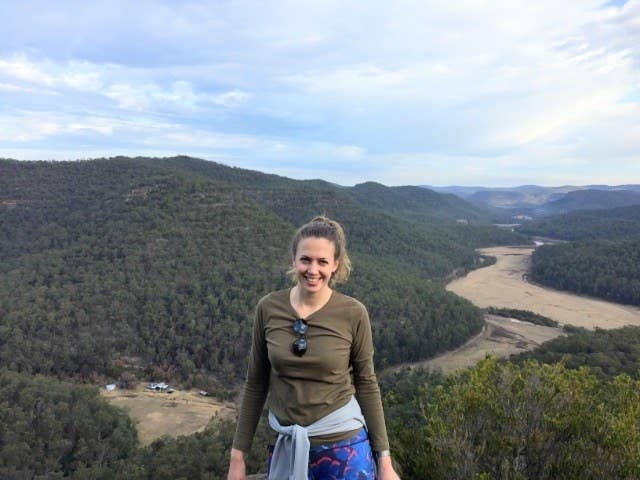 Former News Corp employee Emily Townsend doesn't regret questioning her then employer's bushfire coverage via a reply-all email. She made headlines in January when she accused the media giant of a "misinformation campaign" in its coverage of Australia's bushfire crisis, in a company-wide email addressed to the company's chairman.

"When I look back I'm very happy that I did what I did," Townsend told BuzzFeed News. "My partner's farm almost burned down and we kept seeing the fires coming closer and closer, and then I was going outside every day and seeing our city shrouded in smoke, and then walking in through the doors [of News Corp] and reading all the headlines of the company that I work for was very challenging for me."

Inaccurate reporting on climate change is treated like a "victimless crime" at the moment when it isn't, she said.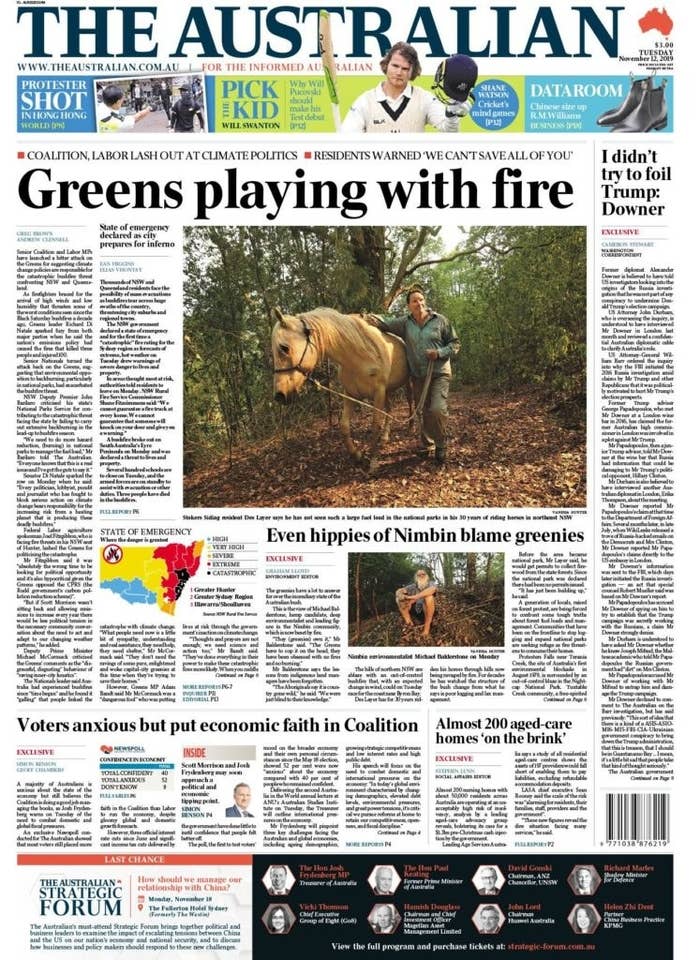 "It should be against the law to deny climate change is happening," she said. "The science is settled, why are we allowing such big platforms to do so?"
A new report released on Wednesday by Greenpeace argues that News Corp's reporting drove a "viral misinformation campaign" to protect the fossil fuel industry at a time when over 100 million tonnes of new coal extraction was approved by state and federal governments.
The report found that outlets owned by News Corp published 75% of all Australian articles denying the influence of climate change on the bushfires this past summer.
Two strong narratives — both overrepresented in News Corp's coverage, according to the report — emerged instead to explain the unprecedented bushfire season: one, an "arson emergency" had caused the bushfires; and two, that they were exacerbated because "greenies" refused to allow firefighters to reduce fuel loads in the Australian bush.
Townsend's email to chairman Michael Miller said: "I have been severely impacted by the coverage of News Corp publications in relation to the fires, in particular the misinformation campaign that has tried to divert attention away from the real issue which is climate change to rather focus on arson (including misrepresenting facts)."
Townsend, who had resigned in December, said she found it "unconscionable" to keep working at the company knowing she was "contributing to the spread of climate change denial and lies".
National broadsheet The Australian wrongly claimed that 183 arsonists had been arrested in the "current bushfire season" in an article that was picked up and shared widely by prominent social media users, including Donald Trump Jr. The article has since been edited, but the initial version was misleading in two ways: first, the figures from some states included dates outside of the current bushfire season, and second, some of the figures encompassed a range of offences that included non-arson crimes. The arson theory particularly took hold on Facebook.
Greenpeace analysis of online traffic shows that spikes in social media posts using the #ArsonEmergency hashtag corresponded to the publication dates of denialist opinion pieces published by News Corp.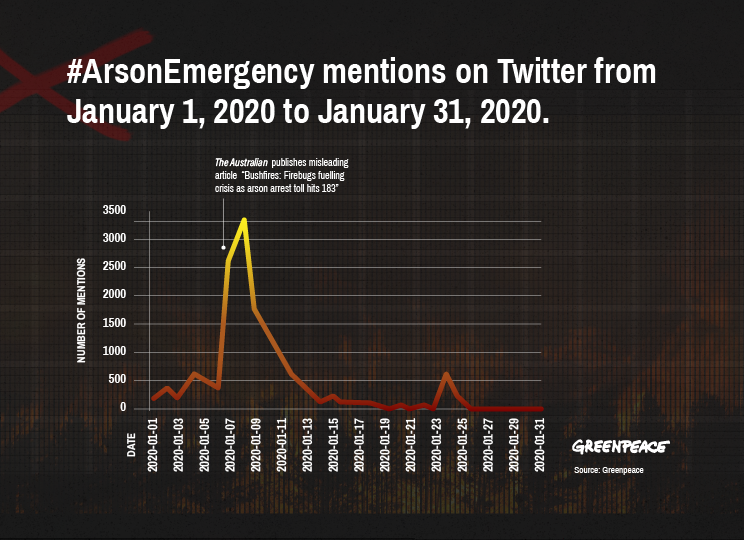 Jack Egan lost his house in a blaze that tore through North Rosedale, south of Bateman's Bay in New South Wales, on New Year's Eve.
"I sheltered in a bunker in the house next door and watched our house burn down," Egan told BuzzFeed News.
Egan isn't angry his house burned down — "it is not unexpected if a bushfire comes as it is a timber house" — but he is furious about government inaction on climate change and the perpetuation of climate denialism by media outlets.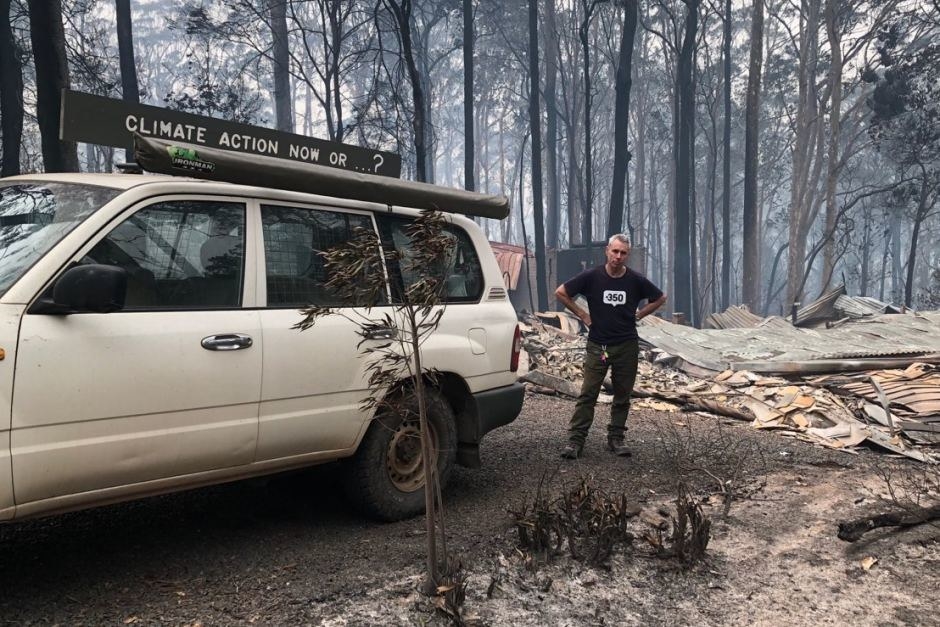 "The government's first duty must be to protect their citizens and the first duty of the media is to inform their citizens accurately and objectively," he said. "They have both abrogated that responsibility shamefully."

Egan isn't an avid News Corp reader (his partner buys the Weekend Australian on Saturdays) and doesn't watch Sky News but says he was aware of "cynical journalism" denying climate change as fires tore through his suburb.
"This wilful ignorance from politicians and the media, who do not want to read or listen to any of the mountains of evidence that show that climate change is real and it is dangerous and that we don't have long to deal with it," he said. "I'm losing my patience with this polite debate... the data says we have a problem and we have to deal with it."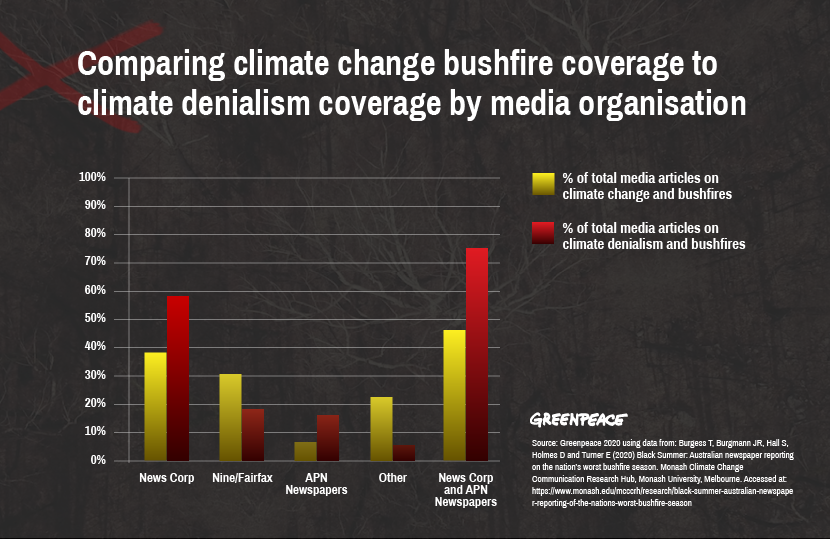 Greenpeace's analysis drew on research from Monash Climate Change Communication Research Hub, which analysed Australian newspaper reporting of the bushfire season and found News Corp represented 59% of all denialist discussion of climate change.
Researchers classified denialist discussion of climate change as one in which the existence of climate change, or its "anthropogenic origins" (originating in human activity), are denied. "Misinformation" they identified dismissed the impacts of climate change as "trivial", focused on the positives of increased climate change or emissions (carbon fertilisation), concluded climate change was inevitable and unavoidable or painted climate experts as unreliable.
Researchers found News Corp and News Corp-owned APN newspapers produced 75% of all articles that denied the influence of climate change on the bushfires over summer. The organisation produced more articles over the summer attributing the bushfires to a lack of hazard reduction burning and arson than other media organisations. More than half of the discussion blaming "greenies" occurred in News Corp publications.
Townsend believes future generations will pay the price of what she called "negligence" at the hands of publishers.

"I feel like we need to hear from scientists not editors with biased agendas," she said.
In March, News Corp website News.com.au launched a new series focusing on the impacts of climate change, with funds from the Judith Neilson Institute, which Townsend said was "heartening". She worries action around climate change spurred by the bushfire crisis will be dampened by the new coronavirus outbreak.
"I really hope that the fires are not forgotten because that was such a catastrophic event and we need action," she said.

Greenpeace's report shows over 100 million tonnes of new coal extraction was approved during the bushfire season, as well as 352MW of fossil gas power stations, and 7,000 sq km of new fossil fuel expansion areas opened up across NSW and Queensland.

In January BuzzFeed News asked 77 government MPs about the science of climate change, its connection with the bushfire crisis and whether Australia should adopt a zero net emissions target by 2050. Two got back to us.