An Anti-Abortion Group Told Its Members The Bushfires Should Continue Until We Reject "Moral Degeneracy"
The newsletter was sent by the organiser of one of Australia's biggest annual anti-abortion rallies.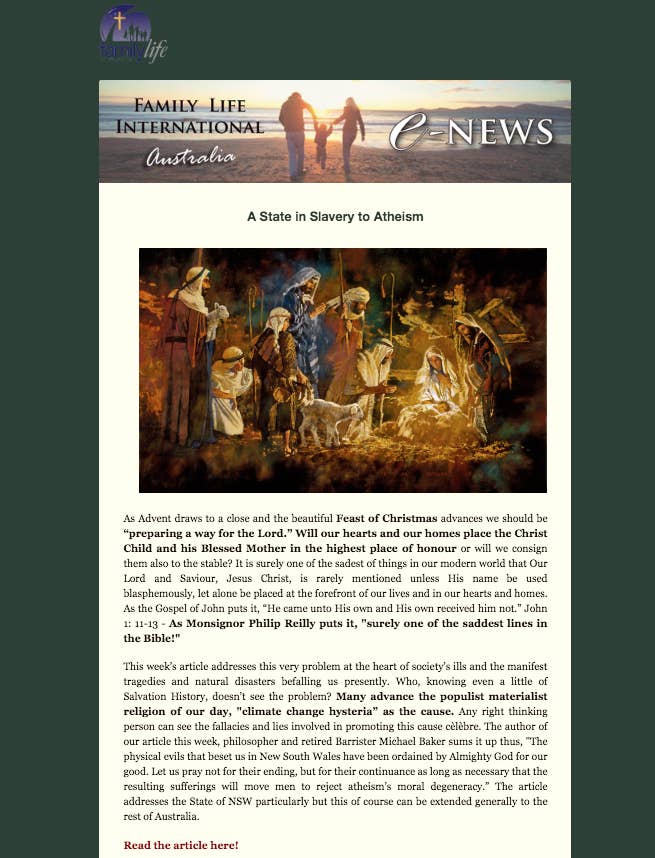 A Sydney anti-abortion organisation has told its members that the bushfires currently raging in New South Wales were ordered by God for our own good.

A Family Life International Australia newsletter sent out to members on Friday afternoon included an excerpt from a blog post about how the natural disaster is "the Devil having his revenge".
"The physical evils that beset us in New South Wales have been ordained by Almighty God for our good," the excerpt reads. "Let us pray not for their ending but for their continuance as long as necessary that the resulting sufferings will move men to reject atheism's moral degeneracy."

Family Life International Australia, which helps to organise the Day of the Unborn Child, the state's biggest annual anti-abortion rally, linked to the original blog post, written by Michael Baker, a solicitor in St Marys, New South Wales.
In the blog post, Baker, who once complained to the press council about an article he said "mocked" Catholics, attacks those who rallied against inaction on climate change.
"They do not understand that the fault for the natural disasters that beset them lies with themselves and their own immoral conduct," he writes. "Why should Almighty God relieve their distress in natural matters when they systematically reject the natural order he has implanted in them?"
NSW premier Gladys Berejiklian on Thursday declared a state of emergency for a week. Two firefighters were killed that evening and up to 40 homes are feared destroyed in fires.
The article blames Sydney for hosting Mardi Gras and the state's parliament for this year decriminalising abortion in the state, adding "the Devil is having his revenge".
"New South Wales is consumed by a drought that is fast depleting feed for stock and water for subsistence and the natural produce upon which its peoples depend," Baker writes. "It is plagued by bushfires on a scale unprecedented since records have been kept... Calls go out to pray for rain and relief from the conditions yet the majority of its citizens will not abandon their hatred for God or their rejection of the moral order He established in their midst."