This Mother Is Furious Her 4-Year-Old Daughter Was Exposed To Graphic Anti-Abortion Propaganda
People are finding these flyers in their letterboxes on opposite sides of Brisbane.
Brisbane mother of two Ange Thistleton is furious after her daughter checked their letterbox and found a graphic anti-abortion flyer condemning the current push to decriminalise the procedure in Queensland.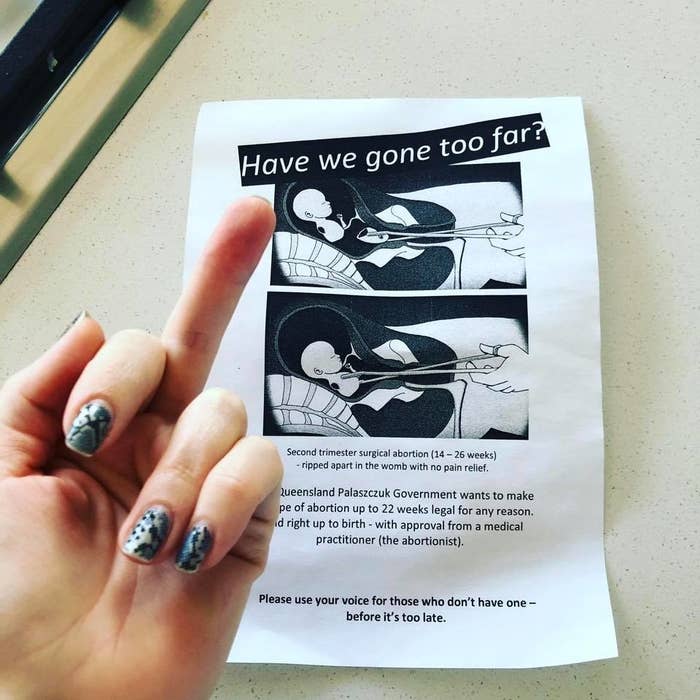 "One of my four-year-old's jobs is to check and bring the mail in, and she picked up a letter and a leaflet and brought it over to me and I saw it was this cartoon of a baby being dismembered," Thistleton, 37, told BuzzFeed News. "It is not something a child should be seeing."
The pamphlet, whose creator is unknown, makes multiple claims about the Queensland government's proposed legislation, which will be voted on within the next fortnight, to decriminalise abortion in the state.
"The Queensland [Annastacia] Palaszczuk Government wants to make any type of abortion up to 22 weeks legal for any reason," the pamphlet reads.
In fact, the law would move the procedure from criminal to health legislation, where it would be available to a woman up to 22 weeks gestation, after which she would require two separate doctors to approve the procedure.
Abortion is illegal in Queensland under the state's Criminal Code and a termination only becomes lawful if it is to "prevent serious danger to the woman's physical or mental health".

"The drawing was ridiculous and anatomically incorrect and not at all a reflection of how modern abortions are performed," Thistleton said. "It is designed to be provocative and it is really offensive."
The flyer, which Thistleton said she "rage-tore up into tiny pieces", has been distributed in multiple electorates throughout Brisbane, including her electorate of Chatsworth where her member is Liberal National Party politician Steve Minnikin.

Minnikin has not indicated how he will vote on the legislation later this month, and it is unclear whether he will even be afforded a conscience vote on the legislation, as government MPs have been.
Last year, the night before a previous bill to decriminalise the procedure was due for debate, every single member of his party vowed to vote for abortion to remain a crime.
The flyer also makes the claim that the proposed legislation would allow for abortion "right up to birth".
This myth has been repeatedly debunked and rejected.
About 30km northwest of Thistleton, in the electorate of Ferny Grove, Brisbane nurse Lisa Donaghy last week found the same flyer in her letterbox.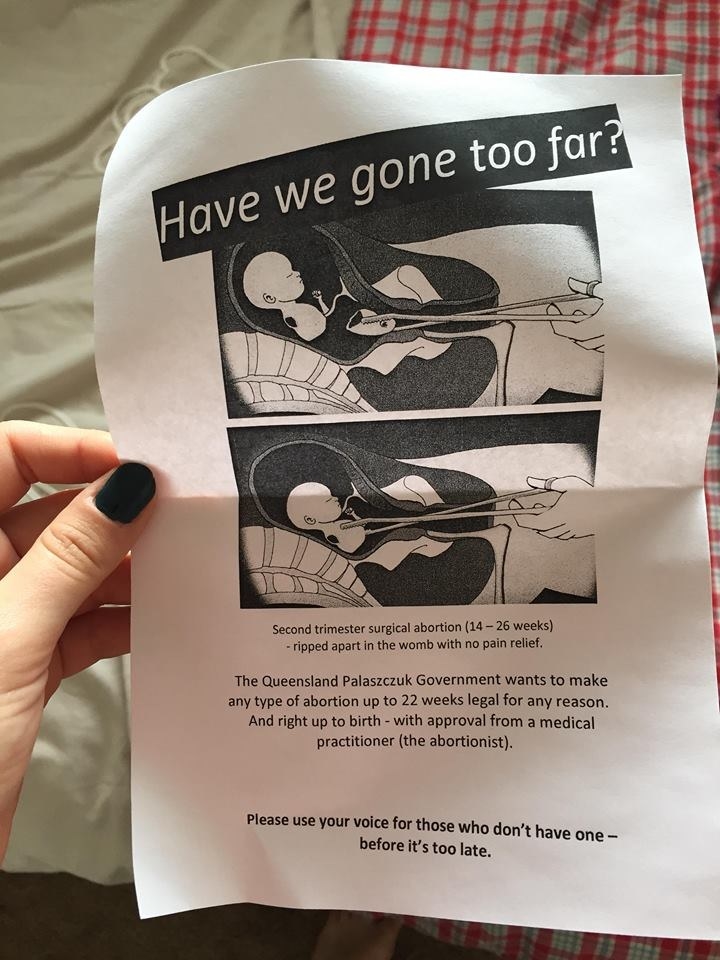 "It was quite revolting and I was horrified to find it in my letterbox with absolutely no reference to any affiliation, or who I might be able to call and have a conversation with about it, even to get their point of view," the 49-year-old told BuzzFeed News.
"Get your facts straight if you're going to put pictures and claims, [and] reference where you've sourced that ... it is just a graphic picture of someone's opinion of what an abortion is."
Donaghy said she might be "biased" because she is a health professional, but she believes Queensland was "living in the dark ages" when it came to reproductive rights.
"In this day and age women should have rights to make decisions about their own bodies," she said. "I personally might not have an abortion, but I would never judge anyone going through such a hard process.
"Imagine going to your letterbox if you were someone thinking about having an abortion and finding a shitty graphic piece of paper."
The nation's largest provider of pregnancy termination services is Marie Stopes Australia, and its medical director Dr Philip Goldstone said the flyers were "inflammatory, inaccurate and have no place in this debate".
Goldstone said the assertion about a foetus being "ripped from the womb" with "no pain relief" was false.
Most abortions in Australia occur in the first trimester, he said, but those in the mid-second trimester were performed under anaesthetic, he said.
"The foetus also is administered anaesthetic that stops the heartbeat so the assertion about 'pain relief' is false," he said. "It is deeply offensive and shows a distinct lack of compassion and understanding when the term 'abortion up to birth' is used."
Flyers from anti-abortion lobby group Cherish Life have also been letterboxed to multiple Queensland electorates, including Stafford and Ferny Grove.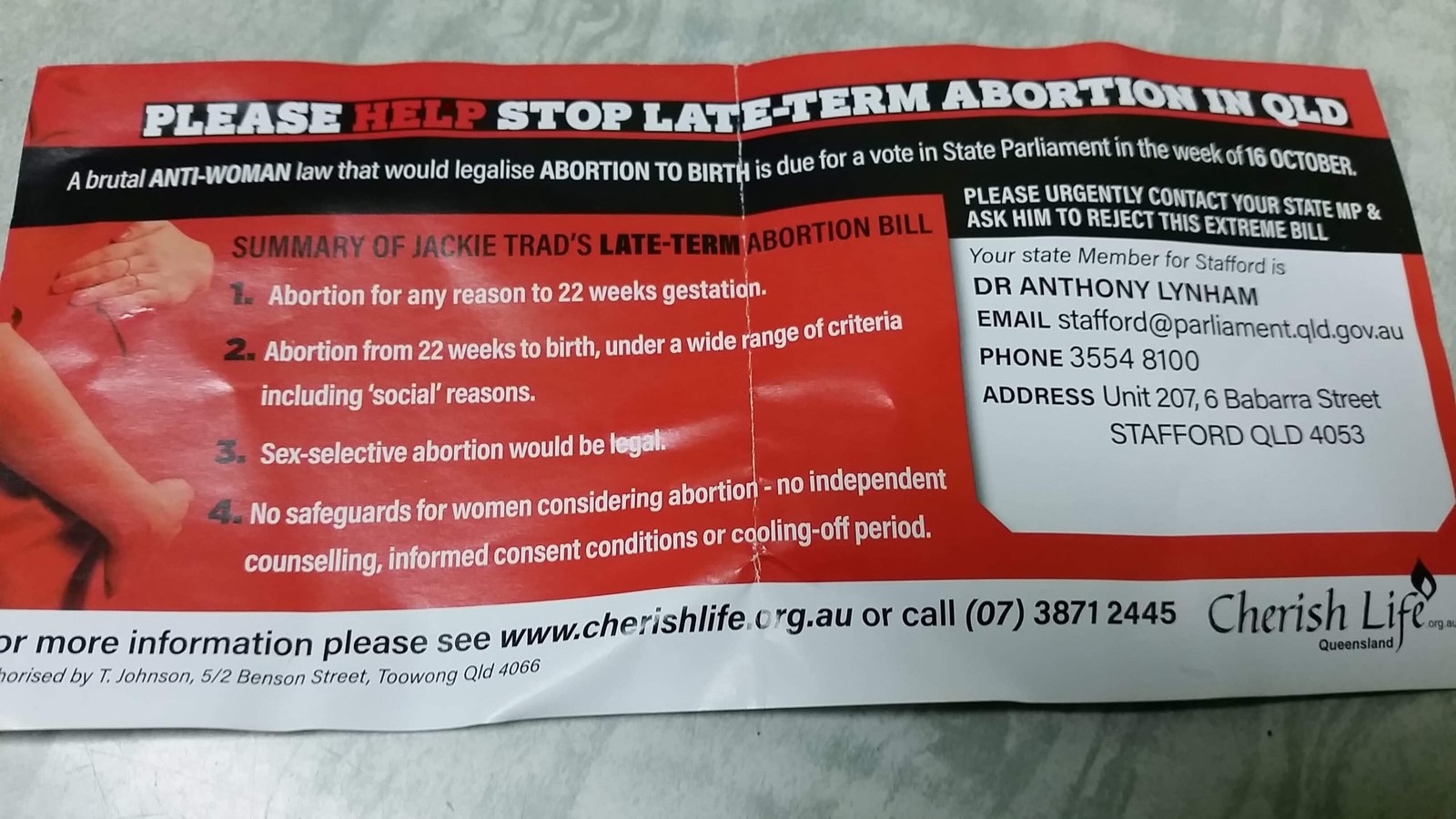 The flyers, which are tailored with the contact details of each suburb's local member, claim that the law would legalise "abortion to birth".
They also make claims about sex-selective abortion and mandatory counselling.
Goldstone reiterated that after 22 weeks, the proposed legislation in Queensland set out guidelines for two medical professionals to confer on a termination of pregnancy and "this would only take place in a hospital setting".
"Their decision to have a termination, like most women who decide to have a termination, is not taken lightly and they require compassion and care."