Access To Abortion Just Became Even Tougher For Women In Queensland
More than 800 rural and regional women will be affected every year by the cuts.
Women terminating a pregnancy face significant financial, legal, and geographical barriers in Queensland, where abortion is still in the criminal code and only lawful to "prevent serious danger to the woman's physical or mental health".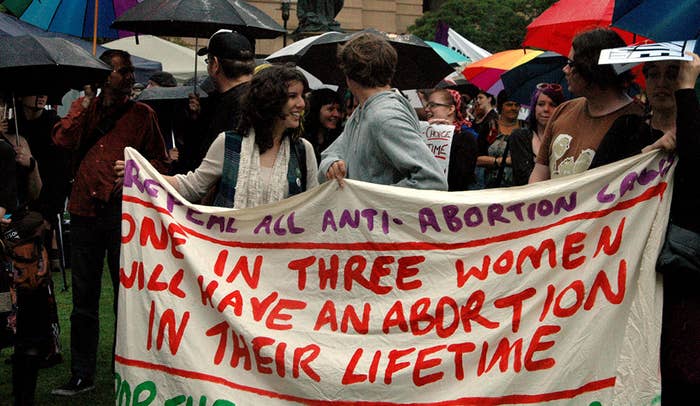 Queensland women have been turned away from hospitals, judged by their GPs, flown interstate to procure an abortion, and experienced harassment outside clinics as there is no law stopping protesters from gathering.
Now women will face extra obstacles as Australia's largest abortion provider, Marie Stopes International, prepares to stop surgical terminations at its Townsville and Rockhampton clinics.
It's estimated 800 women travel to these clinics for the procedure every year.

The chief executive of the not-for-profit social enterprise, Alexis Apostolellis, said the clinics, which serviced women in rural and remote Queensland, had suffered "significant" financial losses.
"We cannot ask our other centres around Australia to continue absorbing unsustainable losses," Apostolellis told BuzzFeed News, "as we also have a responsibility to provide affordable services to women elsewhere and the more service we provide at a loss, sadly, the more expensive other women will find their options.
"We are trying to provide women with reproductive choice in an area of public health not well supported or funded by the public system."
One of the costs of running the regional clinics was flying in a doctor from Brisbane once a week to perform terminations, he said.
"For many [women] this would have been their closest option, and the next closest facilities for surgical termination are Brisbane and Cairns.

"Finding doctors willing to provide surgical terminations is, in general, a complex task, as it's not something covered in traditional rotations and few doctors choose to specialise."
Queensland Health estimates that only 1% of abortions are performed in public hospitals, but some14,000 terminations take place in the state every year.
Cairns MP Rob Pyne's bill to decriminalise abortion was rejected by a parliamentary inquiry but he has introduced a second, amended bill that he believes answers all the inquiry's concerns.
It seeks to amend the state's Health Act to introduce gestational limits and exemptions for conscientious objection, as well as exclusion zones around clinics to prevent harassment of staff and patients.
Apostolellis said it was "no surprise" that state governments were reluctant to be involved in service provision in Queensland and New South Wales, where the legal status of abortion was "very unclear".

"If the Queensland government was open to partnering with private providers in a shared service model," he said, "maintaining an acceptable level of access to surgical procedures in regional centres would be possible, but that is highly improbable under current laws.
"Maintaining and staffing surgical facilities is extremely expensive and when you add to this the hesitation some health professionals have in providing abortion, especially in regional and rural areas, our challenges multiply."