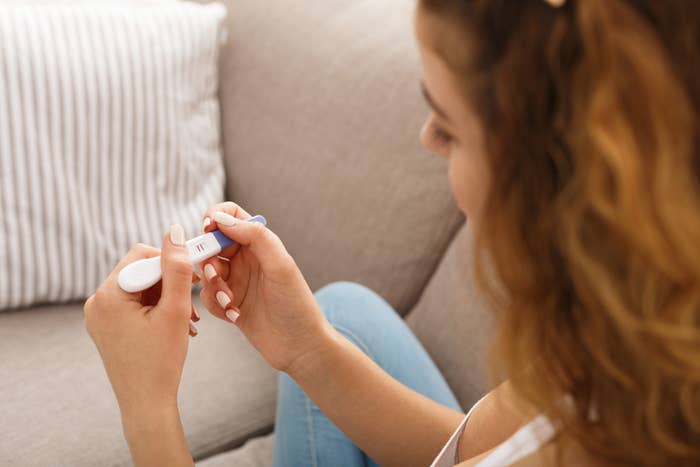 Up to 80 women on surgical abortion lists around Australia could be left in limbo as doctors fight to be exempt from the new coronavirus travel restrictions to provide vital sexual and reproductive healthcare.
Australia's largest abortion provider Marie Stopes Australia (MSA) is desperately seeking clarity from various state health departments as to whether eight of its surgeons who need to travel interstate in the next fortnight to provide abortions will be exempt from travel restrictions.
"This has massive implications," MSA deputy medical director Dr Catriona Melville told BuzzFeed News. "This will affect dozens of patients a day if those doctors can't travel."

Four doctors (two in Queensland, one in South Australia and one in New South Wales) were due to travel this week but the South Australian health department has advised MSA doctors leaving that state will need to self-isolate.
"In South Australia we have doctors who would travel to provide a service but they have been told if they fly up to provide abortion care to patients in Victoria they will have to self-isolate when they go back and can't carry on working," she said.

South Australia closed its borders at 4pm on Tuesday with exemptions for "essential travel to maintain health", the food supply chain, and the state's economic needs. Western Australia has done the same.

MSA has resorted to repeatedly emailing all other health departments and calling COVID-19 hotlines trying to get information so they can update patients.

"We can't get through to get a straight answer," Melville said. "We know there are travel restrictions and we know the message is that healthcare workers are exempt but this doesn't seem to be the case regarding quarantine on return."
The doctors are concerned that if they have to self-isolate upon returning home then women on surgical lists in their home states will be left in the lurch.
Annastacia Palaszczuk, the premier of Melville's state Queensland, on Tuesday announced anyone entering the state from Wednesday night would be forced to self-isolate for 14 days.
"I've been asked to help with some interstate clinics and I've volunteered to travel but the concern is that the women who need me in Queensland when I get back, I can't help them," Melville said.
The organisation has issued a desperate plea to the sexual and reproductive health sector to collaborate and maintain safe access to contraceptive and abortion care during the pandemic.
"Doctors should be exempt from mandatory isolation providing they do not have a diagnosis or symptoms of the COVID-19 virus or a history of high exposure," an MSA call to action and list of recommendations for governments reads.
The statement also calls on the federal government to increase the gestational limit for medical termination of pregnancy drugs from the current nine weeks to 10 weeks so more patients can terminate a pregnancy at home without having to travel to access a surgical abortion.
MSA will begin liaising with other private and public providers to make sure patients can access abortion care services locally if these doctors aren't allowed to travel. Any delays in abortion care can change the type, price, availability and safety of the procedure, Melville said.

"We know that the earlier in pregnancy an abortion occurs, the safer it is and that the overall complication rate increases as the pregnancy advances," she said.
It makes no sense to have women travel interstate to try and access abortions during a pandemic instead of allowing a handful of doctors to travel interstate, she said.

"We are telling people to stay at home and not to travel and a woman [having an abortion locally] might have to travel to a GP or medical centre, but that is different from driving six hours to Melbourne, stopping at service stations, trying to get someone to look after your children and having the money to do all that, when every single sector has been hit by job cuts," she said.
It was "short-sighted" of governments not to prioritise abortion care, Melville said, as it will lead to a "cohort of pregnant woman who are going to need care in hospitals later in their pregnancies".
"Some of these women will have unhealthy pregnancies so they will already be ill, which is why they're not proceeding or they will have foetal anomalies," she said.
"We are absolutely determined to keep services going."

Fly-in-fly-out workers are common in abortion provision as some clinics in regional or remote areas only open one day a week and local staff can be hard to find in regions with a lot of conscientious objection.
The Royal Australian and New Zealand College of Obstetricians and Gynaecologists (RANZCOG) recommended that timely access to medical and surgical abortions merit a Category 1 classification: surgeries or treatments are those that should be undertaken with the month and have the potential to become emergencies.
RANZCOG argued abortion services should be classified Category 1 alongside gynaecological cancer treatment, miscarriage and ectopic pregnancy risk assessment and acute pelvic pain.
"This has always been the issue for abortion care," Melville said. "It falls into this little bracket where people say it is not an emergency surgery for cancer or a clogged artery but it isn't an elective procedure as it is absolutely time-sensitive."
BuzzFeed News has contacted the Queensland, South Australian and federal health departments for comment.