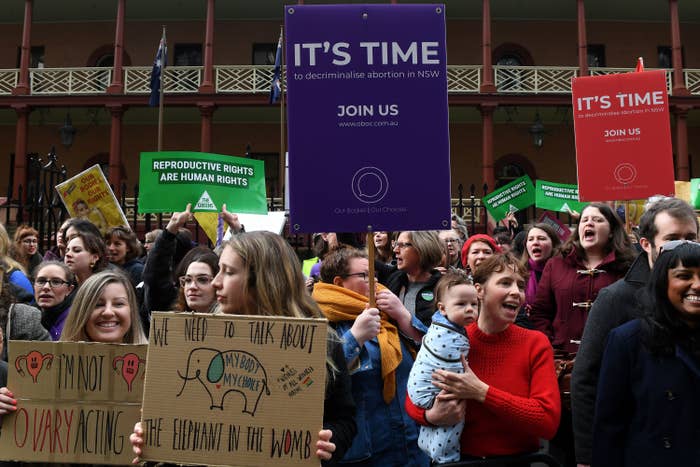 Abortion is now decriminalised in New South Wales after a bill to remove the procedure from the state's Crimes Act, where it has sat for 119 years, passed through the state's parliament.

The legislation, introduced by 15 co-sponsors from across the political spectrum, passed through the state's Legislative Assembly on Thursday.

The bill passed 26-14 through the state's upper house late on Wednesday night after the third longest debate the Legislative Council has ever seen, with 102 proposed amendments and 26 divisions.
The state's laws will now be in line with other jurisdictions by allowing abortions on request by a registered doctor for up to 22 weeks gestation, beyond which the patient would need the consent of two doctors.

The bill passed despite campaigning by federal politicians, unsolicited letterboxing of graphic flyers, and fierce opposition from members of the government, three of whom last week unsuccessfully attempted to topple NSW premier Gladys Berejiklian over it.

Most of the proposed amendments failed in the Legislative Council, but a few watered down iterations, some of which just codified existing medical practice, succeeded. They included: clarifying informed consent provisions, recognising doctors performing abortions after 22 weeks can seek advice from a multi-disciplinary team or hospital advisory committee, and mandating medical care for "children born alive".
One of the most controversial amendments, to ban "sex-selective abortions", failed but an amendment to ensure a review into sex-selective abortion resulted in new professional standards was passed.
The bill was also amended to require doctors to provide information about counselling services after 22 weeks, allow doctors with a conscientious objection to comply with requirements by providing a pamphlet approved by NSW Health.
One passed amendment changed the name of the act from the Reproductive Health Care Reform Bill to the Abortion Law Reform Act.
A woman and her doctor could previously be convicted for an unlawful abortion and imprisoned for up to a decade in NSW, but case law had established that abortion was lawful in the state if the doctor has an honest opinion that continuing the pregnancy would be seriously harmful to the health of the woman.
NSW is the last jurisdiction to modernise its abortion laws though technically not the last to decriminalise — there is a campaign underway to decriminalise procedure in South Australia where it is still regulated by criminal law.