Here Is What Politicians Said When They Voted On Whether Abortion Should Remain A Crime
Some told touching personal anecdotes, and others ripped into the MP who had introduced the bill.
Legislation that would have removed abortion from the NSW Crimes Act and enacted safe access zones around clinics and hospitals where abortions are performed was yesterday voted down in the Upper House of the state's parliament.
The bill, which also required doctors who conscientiously objected to abortion to refer a patient to a doctor who did not, garnered 14 votes of support: eight from the Labor party, five from the Greens and one from the Animal Justice Party.
The majority of MPs (25) voted against the proposed legislation, including every member of the ruling Liberal-National coalition, which was introduced by Greens MP Mehreen Faruqi.
Only one member of the government, Trevor Khan, spoke during the debate – to explain his conscience vote against the bill.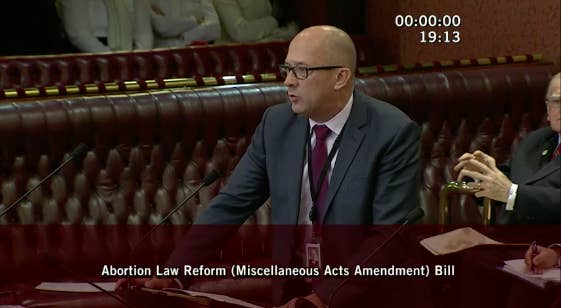 "Let us have a discussion based upon an accurate understanding of history, the law and present day practices, not on myths and anecdotes," Khan said.
He acknowledged there was a lack of access to abortion for "women in rural and regional areas" but it was "equally true" that other reproductive health services were hard to access in some areas.
"For instance, the action of going to the chemist to buy condoms can bring with it a whole range of problems in a small country town. Going to see a general practitioner to obtain the contraceptive pill, to have a pregnancy test or to get a check for sexually transmitted diseases can be a formidable experience, with the fear of judgement and disclosure hanging over a patient's head."
He quoted academic Dr Kate Gleeson, who has said that the "myth that abortion is illegal" in NSW did not get to the bottom of problems of access, or help to progress and clarify an "already confused situation for doctors and women".
Labor MP Lynda Voltz told the parliament she sat next to a 15-year-old classmate when at high school who was pregnant to her father.
"That young girl would not go to the police, even at the urging of her classmates, but she was eventually convinced to have a termination," Voltz said.
"The alternative scenario is beyond my comprehension. The reality is that it is our right to make decisions about our lives and our bodies."
Voltz then spoke about her former colleague Vicki Potempa, a member of the Granville Central branch of the Australian Labor Party, who fell pregnant to an "alcoholic and abusive husband" in the 1960s.
"She was desperate for a termination that she could not access. In the end, Vicki was sectioned and had to accept an insanity ruling to access a termination.
"She awoke from the procedure to find not only that she had had a termination but also that she had had a hysterectomy."
Voltz voted for the bill but took issue with the fact the bill required doctors who conscientiously objected to the procedure to refer to a GP who didn't.
"I am sorry, but I believe that people have a right to a religious view."
Shadow health minister Walt Secord said Faruqi had been "insensitive and irresponsible", but ultimately voted in support of the bill.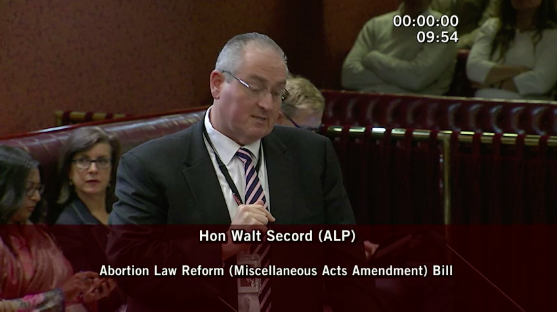 "My vote for the bill should not and cannot be seen as support for the manner in which it has been introduced by Faruqi," Secord said.
"Make no mistake she has created a flawed bill with a scope of unintended consequences."
He argued that he had not been properly consulted over the two year development of the bill, and said the criminality of the procedure had been misrepresented.
"Currently there are an estimated 27,000 abortions performed in NSW each year and there have been no arrests and there has only been one charge in relation to abortion over the past 25 years," he said.
"As shadow health minister, I had not received a single representation about the need to legalise this area of the law until [Faruqi] began this campaign.
The Animal Justice Party's Mark Pearson, who voted in favour of the bill, said he had personal experience of people with "authority" attempting to exercise control over his "bodily autonomy".
"As a gay man it might be argued that I have no skin in the game; I can't possibly imagine the state enacting laws about what [a woman] can and can't do with her body," Pearson told the parliament.
"Well, I do have some understanding, because as a young gay man both the church and the state forbade me from engaging in sexual activity."

Christianity had introduced an opposition to abortion, he said.
"Women have been managing their fertility for thousands of years and the wise women of villages and tribes passed down knowledge of which herbs could procure an abortion."
Pearson was one of a handful of pro-choice MPs who quoted a statistic from the World Health Organisation which estimated that even if all contraceptive users were to follow instructions perfectly, "there would still be nearly six million accidental pregnancies per year".
Labor member Penny Sharpe, who has introduced her own bill to establish safe access zones, spoke in wholehearted support of decriminalisation.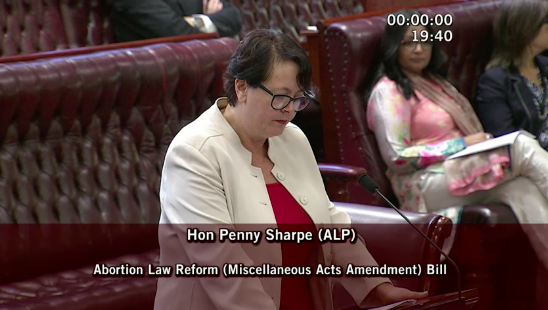 "Abortion is provided almost exclusively in the private system and there is nowhere else where patients are left without the safety net of a public system," Sharpe said.
The procedure was particularly inaccessible for those in "regional and remote" areas or those struggling with "the weight of financial disadvantage".
Sharpe reflected on "the anxiety of an unwanted pregnancy" shared with her friends when she was a younger woman.
"The longest 10 minutes of your life, after you'd peed on the test to see if there was one or two lines. For some of my lines there were two lines and what happened next was hard."
Sharpe then quoted award winning Australian author Helen Garner: "It's an awe-inspiring force, the iron determination of a woman who refuses to bear a child that she knows she cannot mother. Down through the ages, no religious anathema, no legal proscription has been able to weaken the adamantine power of her refusal."
Sharpe's Labor colleague John Graham voted in favour of the bill but acknowledged it's likely failure before the vote. He said it was the "beginning" of the debate on this issue and not the end.
"I believe that [abortions] are decisions for the individual and not the state and that is the best way to reconcile the strongly opposing views on this issue," Graham said.
"There is a significant gap between the words of the law and the lived reality of NSW citizens, and I think it is hard to think of a NSW law where the gap is so large."