A Vegan Teen Was Told To "Drown Herself In Milk" After Posting A Video On YouTube
"No matter what bullying I go through it is nothing compared to what animals go through."
Vegan school girl Kaila Mackay, 16, lives in Finley, NSW. Finley is a dairy farming town, but the industry has seen a downturn in recent years.
There has been a nationwide push for Australians to buy more milk after dairy giant Murray Goulburn retrospectively slashed the price it paid dairy farmers for their product, hitting locals hard.
At the height of the campaign in May, Mackay uploaded a video to her YouTube channel about Australia's dairy industry, telling her subscribers why she chooses not to consume dairy products.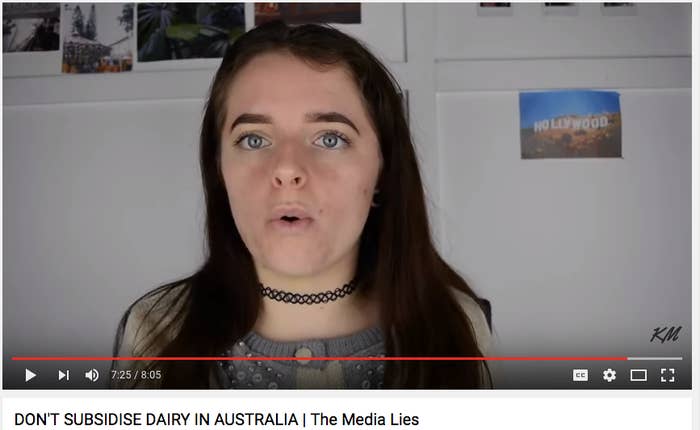 "Even though we were having a dairy crisis for farmers, I wanted to raise awareness of the fact that animals are still suffering too," she said. "It wasn't to spit on the suffering of the people in the dairy industry, it was about not exploiting another species just to help our own."
Mackay said that following the publication of the video, she was sent hundreds of abusive comments by her peers and students from nearby schools.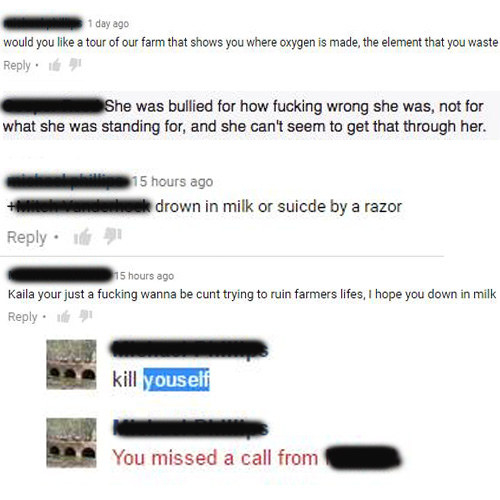 "People were telling me that I was uneducated and that I was stupid and to cut my wrists and drown myself in milk."
To make matters worse for Kaila, there aren't many other vegans in her town.
"More than 50% of the kids at school would be connected to the dairy industry, even my best friend is a dairy farmer," Mackay told BuzzFeed News.
She's now looking into doing distance education. "I haven't actually been back to school since it started," she said.
"I didn't want people to say anything to me about it so I had a few days off school for personal reasons and then I just continued not to go to school and now I'm on school holidays."
"She's copped some pretty disgusting stuff," Mackay's stepfather told BuzzFeed News.
When he raised his concerns about the bullying with her school, he said he was told that Mackay might be better off at TAFE where there were "other non-mainstream students".
"I asked them to define mainstream, I said 'oh you mean narrow-minded farmers'," he said.
"These kids aren't lighthearted about this. I mean, the first comments were telling her to drown in milk and cut her wrists."
He said the bullying was the final straw in moving the family interstate.
"Everyone here is attached to a farmer in some way so we're moving to Hobart."