One of the loudest voices in the same-sex marriage "no" campaign has said the debate about marriage equality has "nothing to do with marriage".

"I don't think this debate has ever been about marriage," Lyle Shelton, head of the Australian Christian Lobby, told Sky News on Sunday morning.

Shelton appeared alongside independent member for Sydney and Australian Marriage Equality co-chair Alex Greenwich, ahead of the national postal survey on the issue of same-sex marriage.

"It is a tiny percentage of a tiny percentage of couples [in same-sex relationships who wish to marry]," Shelton said.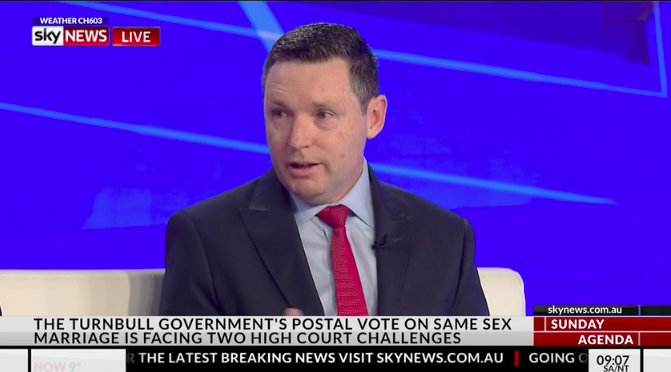 "This is about changing the established order, forever changing our understanding of free speech. It is about forever changing our understanding of gender which we are seeing in the Safe Schools program... this has nothing to do with marriage... it is about forever changing the way children are understanding what it means to be a boy and a girl."
Greenwich agreed: "For Lyle, this debate has never been about marriage, he rarely even talks about it."
"For us, this has always been about marriage," he said.
"Marriage is a fundamental celebration of love and commitment and it is something that should be afforded to every Australian."
Shelton this month refused to withdraw his claim that marriage equality would create a "stolen generation" of the children of LGBTI Australians.

On ABC News Breakfast Shelton claimed the postal survey "will be a referendum on freedom of speech and Safe Schools, whether children should be taught that their gender is fluid".
On Sunday, columnist Paul Kelly asked Greenwich about how a successful "yes" campaign would affect employees of the Catholic church, after Fairfax Media today revealed at least two Australian archbishops support plans to sack church staff who marry their same-sex partner.

Archbishop of Melbourne Denis Hart said the church's 180,000 employees were expected to uphold its teachings "totally", and defiance would be treated "very seriously".

"We have made it very clear that churches will continue to be able to make their own rules [if same-sex marriage was introduced]," Greenwich said.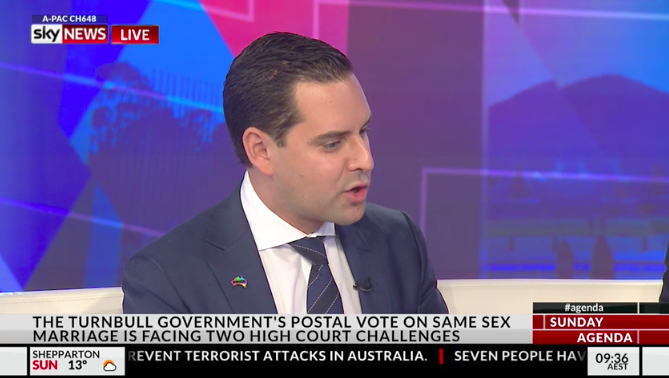 Greenwich said if tax payers were going to pay for an "unnecessary $122 million debate" then it should be "focused" on the issue of marriage.
"We don't want to persecute anyone, we just want to get married."
Sky News host Peter Van Onselen asked Shelton why employees committing to a same-sex marriage was "any worse" than adultery or fornication: "Why aren't all divorcees sacked?"

"I think you'll find Peter that churches in communities do exercise their right to maintain their methods through their employment practices.. there would be a case-by-case basis... that freedom and discretion should remain."
Do you have questions about Australia's upcoming postal survey on same-sex marriage? Same. Here's a list of everything you need to know, and more.