The journalists at BuzzFeed News are proud to bring you trustworthy and relevant reporting about the coronavirus. To help keep this news free, become a member and sign up for our newsletter, Outbreak Today.

Meet 28-year-old Nicole Parker from near Brighton. Like the rest of us in the UK, she's currently stuck at home as the country continues to enforce lockdown measures as a means to fight the spread of the coronavirus.
Also like most of us, Nicole enjoys a glass of wine or two at the end of a long day of, well, *waves arms* this.
Anyway, Nicole was filming herself playing around with an Instagram filter telling her what cheese she would be. So far, so innocent.
And then this happened. Trust me, it's better if I let the video speak for itself.
I mean, honestly, have you ever seen a bigger mood summing up the shitshow that is 2020?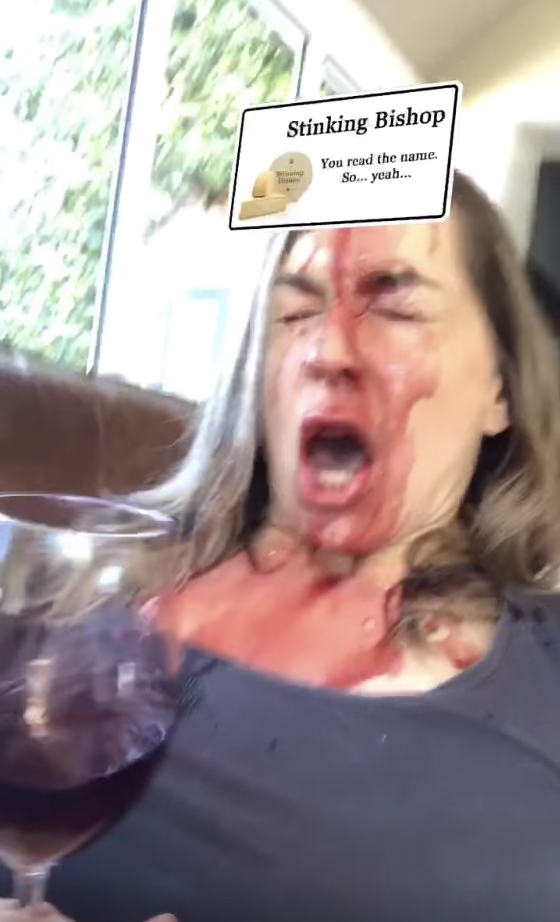 And, if people's comments on the video are anything to go by, Nicole truly spoke to the souls of all of us currently on lockdown.



And a special shout out to this person who made this very relevant point.

Speaking to BuzzFeed News, Nicole said: "I was just relaxing on the sofa after a few vinos. I was drinking Malbec, which is my favourite."

"I initially sent the video to my girls' group on WhatsApp, and they told me the video would go viral so I posted it on Facebook.
"I think a lot of people relate to it because everyone is definitely drinking more wine whilst in isolation."
Of course, Nicole had to do a significant amount of damage control after the wine-overboard incident.

"All my pillowcases had to be washed and dried, and I had to wash my hair," she said.
Nicole, whose now-iconic video has clocked up over 2 million views on Facebook, said she's been pleasantly surprised with the feedback.
"A LOT of people have asked me what kind of cheese I was. (FYI, it was American cheese)."
After watching this, I think it's high time we be more like Nicole and pour ourselves a glass of the good stuff. (What? It's 7pm somewhere?!)