1.
Drawer organizers that'll spare you from the mountain of bras, undies, and socks in your dresser. This four-piece set contains medium and large cells with dividers, making it so dang easy to fold and stash clothes. Plus, you can arrange them in any order you want!
Promising review: "I bought these organizers for my socks and such, but three-quarters of them were used for my husband's sock drawers. They are not rigid, which helps with different sizes and thicknesses. Thank you so much for this product. It has made my life less stressful, being able to find what I need quickly and painlessly." —Patty H
Get it from Amazon for $11.89+ (available in two colors).
2.
A jewelry cleaning pen with micro-fine cleansers that'll get your rings sparkling again. No more dull diamonds or dirty scuffs on your fave baubles.
My colleague Heather Braga tried this cleaning pen and said: "This seemingly average little cleaning pen is filled with a high-performance formula that cleans jewelry like nothing I've ever experienced. It contains micro-fine cleansers, polishing agents, and a polymer that will make your gems so shiny they'll nearly blind you. I've used it on my diamond rings, but it also works wonders on my cubic zirconia earrings." Check out her review of the Connoisseurs 1050 Diamond Dazzle Stick.
Promising review: "My life has changed since I discovered this. I was previously using a toothbrush and found that it just wasn't getting all the gunk underneath my diamond. I have no idea what kind of magic is in this cleaning stick but my ring looks brand-new after cleaning. The bristles are soft and firm at the same time, allowing you to get all around the prongs and underneath the stone." —Ay
Get it from Amazon for $6.41.
3.
A set of thick velvet slip covers that'll instantly turn your dull sofa into a beautiful seating area. If your couch is covered in stains or looks a little worn, just place a couple of these on top for a jaw-dropping transformation that requires minimal effort. 😲
This set also comes with nonslip straps that'll prevent your "seats" from shifting out of place. It's also available in a bunch of colors, in case you want to do a total makeover, as shown in the review picture above.
Promising review: "I have never been so excited about a slipcover. Total transformation of our couch and loveseat. I was worried about it not working on our leather couch, but it stays on really well due to the straps and the separate cushion covers. Love!" —Brian/Liz
Get it from Amazon for $47.49+ (available in 10 colors).
4.
A grooming brush so your shedding doggo can have a shiny, tangle-free coat all year long. Your fur baby gets to enjoy a little pampering while you, the happy pet parent, gets to keep the couch clean. It's a win-win situation. 🐶
Promising review: "The only negative with having a lab in your life is the shedding! It's even more terrible during the transitional seasons. After reading other reviews, I decided to upgrade to this brush. So glad I did! I found basically another dog's worth of hair and could have kept going! Now her coat is shiny and feels much nicer than before. If you or a loved one has a dog who sheds profusely, you need this in your life!" —B.W.
Get it from Amazon for $15.97.
5.
And a pet ear cleanser that'll help treat your fur baby's ears and clean out gunk without causing irritation to their skin. Its gentle formula is non-toxic and free from harsh cleaners and it's easy to apply: just fill their ear canal with a little of this solution, rub it into the base of their ear canal, and use a clean cloth to wipe away debris. 
Promising review: "My husband and I just adopted our cute puppy, Winston, from the humane society. When we adopted him his ears were unfortunately pretty dirty, but after using this ear cleaner today, his ears are so clean!! I'm so amazed at everything it managed to get out. Our puppy's ears look so much better now! I would highly recommend this product to anyone with a dog." —AmazonLurker

Get it from Amazon for $11.99.
6.
A multi-tasking face oil you'll want to use if your skin is stressed out. Jojoba oil, vitamin E, tea tree oil, and argan oil work together to repair the skin and soothe irritated areas on your cheeks, chin, and forehead.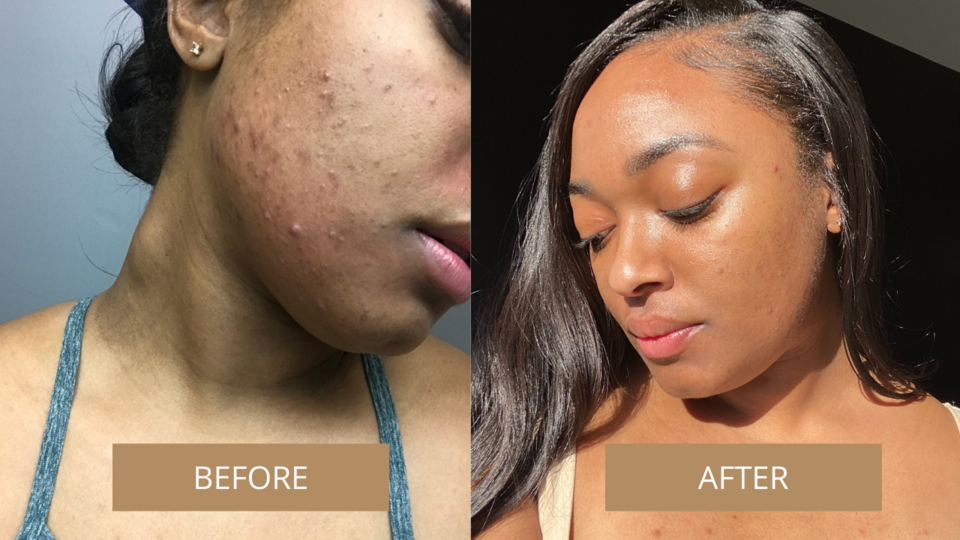 AxV Beauty is a Black-owned business founded by Asata Evans and Vic Rose.
Promising review: "I suffer from rosacea and it has not irritated my face at all. I have been using it consistently and it has provided the right amount of moisture to my face without leaving me greasy. Will definitely repurchase again!" —AxV Beauty Customer
Get it from AxV Beauty for $20+ (available in three sizes).
7.
Tilex Mold and Mildew Remover spray so surfaces in your bathroom can get a deep clean without deep scrubbing. This formula kills 99.9% of mold and mildew and quickly lifts them away from shower tiles.
Promising review: "I live in an older apartment complex with the original tile and caulking in the bathroom and I've been battling mold in the bathroom since day one. However, I haven't been able to get the dark color from mold out of the shower caulking until I used this Tilex! I've used every product and nothing has worked until now! I'll definitely buy again and keep on hand at all times for my mold cleaning issues! Great product!" —Amazon Customer
Get a pack of two 16-ounce bottles from Amazon for $15.99.
8.
A foot file so good at gently removing dead skin, you'll gasp at your newly soft heels that were once crusty, callused, and cracked.
Promising review: "This thing is pretty amazing. I was skeptical for sure, since I've tried all kinds of lotions, balms, and stone-based products, none of which helped my heels whatsoever. I've worn socks to bed for years, because if I don't the sheets hardly last a week before they have holes rubbed through them. My wife ordered this thing that looks like a mini cheese grater, lol, and after two minutes — two minutes!! — of rubbing it on my heel, it's a complete 180. I never would've believed it until I tried it myself. This is well worth double what it costs." —LBK
Get a pack of two from Amazon for $21.99.
9.
A set of ultra-narrow velvet hangers so you can hang up everything from bodysuits to flannels and sort them to your liking. There also won't be any more clothes falling, thanks to notched shoulders on each hanger. 🙌
Promising review: "I remodeled my house and added a walk in closet. It looked amazing! Then I added the velvet hangers, and I just can't believe how much nicer it looks compared to the round plastic ones. Definitely makes it look more high end. It is also true that you can fit way more clothes in you closet with these. Love! Because they look so nice, they have upped my organization game...now I have my clothes arranged by type, material, and color ;) Who knew a hanger could do all that?!" —Wendy H
Get it from Amazon for $16.49+ (available in five colors and in sets of 24, 30, 50, and 100 hangers).
10.
A pack of clip-in hair extensions for times when you want to give your hair a little more length. If your locks are on the shorter side or you really want to rock a longer ponytail, these synthetic strands will give you the 'do of your dreams.
These hair extensions are heat-resistant up to 300-ish degrees, so you can blow dry, straighten, and curl them with the rest of your hair.
Promising review: "I can't believe all the money I spent on natural hair extensions until I got these. OMG I'm so amazed by how natural they look. They are super voluminous and soft. I bought two since my hair is really short and I like to use a huge amount of hair, but even with one you can rock lots of hairstyles. Thank you so much for this product! In the picture I'm wearing only one and you can tell how good they are." —JE
Get them from Amazon for $9.99 (available in five lengths and 44 colors, some solid, some with highlights, and some with a balayage effect).
11.
And flexible curling rods because they can create beautiful curls without using hot styling tools. Leave these rods overnight and take them out in the morning for ah-mazing "I just went to the salon" hair.
Promising review: "I have thick 4c hair and I love this set. My hair came out so curly. It really reminded me of the movie star curls because it has been such a long time since I have seen my hair curl without having to use heat to it. I will either use a curling cream or a curling gel and leave the rods in overnight and then I get my curls in the morning." —Marisa Fields-Williams
Get a 42-pack from Amazon for $12.99.
12.
A cleaning paste that's popular on TikTok and will save you so much time  — it'll tackle stubborn stains on your stove, bathroom sink, kitchen tiles, and more messy surfaces at home. No more scrubbing and wiping for hours. 
Promising review: "Amazing product. No chemicals, no toxic odor. Shower wall hard water stains completely wiped out. I used other products on my 10-year-old oven door and it never came as clean. First try, I wiped on, wiped off. (Recommended at least five minutes.) Second try, I applied Pink and left it over night. Baked on grit was softened enough I could use a spoon to scrap. End result...BIG DIFFERENCE. By far the best versatile, nontoxic, and gentle abrasive product." —ap808

Get it from Amazon for $8.15.
13.
A nail-strengthening cream for your dry, damaged, and brittle nails that need a break from frequent salon visits. It's formulated with hydrogenated jojoba oil, calcium, and vitamins, which together help prevent chipping, cracking, and splitting.
Promising review: "About a month and a half of use has really transformed my nails! I've been using this three to four times a day (as well as the occasional gel manicure and some strengthening polish, no different from my prior routine). My nails have never been this long and strong — even when I picked off gel polish (bad, I know!). I really like the scent (slightly coconut-y) and a little goes a long way. I'm not even halfway through the tub and I basically dip the tips of my nails in and massage the balm into my nail beds. Definitely worth the money." —Madison
Get it from Amazon for $7.94+ (also available in a two-pack and three-pack).
14.
A row of cut-up books because you won't have a view of your Wi-Fi router, tangled monitor wires, and charging cords when you're sitting at your desk. This piece of decor will cleverly hide all your e-clutter, so you can answer emails and hop on video calls in a neater work space.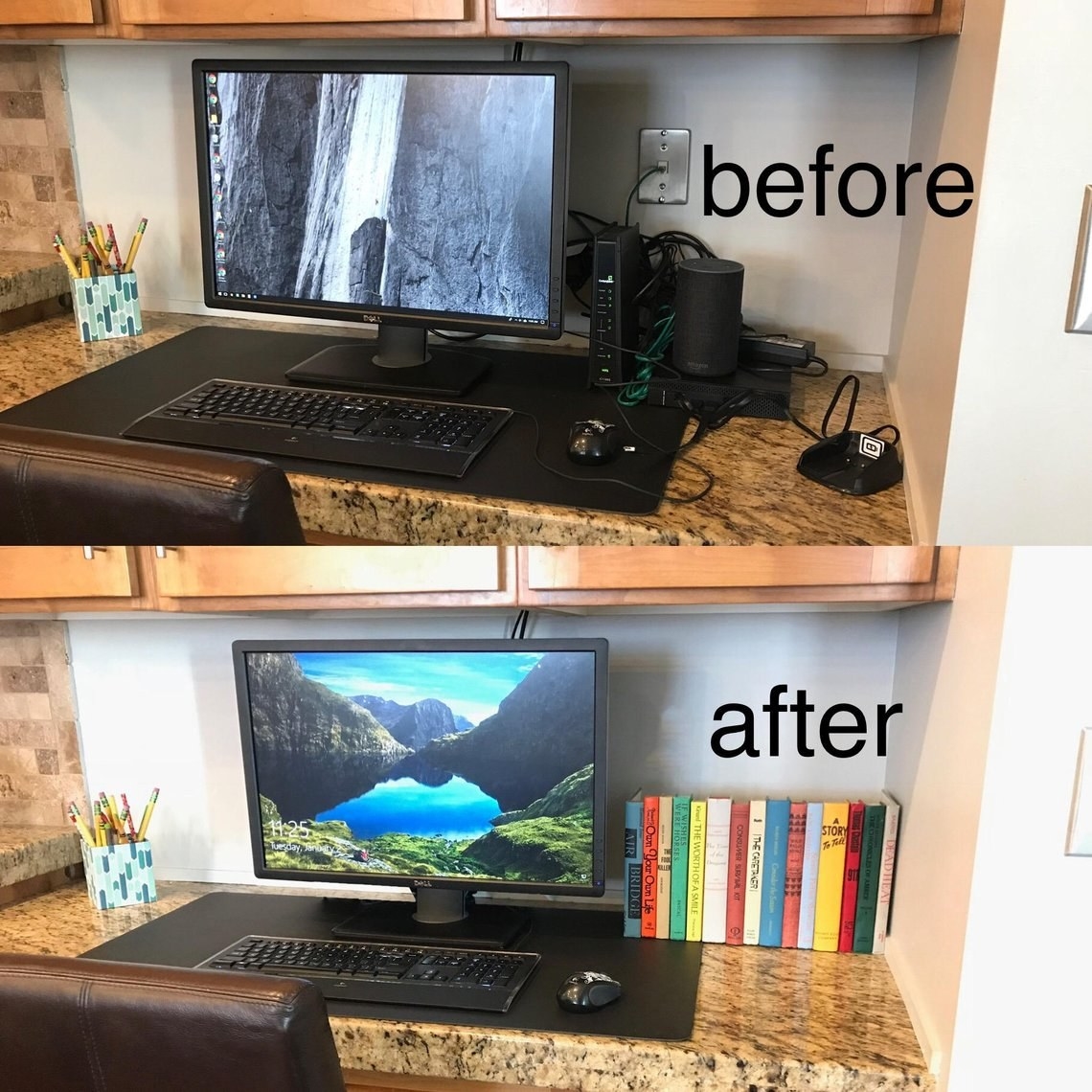 Here's how it's made: The spines of the books are attached together and have all the pages and covers cut out of them, except two covers on the ends. You can customize how long you would like it to be and choose a color scheme.
Covogoods is a small business based in Utah that specializes in hidden storage and home decor goods.
Promising review: "Wonderful!! We spent the past month remodeling our living room, but we didn't account for how AWFUL the cable boxes and modem were going to look on our beautiful new shelves. Saw this, and had to have it! Covogoods not only communicated quickly with me, but were EXTREMELY accommodating in my requests. Turned out exactly how I envisioned it, and dimensions were spot on! No more ugly cable boxes and wires!" —Lindsey Martinez
Get one from Covogoods on Etsy for $21+ (available in 16 different lengths and colors schemes).
15.
Vacuum storage bags that'll compress seasonal staples you don't wear all the time. If your closet looks like a tornado of sweaters, jeans, and flannels, let these space-saving babies ~downsize~ the mess and keep all your fall and winter clothes in a neat place. 
Each bag has a double-zip seal and a triple-seal turbo valve to help minimize excess air *and* you'll get a travel pump to help you compress clothes in the bags. Just place the clothes in, seal the bag, unscrew the valve cap, use the travel pump or a vacuum with a hose, and screw the valve cap back on. It's that easy!
These bags are also available in different sizes (a small fits 6–8 sweaters, medium fits 8–10 sweaters, large fits 10–12 sweaters or one pillowcase, and jumbo fits four pillow cases or one queen bedding set).
Promising review: "I live in Wisconsin and the winters get pretty cold meaning we have tons of blankets, heavy coats, and sweaters which is fine in the winter but for the rest of the year, they take up so much space. These bags have given us back so much space and keep all of your winter things clean and protected until you need them again." —Mikki
Get a six-pack of small bags from Amazon for $26.99+ (also available in medium, large, and jumbo sizes).