1.
The Pink Stuff cleaning paste with 100,000+ 5-star ratings on Amazon and lots of TikTok popularity for a reason — it'll tackle stubborn stains on your stove, bathroom sink, kitchen tiles, and more surfaces that've been neglected at home. The before and after photos below speak for themselves and you'll be glad your cookware doesn't look rusty anymore. 😲
Promising review: "This stuff is AMAZING!!! It cleaned the impossible to remove scuff marks off my fridge, my stove top, and cleaned out pans that we have tried EVERYTHING on. It was so easy! It took minimal scrubbing and now we can use our pans again. So worth the money, you can use this stuff to clean so many things!" —Angie Sparrow
Get it from Amazon for $5.97+ (also available in a 2-pack and 3-pack).
2.
A squeegee broom that'll remove pet fur and human hair from indoor surfaces. Its rubber bottom picks up debris deeply trapped in your carpets and rugs, or scattered all over your hardwood floors. Take a look at the results below and you'll probably never go back to your vacuum. 
BuzzFeed editor Emma Lord owns this squeegee broom and said: "An embarrassing confession: I do not have a pet, but I shed like nobody's business. My hair gets so ingrained in the carpet that a vacuum truly does nothing for it, so I often was just unrooting clumps of hair from the floor with my hands (sorry for the visual). I bought this broom and it immediately started pulling it up GOBS of hair. My carpet like, genuinely changed color (turns out the pink was supposed to be much pinker, whoops). Anyway, do with that semi-horrifying information what you will — you can read my FURemover broom review for more deets."
Get it from Amazon for $16.99.
3.
And a pet hair remover to immediately roll away lots of fur on your bedding and couch cushions. If your pet loves to leave a fluffy mess around your home, this reusable tool will be game changing if you don't want to spend hours cleaning.
Promising review: "I am allergic to cats, so here I am with two cats that shed like crazy. Their hair is covering all the furniture. I have special pet covers on my bed to protect my comforter but I hate having to sleep under it since my cats sleep on my bed. I have tried so many cat hair remover brushes, gloves, sponges that never worked. I was ready to shave the cats and call it a day. Then along comes the ChomChom brush.
"It not only has the lint roller but a bar that collects the hair. I love the little hairball container of the roller so I don't have to spend time cleaning off the lint brush. I can't believe this product works! I have an off-white couch and I didn't realize how much hair there was. After I used it, my couch looked lighter in color. I got my comforter cleaned off in minutes. It's a simple and inexpensive way to cure your pet hair woes." —Dondi
Get it from Amazon for $24.99
4.
Dishwasher-cleaning tablets that'll wash away grease and limescale build-up and leave your dishwasher with a fresh scent. Use it solo *or* with your next load of dishes, cups, and plates: Place one inside your dishwasher tray, run a wash cycle, and you'll give this kitchen appliance the cleaning of a lifetime.
Note: Using these tablets monthly can help improve dishwasher performance, because they'll clean hard-to-see areas (internal hoses, pump and valve, and the tub) crucial for washing dishes. If your plates are coming out cloudy or dirty often, you may want to buy some of these dishwasher-cleaning tablets for better results.
Promising review: "We moved into our house in late January and the previous owners were lazy. Upon opening the dishwasher you got hit with a 'yuck' smell. I tried a measuring cup filled with white vinegar, it helped, but the smell was still there. I saw these on a BuzzFeed list. I ordered and threw one in our dishwasher without any dishes and ran it. The smell is gone!!! I haven't noticed a difference in dish cleanliness yet but simply because I haven't ran it since. These are a great, inexpensive and easy way to clean your dishwasher for sure." —Amazon Customer

Get a six-pack from Amazon for $8.95.
5.
A Wet & Forget shower cleaner that (gasp) you can literally leave and clean later. Instead of bending over a tub and scrubbing for eternity, all you have to do is apply to the grimy area, go do something more enjoyable, and rinse it away the next day.
Promising review: "I have been having shower draining issues so there was a build up of soap scum in my shower. I have a very weak stomach and cleaning the shower makes me physically ill. I have tried several products that have claimed to be no scrub/wipe but this has been the only one that has worked. I sprayed it after my shower and left it to sit until the next night. Found that A LOT of the grime had disappeared. Now, was it perfect? No. But I think with consistent use it will get there. Highly recommend this product." —KZ
Get a 64-ounce bottle from Amazon for $20.94.
6.
A microfiber spin mop so great for sticky messes on the floor *and* making cleaning less of a project. Let's talk about the features for a sec: it's designed to reach small areas (under cabinets, wall corners, etc.), comes with an automatic wringer, and the mop part is machine washable. With 50,000+ 5-star ratings to back it up too, this tidying essential is a must-have for your home.
Promising review: "I had had it with my broken basic mop and bucket. I tried to just get a dollar store Swiffer to get us by, but that wasn't cutting it at all. With three boys and a dog that makes his rounds on all the furniture and every exposed corner, I had to do something. After seeing a TikTok where a woman demonstrated this mop to clean her walls, and hearing my boss raving about it, I decided to click the Amazon button. Let me tell you, I HATE cleaning, I HATE mopping, but I LOVE for things to be clean. I was able to mop the entire house TWICE (Because it was that dirty. Please don't judge.) within an hour. A few days later I mopped the entire house again within 10 minutes because they weren't quite as dirty. On another positive note, my boys love the spinner and think it's a toy! So, every time I get the bucket out my 10-year-old and 4-year-old ask to mop the house because they think it's fun. MAJOR BONUS!" —Molly

Get it from Amazon for $59.

7.
A disposer foaming cleanser because when was the last time you ~actually~ cleaned your kitchen garbage disposal? It's easy to use and looks like a mini volcano erupting from your sink. Your stinky drain will thank you for this foamy and super-clean treatment. 
Promising review: "This product is amazing. Every time I ran the dishwasher there was this horrible smell. So much that you could smell it throughout the apartment. I even started just hand-washing my dishes. But after about a week, the smell came back. I bought so many products to try and eliminate the smell, but after a couple of days, it would come back. Then I saw this product on BuzzFeed and thought to myself, why not? The first time I used it cleaned it out pretty well. Better than the other products. But then I used it a second time, and there was no smell. I'm going on two weeks of using my dishwasher, and I can't smell anything. I highly recommend this if you're having the same problem I was. This is by far the best kitchen cleaning product I've ever purchased." —khrystyne torres
Get a four-pack from Amazon for $3.78.
8.
An all-purpose power scrubber cleaning kit so you can take out grime stuck in shower door tracks, tubs, and sinks. Use the kit's three brushes with a cordless drill to clean different surfaces in your bathroom, kitchen, and garage.
These Drill Brush attachments work great for baseboards, gutters, counters, and more hard-to-clean surfaces at home. 
Each drill brush attachment is designed for different cleaning needs: the white is a soft bristle that's best for wheels, carpet, upholstery, glass, and leather; the yellow is a medium bristle, best for bathroom, bathtub, shower, tile, and porcelain; the green is a medium bristle, best for cabinets, countertops, linoleum, stoves, and the kitchen; the blue is a medium bristle, best for boats, pools, canoe/kayaks, hot tubs, and plastics; the red is a stiff bristle, best for outdoors, siding, brick, garage, and gutter; and the black is a hard bristle, best for grills, loose paint, furnaces, ovens, and industrial use.
Drill Brush is a small business based in New York State that sells cleaning brushes that attach to drills. It was established in 2007 by a former electrician who suffered from Carpal Tunnel Syndrome and needed a way to clean without causing him harm.

Promising review: "I love these brush attachments! Makes cleaning the grout super easy! Great for cleaning the water line on pools with hard water and showers/bathtubs. Attach to a drill, push the button, and let the drill do the hard work! Cleaning the grout takes no time at all. Or anything. Super fast, easy, and no sore body from scrubbing! I plan on buying the different colors as well. Each color has a different use according to the stiffness of the bristles. LOVE this item for way less cleaning time!!!!" —MizzouFan
Get it from Amazon for $17.99+ (available in six styles).
9.
The TubShroom that'll latch onto loose hairs and prevent 'em from backing up your bathtub. If you're thinking, "OK, I'm not buying another bathroom product," the thousands of 5-star reviews just might convince you to add it to your cart. And it's easy to set up: Place it in your drain and clean it periodically — all those gross clumps of hair will be out of sight.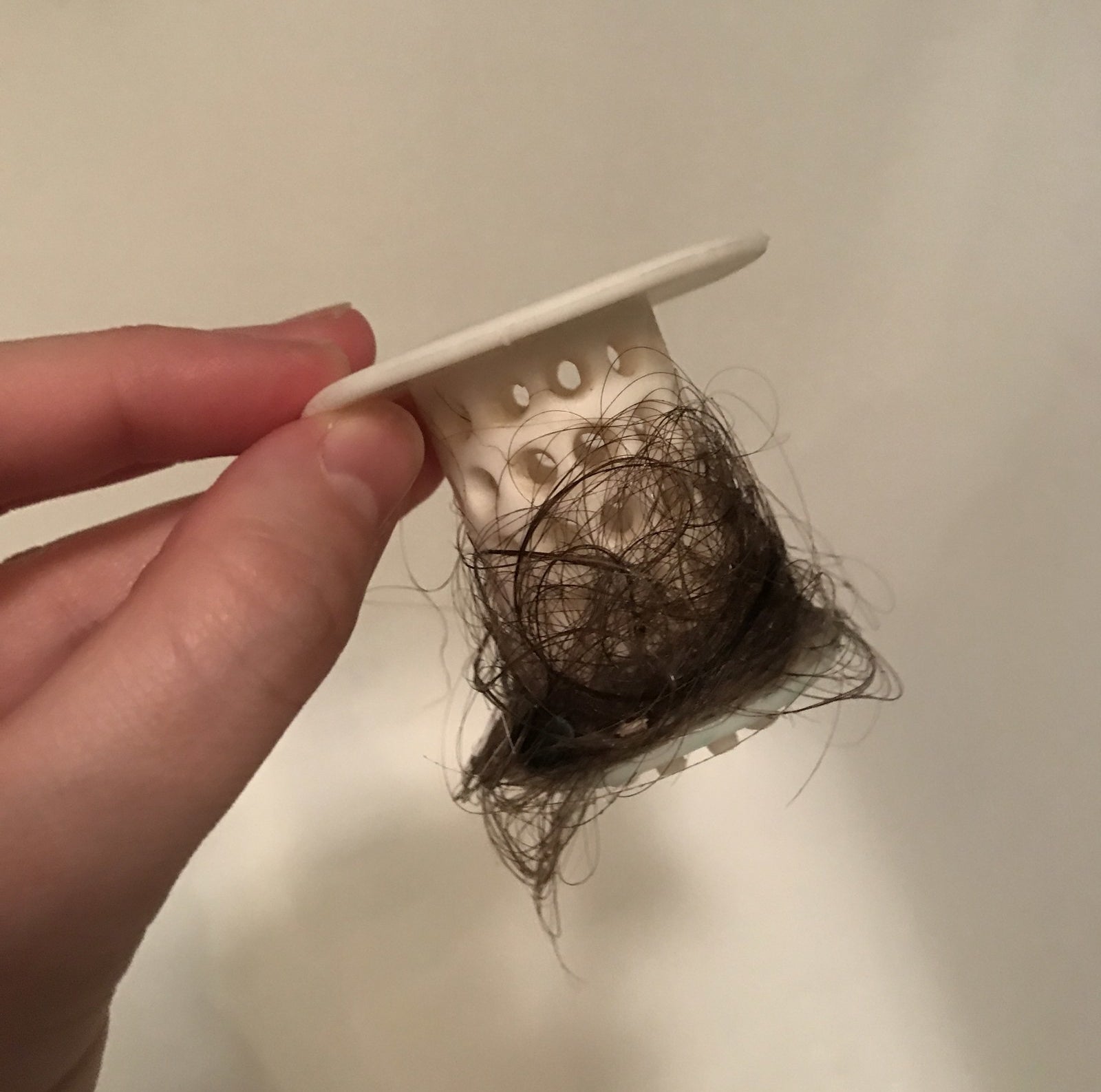 Promising review: "This is the product I didn't know I needed until I came across a video on TikTok. I'm surprised how much hair it catches, it is also pretty easy to remove and clean! Get one now! Your shower drainage will thank you." —bbymmii

Get it from Amazon for $12.95+ (available in five colors and a two-pack).
Read one BuzzFeeder's TubShroom review.
10.
A dryer lint vacuum attachment to suck up debris from the depths of your dryer vent. This hose is flexible and attaches to your vacuum, making it easy to clean hard-to-reach crevices and remove all the nasty stuff clogging up your dryer vent.
It works with most vacuum cleaners and comes with a brush to help clean your dryer!
Promising review: "I clean out my dryer vent every other load and I never could get the lint that would fall below. It started to build up so I thought I'd give this attachment a try and boy was it worth it! Not only inexpensive but super easy to use. Highly recommend this product." —B.Garcia
Get it from Amazon for $11.95+ (available in three colors).
11.
And washing machine cleaner tablets for grime and stinky residue left behind from dirty clothes. They're designed for top and front load washers and give the pump and valve, basket and drum, and filter parts a deep clean. Place one in your empty washer, select the "clean washer" cycle, and use a cloth to remove debris. 

Note: It's recommended to use these tablets once a month to clean your washing machine.
Promising review: "I like the ease of use of Affresh; I like how my washer smells after I've used it, and if something happens where the machine ends up a little funky, I throw another one in before my monthly scheduled date to use it. I find it to be a great way to help my washer smell fresh and really clean, which gives me confidence that my clothes will be that way, too." —Marina

Get a 6-pack from Amazon for $11.95. 
12.
A Bissell multipurpose carpet and upholstery cleaner pet owners swear by, because it helps eliminate stains that are an eyesore around the house. If your pet had an accident on the couch *or* left mud prints on a carpet, this compact gadget removes messes with warm water and an odor-eliminating formula. This cleaning essential's next-level spray and suction capabilities will help tidy your furniture, car seats, and carpets covered in stains.
Each cleaner comes with a trial size of Bissell's Spot & Stain Formula, and you can buy a full-size bottle on Amazon for $12.99! 
Promising review: "Yep! TikTok made me buy it and I loved it. Looked for it online, and on Walmart they were about $150 for some reason?? Got it here, and I am LOVING IT. Things definitely look cleaner. Spots on my carpet are gone, and my car seats look brand new for the first time since I bought it! Directions are easy. Just a heads up, MAKE SURE TO USE WARM WATER. if you leave water in it and it gets cold, it's not as effective, so just follow instructions and it should be wonderful!" —Carlos 
Get it from Amazon for $123.59.  
13.
Or! A larger Hoover PowerDash carpet cleaner also designed for pet owners — and even if you don't have a cat or dog, you'll *still* find it handy for cleaning sessions. An antimicrobial brush, shampoo, and hot water target odors and debris on your rug and quickly suction them out. Food crumbs, mud tracks, and pee accidents will be the least of your worries.
It weighs about 13 pounds — heavier-duty carpet cleaners usually weigh around 20 — so you won't feel completely tired by the time you're done with the living room. Plus, it's received 45,000+ 5-star ratings and 8,000+ 5-star reviews! 
Promising review: "I run dog services, boarding, and daycare out of my home. My carpet sees high traffic regularly and potty accidents on occasion. Love this Hoover! Holy moly! It picks up an INCREDIBLE amount of deeply imbedded debris, dirt, stains, and hair. The difference in how much cleaner my carpet is after using it is OUTSTANDING!! I regularly vacuum and spot clean with other carpet cleaners and couldn't fathom the filth I was actually living in after using the Hoover. It's easy to assemble and lightweight, too. You can't deny the results when cleaning out the dirty water tank. Easily the best purchase I have made for my small business! Very impressive!" —Patty DeCarlo
Get it from Amazon for $119.