1.
A wood polish and conditioner for doors and furniture that are dry, dull, and faded. This beeswax and orange oil formula gives wooden surfaces a shiny and protective coating, so they'll look brand-new without excessive sanding and wiping.
Promising review: "OMG! This is the most AMAZING product! We inherited some antique furniture from the thirties that had been in storage forever, it was dry, dirty, and not much to look at. I used this product on it and the oak wood literally came alive showing the beautiful grain and texture of the wood. I have since used it on my oak kitchen cabinets and they look AMAZING! I will never use anything else other than this product on my wood surfaces! No greasy feel and fantastic smell!" —Tiffany Sadowski
Get it from Amazon for $8.99. 
2.
A pink llama duster to make you fall in ~llove~ with cleaning again. This fun tool easily sweeps up dust from photo frames and shelves. The best part? No spraying or wiping!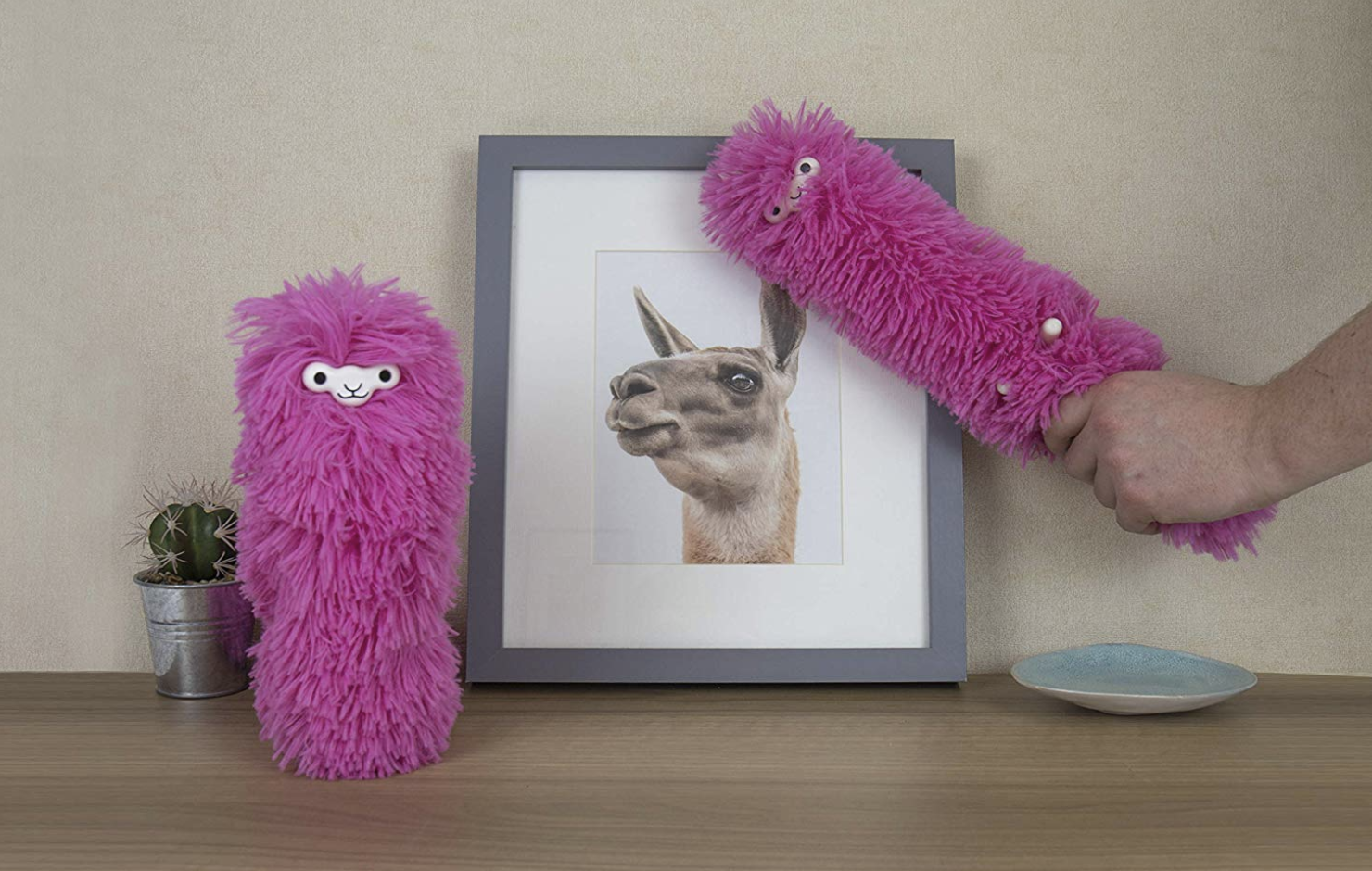 Promising review: "A few of my coworkers chipped in and bought our departmental mascot, whom we've dubbed 'Larry' the Llama. We love this little guy! And bonus: He's quite functional. Our desks get pretty dusty, and Larry helps get all that muck off our desks. And he's adorably handsome." —Vegan-ish Mom Geek
Get it from Amazon for $14.47.
3.
Or a high-reach dusting kit that'll tidy up your ceiling fans and other hard-to-reach areas in your home. Put that step stool away and use this handy tool to easily wipe away dust from ceiling vents and framed art.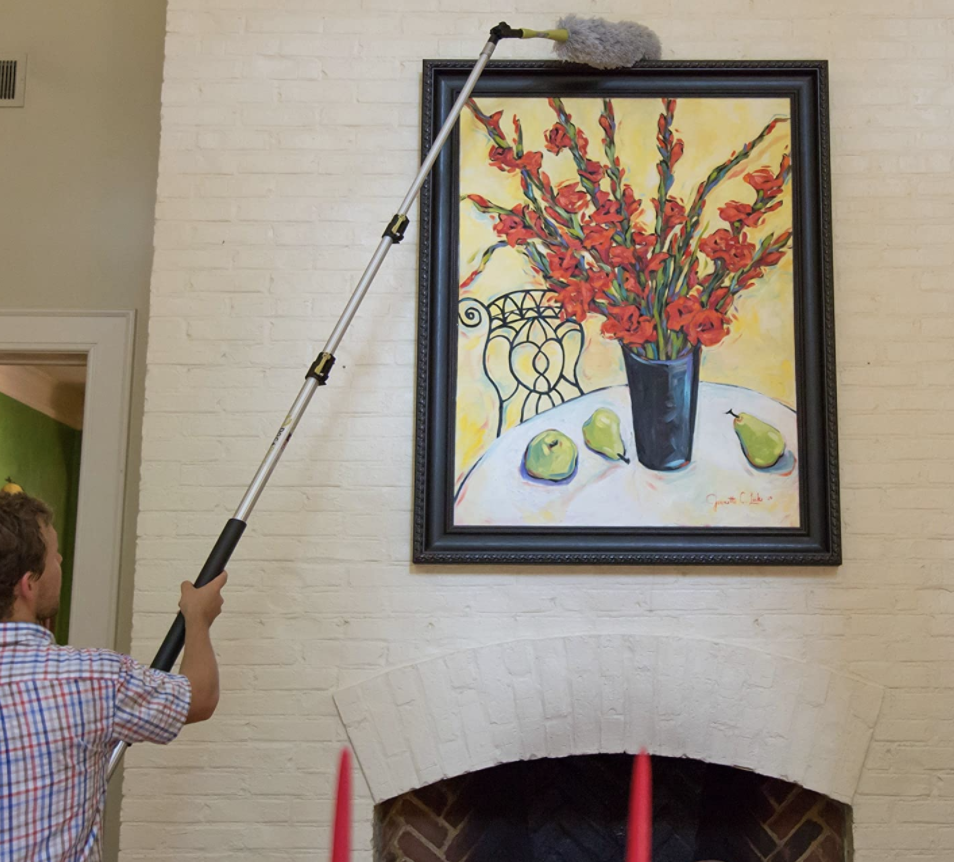 You can reach up to 12 feet with this kit, which comes with three dusting attachments!
Promising review: "This is exactly what I needed to clean the vents on my ceiling! I needed a retractable duster that could store easily in our small apartment, but is also sturdy enough to reach 15 feet without being hard to control. With this product I can literally sit on my couch and clean the vent from across the room (only joking, but pretty impressed). The attachments all fit well on the pole, and the angle attachment is great since our ceiling is angled." —Stephanie B.
Get it from Amazon for $49.99+ (available in three sizes).
4.
An all-natural oven scrub for your oven that's been dirty for a long time. Pumice stone and essential oils help remove grime from oven racks and the interior glass panel of your oven door. You'll be glad that pie goo from three weeks ago is finally gone with a quick (and seamless) cleaning session.
Apply the scrub to dirty oven surfaces, scour each area with a metallic or scoring sponge, then wipe with a damp microfiber cloth, that's it!
Everneat is a small business based in Fairfield, Connecticut, that sells natural cleaning essentials.
Promising review: "Finally tackled the rings on our stove top with this scrub and a reusable paper towel (as I was worried about using a scourer on an easily scratched surface) and the rings came right off! These are those 'oh, crap, the pot boiled over' rings that I ignored that lead to my stove top looking a bit crusty. The oven scrub ate them right off and left my oven and stove top looking great." —Jessie Bono
Get it from Everneat on Etsy for $19.99+ (available in a glass or plastic jar).
5.
A pet hair remover to pick up all the fur hiding around your home. It'll quickly remove clumps embedded in carpets and couch cushions — just lightly sweep the stone over each surface — and turn it into a fluffy pile that could be mistaken for one of Paris Hilton's small dogs.
Promising review: "Holy cow this is magic. I have a 230 pound mastiff. I have purchased any and everything claiming to get dog hair off car carpet. I have used at least three different vacuums and attachments. Lately I have been using a microfiber towel because it had some grip. Then this piece of magic arrived. It gets every single hair no matter how embedded. There were hairs I had a hard time removing with my fingers. The Fur-Zoff pulled them right out. This has cut my hair removal time in half! Thank you for this savior of a tool." —David R.
Get it from Amazon for $11.40.
6.
A hard water stain remover for your shower door, faucet, and toilet bowl that still look grimy, even though you've tried cleaning them a million times. This formula gets to work on tough soap scum and water spots that won't budge, so your bathroom can look sparkling again in very little time. 
Promising review: "AMAZING! With only a little pressure I was able to remove years of hard water stains on our showers and baths. Worked in glass, fixtures and porcelain. I only had to use a drill brush on one area that was the absolute worst, but for everything else it was a dry cloth followed by wet then a final dry. Glass doors panels on the shower look brand new. We be never had a product work as advertised so well, and as easily, as this one did. THANK YOU!" —Mustbbryan
Get a 20.3-ounce bottle from Amazon for $18.89.
7.
Tilex Mold and Mildew Remover spray so surfaces in your bathroom can get a deep clean without deep scrubbing. This formula kills 99.9% of mold and mildew and quickly lifts it away from shower tiles.
Promising review: "I live in an older apartment complex with the original tile and caulking in the bathroom and I've been battling mold in the bathroom since day one. However, I haven't been able to get the dark color from mold out of the shower caulking until I used this Tilex! I've used every product and nothing has worked until now! I'll definitely buy again and keep on hand at all times for my mold cleaning issues! Great product!" —Amazon Customer
Get a pack of two 16-ounce bottles from Amazon for $18.39.
8.
And a wowworthy grout cleaner that'll probably make you believe in magic, because it'll remove years and years of dirt and grime from floor tiles. Yay, you've just spared yourself from a lengthy scrubbing session in the bathroom or kitchen.
Apply it to grout lines, let it sit for 5–10 minutes, and agitate the grout with a bristled brush to lift all the nasty gunk that's been there for way too long.
Promising review: "We moved into our house a year ago and I've been on a quest to clean the grout next to the stove ever since then. I've tried everything — store products, DIY solutions, Pinterest recommendations, you name it. As a last resort I got this and holy cow! I left it on for three minutes as a spot test at first and I could already see a huge difference. I then did two more rounds letting it sit for five minutes each. The scent's not bad, it was fine if I had the window open, it was just being down close to it that got me. Seriously, stop looking and buy this." —Britney Phillips
Get a 32-ounce bottle from Amazon for $19.95.
9.
A leather cleaner for your comfy couch or armchair that's in need of a little restoration. Mix it with 32 ounces of water, apply with a cloth or spray bottle, wipe away grime, and let it dry.
It also works great on other leather surfaces, including car seats, sneakers, and upholstery.
Promising review: "I am so glad I read the reviews here! This is an excellent product. We scored some leather chairs for a great price. The cleaner was very easy to use. It's a concentrate and you mix a small amount with water, spray on and wipe off. Easy peasy. I used this before the conditioner. The conditioner is a bit sticky at first, but you get used to it and the leather soaks it up! Beautiful result!! The chairs look and feel great!" —Julie Schneblin
Get it from Amazon for $18.95.
10.
The Pink Stuff cleaning paste that's popular on TikTok for a reason — it'll tackle stubborn stains on your stove, bathroom sink, kitchen tiles, and more messy surfaces at home in basically no time. The before and after photos below speak for themselves. 😲
This all-purpose and vegan paste is great for removing rust, hard-water stains, grease, and more messes around your home! To use, just apply it to a surface with a damp cloth, gently rub it in, rinse it off with water, and polish the area with a dry cloth.
Promising review: "I saw this on TikTok. Bought our house in 2018 and the right front burner was badly used/stained/scarred at the time. I've used every cleaner in my cupboard including industrial strength stuff from the home improvement store. When Amazon delivered this, I was cooking dinner. I had about 10 mins before I needed to use the stovetop part. So I quickly slathered some on with a basic cloth. I was amazed. It started melting this burnt crap off. I look forward to using on other things around the house." —Maggie
Get it from Amazon for $9.99 (or here if this listing is sold out).
11.
A toilet wand, so your toilet bowl can look like a sparkling gem. It comes with disposable scrubbing pads that help remove germs and get rid of stubborn stains. If you're over a soiled brush and stinky bleach taking up a corner in your bathroom, we hear you!
Promising review: "So glad I bought this! No more nasty toilet brush! The cleaning pads are super durable and contain a lot of cleaner. I just pop a cleaning pad on and clean the toilet without having to scrub. I move the wand to the wastebasket near my toilet and press the button and it drops in the trash! I return the wand to the awesome holder and done. Y'all gotta get one of these! Just think about how disgusting those brushes are that are used over and over, yuck! Highly recommended!" —Marcia B. 
Get a starter kit with six refill heads from Amazon for $9.19.
12.
And these toilet-cleaning gel stamps to keep your bathroom throne free from gross residue and rings. Stick one of these babies inside your bowl and enjoy a clean toilet for up to 12 days. You're welcome.
Promising review: "This little blob helps keep my toilet cleaner longer and it smells nice. Super easy to stick to the inside of the toilet bowl and I don't have to touch the toilet bowl! I saw this product while browsing cleaning items and decided to give it a try because it was a good price. I am not disappointed! I would definitely recommend this product." —Amazon Customer
Get a dispenser and six gel stamps from Amazon for $4.37.
13.
Reusable, paperless towels that'll come to the rescue when you spill juice or water in your kitchen. They're handmade with soft material and you can pop them in the washing machine if they get covered in grime. You won't have to waste a roll of paper towels again if there's an unexpected mess.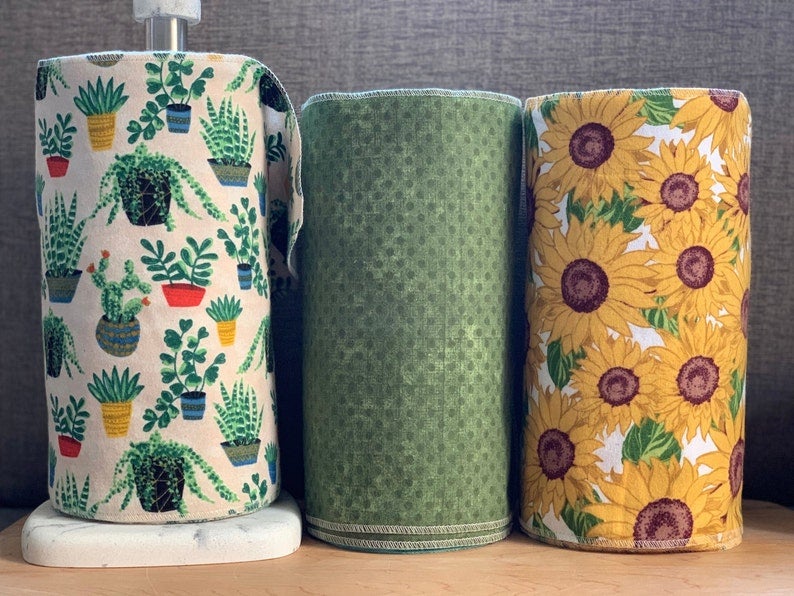 Cozy Simple Living is a Pennsylvania-based small business that sells zero waste cleaning goods.
Promising review: "I ordered this green set of towels and LOVED them so much that I bought another set. The green and succulent towels are so cute together! The towels are so soft and very easy to clean. 100% recommend these. We've already used way less paper towels and they make my kitchen adorable!" —Etsy Customer
Get a 12-pack from Cozy Simple Living on Etsy for $26.50 (available in seven colors).
14.
A plant-derived all-purpose cleaner so you can tackle messes around the home without using laureth sulfates or parabens. This formula has soap bark, coconut, and corn, which'll dissolve stubborn grease, sauce, and spills lurking in microwave at the speed of light.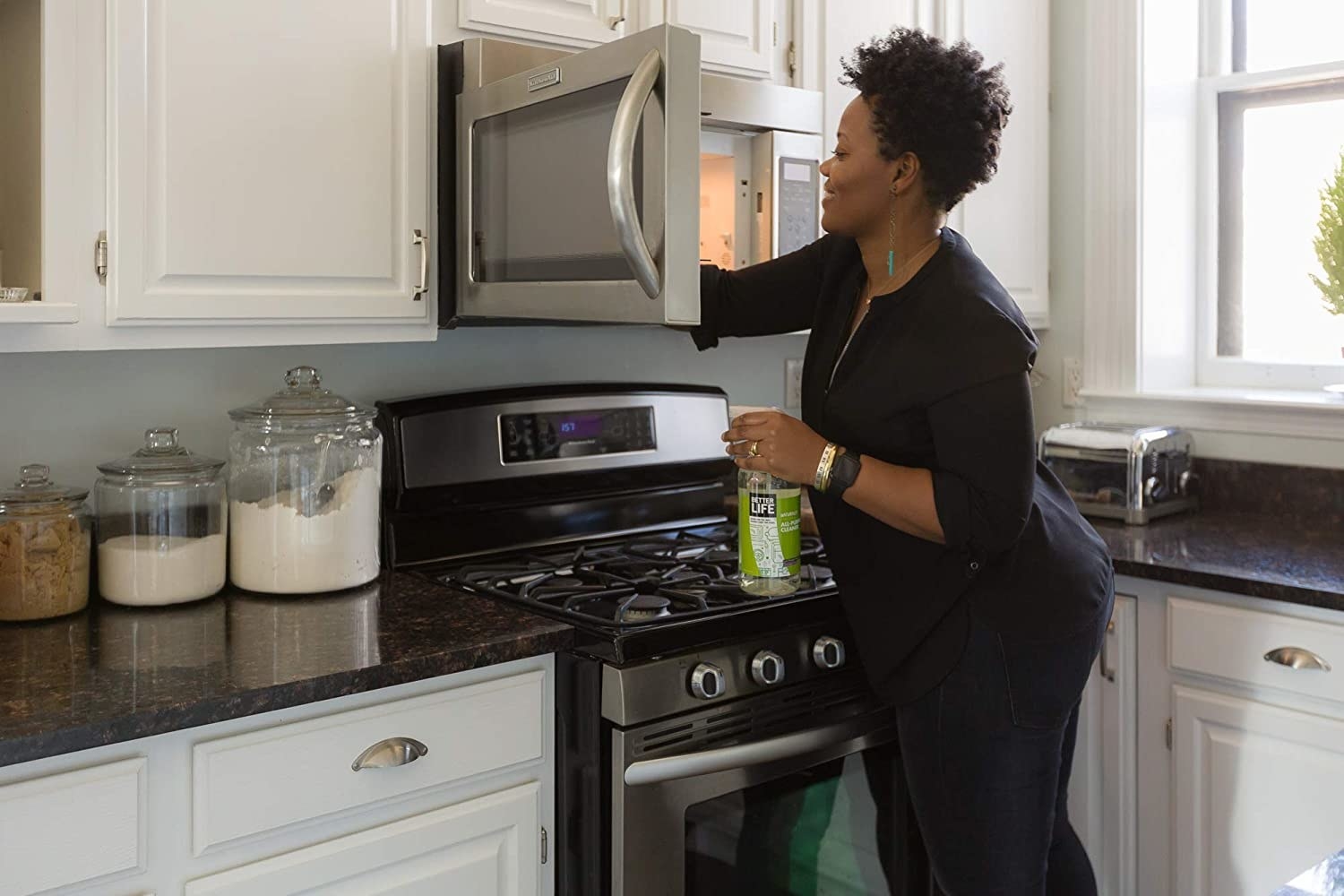 Promising review: "I just cleaned all of my floors and I can't believe how well it worked. Well worth the price, I initially bought it because I have a toddler and was fed up with all the harsh cleaners, especially since much of the time they're playing barefoot on the floors. Barring any unforeseen circumstances, I plan on making this my go-to cleaner." —air217
Get a 32-ounce bottle from Amazon for $10.94 (available in three scents).