The following information was provided to BuzzFeed by Genentech.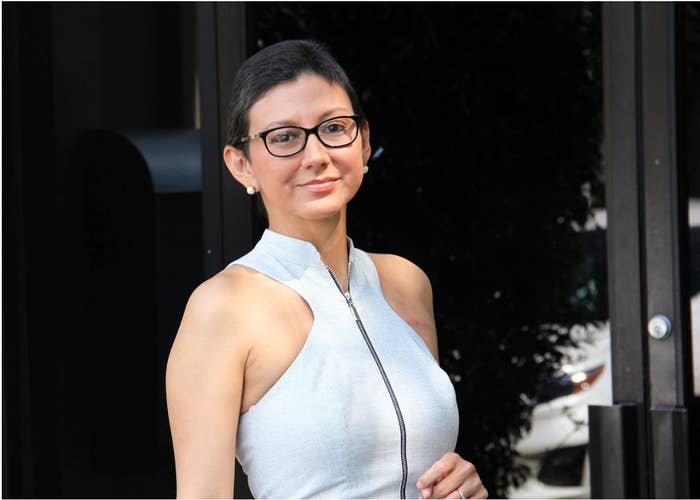 Conducting a breast self-exam was a habit she had gotten used to each month for years, and she had it down. She knew exactly what to look for and what to expect. So, when Monica Ellis, then three weeks shy of her 40th birthday, felt a small lump in her left breast that was not there before, it caught her attention right away.

"At this point in my life, I never thought it would be cancer," Monica recalls. Just to be sure, she went to a doctor for further examination, where her doctor had the same initial reaction.
Monica remembers being told, "This is nothing, it is likely a cyst." But Monica trusted her body and pressed for a mammogram to investigate the lump.
That same day, she got the news no one expects to hear. "'You may have cancer,' they told me. 'We'd like you to stay for a biopsy and more testing.'"
Her biopsy showed she had HER2-positive breast cancer — one of the more aggressive types of breast cancer — caused by an overproduction of a protein called human epidermal growth factor receptor 2 (HER2) on the surface of breast cancer cells. In 2021 alone, estimates suggested that close to 40,000 women in the U.S. would be diagnosed with this subtype of breast cancer.
Monica's breast self-exam may have led to earlier cancer detection and her ability to start treatment earlier. Had she not been diligent about her self exams, it is possible that her Stage II breast cancer wouldn't have been detected until her next exam: a loss of valuable time when it comes to treating this aggressive subtype of cancer.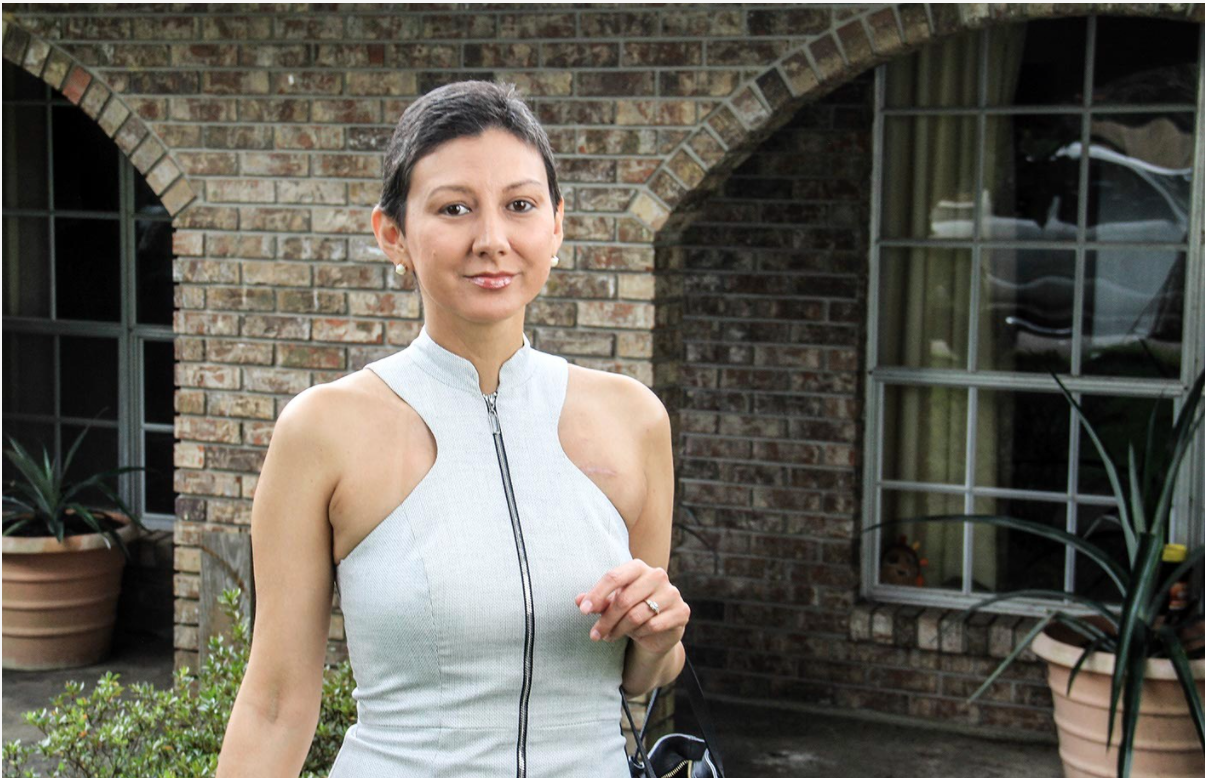 Following a mastectomy, Monica was put on a treatment regimen of chemotherapy plus HER2-targeted therapy. Every 21 days, she would spend five to six hours in the hospital receiving intravenous (IV) infusions through a port implanted in her chest.
While the days were long and tiring, Monica continued to work. As she looked ahead at facing up to a year's worth of infused HER2-targeted therapy as part of the second phase of her treatment plan, she was adamant that cancer would not get in the way of her living life to the fullest. She began evaluating her treatment options with her doctor and discovered a medicine that had a faster administration time.
Monica learned about Phesgo® (pertuzumab/trastuzumab/hyaluronidase-zzxf), an injectable option that combined two of the IV medicines that she was already receiving. She talked to her doctor about whether this fixed-dose, targeted therapy option might be the right fit for the next phase of her treatment plan, which did not involve chemotherapy.
Monica's doctor explained that unlike most targeted therapies that are given through an IV infusion, Phesgo is a subcutaneous injection that is given under the skin by a healthcare professional. It is approved by the Food and Drug Administration for use in combination with chemotherapy before surgery as part of a complete treatment regimen for HER2-positive early breast cancer, and after surgery in adults with HER2-positive early breast cancer that has a high likelihood of returning.
Monica and her doctor discussed the benefits and risks associated with Phesgo, including the most serious potential side effects such as heart and lung problems. Although Monica was not pregnant when she was diagnosed and started treatment, she was advised about the risks that Phesgo poses to pregnant women. Use of Phesgo in pregnant women may result in serious risks to the unborn baby including death and birth defects. More important safety information can be found below in this article.
Every three weeks, Monica now goes into the clinic to receive her treatment with Phesgo and no longer has a port. The injection is given just under the skin of the thigh and takes approximately five minutes (the initial dose takes approximately eight minutes) to administer and Monica sits for 15-30 minutes afterwards while she's monitored for any reactions.
"I prefer this faster treatment approach because I don't have to spend as much time in the clinic. Now I have more time for me," Monica says.
Sticking to a daily routine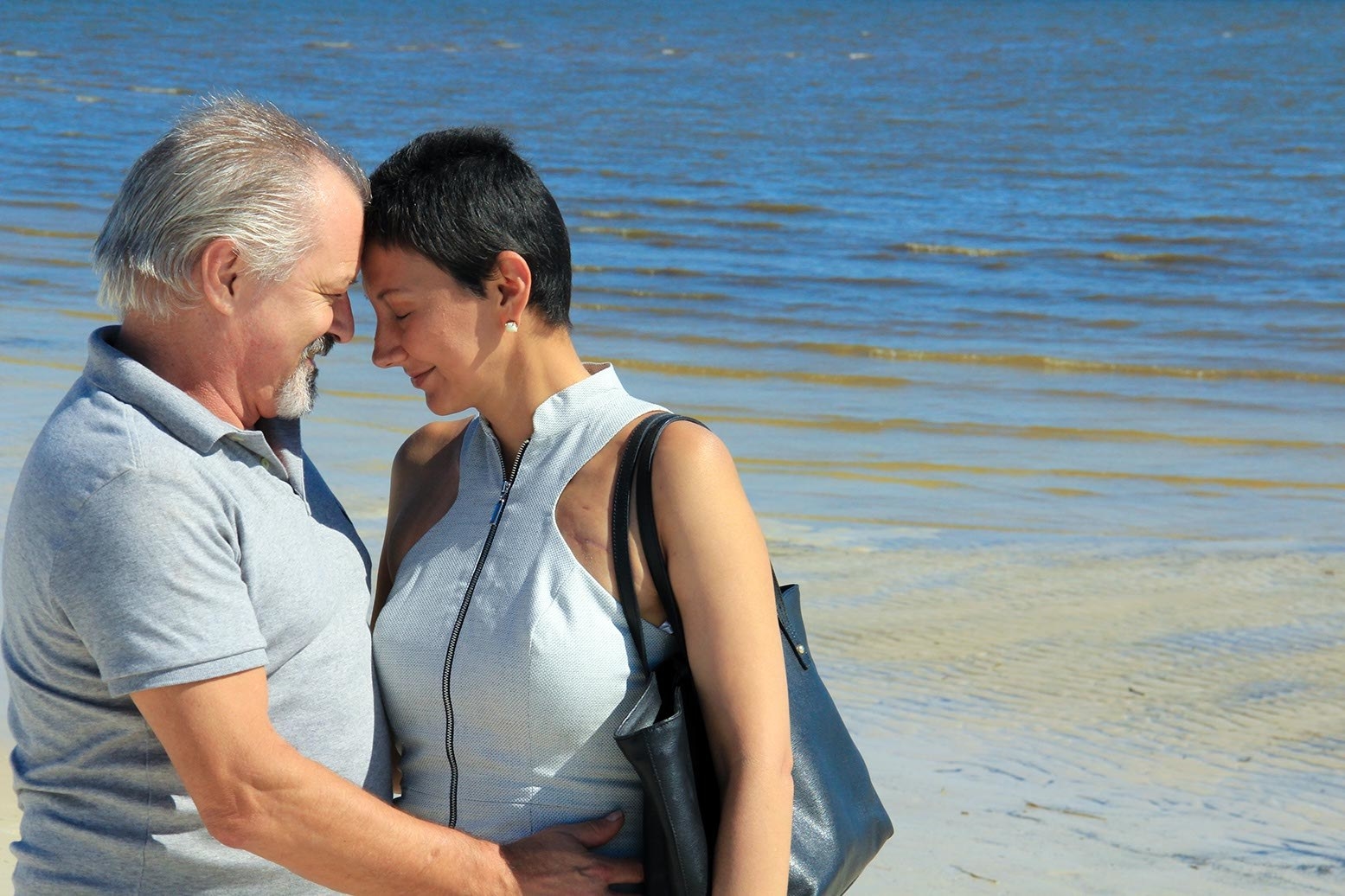 "What cancer patients want most is to get back to a routine," Monica says.
It was important to Monica that she could continue working at the job she loves as an area manager at a staffing agency, and she received the OK from her doctors to do so. Though her working hours were scaled back during her treatment, she credits the support from her co-workers for aiding in her road to recovery.
Since completing the chemotherapy portion of her treatment plan, Monica's hair has grown back. She also has been able to work and has more time to spend time with the friends and family who have supported her throughout her entire diagnosis.
"I am starting to feel like my old self again," Monica says, "I'm returning to my routine while I'm still under treatment."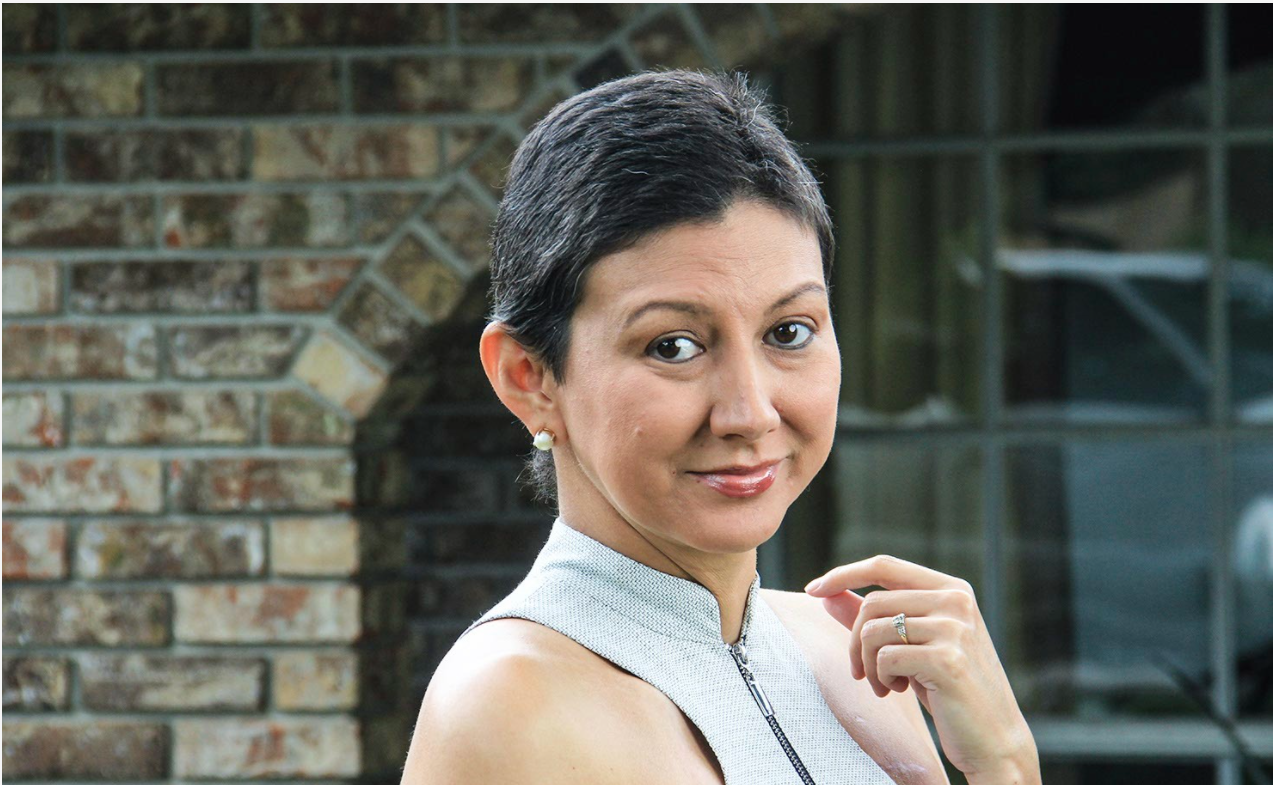 A transplant to the U.S. from Ecuador, Monica found strength in her husband, three kids, and family and friends in both the U.S. and her home country. As she passes the first anniversary of her cancer diagnosis, she hopes to advocate for others by creating a foundation that offers all kinds of resources for women with breast cancer, including how to advocate for themselves.
"I want to give back to my community and other cancer patients. I'm trying to work something out with my hospital. A lot of my knowledge has come from my support group, so I want to give it back to my community and hopefully one day my country."
To learn more about advances in breast cancer and other breast cancer types, visit Genentech's Breast Cancer Hub.
Phesgo Important Safety Information & Uses
What does PHESGO treat?
PHESGO® (pertuzumab, trastuzumab, and hyaluronidase-zzxf) is a prescription medicine approved for use in combination with chemotherapy for:
use prior to surgery (neoadjuvant treatment) in adults with HER2-positive, locally advanced, inflammatory, or early stage breast cancer (tumor is greater than 2 cm in diameter or node-positive). PHESGO should be used as part of a complete treatment regimen for early breast cancer.
use after surgery (adjuvant treatment) in adults with HER2-positive early breast cancer that has a high likelihood of coming back.
What should I know about side effects with PHESGO?
Not all people have serious side effects; however, side effects with PHESGO therapy are common. It is important to know what side effects may happen and what symptoms you should watch for
Your doctor may stop treatment if serious side effects happen. Be sure to contact your healthcare team right away if you have questions or are worried about any side effects
What are the most serious side effects of PHESGO?


PHESGO may cause heart problems, including those without symptoms (such as reduced heart function) and those with symptoms (such as congestive heart failure).
The risk for and seriousness of these heart problems are highest in people who received both PHESGO and a certain type of chemotherapy (anthracycline)
Your doctor will check for signs of heart problems before, during, and after treatment with PHESGO. Based on test results, your doctor may hold or discontinue treatment with PHESGO
Contact a healthcare professional immediately for any of the following: new onset or worsening shortness of breath, cough, swelling of the ankles/legs, swelling of the face, palpitations, weight gain of more than 5 pounds in 24 hours, dizziness or loss of consciousness
Receiving PHESGO during pregnancy can result in the death of an unborn baby and birth defects.
Birth control should be used while receiving PHESGO and for 7 months after your last dose of PHESGO. If you are a mother who is breastfeeding, you should talk with your doctor about either stopping breastfeeding or stopping PHESGO
If you think you may be pregnant, you should contact your healthcare provider immediately
If you are exposed to PHESGO during pregnancy, or become pregnant while receiving PHESGO or within 7 months following the last dose of PHESGO, you are encouraged to report PHESGO exposure to Genentech at 1-888-835-2555
PHESGO may cause serious lung problems

Your doctor may check for signs of lung problems including:
Severe shortness of breath
Fluid in or around the lungs
Weakening of the valve between the heart and the lungs
Not enough oxygen in the body
Swelling of the lungs
Scarring of the lungs
Who should not receive PHESGO?
PHESGO should not be used in patients who are allergic to pertuzumab, trastuzumab, hyaluronidase, or to any of the ingredients in PHESGO
What are other possible serious side effects?
PHESGO may worsen low white blood cell counts caused by chemotherapy: Low white blood cell counts can be life threatening and were seen more often in patients receiving Herceptin® (trastuzumab) plus chemotherapy than in patients receiving chemotherapy alone. Your doctor may check for signs of low white blood cell counts when he or she examines you


PHESGO may cause administration-related reactions: PHESGO is given as an injection. The active ingredients in PHESGO have been associated with severe administration reactions, including hypersensitivity or anaphylaxis, which can be fatal. Talk to your doctor if you feel any symptoms. The most common symptoms include dizziness, nausea, chills, fever, vomiting, diarrhea, hives, swelling of the skin, breathing problems, or chest pain

What are the most common side effects?
The most common side effects of PHESGO when given with chemotherapy as part of an early breast cancer regimen are:
Hair Loss
Nausea
Diarrhea
Low levels of red blood cells
Weakness
You are encouraged to report side effects to Genentech and the FDA. You may report side effects to the FDA at 1-800-FDA-1088 or www.fda.gov/medwatch. You may also report side effects to Genentech at
1-888-835-2555.
Talk to a healthcare professional for more information about the benefits and risks of PHESGO.
Please see full Prescribing Information for additional Important Safety Information, including most serious side effects.

All images via Genentech

M-US-00013871(v2.0)