1.
When they mutilated an innocent Caesar salad by wrapping a single piece of bread around a joyless leaf.
2.
When they destroyed the sanctity of a good cup of coffee by serving it in a test tube.
4.
When this scotch egg was triumphantly served IN A TROPHY.
5.
And this dessert was served in a mini bath tub instead of, you know, a bowl.
7.
And this bread was served in a sack, presumably to keep it warm.
8.
When this dessert was essentially served on a mini climbing frame.
9.
And a few lucky diners were invited to assemble their own spaghetti bolognese.
11.
Which means the only proper way to serve dinner is on a skateboard.
12.
When appetisers were suddenly way less appetising once served in a shoe.
14.
When fruit crumble was literally crumbled onto a chopping board.
15.
And no one bothered to transfer the mac and cheese from the measuring cup to an actual plate.
16.
When they put coleslaw in a trolley and assumed that was totally normal.
18.
When this prawn looked just as happy to be in a skip as the recipient probably did.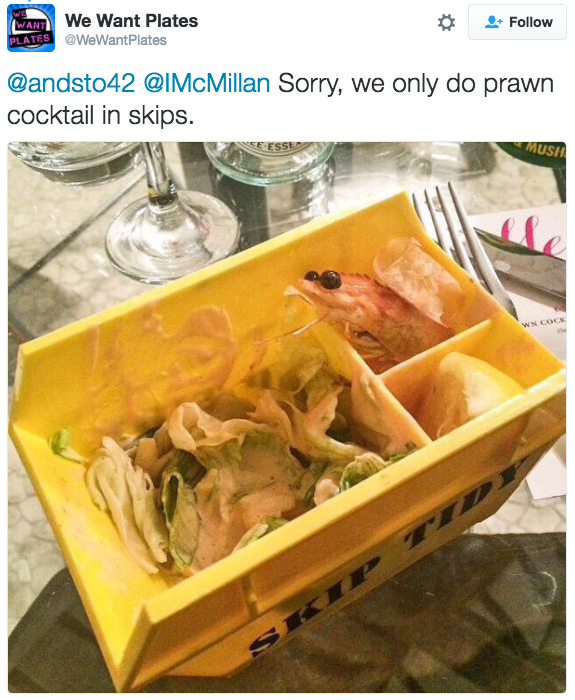 19.
And this chicken looked delectable in its picnic hamper, complete with chutney in a spade.
20.
When popcorn was no longer sweet or salty, but salted with kale and quinoa!
22.
And this corn on the cob was undeservedly pierced with a screw.
24.
And this sandwich was served as actual rubbish in a dustpan.