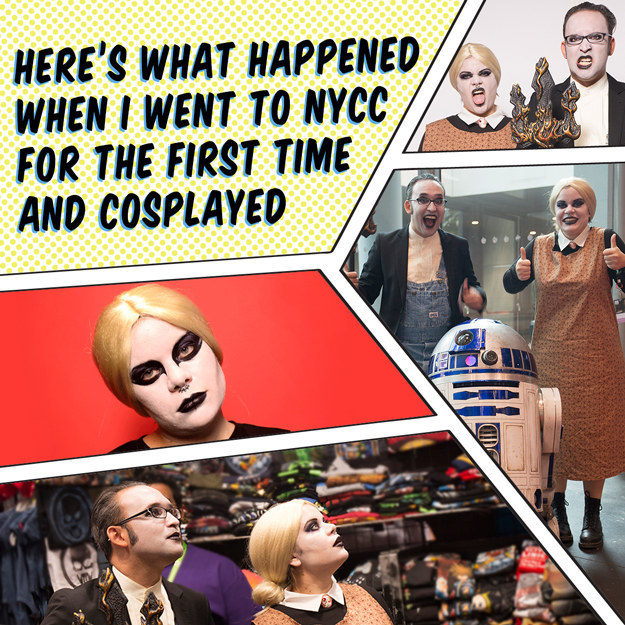 Like a lot of people, I've only worn costumes when I was in a play or celebrating Halloween. So when I found out that I was headed to New York Comic Con and cosplaying for the first time ever, I was full of questions.
Here's what I know about NYCC:
People dress up in elaborate costumes, the lines are long, and Deadpool runs around playing pranks on people. (That's a thing, right?) Fortunately, I had a Comic Con guru to guide me through the experience.
Kirk Damato has been to 14 Comic Cons, and besides being generally awesome, his wealth of pop-culture knowledge pretty much makes him a "super nerd" — the perfect Comic Con buddy!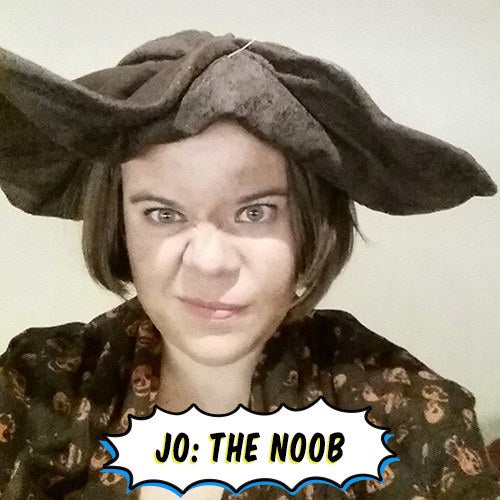 To help me get the most out of the experience, Kirk put together a list of things I should try to accomplish once I was there. We called them his "Golden Rules of NYCC."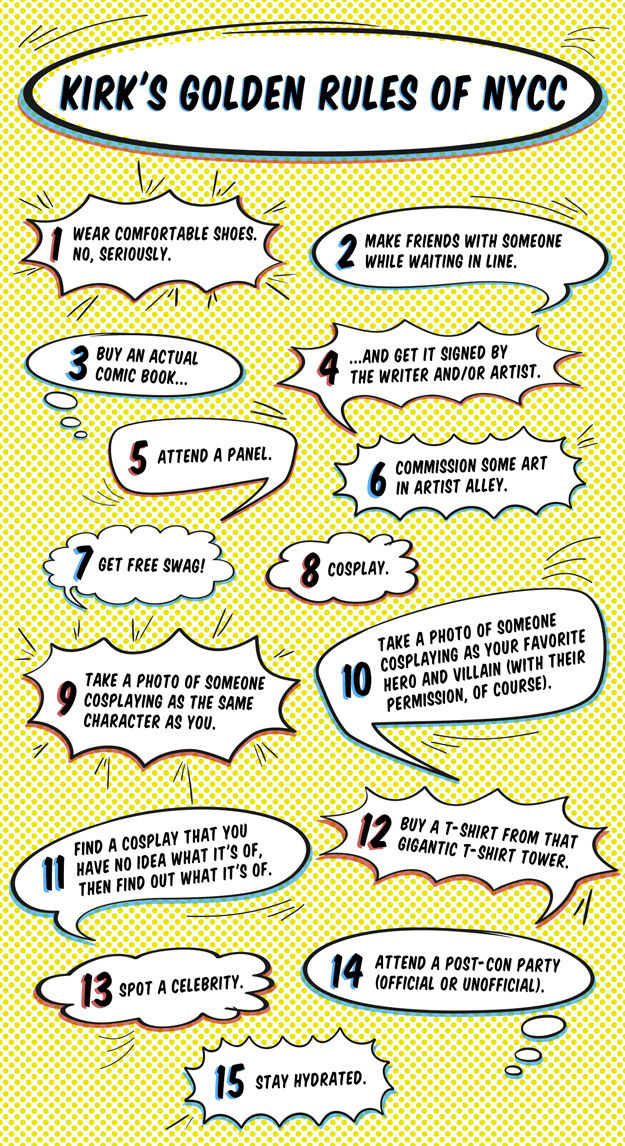 With my trusted expert by my side, I was ready for my first foray into the fantastical world of NYCC.

For our costume, we decided to take a classic American painting and put a "punny" twist on it. The result? American Gothic. The classic farmer and his wife (or daughter, but only sometimes, so I'm going with wife) who also happen to be goths.
Would my choice not to go with a typical comic book hero go over well at NYCC? We'd find out soon enough!
For me, this meant finding the following items: a blonde wig, a black dress with a white collar, a cameo brooch, and an apron.
Getting the wig and brooch was easy (bless you, online shopping). Next was the dress. To save money, I would use a black skirt and long-sleeved shirt that I already owned — all I needed was to fake the collar somehow!
Then I learned what a dickey was. Are you familiar with the dickey? Have you tried the dickey? It is a miracle invention, a master trickster, a dainty little piece of cloth that creates the illusion of a collar! I was disproportionately excited about this.
Once I calmed down about the dickey, I tackled my final item: the apron. I found someone online who sews old-fashioned clothing, including pinafore aprons. It was a bit of a splurge, but it would really help bring the entire look together, and I had saved a good bit of money with my dickey hack. #dickeyhack #yourewelcome
Finding each item was such a thrill! I was starting to understand the appeal of this whole cosplaying thing. Now it was time for makeup.

Makeup is not really my forte (that's my delicate way of saying I'm terrible at it), and there's a whole spectrum of "goth" looks to choose from. So on my first attempt, I used what I had on hand: mascara and black eyeliner. So, I might have colored my lips in with black eyeliner because I don't own black lipstick... (I said I MIGHT have!)
It took a mouthful of eyeliner to realize that I was not equipped to do this. So I got a friend to help me who really knows her way around a makeup brush. The results were a little more dramatic:
Once I had the makeup on, the attitude just came naturally. It felt like I had just gotten a taste of the magic of cosplay.
I could feel myself slipping into my character's skin. But what kind of attitude did a goth farmer's wife even have? I decided that her name was Gertrude — a farmer's wife by day and a tormented poet by night. With my backstory worked out, I was ready for my very first NYCC!

Getting ready the morning of NYCC was a huge amount of fun. When we put our costumes together, we really did look like a goth version of the painting! I wondered how many people would accurately guess who we were (spoiler: five people figured it out).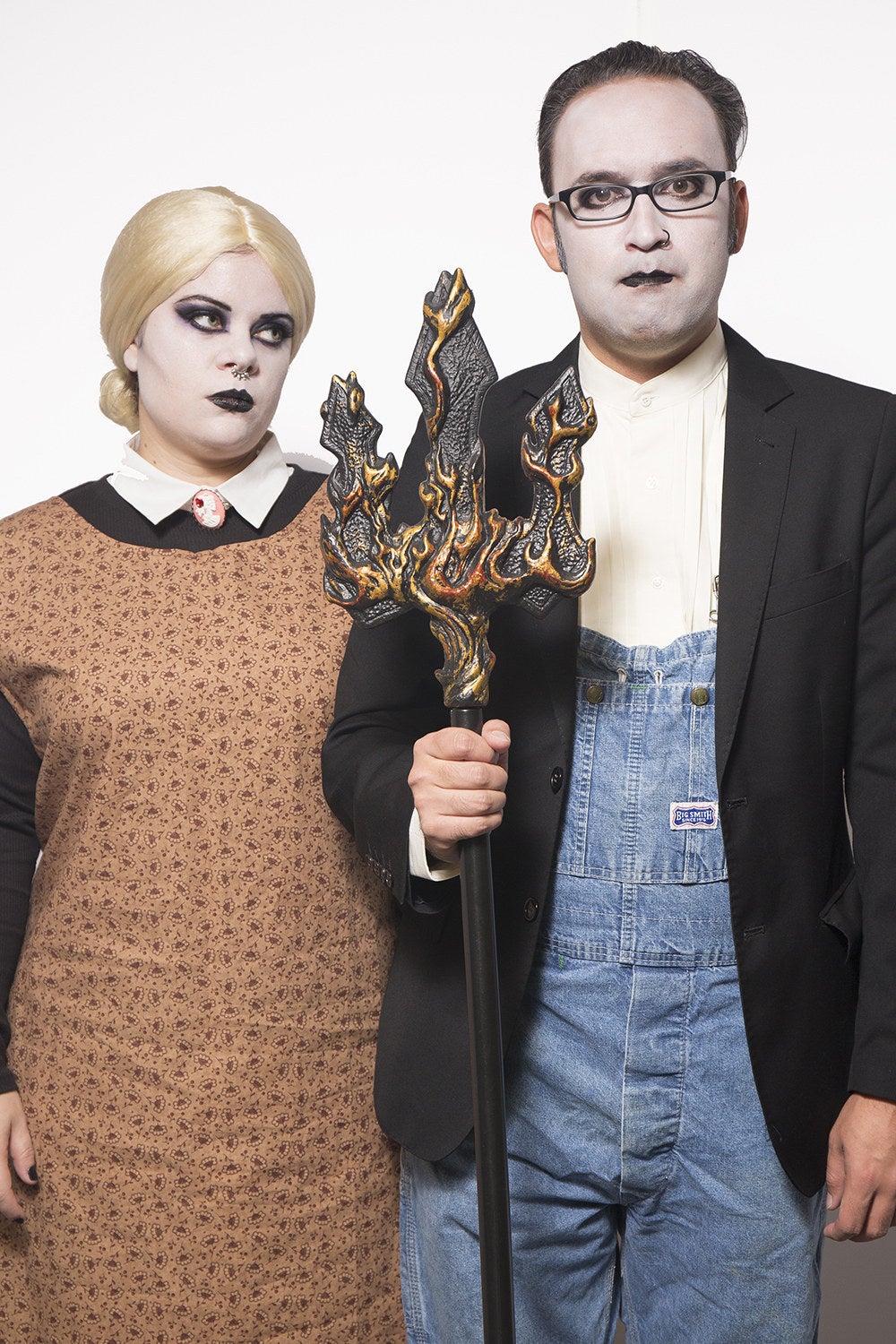 We arrived at the convention center and got into one of those notoriously long lines. But I didn't mind — there was so much to keep me entertained! Everywhere I looked I spotted another elaborate costume and recognized a character from a cartoon, or film, or TV show. It was incredible!
Within one minute of setting foot at NYCC, I saw my first Deadpool, and then another one. I was right! It was a thing! Kirk and I started tallying how many we could find in a day. (I even got a free hug out of it.)
Once we got in, I was completely overwhelmed by the flurry of people, colors, and sounds. There were booths of all shapes and sizes, featuring books, art, toys, video games... Who knows what else!
It was so busy and crowded that you could easily get disoriented. Every time I lost sight of Kirk, it was a whole drama:
First impressions of NYCC? So much to see and do in so little time! How was I going to absorb it all?

I used Kirk's Golden Rules to help guide me throughout the day.
I met one of my favorite heroes (I call that picture "Captain American Gothic"), bought a shirt from a T-shirt tower, and had a comic book signed by the artist (Through the Woods by Frankie and Vinnie Tartamella, check it out!).
Going up to complete strangers like that was a very uplifting experience. Everyone was friendly and receptive right off the bat. That congeniality between strangers felt so inspiring. Pardon the corniness, but if everyone had that attitude in the outside world, we'd have way fewer problems. #goals
Besides that, meeting some of my favorite characters was a total thrill. I definitely tapped into my inner nerd and freaked out at certain sightings (cough R2 cough).
I also got my first taste of people asking us for photos. Some of them even ~got~ our costume! It was a kick-and-a-half (just decided "a kick-and-a-half" is an expression).
I realized my worries about not playing a comic book character were unwarranted. People dressed however they wanted, and all were welcome. It was absolutely liberating.
Taking pictures with people really helped us delve into our characters:

Next we were headed to Artist Alley to commission some art, which sounded pretty fancy to me! (Artist Alley is a room the size of a football field, filled to the brim with talented artists who are featuring their work and taking future commissions.)
We fell in love with artist Edwin Huang's work, and commissioned a quick portrait of Kirk and me. I expected a very basic sketch, so I was completely amazed by the final product!
I didn't have to ask about #15 on Kirk's list. "Stay Hydrated" might just be the most important rule of NYCC. We were so thirsty! The convention center is so big that you end up logging miles in that place. It's like doing cardio surrounded by superheroes and anime characters.

Another first for me — we signed up for a fashion show! The GEICO booth was having their annual GEICO fashion show, and we thought we stood a good chance at winning best costume.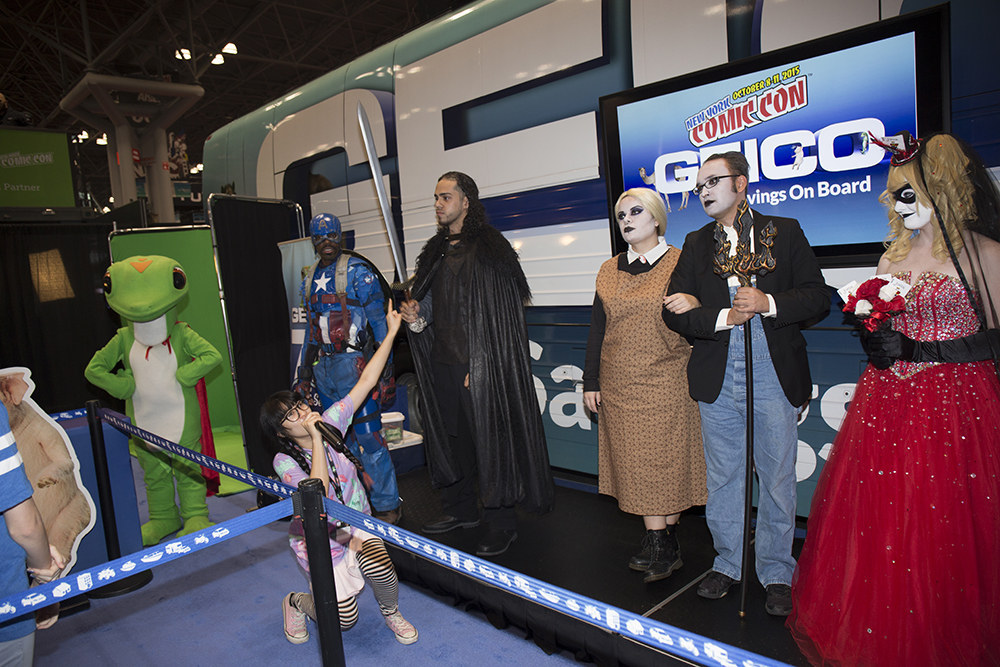 The competition was pretty stiff. Harley Quinn was on point, and who doesn't love a certain curly-haired member of the Night's Watch?! Maybe we should have paired up with Captain America for our "Captain American Gothic" mashup.
We may not have won, but I was proud of us for staying in character in front of a cheering crowd of people — look at that scowl!
I only had one final question before we wrapped up our magical day:

I expected to feel like a bit of an outsider at NYCC, seeing as I wasn't into graphic novels and video games. But NYCC is really about people celebrating culture together in a safe space where nobody's taste is wrong. So you gravitate toward the things you love, and learn to love new things, and spot 16 Deadpools while you're doing it.
Would I do NYCC again? In a hot minute. And I recommend it to anyone who hasn't been yet. (Also, the dickey. I recommend the dickey. OK bye.)
It always pays off to try new things! Like switching to GEICO and saving 15% or more on car insurance. #GEICOcon
Photography by Spencer Bergen/ Design by Kirby Darland / © Buzzfeed