Egg-In-A-Hole Sandwich In 15 Minutes Or Less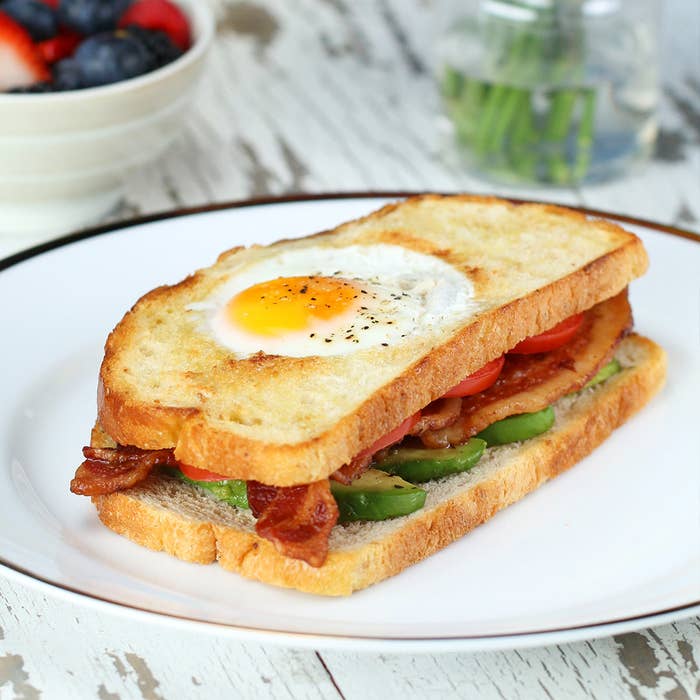 INGREDIENTS
Servings: 1
2 slices bacon
2 slices sourdough bread
Olive oil
1 egg
½ avocado, sliced
2–3 slices fresh tomato
Salt and pepper, to taste
PREPARATION
1. Cook the bacon in the microwave or in a 450℉ oven.

2. Cut a hole in the center of one slice of bread. Brush both sides with olive oil.
3. Heat a nonstick sauté pan over medium-low heat. Toast the bread (with the hole) on one side. Flip when lightly browned. 

4. As soon as the bread is flipped, crack the egg in the center and season with salt and pepper. Place a lid over the sauté pan to steam the white of the egg. Cook until the white is just set and opaque. Remove from heat.

5. Toast the other slice of bread in a toaster. Set aside when lightly browned.
6. Layer a few slices of avocado on the full slice of toast. Season with salt and pepper. Top with slices of bacon. Place the sliced tomato on top of the bacon.

7. Top the sandwich with the egg-in-a-hole slice. 

8. Serve immediately. Enjoy!