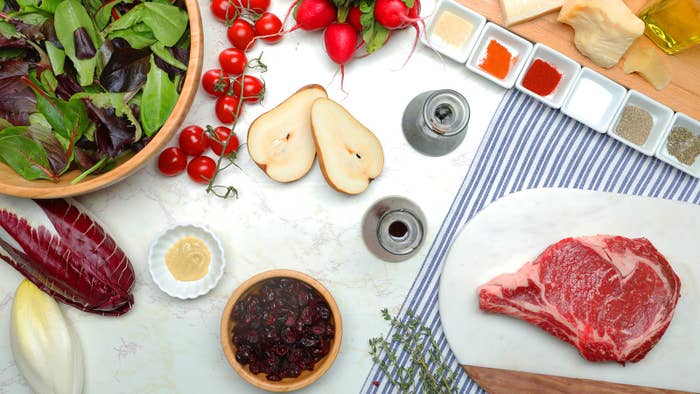 Servings: 2
INGREDIENTS:
Steak
½ teaspoon paprika

½ teaspoon garlic powder

Pinch of cayenne

¼ teaspoon thyme

1½ teaspoon salt

½ teaspoon pepper

Drizzle of olive oil

16-ounce bone-in ribeye steak

Dressing
⅓ cup olive oil

3 tablespoons balsamic

1 teaspoon dijon mustard

½ teaspoon maple syrup

¼ teaspoon salt

Salad

Handful of cherry tomatoes

Small handful of radishes

1 pear

4 cups mixed greens (we used baby spring mix, treviso, and endive)

Small block of parmesan

PREPARATION:
Preheat oven to 350ºF.

Stir together paprika, garlic powder, cayenne, thyme, salt, and pepper. Drizzle a bit of olive oil over the steak and rub it in. Pat spice mixture evenly on both sides of the steak.

Heat a grill pan over high heat. Drizzle with a bit of olive oil, and when hot, lay the steak down on the pan. Sear on each side for 3 minutes, then place the pan in the oven. Cook in the oven for 5 minutes until internal temperature registers 140ºF (or until your desired level of doneness). Remove steak from the oven and let it rest on a cutting board.

While the steak is cooking and resting, prepare the dressing. Whisk dressing ingredients together until smooth and emulsified.

Slice cherry tomatoes and radishes in half. Thinly slice the pear. Thinly slice the steak.

Arrange mixed greens on a serving dish. Top with tomatoes, radishes, and pear. Arrange steak slices on top of the salad, drizzle with dressing, and garnish with parmesan pieces.