Apple Pie Bites In 15 Minutes Or Less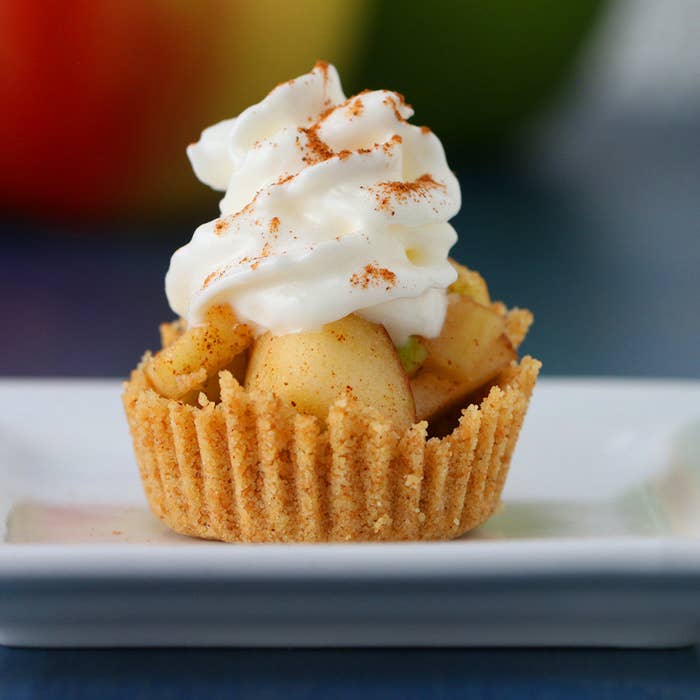 INGREDIENTS
Servings: 24 bites
Crust
15 graham crackers
¼ teaspoon cinnamon
1 stick unsalted butter, melted
Filling
1 large green apple
1 large red apple
2 tablespoons brown sugar
½ teaspoon vanilla extract
1 tablespoon fresh lemon juice
¼ teaspoon cinnamon
Whipped cream (optional garnish)
Cinnamon (optional garnish)
PREPARATION
1. Pulse the graham crackers in a food processor (or in a large food storage bag) to form a fine crumb. Add the cinnamon and melted butter and stir to combine.
2. Line a mini muffin tin with mini cupcake liners. Press a spoonful of the graham cracker mixture into each to form a crust, making sure to press on the bottom and up the sides. Transfer to the freezer.
3. Dice the apples into very small pieces, about ¼–½ inch. Toss with brown sugar, vanilla, lemon juice, and cinnamon.
4. Remove the crusts from the freezer. Fill each cup with a spoonful of apple filling.
5. Garnish with whipped cream and a sprinkle of cinnamon.
6. Enjoy!