The Future Of Architecture In 8 Ingenious Buildings
The future is now, people!
Marc Kushner is a Manhattan-based architect whose work aims to influence the public to rethink the buildings where they spend their lives.
Rather than moving from style to style, architecture is entering an age of wild experimentation and a return to hyperlocal solutions. Every selfie that someone snaps in front of a building, every comment someone makes about a place, widens the dialogue around architecture. My hope is that the public starts looking around them critically. Asking, 'Why are we building buildings the way we always have?! There has to be a better way!'
Plus Pool Initiative — Family and Playlab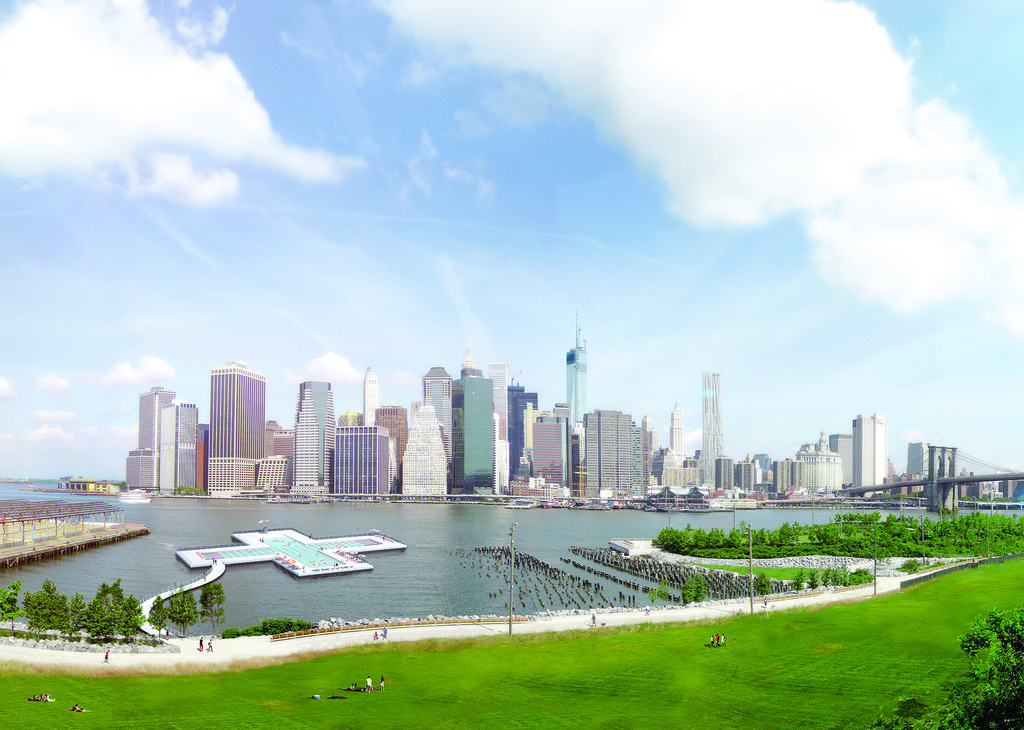 Can you swim in poop?
New York City is surrounded by water, but you wouldn't want to swim there — the city drains sewage directly into its rivers every time it rains. That's all going to change thanks to a crowdfunded initiative to build the world's first water-filtering floating pool. This giant pool will filter up to a half million gallons of river water each day, making the rivers cleaner over time and creating a much-needed public amenity that will reconnect us to the urban waterfront. It's your city. You should be able to use it.
Wendy — HWKN (Hollwich Kushner)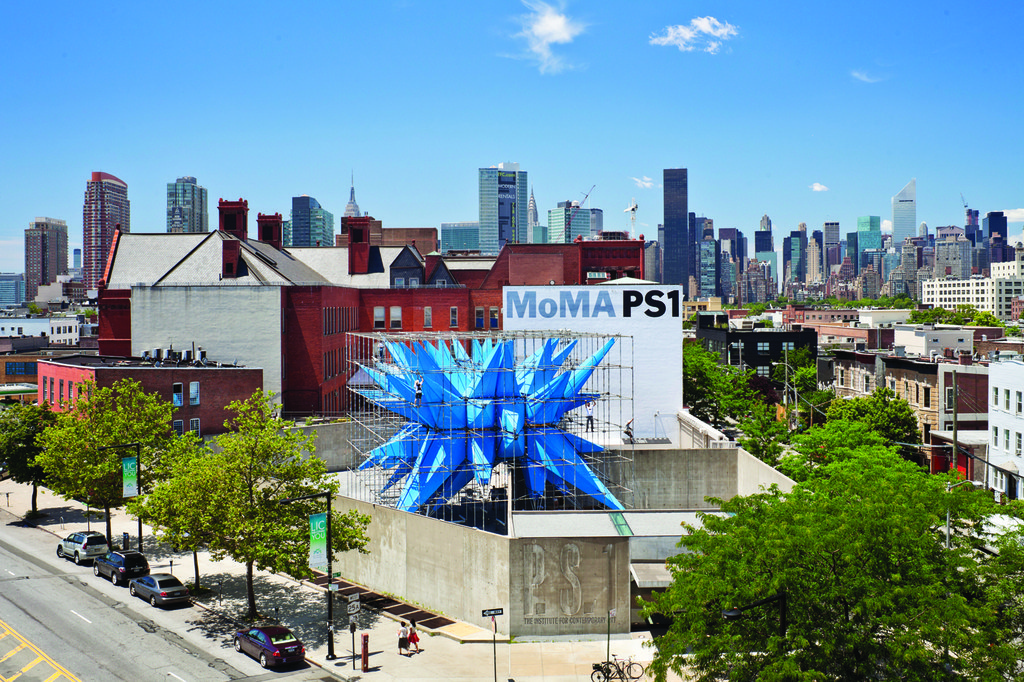 Can playful be practical?
Our air quality is getting worse, especially in urban areas. Who can we look to for help? Meet Wendy in Long Island City, Queens, New York. Wendy maximizes her surface area to expose as much titaniumnanoparticle-coated skin to the environment as possible. Every square foot of this surface sucks carbon dioxide out of the air — a total equivalent to taking 250 cars off of the road. The best part of Wendy is that she has a personality — she is big and blue and spiky, and she shoots out jets of water, and she has a name. The project was as much a social experiment as it was an ecological experiment. Architecture can have personality and help the Earth.
Fuel station + McDonald's — Giorgi Khmaldze Architects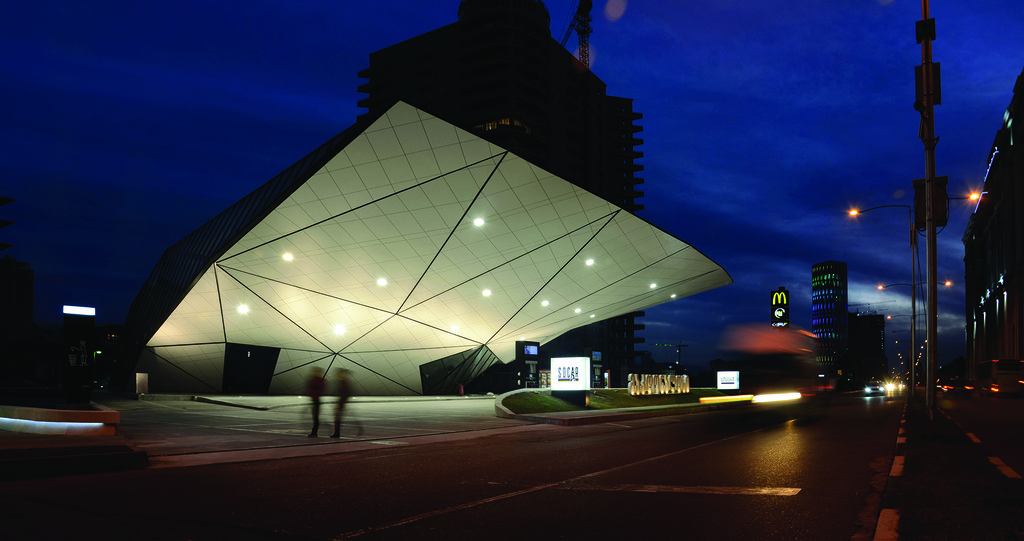 Can a rest stop offer actual rest?
The beautiful rest area is located in the bustling seaside city of Batumi, Georgia. It's a gas station, a restaurant, a public park, and a reflecting pool. Because why shouldn't gas stations offer true amenities to travelers?
House for Trees — Vo Trong Nghia Architects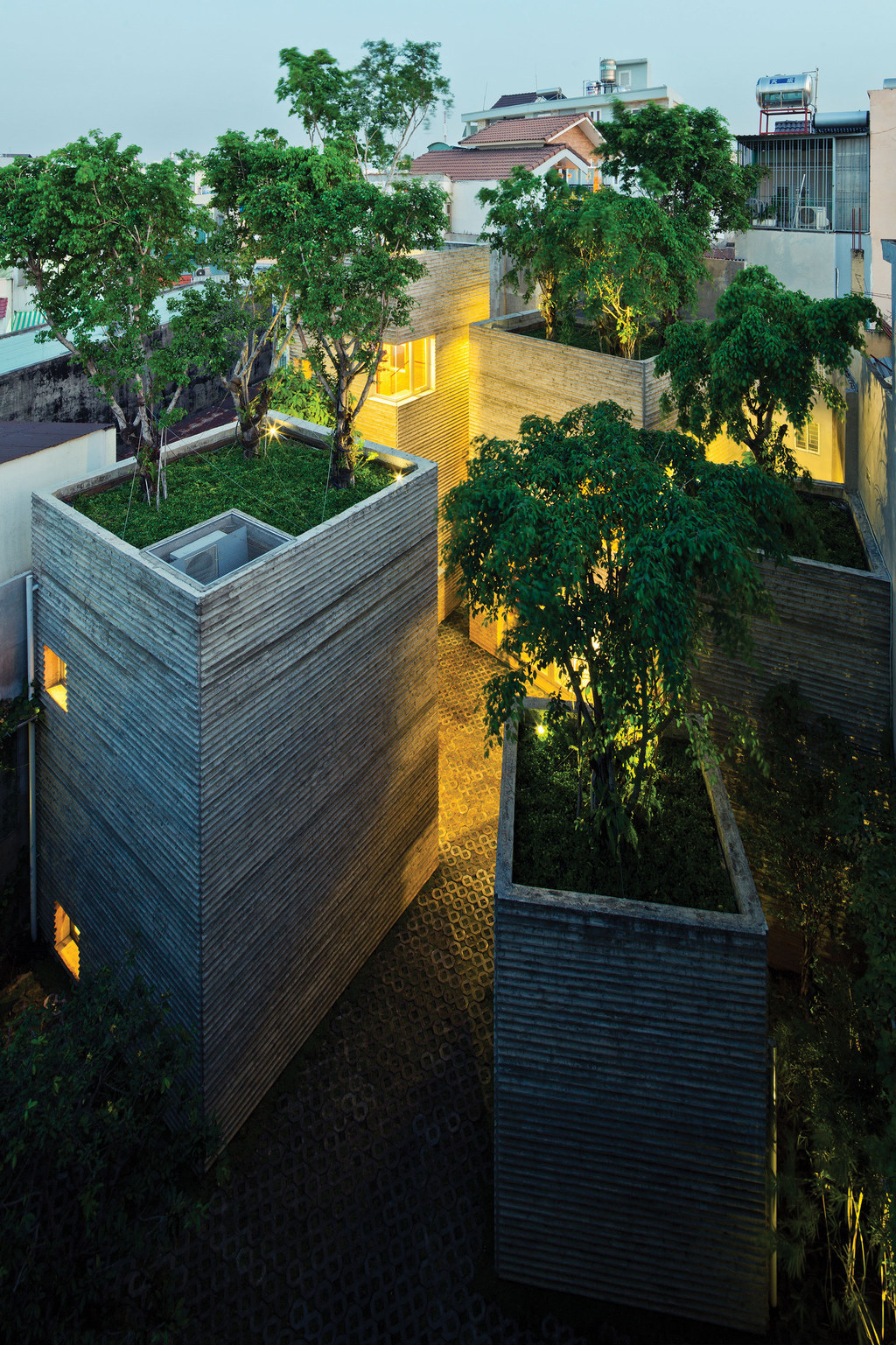 Can a tree house become a house-tree?
Vietnam's tropical forests have given way to dense cities — less than 0.25% of Ho Chi Minh City is covered in trees. To help residents reconnect with nature, architects broke a house into five concrete boxes and turned the roof of each one into a giant planter. If this idea is applied to other houses in the future, the green spaces could collect and filter enough storm water to reduce flooding citywide.
Newtown Creek Wastewater Treatment Plant — Ennead Architects
Can ugly be pretty?
Newtown Creek is the largest of New York City's 14 wastewater treatment plants. The city could have easily stuck with a utilitarian design, but instead it decided to put $4.5 billion into overhauling the outmoded and environmentally unsound wastewater treatment facility, following a design that is sensitive to the surrounding residential neighborhood. Working with a team that included lighting artists and an environmental sculptor, the architects created a complex that uses form, material, and color to create a striking visual composition. Industrial architecture doesn't need to hide anymore.
Norwegian Wild Reindeer pavilion — Snøhetta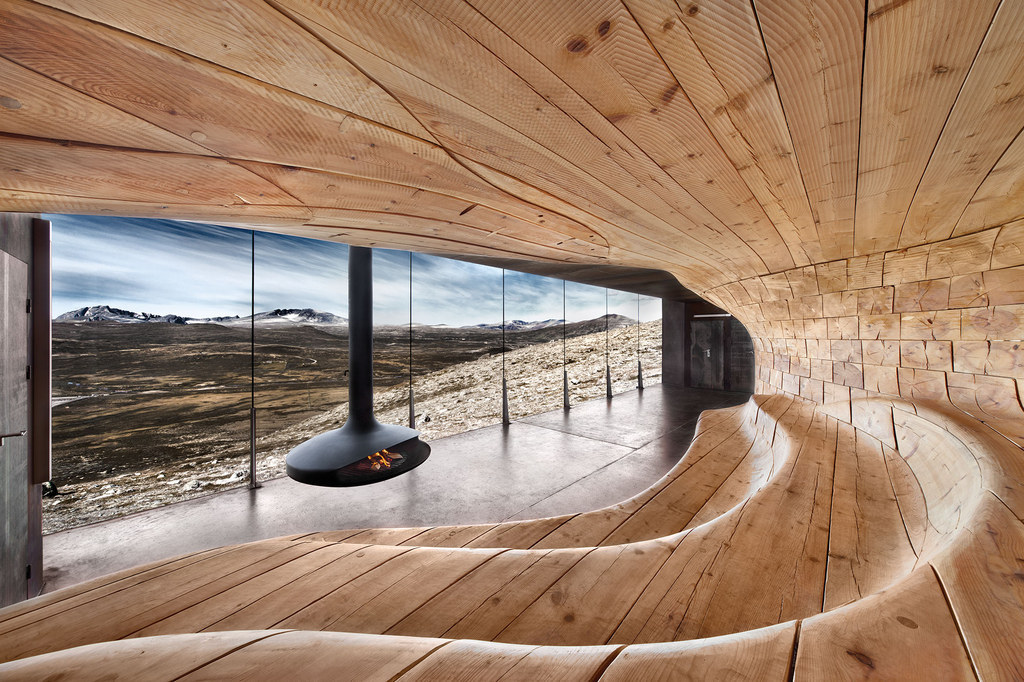 What do reindeer do all day?
A hiking trail leads to a spectacular site overlooking the Dovrefjell Mountain range in central Norway, home to some of the last remaining wild reindeer herds in Europe. A sinewy pavilion invites visitors to warm themselves while observing the local reindeer population. The structure is an exercise in material contrast — a rigid outer shell of raw steel and glass houses a soft wooden core shaped like the nearby rocks, which have been eroded by winds and running water for centuries. Architecture rewards the adventurous.
The Truffle — Ensamble Studio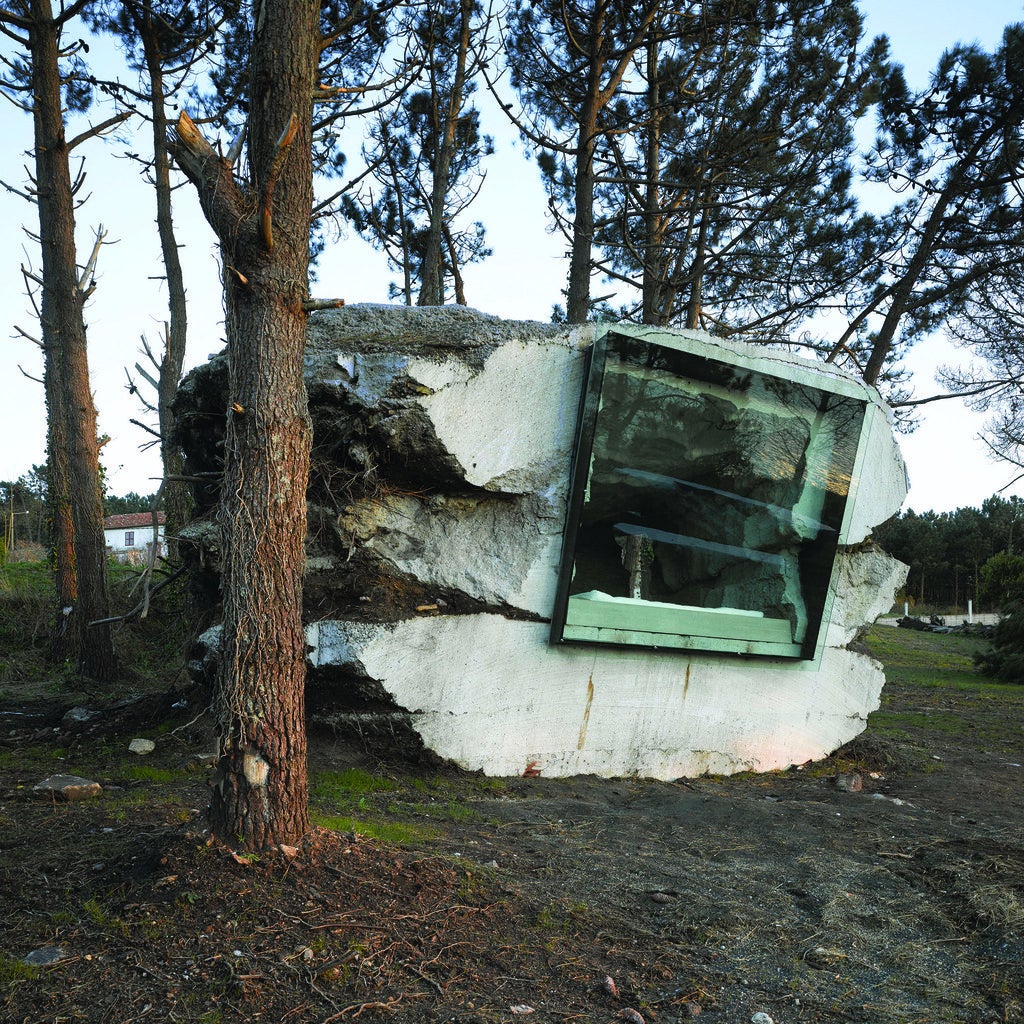 What if a cow built your house?
To create this experimental structure in Laxe, Spain, that's cleverly named The Truffle, a group of architects dug a hole, packed it with hay, and then poured concrete around it. After the concrete dried, a calf named Paulina moved in, eating the hay for a year and hollowing out a small cave in the process — all that was left in the end was the scratches and imprints of how the place was made. It is a fantastically hideous little building that's become a sublime place to watch a Spanish sunset. It's also a true melding of the most important tenets of future building: reliance on known techniques, forward-thinking environmentalism, whimsy, and brilliant simplicity. Moo.
Museo Soumaya — FR-EE / Fernando Romero Enterprise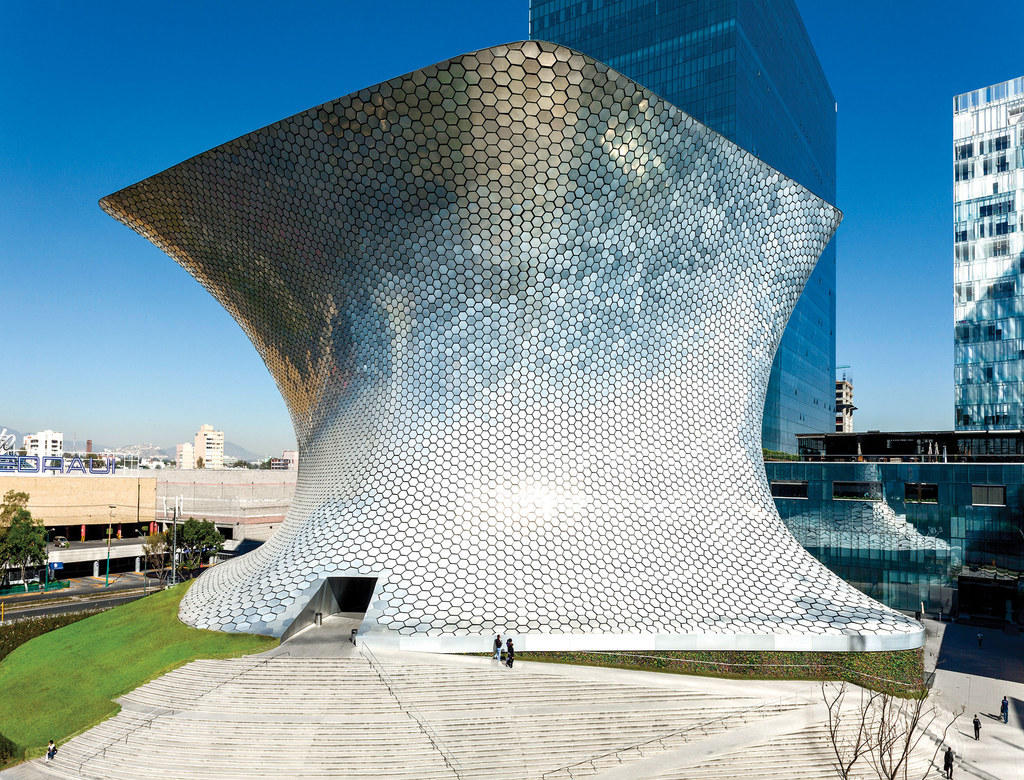 Is pretty a public amenity?
In case you were wondering, this shape is called a rotated rhomboid. Clad in 16,000 hexagonal tiles, this Mexico City museum's muscular structure is wrapped in a shimmering mirrored skin. The pattern references Mexico City's traditional colonial ceramic-tiled building facades and, like those buildings, changes in appearance with weather and the viewer's vantage point, becoming a sculpture itself. A museum can be as important as the art within.
You can learn more about Marc Kushner and pick up your own copy of The Future of Architecture in 100 Buildings here.