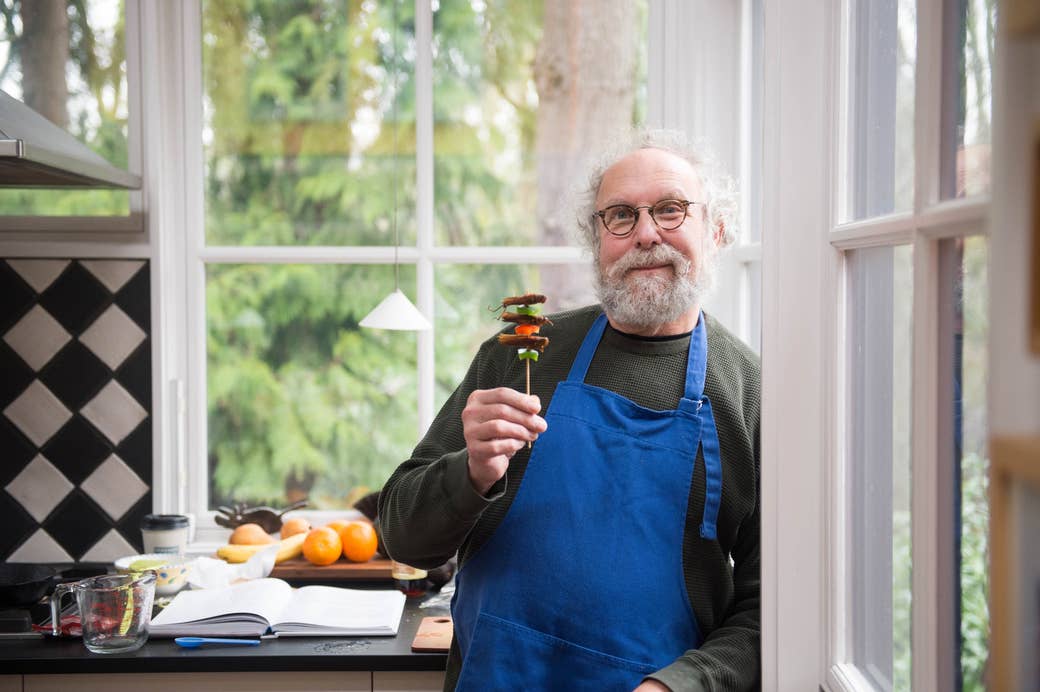 Beyond just a novelty, Chef David George Gordon's interest lies in sustainability. The concept of eating insects as food is called entomophagy. One of his most popular lecture topics explores the next big revolution in food production, which essentially replaces beef, chicken and pork with eco-friendly critters like crickets, mealworms, spiders, centipedes, and more. Raising cattle and other animals requires a tremendous amount of resources, whereas insects are far less taxing on the environment. Gordon cites that to an estimated 80% of the world's cultures, bugs are just another food group.
Bugs can be a great source of protein and nutrients, although Gordon always recommends exercising caution when first cooking with bugs. To begin, if you're allergic to crab, lobster, or shrimp, there is a good chance you'll also be allergic to bugs. One thing to also keep in mind, you always want to avoid harvesting bugs from places that use pesticide. Eating bugs that have eaten pesticide is essentially eating the pesticide itself. Chef Gordon purchases his bugs from a supplier in Austin, Texas, called Aspire.
When done right, these dishes can be exciting and healthy. "In many cases, kids are way more adventurous eaters than their parents," Gordon says. "After one of my cooking demos, a parent or two in the audience will complain that they can't get their kid to eat anything. Yet they just watched little Jimmy get up on stage and eat a scorpion. I tell them, 'You should try serving scorpions at home. I bet Jimmy would really like that.'"
It's 2015 and bugs are on the menu.
Scorpion Scallopine
Yield: 4 servings
Ingredients:
-1 pint low fat milk
-8 frozen desert hairy scorpions or a similar species thawed
-1 cup white cornmeal
-2 tablespoons unsalted butter
-1 tablespoon fresh lemon juice
-2 tablespoons fresh parsley, chopped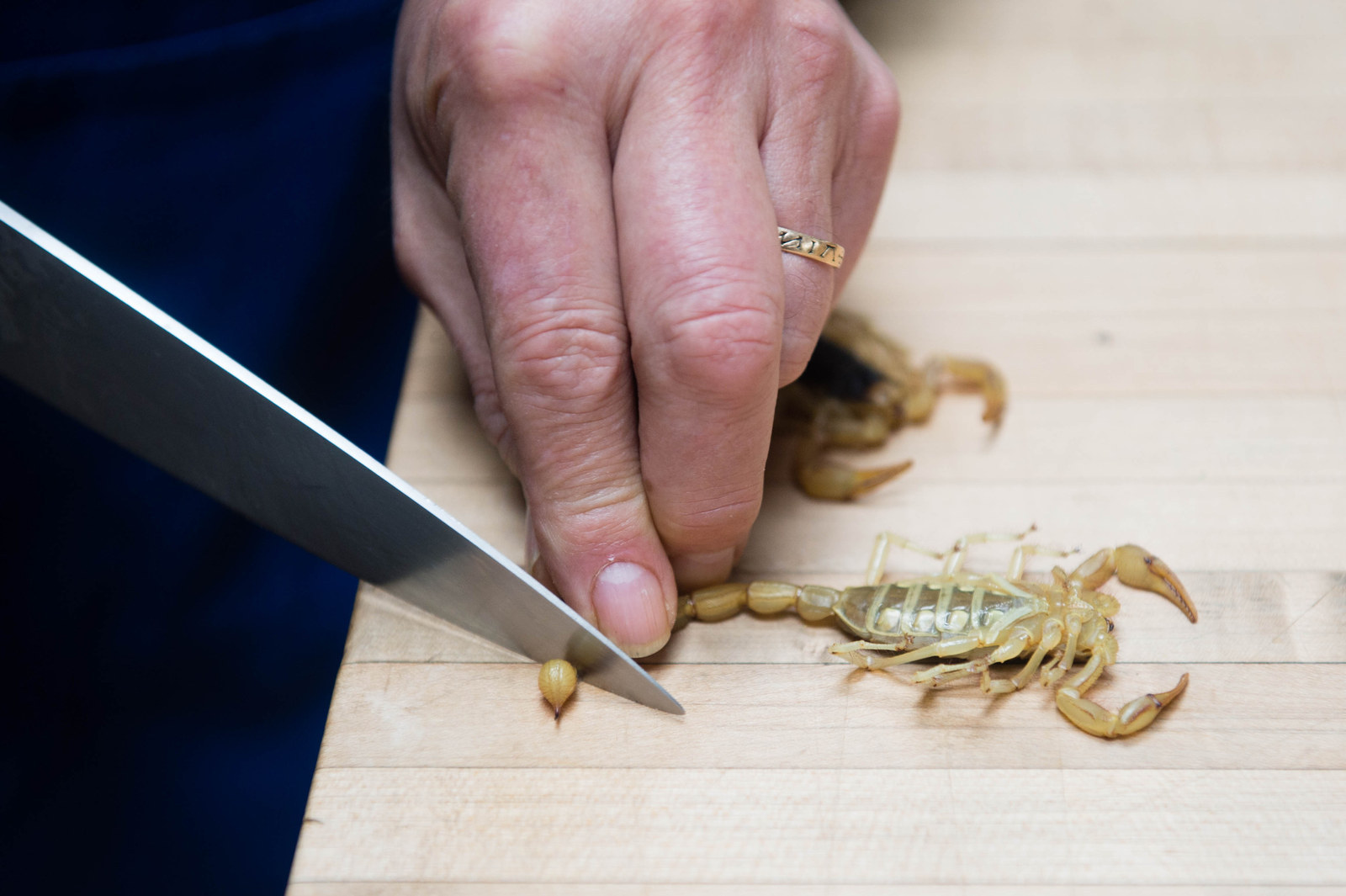 Pour the milk into a medium-size bowl; add the scorpions and set aside while preparing the rest of the ingredients.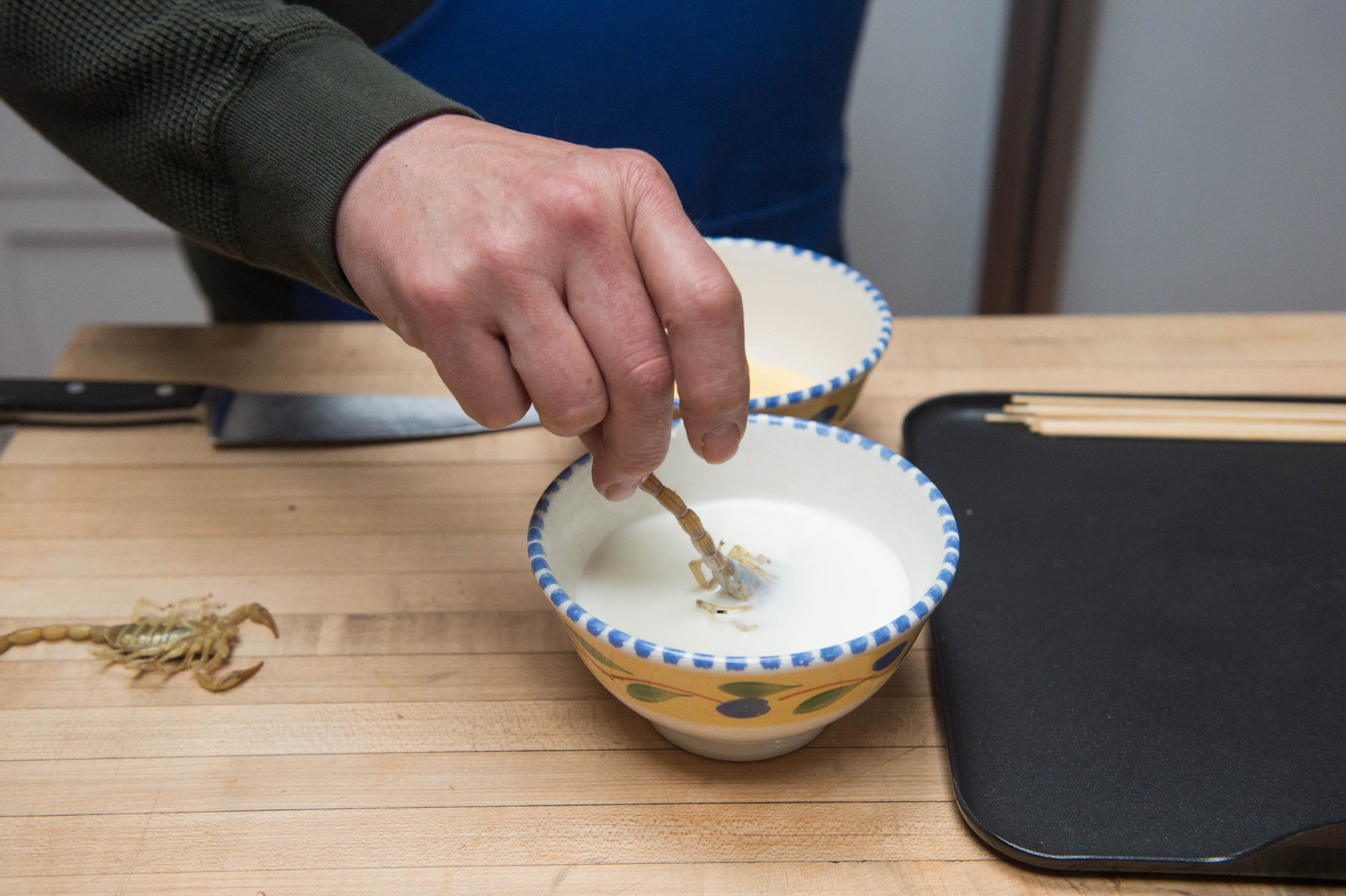 In a 12-inch skillet, melt the butter. Remove scorpions from the milk mixture, allowing the excess to drain off. Dredge the scorpions through the cornmeal, one at a time.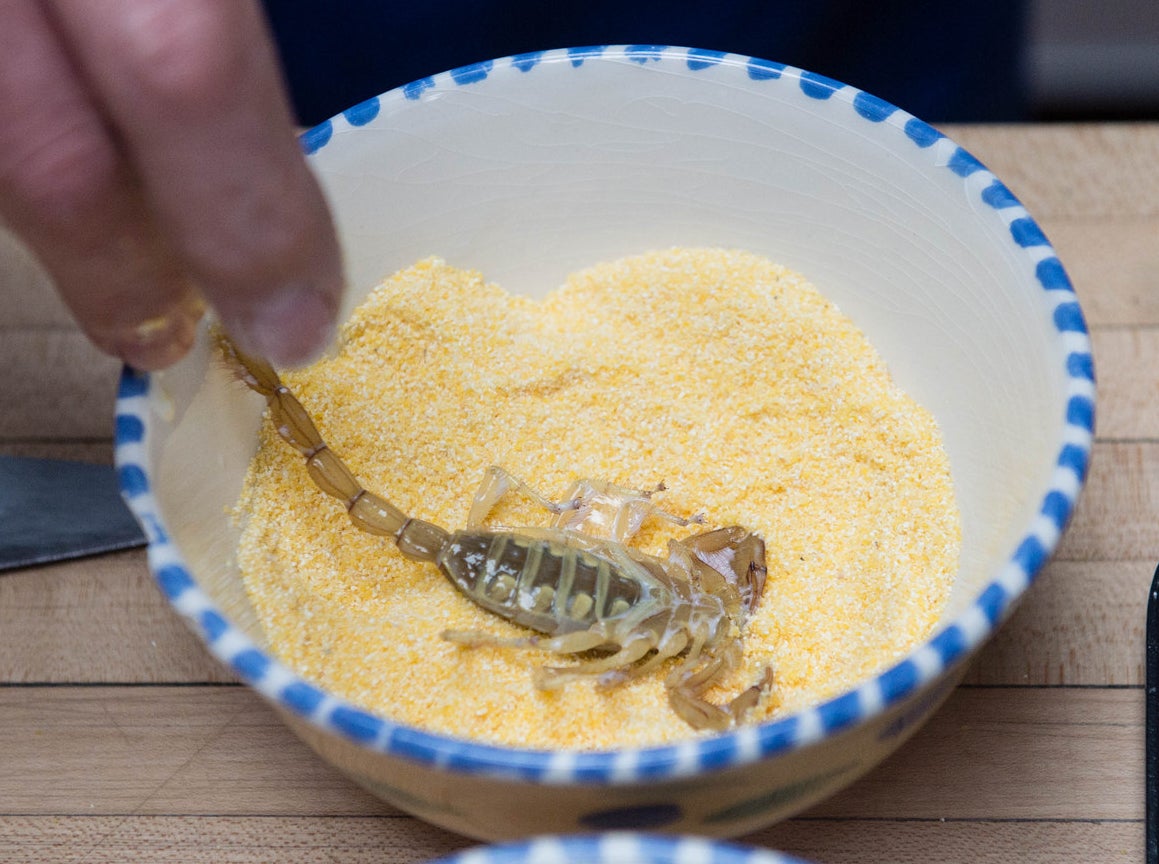 Shake off the excess flour.
Place the scorpions in the hot butter and cook until they are golden brown, about two minutes. Then turn the scorpions over and cook until done, about one minute.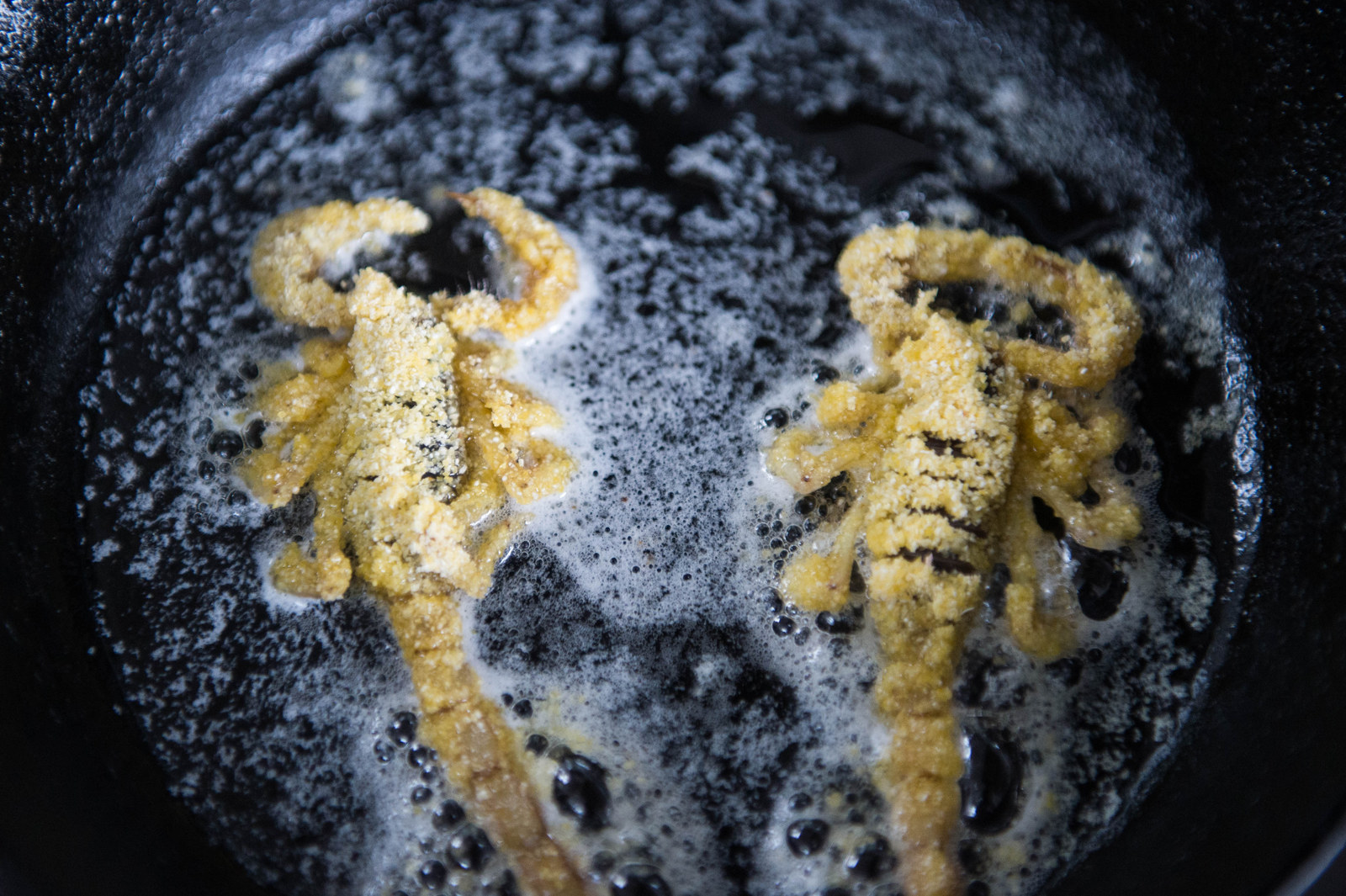 Drain on paper towels. Sprinkle with lemon juice, voila!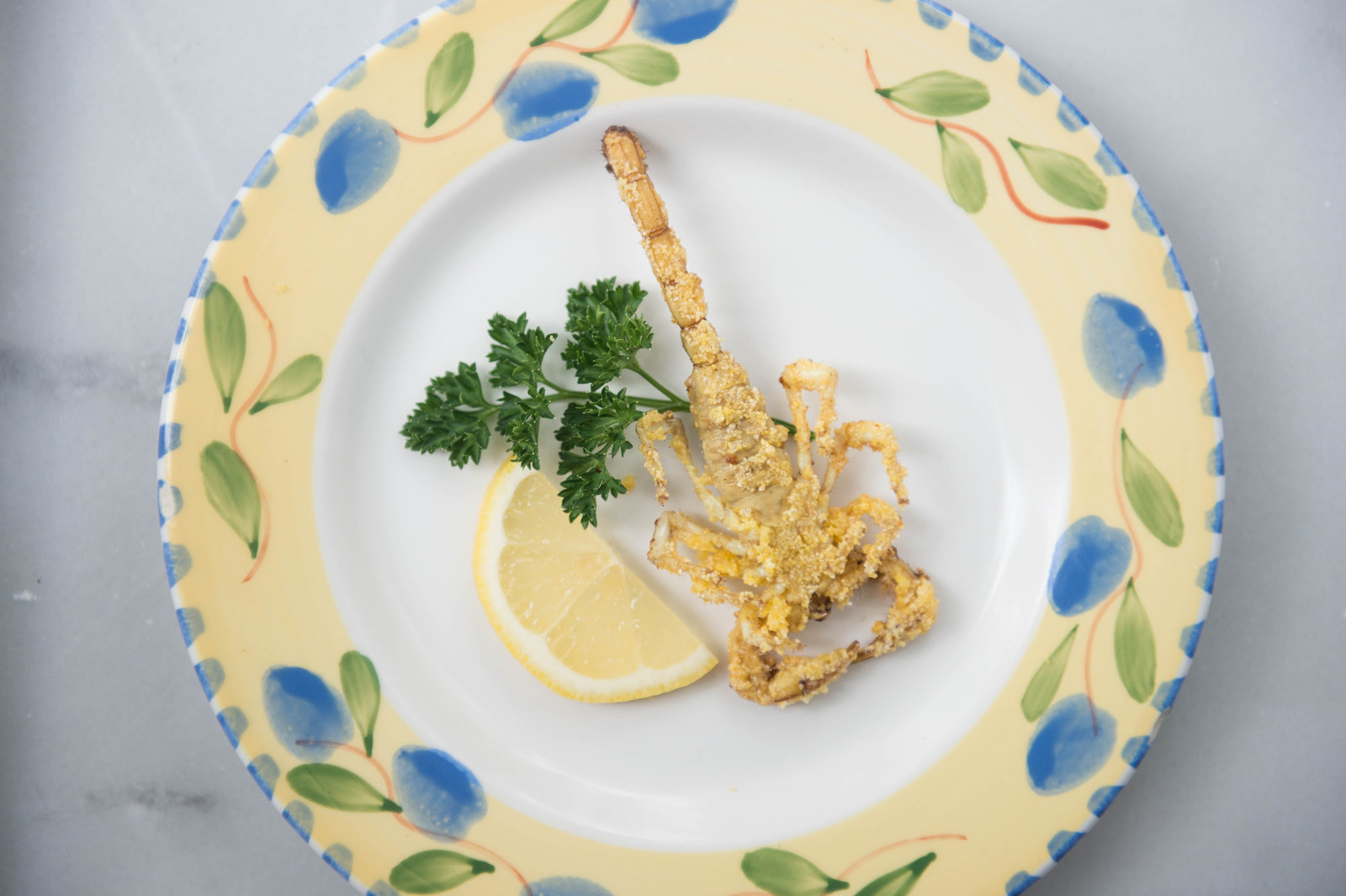 Grasshopper Kabobs
Skewered along with red and green peppers, this super easy to make number can be drizzled with teriyaki glaze before grilling. Bug apetit!
Yield: 6 servings
Ingredients:
-12 frozen katydids, grasshoppers, or other large-bodied orthoptera, thawed
-1 red bell pepper, cut into 1 ½-inch chunks
-1 small yellow onion, cut into 8 wedges
For the marinade:
-½ cup fresh lemon juice
-1 tablespoon olive oil
-1 teaspoon honey
-1/2 teaspoon
-Freshly grated ginger
-1 tablespoon Dijon mustard
-2 tablespoons minced fresh herbs such as parsley, mint, thyme, and tarragon
-¼ teaspoon salt
-Pinch of freshly ground pepper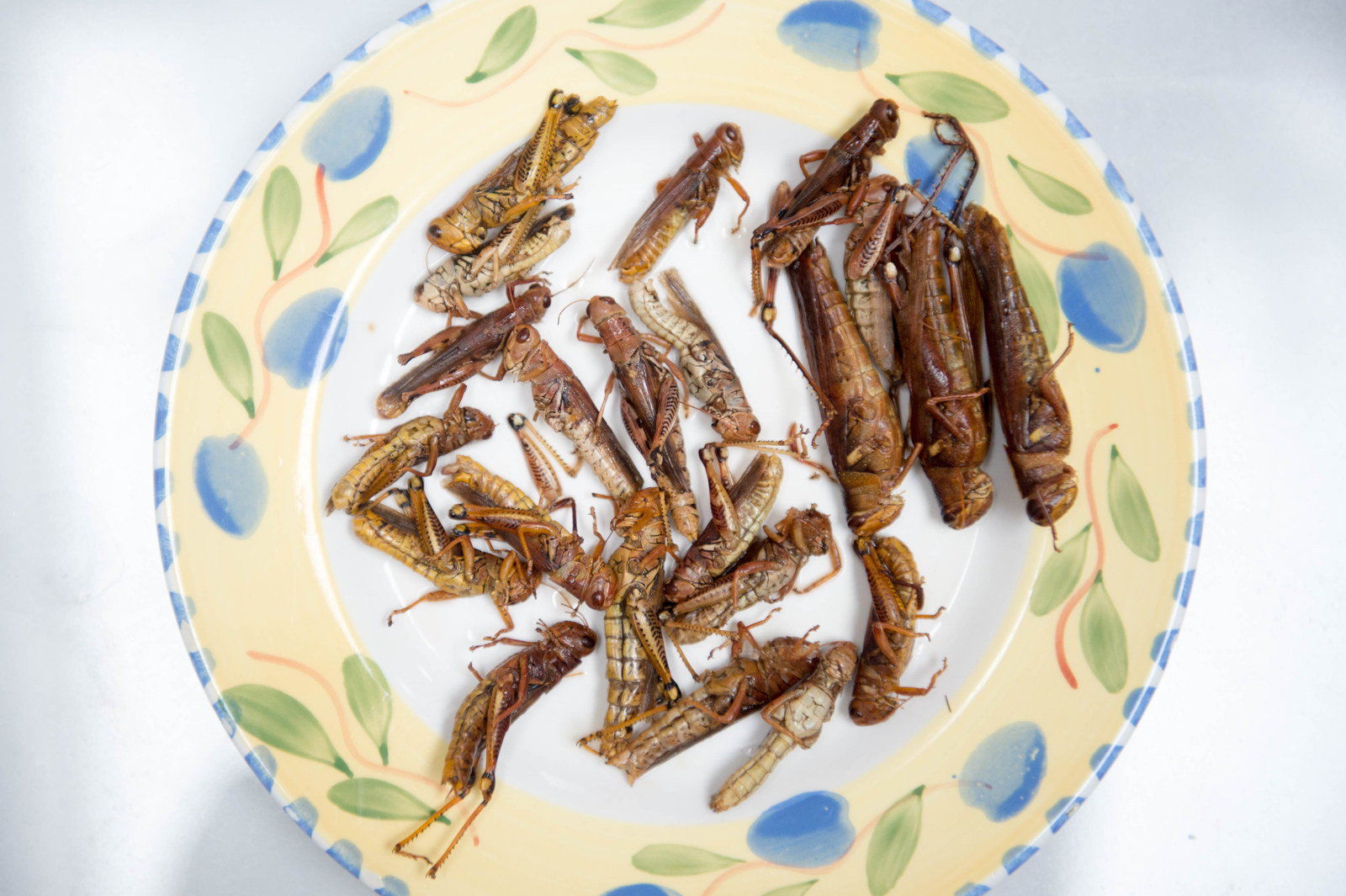 Mix all ingredients for the marinade in a nonreactive baking dish. Add the katydids, cover, and marinate in the refrigerator overnight. When ready to cook, remove the katydids from the marinade and pat dry.
Assemble the kabobs by alternately skewering the insects, bell pepper, and onion wedges to create a visually interesting lineup.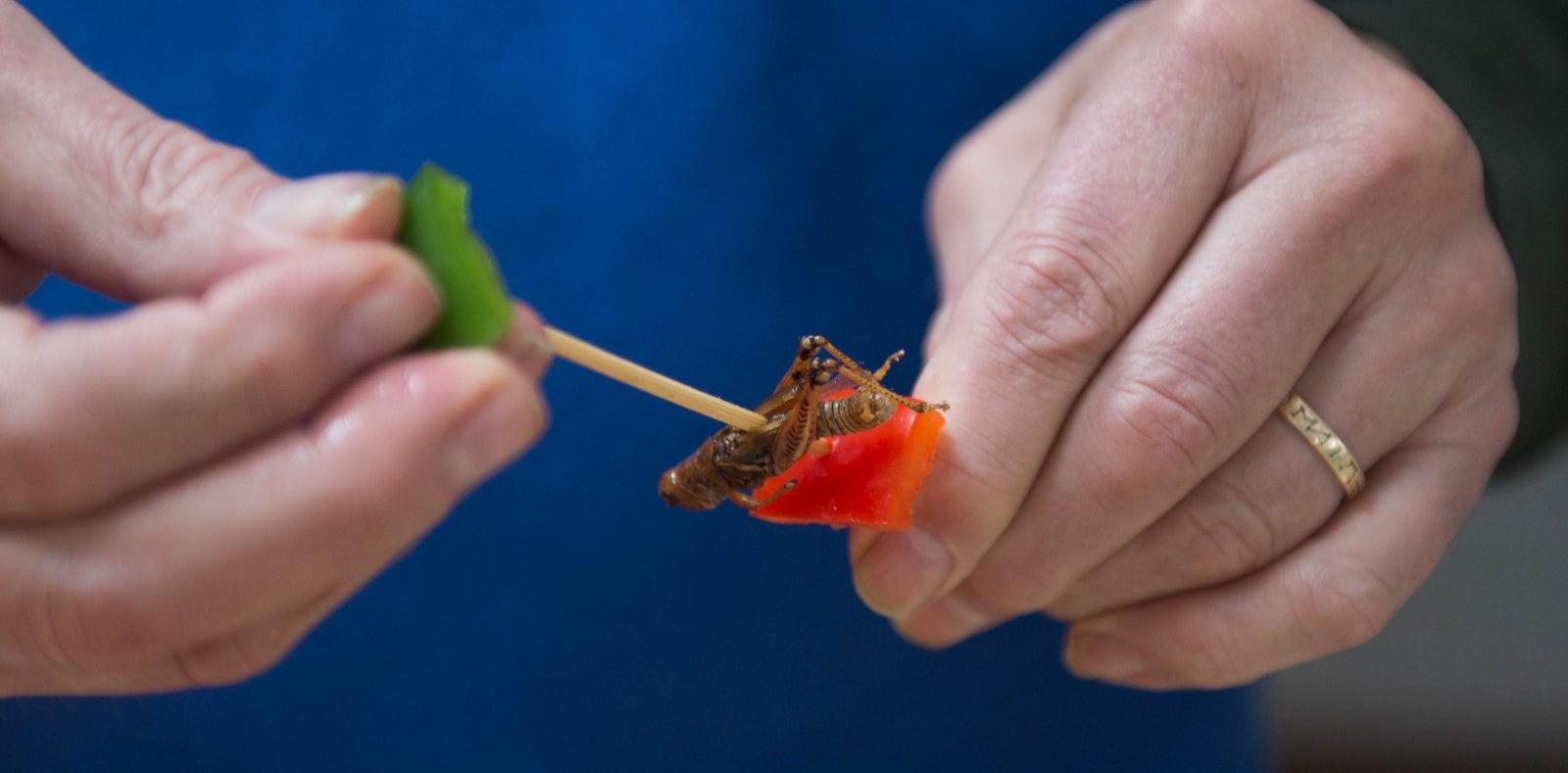 Brush the grill lightly with olive oil.
Cook the kabobs 2 or 3 inches above the fire, turning them every two or three minutes and basting them with additional olive oil as required. The exact cooking time will vary, depending on your grill and the type of insects used. However, the kabobs should cook for no longer than eight or nine minutes.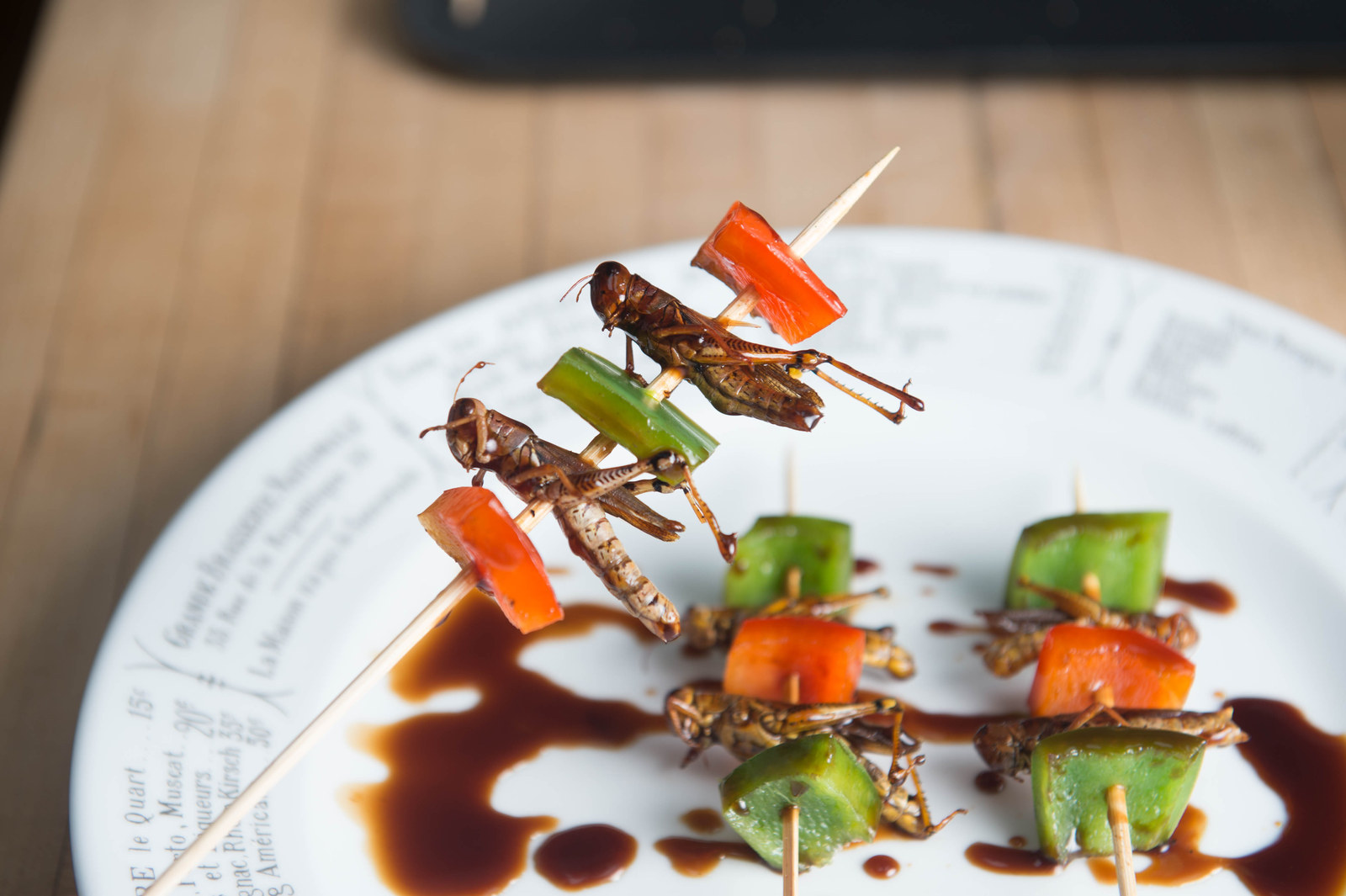 Orthopteran Orzo
Time calls Gordon's Orthopteran Orzo his signature dish. Gordon prefers to use cricket nymphs in this recipe because they are more tender than the adults, largely because their wings haven't developed yet. Perhaps his most accessible dish, this one has been a real crowd pleaser in Gordon's experience.
Yield: 6 servings
Ingredients:
-3 cups vegetable broth
-1 cup orzo
-½ cup grated carrot
-¼ cup finely diced red bell pepper
-¼ cup finely diced green bell pepper
-1 tablespoon butter
-1 clove garlic, minced
-½ cup chopped yellow onion
-1 cup frozen two- or three-week-old cricket nymphs, thawed
-2 tablespoons chopped fresh parsley
Bring the broth to a boil, then stir in the orzo. Continue boiling the orzo until it is tender, about 10 minutes; drain any extra liquid, then quickly add the carrot and red and green peppers. Mix evenly and set aside.
In a separate skillet, melt the butter and add the garlic, onion, and crickets. Sauté briefly until the onions are translucent and the garlic and crickets have browned.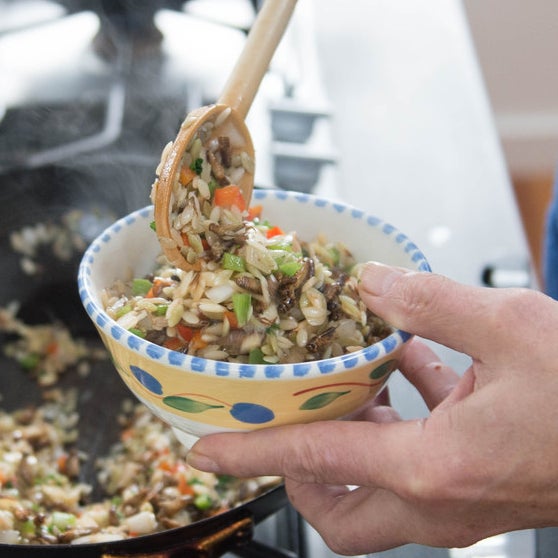 Combine the cricket mixture, including any liquid, with the orzo and vegetables, top with the parsley, and serve.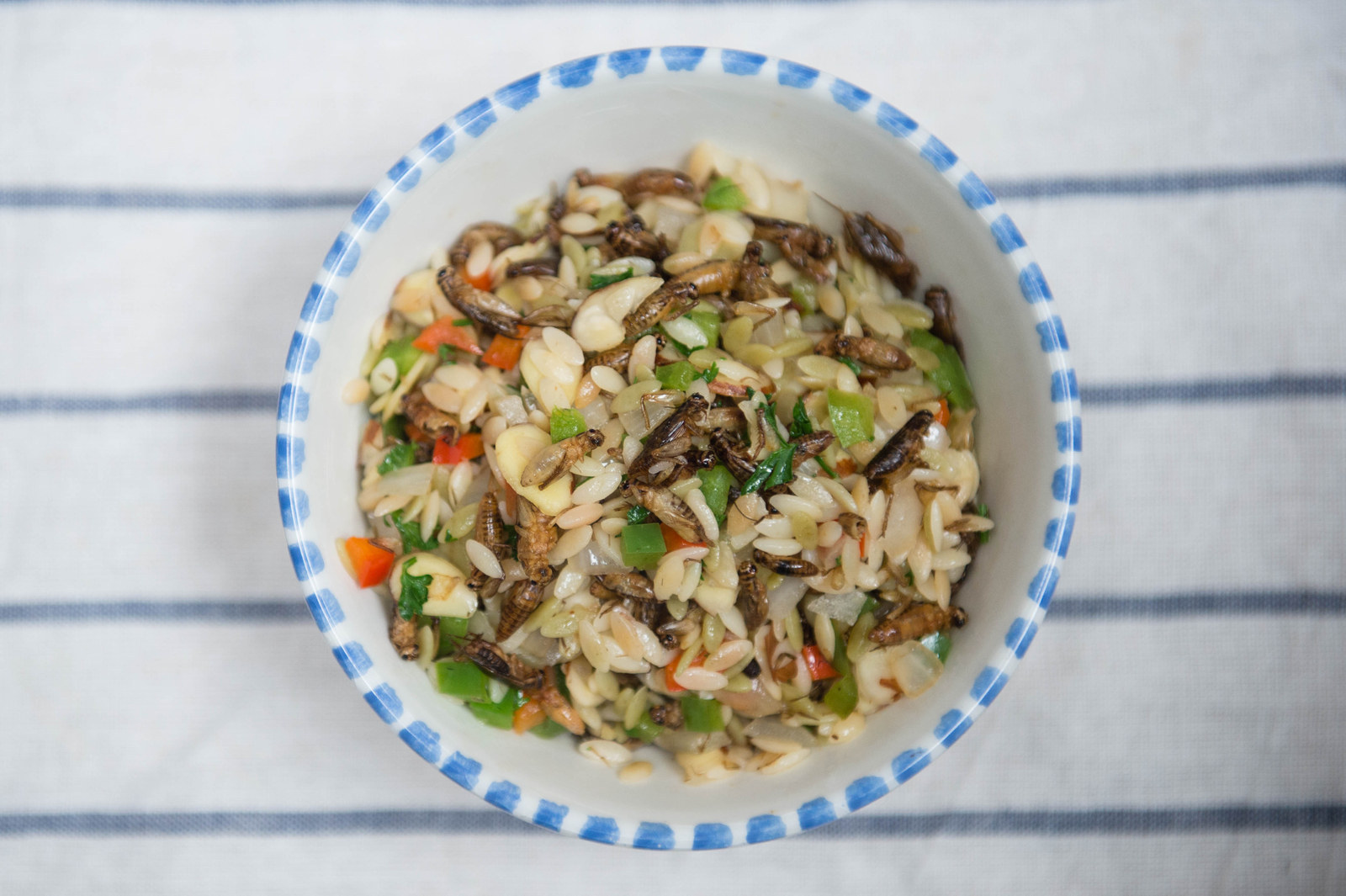 Deep-Fried Tarantula
As you can imagine, a couple precautions must be taken before safely deep-frying a tarantula. First, the spider's abdomen must be cut off. Second, the hairs on its body must be singed off with the help of a lighter.
Yield: 4 servings
Ingredients:
-2 cups canola or vegetable oil
-2 frozen adult Texas brown, Chilean rose, or similar-size tarantulas, thawed
-1 cup tempura batter
-1 teaspoon smoked paprika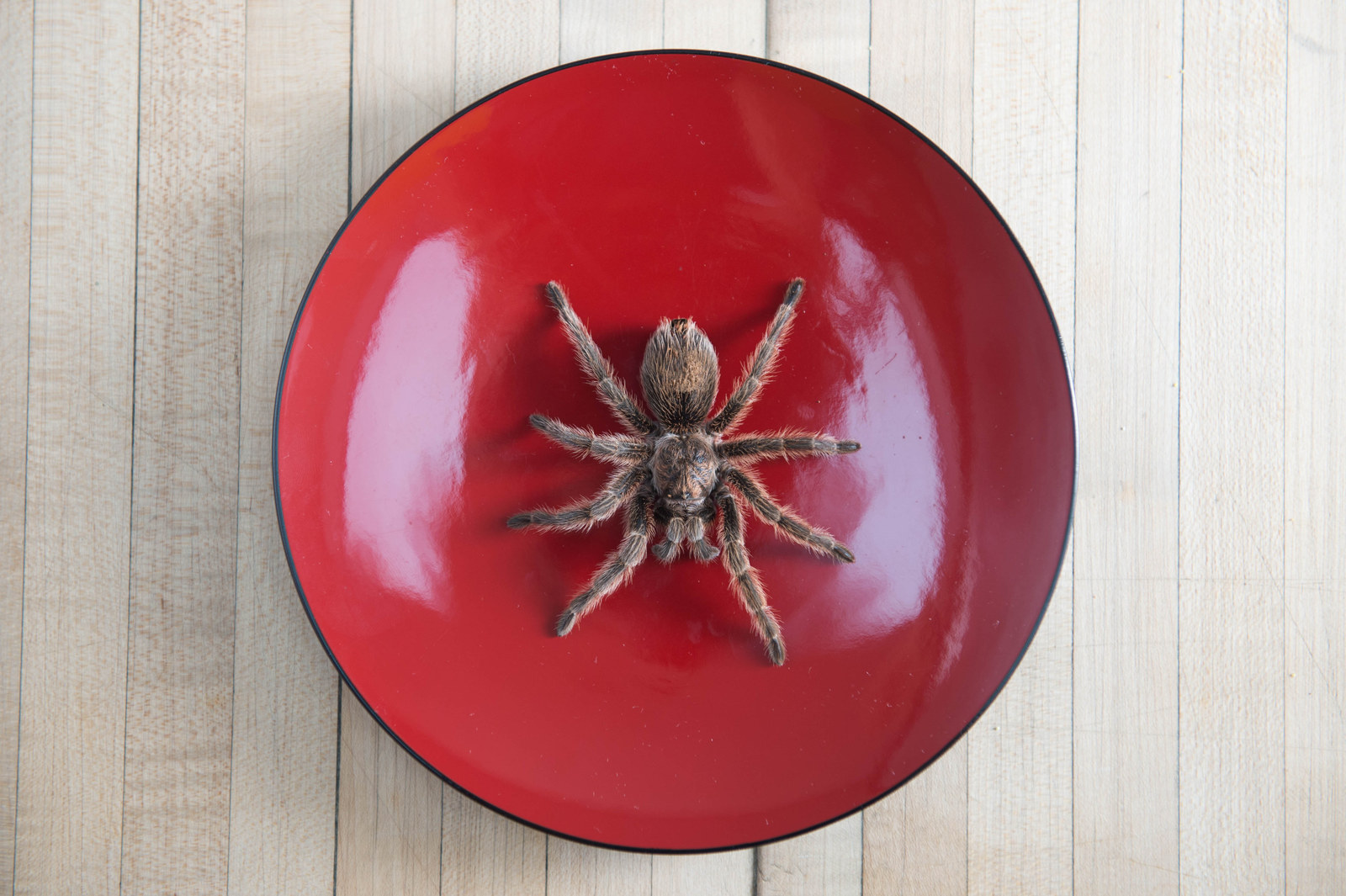 In a deep saucepan or deep fat fryer, heat the oil to 350°F.
With a sharp knife, sever and discard the abdomens from the two tarantulas. Singe off any of the spider's body hairs with a crème brûlée torch or butane cigarette lighter.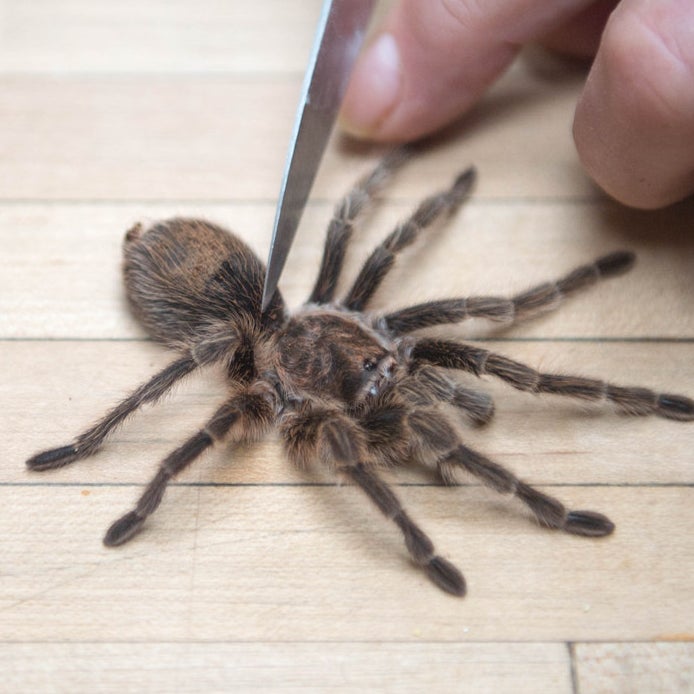 Dip each spider into the tempura batter to thoroughly coat. Use a slotted spoon or your hands to make sure each spider is spreadeagled (so to speak) and not clumped together before dropping it into the hot oil.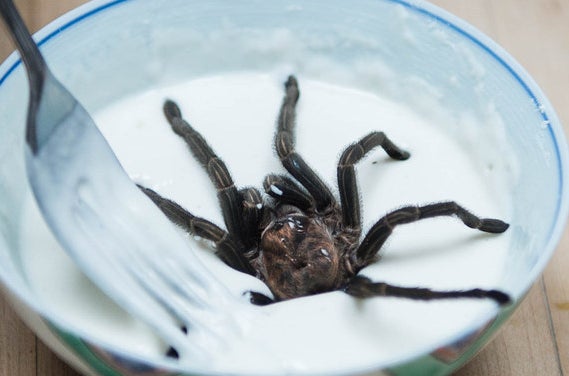 Dipping the tarantula in a tempura batter
Deep-fry the spiders, one at a time, until the batter is lightly browned, about one minute. Remove each spider from the oil and place it on paper towels to drain. Use a sharp knife to cut each spider in two lengthwise. Sprinkle with the paprika and serve.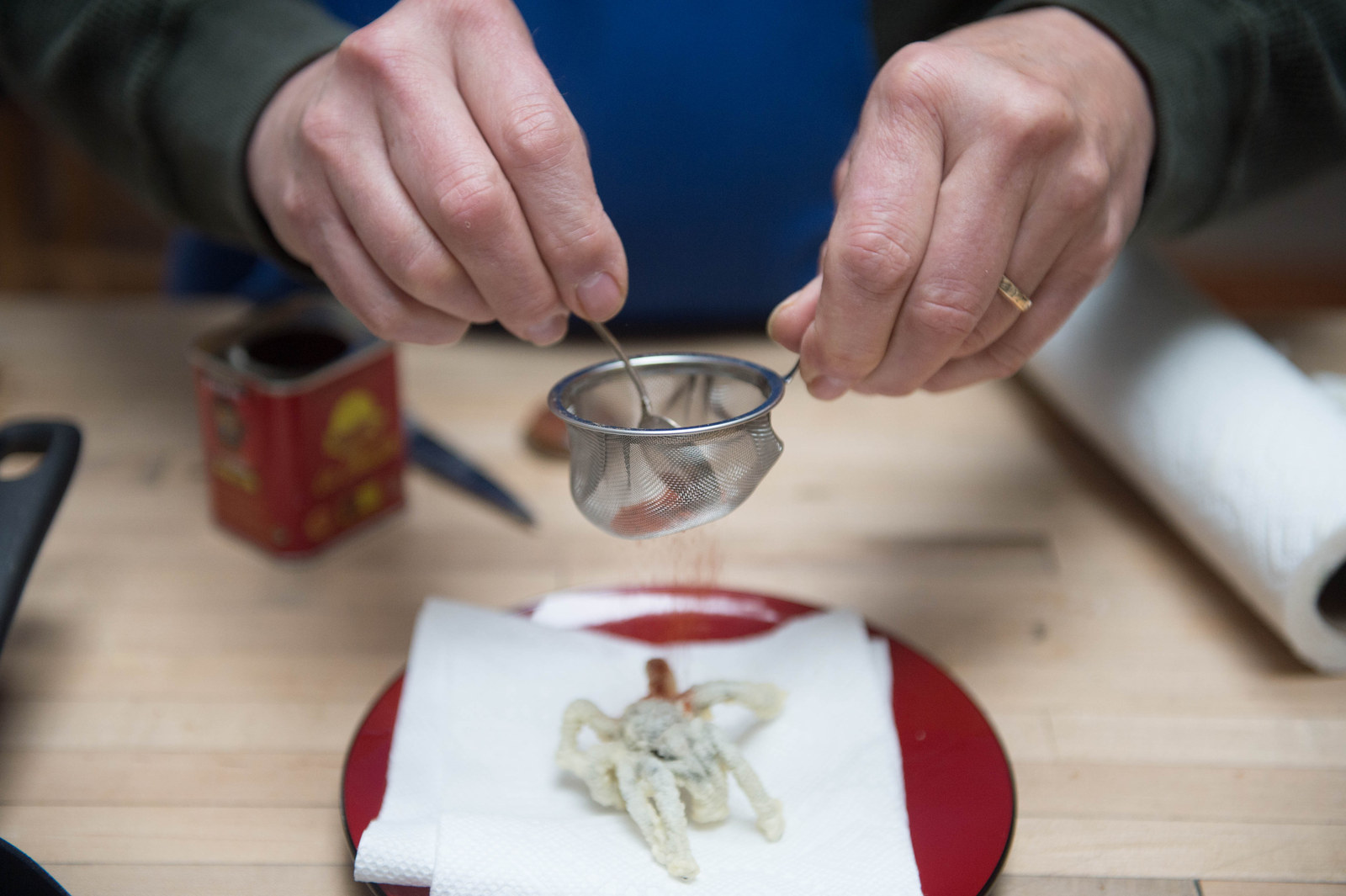 Encourage your guests to try the legs first and, if still hungry, to nibble on the meat-filled mesothorax!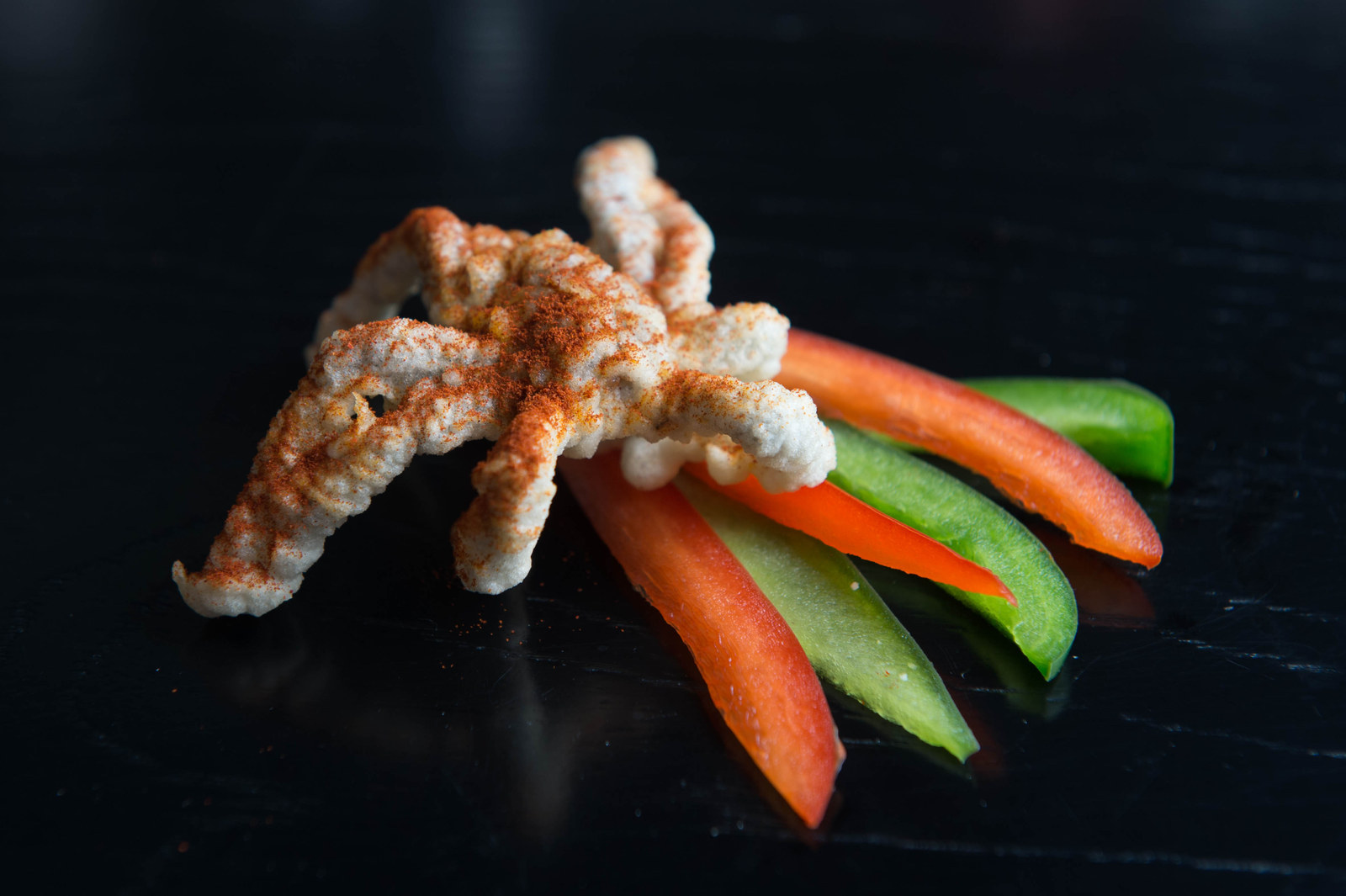 Skewered Sonoran Centipede
Gordon's Skewered Sonoran Centipede is a recipe he is currently adapting for his upcoming appearance at the 111th Explorers Club Annual Dinner in New York City on March 21, at which he'll be serving a variety of bug snacks and speaking on the sustainable practice of entomophagy.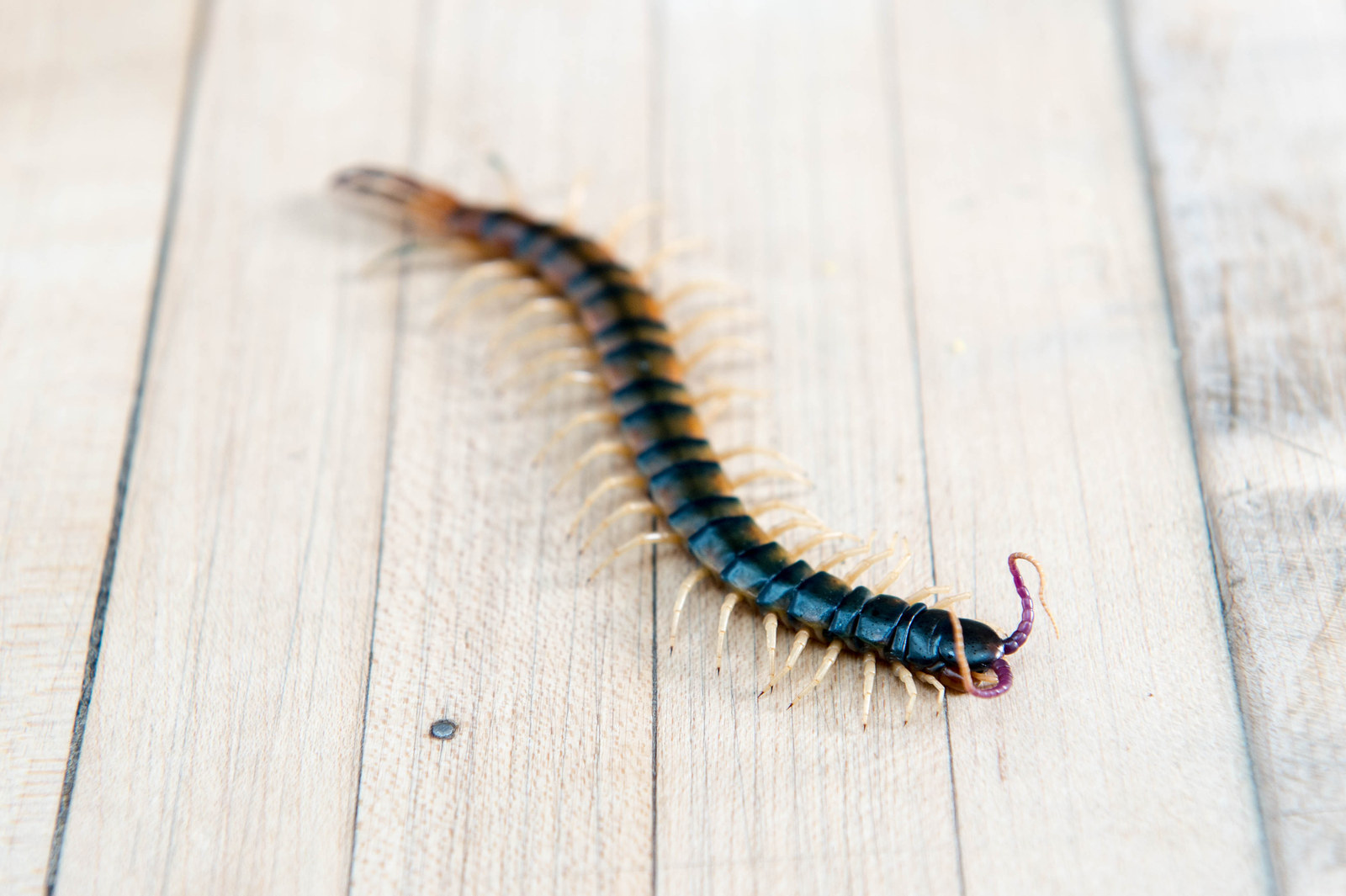 With great dexterity, Gordon skewers these creepy crawlies and seasons with a secret mixture of spices.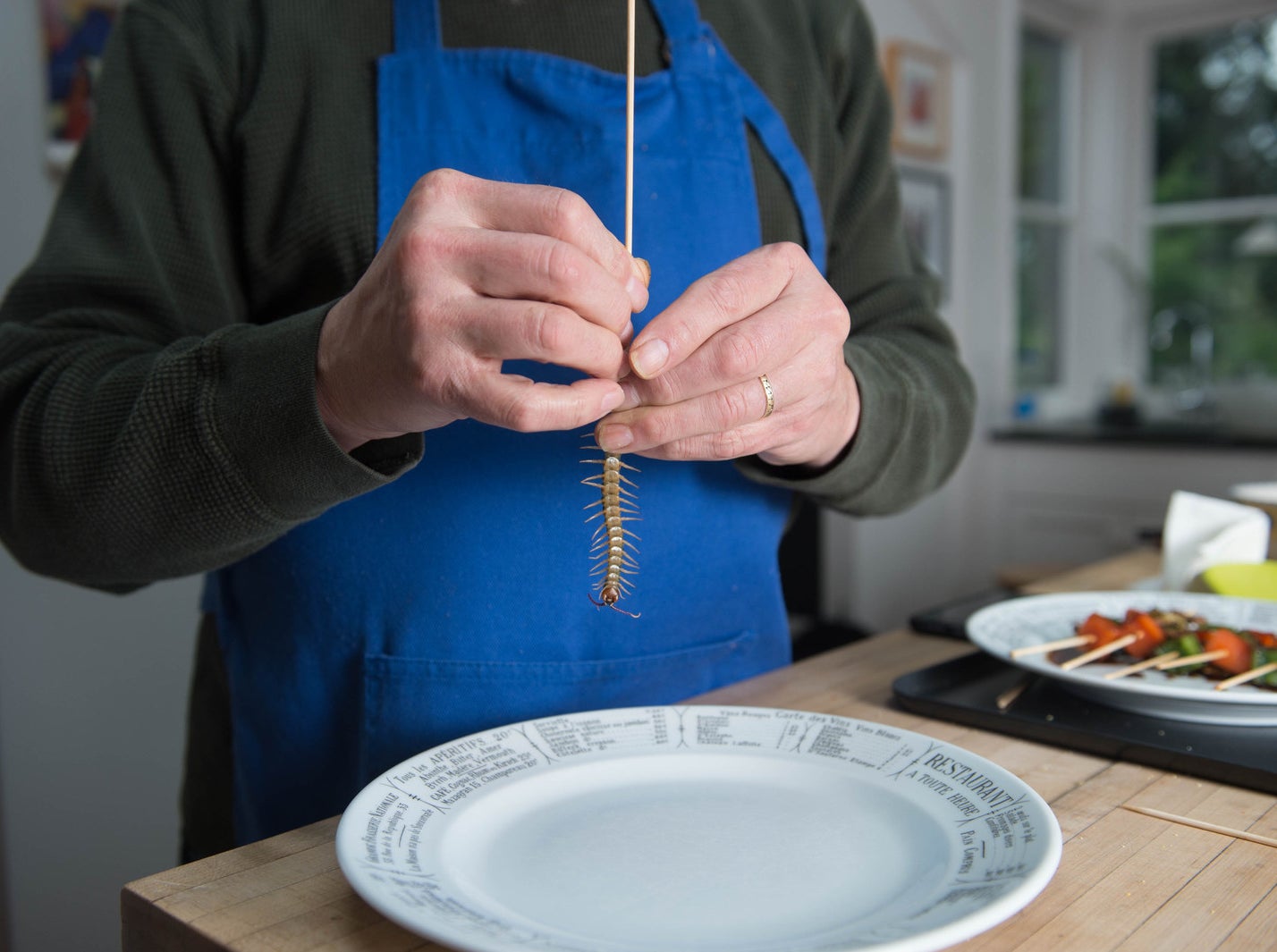 Skewered Sonoran Centipede, a recipe Gordon is still adapting for his upcoming talk at the Explorer's Club in NYC in March.