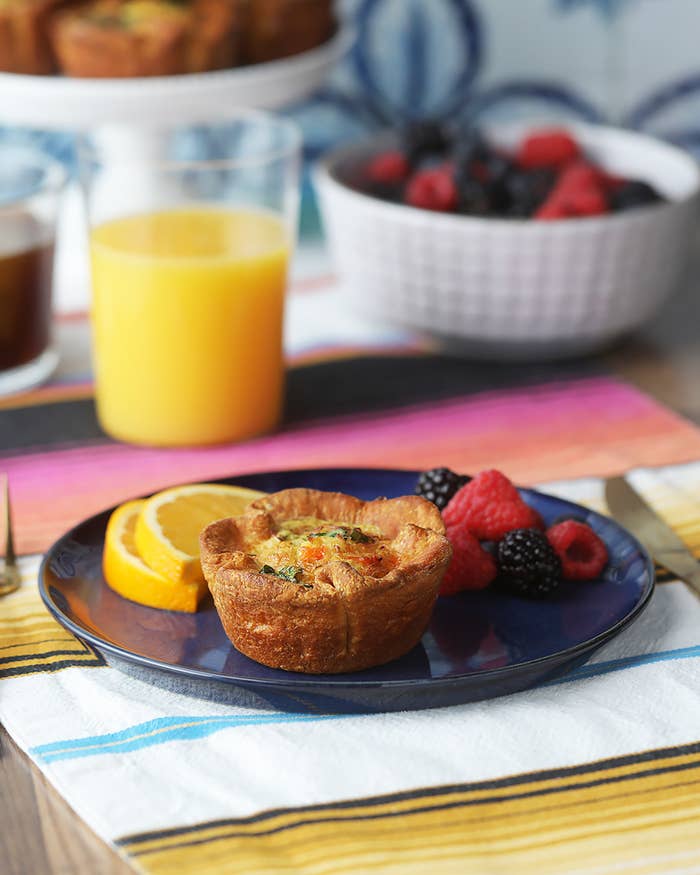 Spinach Egg Cups — FRESH EXPRESS

Servings: 6
INGREDIENTS:
1 tbsp olive oil
½ onion, diced
1 red bell pepper, small dice
2 cloves garlic, minced
2 cups chopped Fresh Express spinach
6 eggs
½ cup heavy cream
¼ cup grated parmesan
¼ cup grated cheddar cheese
2 tsp salt
½ teaspoon black pepper
1 tube buttermilk biscuits
PREPARATION:
Preheat oven to 350°F.

In medium saute pan over medium heat, add olive oil and cook onions, peppers, and garlic until onions are translucent — about 5 minutes. Add in spinach and saute.

In bowl, whisk together eggs, heavy cream, parmesan, cheddar cheese, salt, pepper, and sauteed onion mixture.

Take biscuits out of tube, flatten into larger circle, and place into muffin tins, flattening enough to go up sides, creating small cup shape.

Pour about ¼ cup of egg mixture (¾ way up side of tin) into prepared cupcake tin and bake for 15–20 minutes.