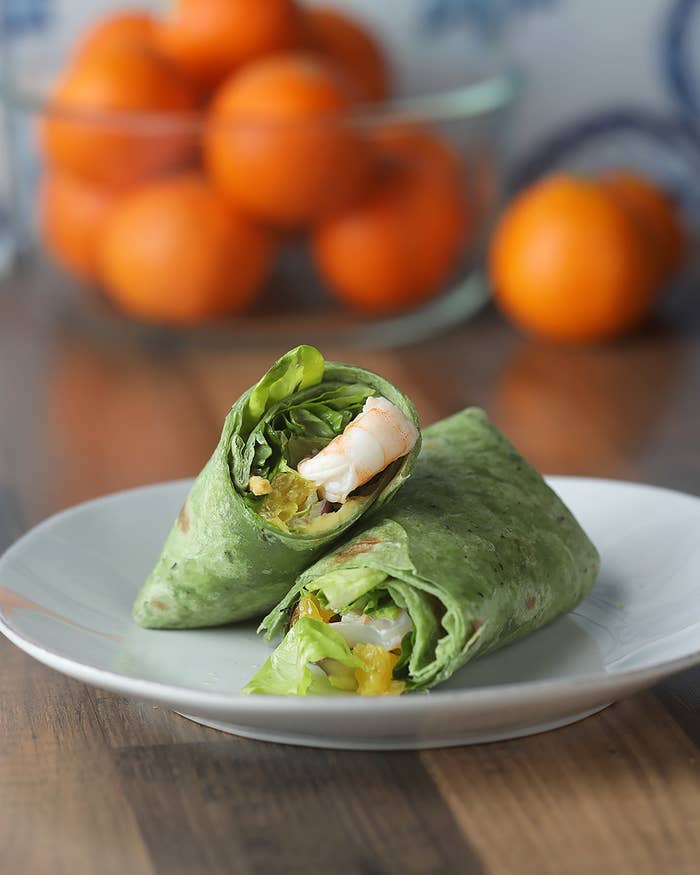 SHRIMP SALAD WRAPS — FRESH EXPRESS
Servings: 2
INGREDIENTS:
Shrimp

1 tbsp olive oil

½ lb shrimp, 21–25 peeled and deveined

Juice of 1 lime

2 teaspoons salt

Dressing

3 tbsp sesame oil

1 tablespoon orange juice

1 tbsp honey

2 tbsp rice wine vinegar

1 tsp salt

1 tsp fresh ginger, grated

1 tbsp thinly sliced scallions

Salad Mixture
5 oz. Fresh Express sweet and crunchy lettuce

1 large navel orange, peeled and sectioned into supremes

½ cup crunchy chow mein noodles

2 spinach flour tortillas

1 avocado, sliced

¼ red onion, thinly sliced

¼ cup chopped cilantro

PREPARATION:
In medium saute pan over medium heat, add olive oil, shrimp, lime juice, and salt. Cook shrimp 2 minutes per side until cooked through and pink on outside. Remove from heat and set aside.

To make the dressing, whisk together all the ingredients except the scallions in a small bowl. Then mix in scallions and set aside.

In a large bowl, toss together the lettuce mix, cooked shrimp, orange, chow mein noodles, and dressing. Season with salt, to taste.

Lay spinach tortilla on flat surface and evenly place avocado on the bottom half. Then add red onion, cilantro, and about 1 cup of salad mixture on top of avocado. Fold in sides and wrap up tightly. Repeat with remaining tortillas.

Cut wraps in half diagonally and serve with remaining dressing.