Crunchy Corn Fritters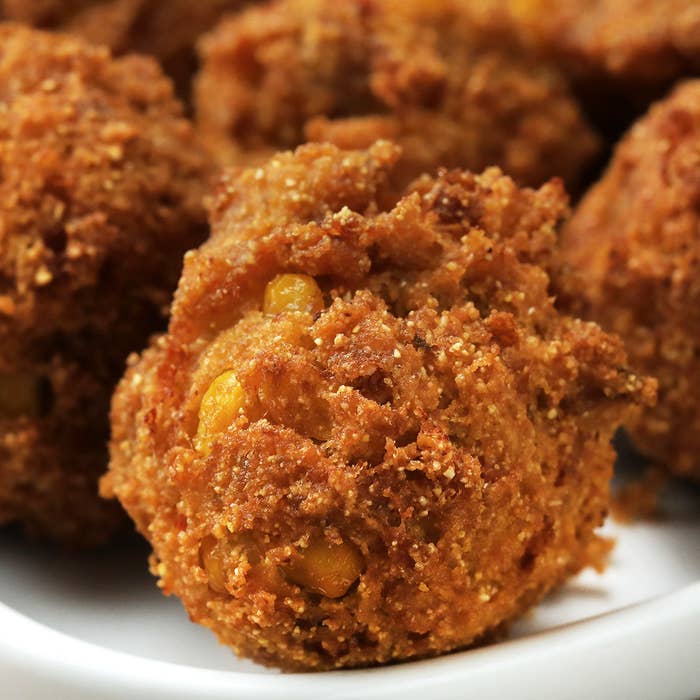 Servings 20–30
INGREDIENTS
Corn Fritters2 cups cornmeal1 tablespoon all-purpose flour½ teaspoon baking soda1 teaspoon baking powder1 teaspoon salt1 large egg, lightly beaten1¼ cups buttermilk1¾ cups crushed French's Crunchy Toppers Jalapeños ¼ cup of grated Monterey Jack cheese½ cup of fresh corn (cut off cob) Vegetable oil for frying
Crispy Jalapeño Dip½ cup French's Crunchy Toppers Jalapeños, coarsely chopped ½ cup of scallions, white and pale green parts, thinly sliced1 cup mayonnaise½ teaspoon salt¼ teaspoon ground black pepper1 pinch cayenne2 teaspoons red wine vinegarJuice of 1 lime
PREPARATION
1. Heat oil in a skillet to 320°F/160°C.2. Crush jalapeños to medium crumbs (not sandy).3. Combine cornmeal, flour, baking soda, baking powder, and salt in a bowl. 4. Add buttermilk, egg, French's Crunchy Toppers Jalapeños, corn, and cheese, then stir until mixed well.5. Cook until golden brown (about 3–4 minutes). Drain on paper towels.6. Keep in warm (250°F/120°C) oven while frying the remaining fritters.7. To make the dip, mix French's Crunchy Toppers Jalapeños, scallions, mayonnaise, salt, pepper, cayenne, red wine vinegar, and lime juice, then chill.8. Serve and enjoy!