Cheeseburger Turnovers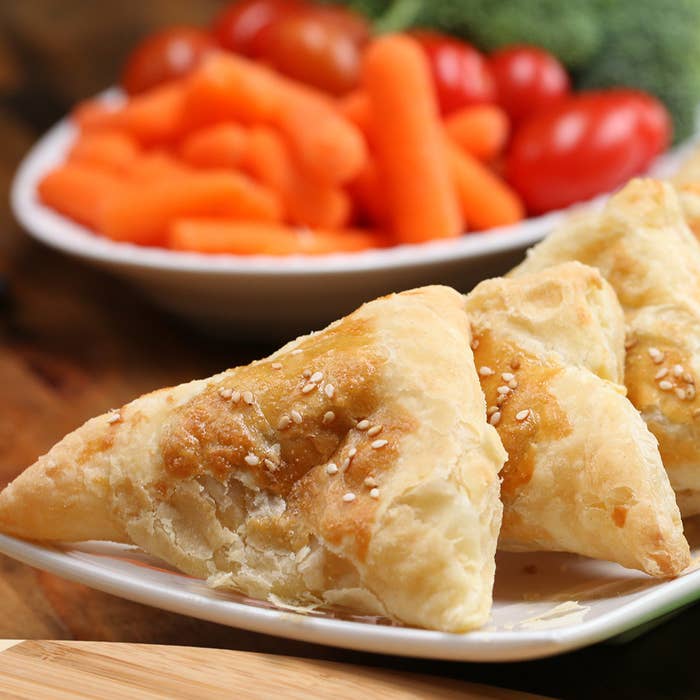 INGREDIENTS
Servings: 18 pieces
¾ pound ground beef
Pepper, to taste
Salt, to taste
1 tablespoon French's Mustard
3 tablespoons French's Ketchup
2 sheets puff pastry dough
18 American cheese slices
¼ cup red onion, finely chopped
18 hamburger pickle rounds
1 egg, beaten
1 teaspoon sesame seeds
PREPARATION
1. Preheat oven to 400ºF/200ºC and line a sheet tray with parchment paper. 

2. In a nonstick or cast iron pan, brown the beef and season with salt and pepper. Once the beef is cooked, drain out excess fat and stir in the ketchup and mustard. Cook and stir for 30 seconds to 1 minute, then remove from heat. 

3. On a lightly floured surface, roll out the dough and cut into 3-inch squares.
4. On each of the dough squares, layer a piece of american cheese (folded in half to create a triangle), some of the beef mixture, a sprinkle of red onions, and a pickle. 

5. Dip a pastry brush (or your finger) into the beaten egg and trace around the edge of the dough. Fold the dough into a triangle and pinch the sides tightly. Lightly brush the top of the turnover with egg and sprinkle with sesame seeds.

6. Place on prepared baking sheet and bake for 15-20 minutes, or until golden brown. 

7. Serve with ketchup and mustard for dipping. 

8. Enjoy!