Green Bean Casserole Ring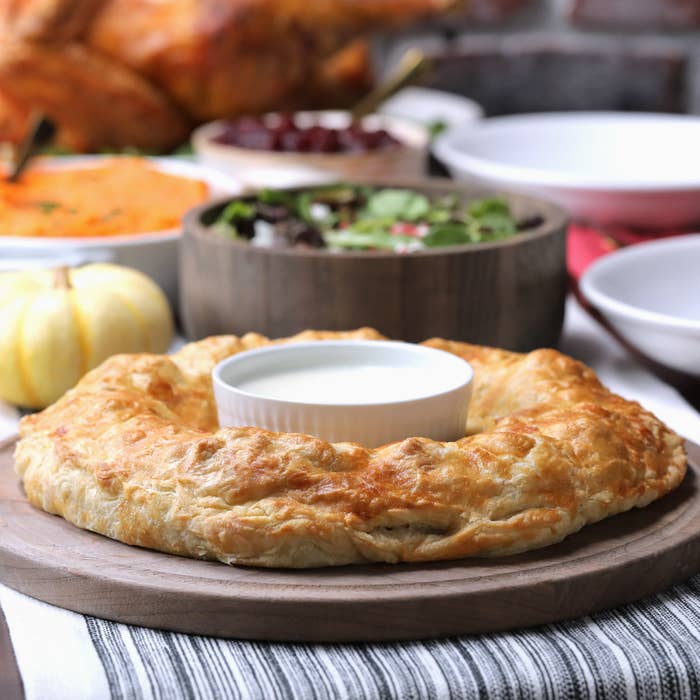 INGREDIENTS
Servings 10-12
2½ cups frozen green beans, small cut
2 tablespoons olive oil
2 cups sliced mushrooms
½ teaspoon garlic powder
¼ teaspoon nutmeg
1½ teaspoon salt, divided
½ teaspoon pepper
2 cups milk
1 cup cream cheese
1¼ cup shredded mozzarella, divided
½ cup panko
¾ cup French's Original Crispy Fried Onions
2 sheets of puff pastry
1 egg
PREPERATION
1. Preheat oven to 375ºF (190ºC).

2. Heat frozen green beans in pan over medium heat until defrosted and all moisture has evaporated, then turn the heat up to medium-high and sear until lightly cooked. Remove from pan.

3. In the same pan, heat olive oil and cook mushrooms over medium-high heat until browned. Add garlic powder, nutmeg, ½ teaspoon salt, pepper, and green beans, then mix together. Remove to a bowl and clean pan.

4. In the clean pan, heat milk with cream cheese and 1 cup of mozzarella, whisking until combined and a cheese sauce has formed. Add 1 teaspoon salt and whisk. Reserve 1 to 1½ cups for later. 

5. In a large bowl, combine the green bean mixture, cheese sauce, panko, ¼ cup mozzarella, and French's Original Crispy Fried Onions. 

6. Lay out puff pastry on a lightly floured surface. Roll out with a rolling pin until the size of the pastry has doubled. Cut both pieces of puff pastry into a large circle, approximately 18" diameter. Cut a 4" circle out of the middle and remove that piece of pastry to resemble a donut shape. 

7. Spread filling evenly in a circle on bottom puff pastry wreath, leaving a half inch on the inside and outside of dough. On top of that, drape the second puff pastry wreath so that it evenly covers the filling. Seal the edges of pastry together (pinching with fingers), until filling is completely enclosed. If the dough won't stick, wet the edge with a touch of water and try again. 

8. Using a small knife, cut several small slits into the top pastry for ventilation. 

9. Whisk egg together with 1 tablespoon water and brush on top of the pastry. 

10. Bake for 20–25 minutes, or until golden brown. Let cool before cutting. 

11. Place reserved cheese sauce in a small bowl in the middle of the ring for dipping or drizzling. 

12. Enjoy!