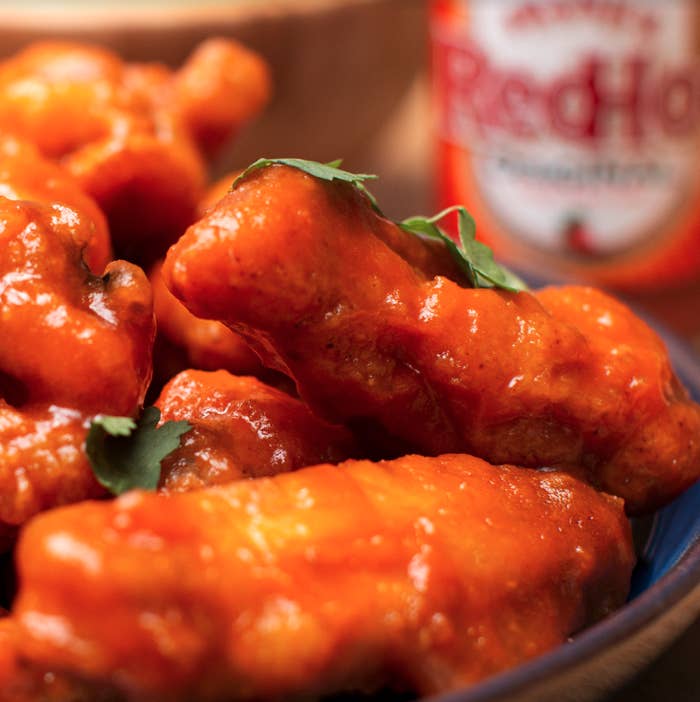 Ingredients
For the wings
8 chicken wings
150g plain flour
1.5 tsp baking powder
1.5 tsp chilli powder
½ tsp paprika
Salt and black pepper to taste
6 tbsp honey
4.5 tbsp Frank's RedHot Sauce
75g unsalted butter
1L vegetable oil for frying
For the avocado ranch
1 avocado
1.5 tbsp Frank's RedHot Sauce, plus extra for drizzling
1 tbsp mayo
1 lemon, juice and zest
Large handful of coriander
Preparation
1. Start by patting dry the chicken wings with kitchen towel.
2. Then mix together the flour, baking powder, chilli powder, paprika, and a pinch of salt and pepper in a bowl. Put the wings in the bowl and coat them fully with the flour mix. Remove from the flour and set aside.
3. Make the Buffalo sauce by putting the honey, Frank's RedHot Sauce, and butter in a pan over medium heat. Melt them all together and then keep on the heat for around 15 minutes, stirring occasionally, until the sauce is glossy and begins to thicken and become sticky.
4. Heat the vegetable oil in a deep pan to 170°C. Once it reaches temperature, fry the wings in batches until crispy and cooked through, 7–8 minutes. Once the wings are cooked, remove them from the oil and put onto a piece of kitchen towel to soak up any excess oil.
5. Next, put them into the pan with the Buffalo sauce and fully coat each wing.
To make the avocado ranch, put the avocado, mayo, lemon juice and zest, Frank's RedHot Sauce, and most of the coriander into a blender and blend until smooth and creamy.
6. Serve the wings with fresh coriander leaves and any leftover Buffalo sauce drizzled over the top. Enjoy!