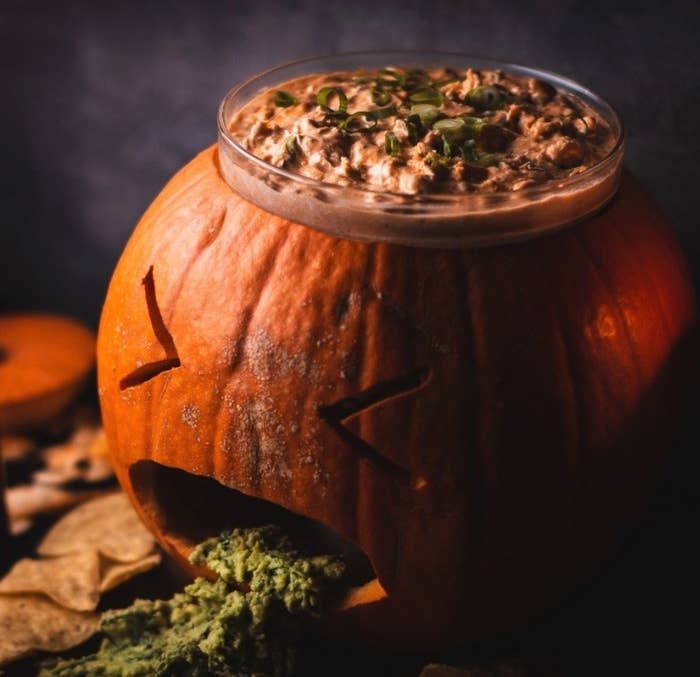 Ingredients
Buffalo Chicken Dip
2 chicken breasts
1 tbsp olive oil
1 tsp smoked paprika
½ tsp garlic powder
145ml Frank's RedHot Original, divided
400g cream cheese
100g ranch dressing
75g blue cheese, crumbled
50g white cheddar cheese, grated
Guacamole
2 avocados, halved, pitted, and diced
Juice of 1 lime
1 garlic clove, finely chopped
5 grams coriander, chopped
Sea salt, to taste
To Serve
Spring onion, chopped
Tortilla chips
Pumpkin, carved
Preparation
1. Preheat oven to 210˚C.
2. Combine chicken breasts, olive oil, paprika, garlic, and 20ml Frank's RedHot Original in a bowl.
3. Transfer chicken to tinfoil to make a tightly wrapped packet.
4. Bake chicken for 20 minutes, or until completely cooked through.
5. Transfer cooked chicken to a medium bowl. Use 2 forks to shred the chicken, and set aside.
6. In a saucepan, combine cream cheese, ranch dressing, and remaining 125ml Frank's RedHot Original until smooth. Bring to a boil and reduce heat to a simmer.
7. Add shredded chicken to cream cheese mixture until heated through (about 3–5 minutes). Make sure to stir every now and then.
8. Remove from heat, add crumbled blue cheese and white cheddar cheese. Stir until melted. Transfer to a heat-safe bowl.