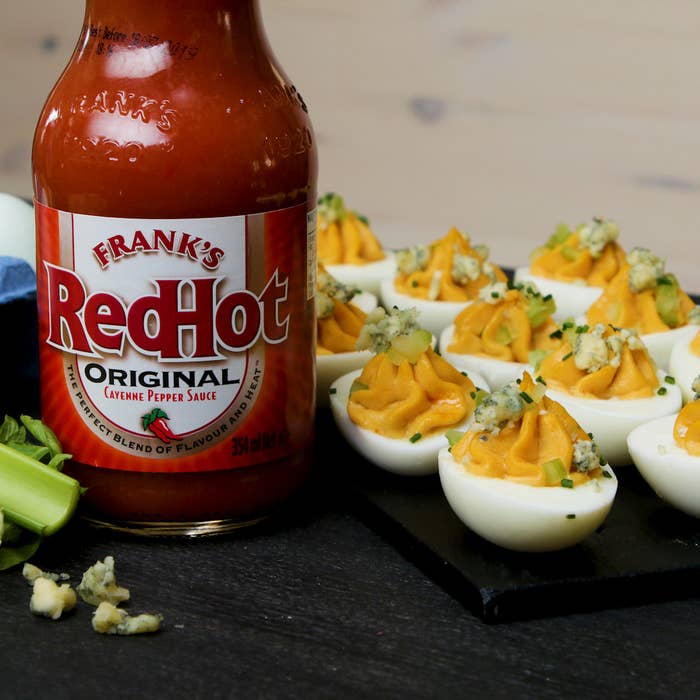 Makes 24 Devilled Eggs
INGREDIENTS
12 large hard-boiled eggs
3 tablespoons Frank's RedHot Sauce
4 tablespoons mayonnaise
1 tablespoon white wine vinegar
30 grams blue cheese, crumbled
¼ teaspoon salt
To garnish:
1 celery stick, finely diced
Chives, finely chopped\
15 grams blue cheese, crumbled
PREPARATION
Take your hard-boiled eggs and peel under cold running water. Slice eggs in half lengthwise, and remove the yolks to the bowl of a food processor, or medium bowl if blending by hand. Arrange the whites on a large platter.

Add Frank's RedHot Sauce, mayonnaise, white wine vinegar and blue cheese to the food processor and blend until smooth, scraping down the sides of the bowl where necessary. Alternatively, mix by hand until well blended.

Add the filling to a piping bag and pipe evenly into each egg white. If you don't have a piping bag, you can spoon the filling in with a teaspoon.

Top with finely diced celery, chives, and blue cheese crumbles. Serve immediately, or refrigerate 30 minutes before serving.