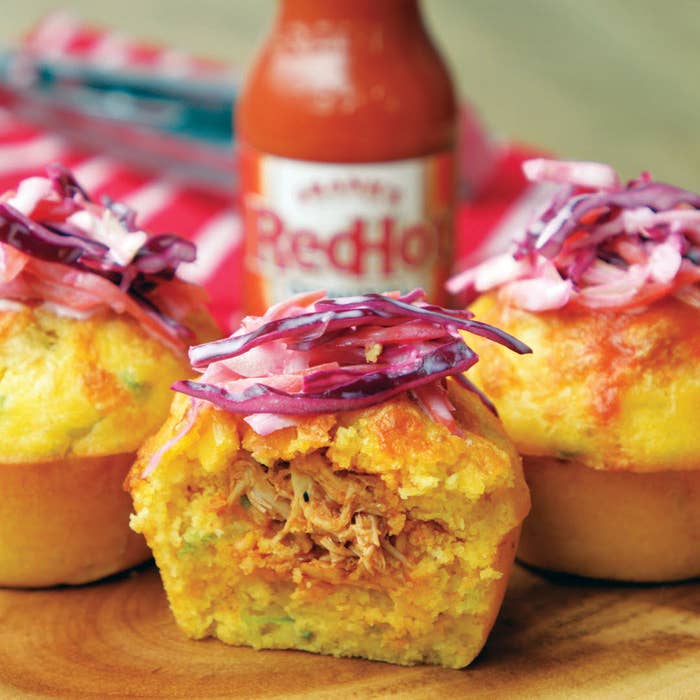 INGREDIENTS
BBQ Chicken
200 grams boneless skinless chicken thighs
1 tablespoon olive oil
1 teaspoon smoked paprika
¼ teaspoon black pepper
15 grams Frank's RedHot Sauce
30 grams Stubb's BBQ sauce
Mustard Cornbread
150 grams all purpose flour
2 teaspoons baking powder
200 grams polenta
1 ½ teaspoon salt
2 tablespoons French's Classic Yellow Mustard
300 millilitres buttermilk
2 tablespoons olive oil
2 eggs, beaten
6 spring onions, chopped
100 grams sweet corn, drained
25 grams Parmesan cheese, grated
50 grams cheddar cheese, shredded
TO SERVE
2 tablespoons mayonnaise
1 teaspoon honey
4 tablespoons Frank's RedHot Sauce, divided
Zest of 1 lemon
Juice of 1 lemon
50 grams purple cabbage, shredded
50 grams white cabbage, shredded
25 grams carrots, grated
PREPARATION
1. Preheat oven to 210˚C.
2. Combine chicken thighs, olive oil, smoked paprika, and black pepper. Wrap tightly in tin foil.
3. Bake chicken for 20 minutes, or until chicken is cooked through.
4. Transfer cooked chicken to a medium bowl. Use 2 forks to shred the chicken.
5. Add Frank's RedHot Sauce and Stubb's BBQ sauce to shredded chicken, stir to combine, then set aside.
6. Meanwhile, prepare the mustard cornbread batter. In a large bowl, sift together flour and baking powder. Stir in polenta and salt.
7. In a medium bowl, combine mustard, buttermilk, olive oil, and eggs.
8. Add the wet mixture, spring onions, sweet corn, and Parmesan cheese to the flour mixture, stirring to combine.
9. Grease a 12-cup muffin tin with nonstick spray. Spoon 3 tablespoons of batter into each cup.
10. Spoon 1 tablespoon of pulled chicken into the centre of the batter.
11. Top the chicken with another 2–3 tablespoons of batter. Sprinkle 1 teaspoon of shredded cheese onto each muffin.
12. Bake for 20–25 minutes or until golden and firm to touch.
13. While muffins are baking, prepare the coleslaw. In a medium bowl, combine mayonnaise, honey, ½ teaspoon Frank's RedHot Sauce, lemon juice, and zest. Add purple cabbage, white cabbage, and carrots, and mix to combine.
14. Top each muffin with a dash of remaining Frank's RedHot Sauce and a spoonful of coleslaw.
15. Enjoy!