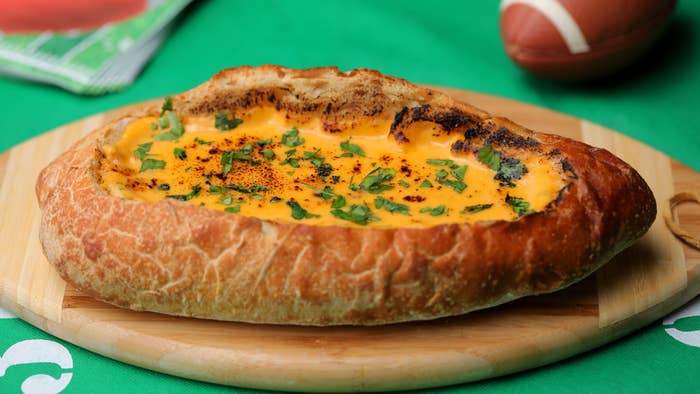 Ingredients
1 loaf crusty bread
3 tablespoons unsalted butter
3 tablespoons flour
1⁄2 cup brown ale
1 cup half-and-half
1 tablespoon Frank's Red Hot Original Sauce
1 teaspoon Dijon mustard
1⁄2 teaspoon Worcestershire sauce
1⁄2 teaspoon garlic powder
1⁄2 teaspoon kosher salt
1⁄4 teaspoon ground black pepper
12 ounces shredded sharp cheddar cheese
Minced parsley, for garnish
Pretzels, vegetables, bread, and chicken wings, for serving
Preparation
1. Preheat oven to 350oF.
2. Cut out the center of the loaf to create a bread boat. Reserve the part you pulled out for dipping later. Place bread boat on a sheet tray and bake for 7 - 10 minutes or until crispy.
3. In a saucepan over low heat, melt the butter. Whisk in flour and let bubble for a minute. Whisk in brown ale and half-and-half. Whisk in Frank's Red Hot Original Sauce, Dijon, Worcestershire, garlic powder, kosher salt, and black pepper. Bring to a light simmer. Gradually whisk in cheddar cheese, allowing each bit of cheese to fully melt before adding more cheese. Once sauce is fully melted and smooth, pour into bread boat.
4. Broil for 30 seconds to slightly brown the top of the cheese, keeping a close eye because it can go from brown to burnt very quickly.
5. Garnish with minced parsley, and Frank's Red Hot Original Sauce.
6. Serve with pretzels, vegetables, reserved bread, and chicken wings for dipping.