Spicy Chicken Stuffed Potato Skins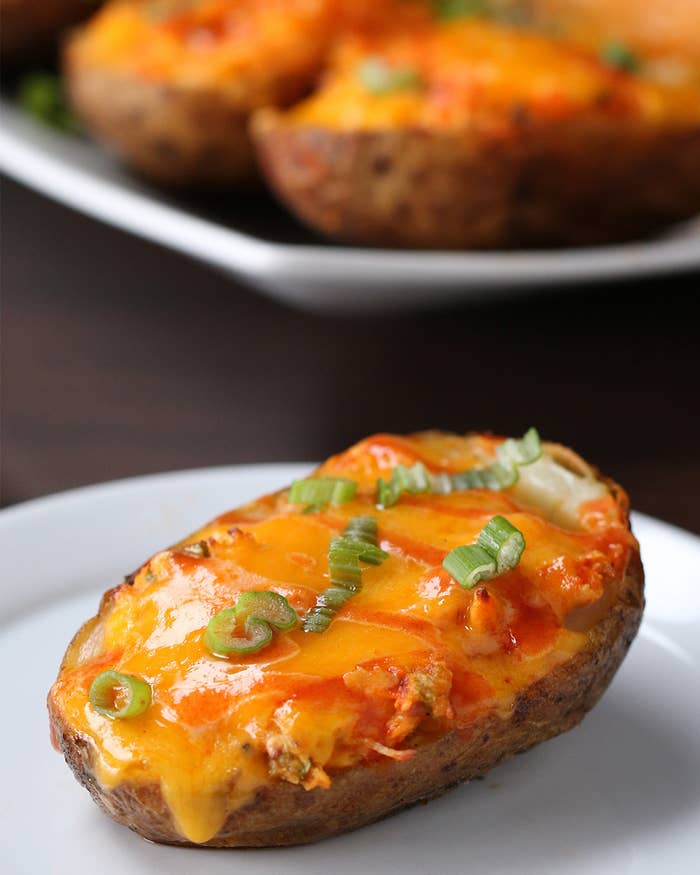 INGREDIENTS
Potatoes
6 small russet potatoes
2 tablespoons vegetable oil
Salt, to taste
Pepper, to taste
Filling
1½ cups cooked shredded chicken
¼ cup Frank's RedHot Original
4 ounces cream cheese
½ cup sharp cheddar cheese, shredded
2 tablespoons red onion
2 green onions, sliced
2 tablespoons red onion, minced
Salt, to taste
Pepper, to taste
Additional cheddar cheese topping
PREPARATION
1. Preheat oven to 400ºF/200ºC and cover a sheet tray in foil.
2. Poke each potato 4-5 times with a fork. Rub the potatoes in oil, salt, and pepper.
3. Place the potatoes on the sheet tray and bake for 40-45 minutes or until cooked inside.
4. After the potatoes are done baking, allow to cool.
5. While potatoes are cooling, combine all filling ingredients in a bowl and stir to fully combine.
6. Once the potatoes are cool, slice in half lengthwise and scoop out the inside to create a bowl. (Tip - save the insides for mashed potatoes!)
7. Evenly distribute the filling between the potato halves and bake for 15 minutes.
8. Remove the potatoes from the oven, sprinkle the tops of with additional cheese, then put them back in the oven for 2-3 minutes, or until the cheese on top is melted.
9. Top with sliced green onion and Frank's RedHot Original.
10. Enjoy!